A Man and His Monkey is a cafe located on Clovelly Road in Randwick. They serve up terrific value colourful, fresh and herby Israeli dishes as well as cafe classics and sweet, friendly service.
It's not often that I get an eating recommendation from Nina but one night over dinner she excitedly told me, "You have to go to this cafe. It's amazing and has the best shakshuka ever. I just can't remember what it is called...".
It turned out that I needed somewhere to go with Ivy and Ryan the next day and Nina remembered the name. Although we had planned to go with Nina, Garth and Ivy and Ryan, Nina's dog Marley puts them on an early schedule and none of us were quite willing to do the 9am breakfast there.
It's a chilly Sunday spring morning when Mr NQN, Ivy, Ryan and I arrive. We wait a few minutes for an inside table as the café doesn't quite get the sun's rays and inside is cosy and welcoming.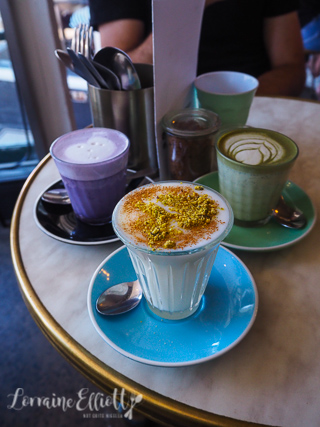 We start with drinks. While there are the usual drinks there are also interesting ones like purple taro latte and Sahlep which we order. The sahlep is made with ground orchid root mixed with milk to thicken it.
It is sweetened with sugar and it's flavoured with orange blossom, cinnamon and ground pistachios. It's divine, a little like a pot of dessert really. I also try Mr NQN's taro latte which is very nice and Ivy has a matcha latte with a little pot of honey. Service is really sweet and helpful.
There is a regular shakshuka as well as a version on a bed of hummus and labne (hummushuka and labneshuka). We go for the hummushuka which is smooth hummus topped with tomato shakshuka sauce with two free range poached eggs, dukkah and slices of sourdough toast. It's deliciously creamy and moreish. I think I would have loved this with pita bread instead but that's just a personal thing as I love soft pita.
There are two new items on the menu and this is one of them. It comes out on a large metal tray and is a lightly roasted cauliflower with a small pot of mango chutney, tahini and spicy crushed tomatoes. The mango chutney is quite different from a sweet Indian mango chutney and is almost like a mango hot sauce that imparts a lot of flavour to this dish along with the tahini and spicy tomatoes. There are two small pieces of pita and perhaps a bit more might have been nice. We also add some sujuk, a spicy Turkish beef sausage and this adds a lot of flavour to it.
The only dish that we didn't really go for in a big way was the Beautiful Mess. It was certainly pretty - a beetroot labne topped wholemeal crumpet with smoked salmon, a mixed green and radish salad, pickled Persian shallots, avocado, dukkah and a free range poached egg but it is a little on the dry side which I didn't think was possible given the tasty list of ingredients.
Ivy and I both really wanted the Cuban sandwich but it had sold out and they only had a couple of Reuben sandwiches left so perhaps go early if you want a sandwich. This is a sandwich with double stacked house-made pastrami, dijon mustard, Swiss cheese, sauerkraut, pickled cucumber and aioli on toasted sourdough. I really enjoy this especially with the aioli bringing it all together and there's a good amount of sauerkraut. Ryan says that he'd love more pastrami (and he's perhaps more used to the ones in his native America with lots of pastrami).
The bill is another welcome surprise with breakfast at less than $25 a person!
So tell me Dear Reader, how much do you usually pay per person for brunch? And do you generally prefer indoor or outdoor seating?
This meal was independently paid for.
A Man And His Monkey
149 Clovelly Road, Randwick, Sydney, NSW
Tel: 02 9398 3900
Open 7 days 6:30am-3pm
amanandhismonkey.com.au/