Cut Lunch Deli is a sandwich shop on Clovelly Road in Randwick. There are around half a dozen sandwiches on offer all made fresh to order including a cheese toastie with miso and Vegemite and the most popular chicken schnitzel sandwich with an oversized fillet of chicken schnitzel. Find out why you need to save a little room for something sweet too!
There's a light and airy feel at Cut Lunch Deli on Clovelly Road. The sandwich board features two breakfast options and 7 all day sandwich options that run the gamut from a ham and cheese to a vegan offering. Monica first put me onto Cut Lunch deli. She sold her chilli oil there and very time she went to deliver it she'd buy a toastie. So she has only ever tried that one sandwich.
The owner of Cut Lunch Deli is 28 year old Libby Dunlop who currently lives in Clovelly but was born and raised in Chatswood. After finishing high school she went to study at Le Cordon Bleu after which she went straight into working at Quay restaurant. After spending a "life changing" 9 months there she went on to do a Bachelor of Business while working at raw, vegan cafe Sadhana. She worked as an accountant for 4 years but it was during this time that COVID hit.
"I honestly believe everything is better between bread," says Libby. She was obsessed with the sandwich offerings at Smalls Deli in Potts Point and after moving to Bronte found herself trying to find something interesting and delicious to eat. "COVID had hit and whilst some people went on a health kick, we went on a sandwich kick. I had always dreamt of owning my own business and it seemed like the Eastern Beaches were calling for something interesting," says Libby. Frank's Deli opened just as she signed her lease but, "At least my feeling for the need was right," says Libby.
Misomite $12
The bread she uses is by Organic Bread Bar in Darlinghurst and the sandwiches use different types of bread. Misomite is a cheese toastie with Miso, Vegemite and Cheddar cheese in a seeded bread and melted into one. As one of the misomite's biggest fans Monica knows this toastie well and remarks that today's toastie is a bit lighter in cheese than she has had it previously.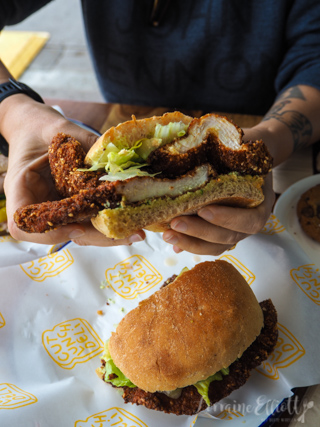 Schnitz $19
The best selling sandwich is the Schnitz and when they set it down my eyes widen. If I could whistle I would. The chicken schnitzel fillet is so large and oversized that there's probably just as much chicken sticking outside than inside the bread. It has a sesame panko crumb and is paired with a sweet zucchini pickle mayo, pickled red onion and crunchy lettuce. It's very tasty although I think a little pot of mayo on the side would be great for dipping the chicken into.
Morty D $19
The Morty D is a real Italian number with folds of mortadella, pistachio pesto, stracciatella, basil and guindilla. It's tasty and fresh with flavours reminiscent of Italy in every bite.
Chocolate Chip Cookie
Make sure to leave a little room for dessert. Today's offering is a cookie and a Burnt Basque cheesecake and given Libby's pastry chef qualifications they're just as good as the sandwiches. We share the burnt butter chocolate chip cookie with dark and milk chocolate chips and a generous sprinkling of sea salt.
Libby describes her sandwich menu menu as modern Australian with a heavy hint of nostalgia. "My parents grew up in rural Australia so homemade, homegrown and whole food has always been at my core...As well as that, I grew up in Chatswood eating dumplings and wonton noodle soup every Friday night and at pastry school one of my closest friends was Korean. Something I've thought about a lot is my personal food culture, and realizing it is an amalgamation of so many cultures," says Libby.
So tell me Dear Reader, how often do you eat sandwiches? Every day or less often? What countries influence your own food personal food culture?
Cut Lunch Deli
220 Clovelly Rd, Randwick NSW 2031
Monday to Friday 6 am–2:30 pm
Saturday and Sunday 7am-2:30pm
https://www.cutlunchdeli.com.au/