Smashed chicken? This is chicken that has been pounded before it has been cooked so that it is soft and tender. And at Ayam Penyet Ria the specialty is smashed chicken (or beef or prawns). The dual cooking method ensures that the chicken is very tender and soft yet crispy.
Although it sounds like a novelty dish, Smashed Chicken is actually a dish from East Java. "Penyet" means smashed and "Ayam" means chicken in Indonesian. The chicken is first marinated, then boiled then deep fried and then smashed with a cleaver or pestle before being coated in batter crumbs and served.
I drive through Randwick enough that it surprises me when they tell me that Ayam Penyet Ria has been open for a year already. It's a chain from Indonesia established in 1998 and there is also a Melbourne location too.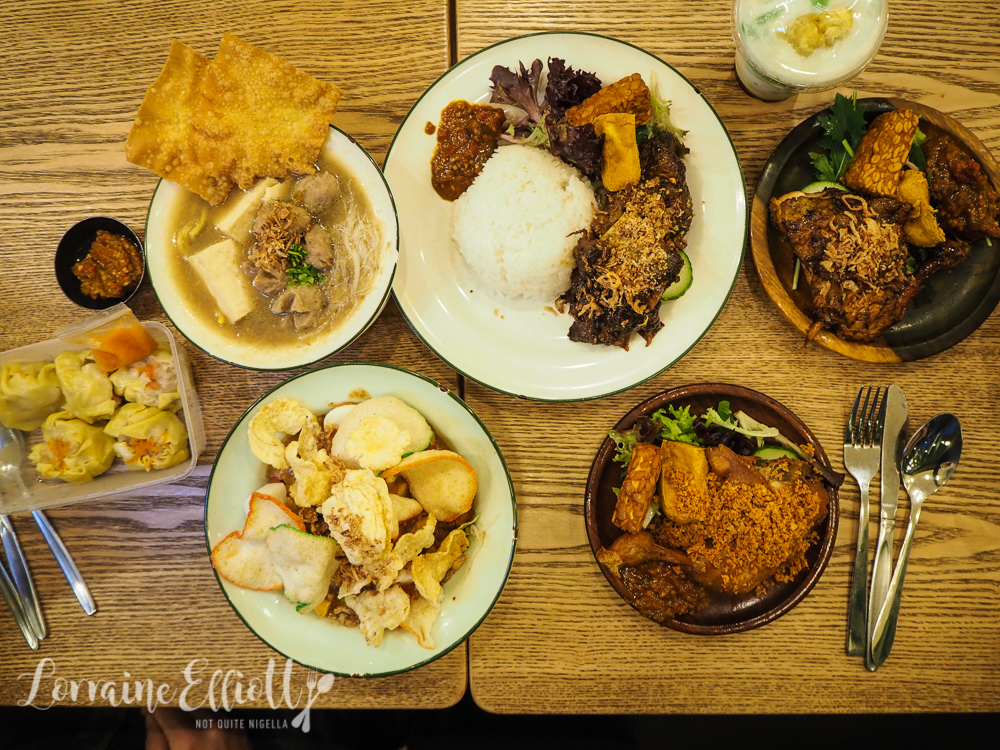 The clientele is exclusively Indonesian, we're the only non Indonesians here and staff are friendly and helpful. You can book a table online or by phone and you pay and order at the counter and then take your number to the table in the large restaurant. There's a sink at which to wash your hands in the main dining room. Prices are very reasonable with most dishes hovering around the $12 mark.
El Cendol $8 + Durian $2.50
There's a fridge of drinks as well as teh tarik and coffee. I know Mr NQN will love the Cnedol, a dessert drink with coconut milk, palm sugar and pandan tapioca noodles and a heaping of durian. If you happen to like durian you can have extra added for $2.50 (this ended up added to our drink and bill without me asking).
Dim Sims $10
The dim sims are made with a finely ground chicken and prawn filling. They sit on the counter and when you order them to eat in they arrive at the table heated up. They're not bad although I don't like the filling as finely ground as I like some texture from the prawns which you don't really see or taste.
Gado Gado $11
I adore gado gado, especially in summer time and this cold salad with peanut sauce is great for when you want something robustly flavoured but cooling. Their version has plenty of bean sprouts, tofu, tempeh, lettuce, tomato and rice cakes. I love the bits at the bottom that have soaked up the satay sauce.
Ayam Smashed Chicken $11.50
The smashed chicken is a chicken maryland that has been deep fried and comes with a ferociously hot and tangy chilli sauce on the side and crunchy crumbs on top. It's delicious, utterly so and the chicken is soft and tender and not dry at all and the chicken has been cooked for 2 hours. Most people order their meals with rice and it is $2.50 extra or you can have it as is with a bit of salad on the side.
Ayam Bakar $12
However my heart belonged to the grilled chicken with its slightly sweet marinade to it. It is cooked for 2 hours so it is soft but the key appeal to this is the slight sweetness of the marinade. On the side is tempeh, tofu, salad and that hot chilli sambal.
Iga Bakar $13.50
Along the same lines are the grilled beef ribs, cooked for 6 hours in a similar treatment. They're not quite as melting as other beef ribs but the flavour is fantastic and I'd recommend having these with rice on the side.
Bakso Kuah $10
Mr NQN's favourite dish is the meatball soup with two different types of noodles: thicker egg noodles and vermicelli. The beef meatballs are firm and there is soft tofu on the side as well as two crispy won ton sheets and chilli sauce.
There is a tub of takeaway cendol gelato available and I am very tempted but my freezer is full. So it's next time for dessert or when we can eat the whole tray!
So tell me Dear Reader, have you ever tried Smashed Chicken? And what are your feelings about durian?
This meal was independently paid for.
Ayam Penyet Ria
34 Belmore Rd, Randwick NSW 2031
Monday to Friday 12–9pm
Saturday & Sunday 11am–9pm
Phone: (02) 8040 5619