Dear Reader have you tinkered around with the idea of what you would name a cafe or a restaurant? What would the name consist of? Something related to your name or interest? Or something esoteric and memorable? It was one glorious Saturday morning. Mr NQN had just driven past The Lion and Buffalo in Coogee, reported back that it was very busy and with no grocery shopping done, we made our way there.
The name Lion & Buffalo is apparently based on the zodiac signs of the two owners: she is a lion and he is a buffalo. Funnily enough they are the same starsigns for me and Mr NQN except in reverse, I am a Taurus and he is a Leo. But I digress, even though the names suggest larger, plains animals there seems to be a rabbit theme going on inside and outside from the rabbit figurines scurrying up the wall to the large murals on the walls.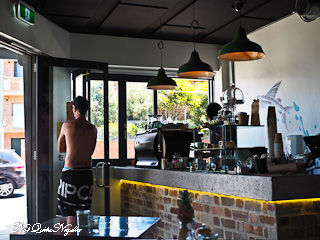 I have to admit I've never contemplated how pineapples grow but there's a mini one in a bottle of water on the table. The menu features an all day breakfast and call it suggested smelling but the aroma of bacon lured me into ordering the bacon and egg roll for breakfast.
Iced coffee with ice cream $7
Mr NQN orders an iced coffee with a big scoop of ice cream and I go for a chai. The coffee here is by Single Origin Roasters.
Chai soy $4.50
Can I just say how much I like getting a crisp, butter biscuit with my chai?
Bacon and egg roll $12
Prices are very reasonable and the bacon and egg roll is a large, fresh square roll filled with two free range soft yolked fried eggs, bacon, caramelised onion, melted aged cheese, coleslaw and house made espresso bbq sauce. It's got a good amount of filling although not a great deal of bacon but it's juicy and fresh with plenty of slaw and sauce.
Buckwheat and quinoa porridge with poached red fruits and coconut caramel $10
Mr NQN loves the buckwheat and quinoa porridge with poached rhubarb and plums with a dusting of sweetened coconut on top. It's not overly sweet which is nice and most of the sweetness is on top from the coconut.
Hazelnut strudel $6.50
I saved some room for the cakes that beckon to me from the cake display. The two that catch my eye are two Polish cakes, a Karpatka and a chocolate and hazelnut strudel. Both are enormous in size and I start with the strudel. It's sweet and nutty with texture from the sugar and nuts. I keep thinking that it would be great with ice cream or strudel as it is a little on the dry side.
Karpatka $5.50
Bigger than my hand, the karpatka is a choux pastry top and base filled with a thick creamy filling made with sweetened milk and thickened with cornflour or potato starch. Also called Polish Carpathian Mountain Cream Cake it is so named because of the finish of the choux and icing sugar resembling a mountain range!
So tell me Dear Reader, what star sign are you? And have you tried any of these Polish cakes? How often do you go out for brunch on the weekend?
This meal was independently paid for.
Lion & Buffalo
203 Malabar Rd, South Coogee NSW 2034
Phone:0447 685 466
Open 7am-4pm
http://www.thelionandbuffalo.com.au/