A pavlova grazing platter is the perfect way to serve up a this delicious dessert. It lets each person customise their dessert so that they can choose the fruit or topping that they want!
This past Christmas pavlova platters were very popular. Grazing platters are fun because they are interactive but also serving pavlova this way makes it customisable based on your taste. I love fruity pavlovas but sometimes people just don't like fruit (like my sister who loathes all fruit).
The base for this pavlova grazing platter is an individual wattleseed pavlova and you can add whichever fruit you like. Love a more chocolatey pavlova? Spoon over chocolate ganache and shaved chocolate. Or if you prefer it fruity try some lemon curd, zingy passionfruit and white peach or dragonfruit!
We have wildly different tastes and sometimes that can be an issue but other times having different taste isn't a problem. Like for instance, when I was in LA recently there was a group of us writers staying at a hotel.
This was a really nice group of writers but it's human nature to want to compare and compete. We all did little videos of our rooms but we ascertained that there we had two types of rooms although they were at the same level.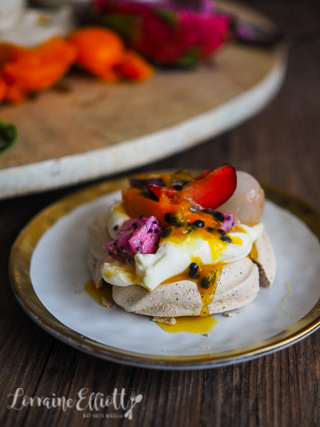 I can be very particular about hotel rooms because they're my home away from home. I like certain things and one of the biggest things for me is a sink with a lot of space to put my makeup and skincare because I am sure I am 100% a drag queen at heart. I also like a fridge to have fresh milk as I have to make myself a cup of tea in the morning before I see anyone else because I am a truly cranky drag queen until this happens. It's scary and is best avoided.
My room was perfect for me. It had an enormous sink area, fridge and a beautifully tiled shower. But it turns out everyone was somehow assigned a room that was perfect for their needs. Laura's room was entirely different with a small sink and no fridge but she had a bath which is her number 1 thing-she will often change rooms to get one with a bath!
So tell me Dear Reader, what features does your perfect hotel room have? And what would you add to your personalised pavlova?
Pavlova Grazing Platter