A pavlova grazing platter is the perfect way to serve up a this delicious dessert. It lets each person customise their dessert so that they can choose the fruit or topping that they want!
This past Christmas pavlova platters were very popular. Grazing platters are fun because they are interactive but also serving pavlova this way makes it customisable based on your taste. I love fruity pavlovas but sometimes people just don't like fruit (like my sister who loathes all fruit).
The base for this pavlova grazing platter is an individual wattleseed pavlova and you can add whichever fruit you like. Love a more chocolatey pavlova? Spoon over chocolate ganache and shaved chocolate. Or if you prefer it fruity try some lemon curd, zingy passionfruit and white peach or dragonfruit!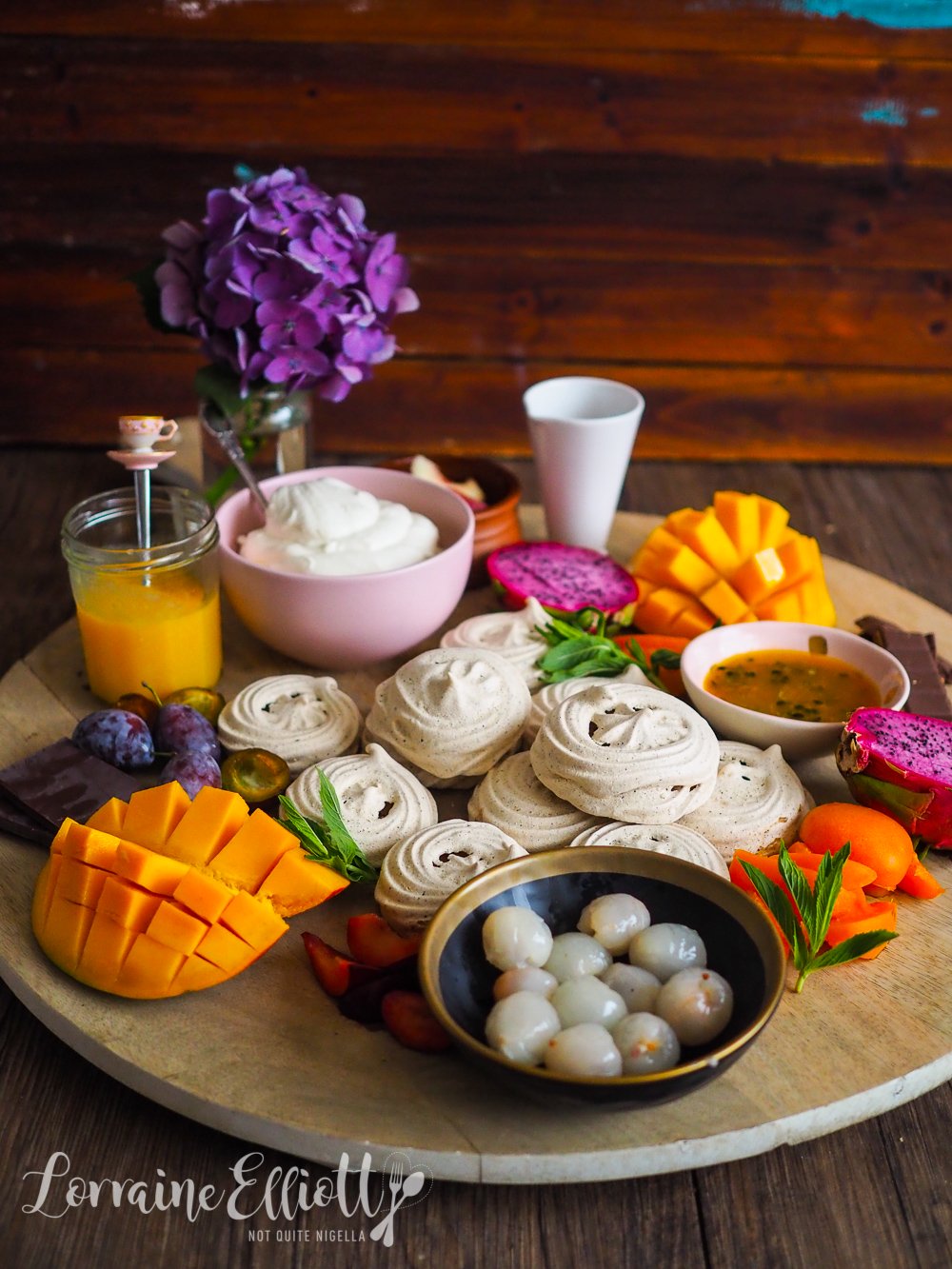 We have wildly different tastes and sometimes that can be an issue but other times having different taste isn't a problem. Like for instance, when I was in LA recently there was a group of us writers staying at a hotel.
This was a really nice group of writers but it's human nature to want to compare and compete. We all did little videos of our rooms but we ascertained that there we had two types of rooms although they were at the same level.
I can be very particular about hotel rooms because they're my home away from home. I like certain things and one of the biggest things for me is a sink with a lot of space to put my makeup and skincare because I am sure I am 100% a drag queen at heart. I also like a fridge to have fresh milk as I have to make myself a cup of tea in the morning before I see anyone else because I am a truly cranky drag queen until this happens. It's scary and is best avoided.
My room was perfect for me. It had an enormous sink area, fridge and a beautifully tiled shower. But it turns out everyone was somehow assigned a room that was perfect for their needs. Laura's room was entirely different with a small sink and no fridge but she had a bath which is her number 1 thing-she will often change rooms to get one with a bath!
So tell me Dear Reader, what features does your perfect hotel room have? And what would you add to your personalised pavlova?
DID YOU MAKE THIS RECIPE? Share your creations by tagging @notquitenigella on Instagram with the hashtag #notquitenigella
Pavlova Grazing Platter
An Original Recipe by Lorraine Elliott
Preparation time: 30 minutes
Cooking time: 45 minutes
120g/4ozs. egg whites (around 3-4 egg whites)
1 tablespoon cornflour (fine cornstarch)
1 teaspoon white vinegar
1/2 teaspoon cream of tartar
200g/7ozs. caster or superfine sugar
2 tablespoons wattleseed
To serve
Chocolate ganache sauce (see recipe below)
Lemon Curd (see best lemon curd recipe here)
Whipped cream
Passionfruit pulp
Fresh fruit
Chocolate
Chocolate Ganache Sauce
100g/3.5ozs. chocolate
100ml/3.5flozs. cream
Wattleseed is found at scoop stores (I bought mine at The Source in Zetland) and is nutty and like coffee in flavour
Step 1 - First make the pavlova. This can be made a day ahead (and is best done that way). Preheat oven to 130C/260F and line a large baking tray with parchment. Make sure that you're starting with a very clean mixer bowl and beater. Whisk the egg whites until foamy and then add the cornflour, vinegar and cream of tartar. Then add the sugar in a stream until you start to get stiff peaks. Add the wattleseed and whisk until the mixture is very firm and you can turn the bowl upside down without it moving.
Step 2 - Place the meringue in a piping bag fitted with a #845 tip. Pipe rounds onto the parchment then do another layer around the outside edge to give the pavlova height and then leave the centre empty to add the cream and fruit (sorry I accidentally deleted my pics of the pavlova making!). Bake for 45 minutes or until the pavlova doesn't stick to the paper. Cool completely in the oven.
Step 3 - Make the chocolate ganache by melting the chocolate and cream together and stirring. This will set somewhat if it is cold so heat it up gently just before serving. Serve pavlovas with whipped cream, cut fruit, lemon curd, chocolate sauce and passionfruit pulp.