Ever tried making your own honeycomb? It's ridiculously easy and fun! There's nothing as crunchy delicious as freshly made honeycomb. This is a slight twist on chocolate dipped honeycomb with the addition of toasted sesame seeds and a sprinkle of pink salt. This is so moreish and if you love things sweet, it's a pushy recipe!
My only warning to you Dear Reader is this: make this when you need to give this away and don't be alone with it. I found this so irresistible to eat that I scoffed down three huge chocolate coated pieces and then looked around in slight panic as I felt no urge to slow down.
I ended up messaging Nina, my favourite person to contact when I have excess food. She lives about 5 minutes drive away from us and is always on hand to take food provided that it fits into her esoteric criteria. That is the only challenge-for example she won't eat honeycomb unless it is coated in dark chocolate. I don't think I'll ever understand the logic and I guess it keeps our relationship interesting.
We've also discovered something new about Nina and Garth and it pertains to their dog Marley. We have found that Marley and Teddy get along really well and despite their enormous size and breed difference they play well together too.
Pics: Nina Price @anydogwill_do
Teddy seems unafraid of Marley who can be intimidating in size and his guard dog demeanour while Marley adjusts his play style to be more accommodating and gentle to play with his pint sized friend.
The last few times Nina has brought along her camera to take photos. Her obsession is taking photos of dogs and her dog photography account is called "Anydogwilldo".
The two are magical together and have made for many adorable photos. And my payment for these is relatively inexpensive-just a box of this chocolate coated honeycomb!
So tell me Dear Reader, have you ever made your own honeycomb? Do you have any friends that are unpredictable?
DID YOU MAKE THIS RECIPE? Share your creations by tagging @notquitenigella on Instagram with the hashtag #notquitenigella
Chocolate Coated Sesame Honeycomb
An Original Recipe by Lorraine Elliott
Preparation time: 15 minutes pus 1 hour setting time
Cooking time: 15 minutes
350g/12.4ozs. caster or superfine sugar
125g/4ozs. glucose syrup
75ml/2.7ozs. water
4 tablespoons honey
15g/0.5oz. bicarb of soda, sifted
500g/1.1lb dark chocolate
1/4 cup toasted sesame seeds
Salt flakes
Step 1 - Line a 20x20cm/8x8inch square tin with parchment. Oil the parchment well with non stick oil spray. Place the sugar, glucose syrup, water and honey in a medium to large heavy bottomed saucepan and bring to a boil. You don't really have to stir this much, just a little at the beginning. Boil on medium high heat (say 8 out of 10) until it reaches 149C/300F on a candy thermometer. It takes a bit of patience, it will sit on a low temperature for 10 minutes or so then quickly come to temperature.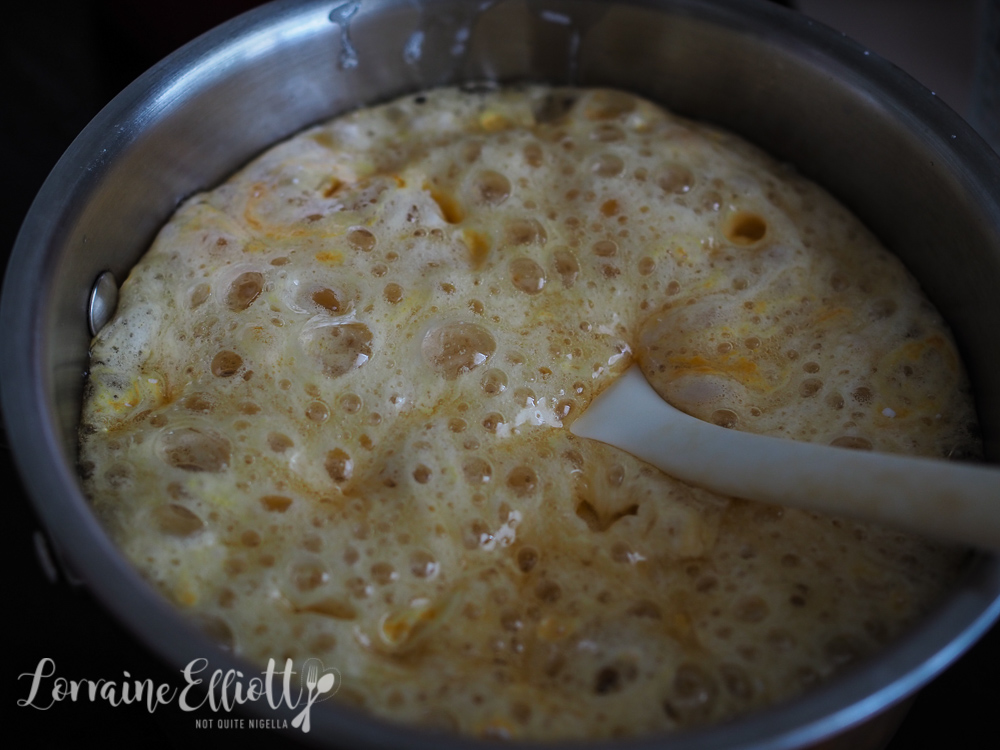 After bi-carb is added
Step 2 - Add the bicarb of soda and stir until it is combined. It will puff up and foam up. Do not overmix or you will lose the air bubbles, just stop when the bicarb is mixed in well. Scoop into the prepared tin and allow to set for 1 hour (be careful, the mixture and the tin will be very hot).
Step 3 - Line a tray with parchment. Cut the honeycomb (I find using a mallet is very messy although better for anger management!). Melt the chocolate in a double boiler or in the microwave and dip the pieces of honeycomb in the chocolate and place on the lined tray. Add the sesame seeds and salt before the chocolate sets hard. Tip: store honeycomb in the freezer as it absorbs moisture very easily and loses its crunchy appeal.