Want to make something fun and colourful this Easter? Chocolate bark is one of the simplest things to make and you need very little equipment. Make your Easter colourfully delicious and crunchy with this bark topped with speckled eggs, rabbits and chocolate egg lollipops!
Chocolate bark is one of those things that I rarely buy, mainly because it is so easy to make. I know leftover Easter eggs aren't really a thing for many but I always seem to have leftover ones. Throughout Easter season (which seems to last for several months in terms of retail), I tend to buy Easter chocolate whenever I see something that I like. Which means that when I get to Easter, I have amassed a mountain of chocolate that I should really bury myself under and eat myself out of.
Apart from having a surplus of chocolate in my kitchen, I have a few things from my travels to show you in this month's In My Kitchen hosted by the darling Sherry. The first item is a champagne sabrage certificate I received from the St Regis in Dubai. Sure they spelled my name wrong (haha!) but I got the chance to saber a champagne bottle! To do this, you run a sword alongside the seam of a champagne bottle and the whole top and cork comes off with a pop - and that's the cork and the top of the bottle on top of it!
The next item is also from Dubai. Have you heard of the Paqui one chip challenge? It involves what is said to be the world's hottest corn chip. It isn't cheap too-one corn chip is around $18AUD and comes sealed. I'm going to save this for the right occasion.
The next items are things that I'm going to take travelling with me that I bought from the Dubai Food & Wine Festival. I cannot speak to anyone in the morning unless I have a cup of tea and these are tea capsules. Some countries are more into coffee than tea (eg America) so all I need is hot water. These are cardamom flavoured tea pods and they're like little balls of concentrated tea and milk-just add boiling water!
In March I was asked to speak at a tourism conference in Parkes and I came back laden with goodies. Including these items from Dish Foods (right near the famous Dish!) including the most moreish "Almond Dish Rocks" (I had to ask Mr NQN to take these away from me), honey, olive oil and fig jam.
I also received three items from Bio-Oz which are grown in Parkes. I've been really curious about using alternative flours and ancient grains and I've already made one recipe with the buckwheat kernels. I have ones coming up using spelt and emmer flours too which are both low in gluten.
I dropped by a cafe in Parkes called Onnie's and the owner Jake was so nice that he gave me one of the chopping boards. They're made by his father in law and I've used mine so many times already to serve things on.
And then there were these cakes in a jar by Capped Cakes. They're such a cute idea and the cakes stay really fresh in the jar. There were three flavours: blueberry cheesecake, Turkish delight and banana cheesecake and I loved them all. I popped them in Mr NQN's lunchbox after I had a little sample.
And last but not least is something for April Fool's day (today!). I bought these fried egg lollies from a shop in Parkes (country towns always have the best shops) and I'll serve them to Mr NQN this morning-breakfast in bed if you will! ;)
So tell me Dear Reader, do you ever play April Fools jokes on people? And do you ever have leftover or a big surplus of Easter eggs?
DID YOU MAKE THIS RECIPE? Share your creations by tagging @notquitenigella on Instagram with the hashtag #notquitenigella
Easy Easter Chocolate Bark
An Original Recipe by Lorraine Elliott
Preparation time: 10 minutes plus setting time
Cooking time: 8 minutes
200g/7ozs. dark chocolate
200g/7ozs. white chocolate
Pink fat soluble food colouring
1 cup speckled egg, colourful buttons and Easter chocolates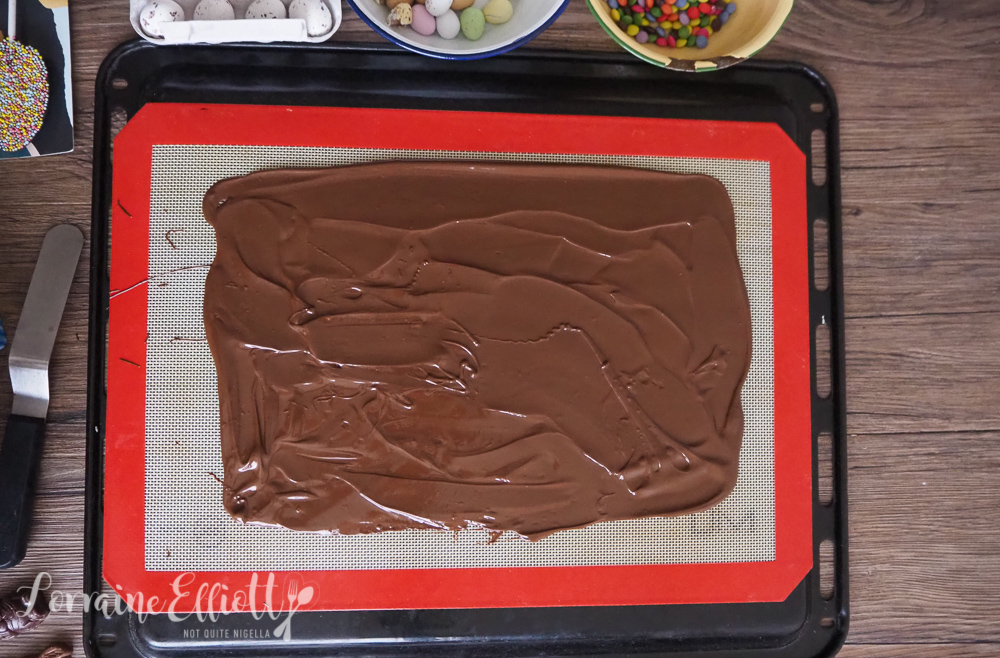 Step 1 - Melt the dark chocolate in the microwave or over a double boiler. Spread out onto a silpat or piece of parchment using an angled spatula. Melt the white chocolate and tint it pink. Spread it above it and while both chocolates are melted, draw lines horizontally and vertically and feather them with a skewer. Sprinkle with Easter eggs and chocolates.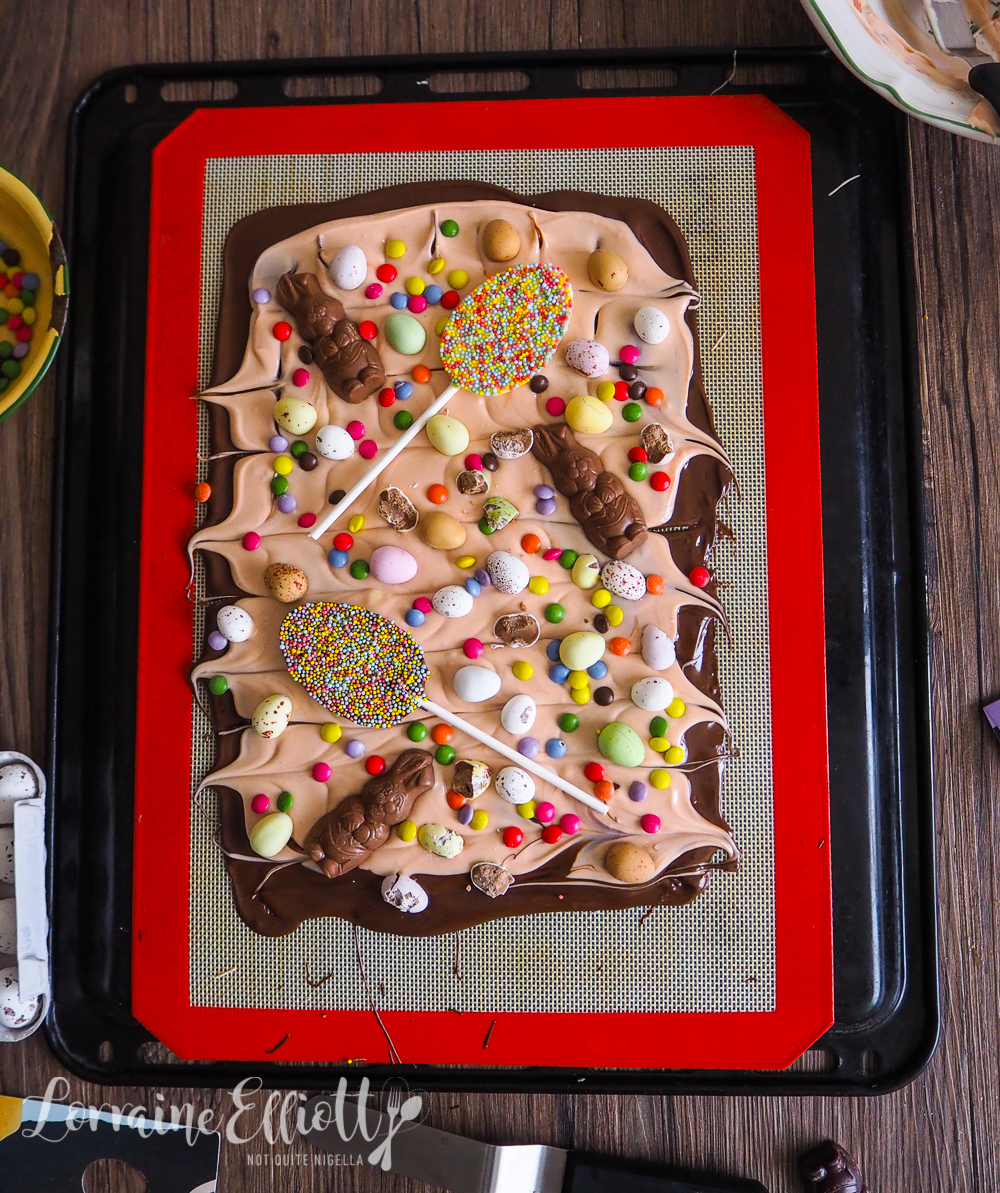 Step 2 - When the chocolate isn't completely set but isn't too runny (it's a matter of cooling it at room temperature and then watching it) score the cuts with a knife. Once it is scored you can then completely set the chocolate in the fridge. The chocolate bark should then easily break where you have scored it.