This restaurant has now closed
Business meetings are always so much more fun when they're conducted over good food and with good company and this drizzly Sydney Friday I find myself crossing the Harbour to where I used to live in Manly via the famous Manly Ferry. Kate and I are dining at the six week old Manly Pavilion, a recently refurbished waterfront restaurant.
There are two rooms to this waterfront restaurant: a heritage room which is all dark and cosy retro charm with velvet cushioned seats  much like the building itself, formerly a bather's pavilion for nearby Manly Beach built in 1933. There are two entrances depending on which way you're coming from. I'm coming from the ferry side and it's a 5 minute walk from the wharf and I'm walking behind a large group of dressed up ladies who lunch. The other side is perhaps slightly more majestic an entrance and you're straight into the main dining room full of louvred doors, sleek surfaces, open light filled space and the view.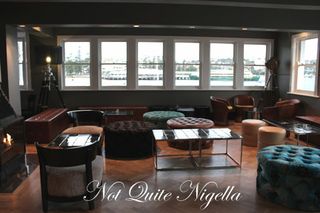 We choose the five course chef's tasting menu which is made up of the chef's favourite dishes of the day . The first few courses are share style whilst the pasta course and the main course are individual plates and it includes coffee and petit fours at $88 per person.
I don't usually eat a lot of bread, particularly during lunch time as it just fills up precious stomach space but the Primo Frontoi Cutrera olive oil is perfect with the spongy, fresh bread. Out of the two, the brown bread is my favourite. The sommelier comes over to talk to us about wine selections but his first comment is to dissuade us from calling him a sommelier as he doesn't like the formal title and the image that comes along with it. So Manly!
We start off with a simple buffalo mozarella grilled on a lemon leaf with extra virgin oil. They warn us not to eat the lemon leaf as it is there to impart a flavour which it does beautifully much like a lemon infused olive oil would flavour it. The mozarella is soft, milky, spongey and utterly gorgeous.
_Crostini del giorno _
Del giorno means of the day and the topping on the crostini changes every day. Today it's raw kingfish which is delicate and sumptuous with the smooth broad beans on the crunchy thinnish toasted bread.
_White anchovy herb crumbed with tomato aioli _
The small white anchovies (less salty and strong than regular brown anchovies) are rolled in a herb crumb mix and deep fried. They're paired with a very garlicky tomato aioli and they are very flavour packed and salty.
"Here is your second course" our smiling waitress tells us. We look at each other. Second course? We think that we're onto our third course by now.  It seems that two plates is one course making this even better value than I had originally thought. Laid out like four sashimi fillets, these fillets of raw snapper are sweet with white balsamic and salty from the capers with a richness from a generous slug of olive oil. The parsley gives it a cleansing element.
The cuttlefish is sliced thinly and very tender with the aniseedy braised fennel and a shaved crisp eggplant giving it a richness. It's a strong dish and good at this size, any bigger and I couldn't finish it.
_Pappardelle with wild boar ragu, verjus and marscapone
_
The owner David stops by at many of the tables including ours and asks if we are enjoying the pasta. The pasta is made fresh daily by four Italian men and we're both pleased that it is cooked perfectly al dente. The wild boar ragu comes as small mince sized balls with a tomato based sauce. I can taste a hint of verjus although there doesn't appear to be mascarpone evident. If I were to be picky (and let's face it, I am wont to be picky) I'd like a little more sauce on it.
One of the specialities is roast sucking pig so I was delighted that we would get to try this. The cherries are macerated in French brandy until almost bursting and a bite into them releases the pent up liquid. The mustard greens have the slight mustard staste but the pork is two slabs of beauty. A larger serve of this might be considered too rich as it's fatty but gelatinously wobbly with a superb thin, crisp crackling.
We didn't manage to make much of a dent in this as we've had so many courses but the vegetables (sugar snap peas, green beans and broccoli) were perfectly cooked and well dressed.
At about 3.30pm on a Friday when you realise that neither of you are making it back to the office nor do you really need to be, a cocktail is in order. And a Bellini is the name of the game here. I bypass the MP Signature Bellini in favour of the mandarin which comes with a scoop of mandarinato sorbet. Sweet and tangy and just the ticket. And in a very nice gesture, it is given to us compliments of the owner David.
The candied lemon is interesting-it comes as a jelly with a very thin skin and the whole thing can be eaten (thankfully there isn't a thick bitter rind with this lemon). There is a cloud of marshmallow and a delectable yogurt sorbetto which is smooth as silk. This sits on a small bed of buttery shortbread crumbs.
The petit fours are rather interesting indeed. There are magnolia jellies which are made from French magnolias dusted in a light cornflour which are divine, like a lavender citrus. There is also paper thin wavy biscotti and cocoa dusted toasted hazelnuts which crunch in the mouth appealingly.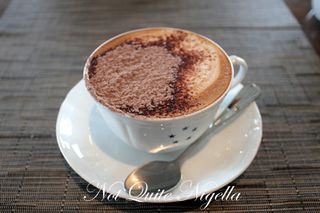 _ _The cappucino is smooth and without any bitterness. I savour it knowing that the light rain drops mean that I simply can't move from my spot. It's nearing 4.30pm and the day is drawing to a close, the clouds and sky getting darker by the minute. I realise as I am taking photos outside that it is my Manly Ferry pulling up to the wharf so I snap some pictures and hurry on.
So tell me Dear Reader, are you picky with your food?
Manly Pavilion
This restaurant has now closed
West Esplanade, Manly, NSW
Tel: +61 (02) 9949 9011
Open 7 days for lunch and dinner