If you're running low on milk or looking for a great milk substitute, try oat milk. This plant based vegan milk is creamy, super easy to make and incredibly economical too and even making an organic version won't cost you the earth. Learn all of the tricks and tips to making your own oat milk!
I got onto oat milk by my friend Monica. She's my food twin and a massive foodie and she ordered a drink with oat milk instead of almond milk at a vegan cafe. I tried her latte and it was creamy and closer to a regular latte than one using almond milk.
Of course you can buy oat milk but really you don't need to if you have a high speed blender. Did you know that it's the easiest milk to make for many reasons? It doesn't need pre-soaking like some nut milks and it's just two inexpensive ingredients!
I spent an entire morning playing with ratios and flavours and I came up with this ratio which I think is perfect. 1 cup of rolled oats to 3 cups of water is ideal. 1 cup oats to 4 cups of water is like skim milk (aka the devil) and 1 cup oats to 2 cups of milk is too thick to strain and doesn't really deliver cream as I had hoped.
DID YOU MAKE THIS RECIPE? Share your creations by tagging @notquitenigella on Instagram with the hashtag #notquitenigella
Tips For Making the Best Oat Milk!
There are some tips to making the best oat milk and that is one that isn't slimy. You know how when you make porridge it becomes thicker? You don't want that with oat milk.
Do not pre-soak the oats
Do not over-blend the oats (20 seconds is good)
Use chilled water (hot water seems to increase the mucilaginous quality of oats)
Strain but do not press down on the blended oats
Options: you can add some salt to this for a bit more flavour or blend in 1-2 pitted medjool dates for sweetness or vanilla for aroma. Personally I prefer this plain so that you can use it for either savoury or sweet.
Did you know?: You can heat oat milk? Some people say that you can't but I had no problems heating the oat milk in both the microwave and stovetop. I made a batch of bechamel using dairy free spread, flour, a bay leaf and oat milk and gently heated the sauce and it was wonderfully creamy.
What you can do with leftovers: After making 4 litres of oat milk I also had some blended oats once I sieved the milk off. So there was a bonus round of oatmeal! No waste at all. I also used some of the leftover oats in a smoothie as I usually do to give it a bit of body.
Which blender?: I made this in the newly released Ninja Hot & Cold Blender (they haven't sponsored this post but they did ask me to make 3 recipes for them on Instagram). The good thing about using this is the chill or ice cream setting. Usually high speed blenders heat up quickly because of the momentum of the blades which increases the slimy texture (think making porridge on a stove) but using the ice cream setting meant that there was no slime at all.
Also I'm giving away one of these blenders on Instagram. Just like each of the three Ninja recipes that I share to win one-see today's Instagram post for full details!
So tell me Dear Reader, do you make your own milk or mylk? Have you tried oat milk?
DIY Easy Creamy Oat Milk
An Original Recipe by Lorraine Elliott
Preparation time: 5 minutes
Cooking time: 0 minutes
1 cup rolled oats (not steel cut)
3 cups chilled water
Step 1 - Place the rolled oats and water in the jug of the Ninja Foodi Blender. Place the lid and centre cap and then press "Frozen Drink" button. Let it blend for 20 seconds total (no more).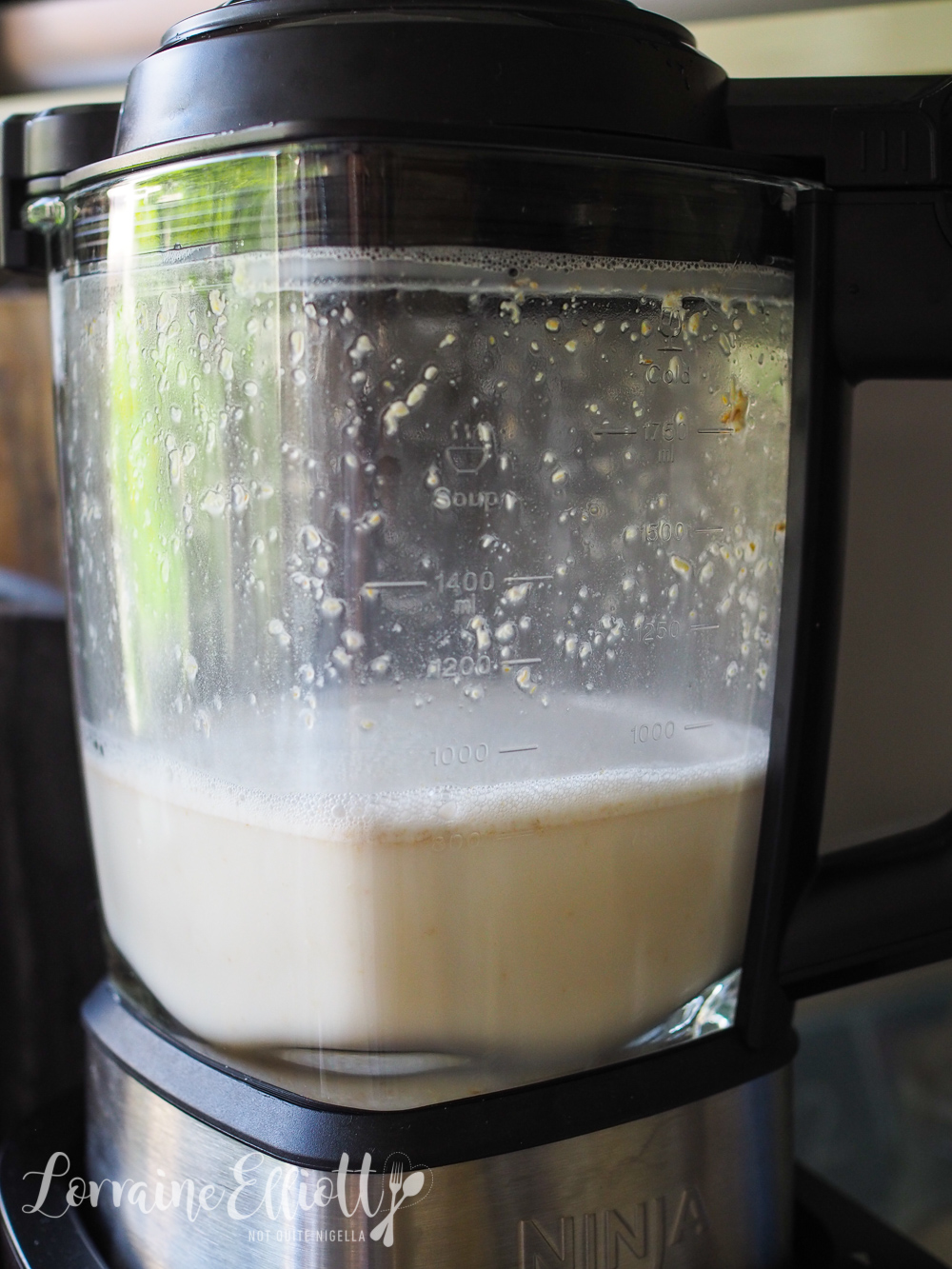 Step 2 - Take a clean cloth or nut mylk bag and place over a sieve over a jug. Pour over the oat milk-I do this in two lots so that the thinner milk sieves through quicker and then do the other half. Do not squeeze the oats just let them naturally drip (sometimes I go away and do shopping or do a workout and after 30 minutes or so it has all strained). Tip: you can also make hot oatmeal using the Ninja Foodi Blender with the leftover oats so there is no waste at all! The leftover oats can also be used in a smoothie to give it more body.