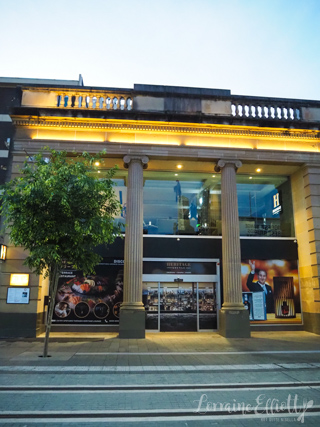 Oribu is a brand new Japanese restaurant in Parramatta with an former Nobu chef at the helm. There's a range of a la carte Japanese dishes as well as a 7 course chef's tasting menu. Along with food there's an extensive cocktail menu with pages of signature cocktails available. So what is the food like and do any of Nobu's dishes make it on to this menu?
Laura is standing outside of the Heritage building on Church Street waiting for me. "I think we should go in together," she messages me and I see why. There are Halloween decorations hanging up all over the building, a remnant of the weekend's Halloween celebrations. We pass motion activated goblins and ghouls as we wander through the building. "Well at least we get to do Halloween together," I say to Laura who unfortunately had to miss my Halloween party as she had COVID.
Oribu is an open indoor outdoor restaurant on the first floor of the Heritage building and you do need to have a bit of a wander to find it (or staff will show you how to get there). It's very dark and moodily lit which honestly makes the bleating demon sitting opposite us fit in rather perfectly. The restaurant is named about the Olive tree (Oribu is olive in Japanese katakana) that stands in the centre of the restaurant, poking through the roof - and when it rains, it rains inside the restaurant
The Head Chef at Oribu is Harry Cho, formerly of Nobu who started learning about cooking from his Japanese mother and Korean father. Chef Cho is also a wine maker who started making wine in 2022 and has made Shiraz, Cabernet Sauvignon, Pinot Noir, Grenache and Chardonnay. While items like toothfish and sushi tacos appear on the menu, the execution is different to Nobu but no less delicious. Laura and I are trying the chef's tasting menu which is 7 courses for $150 a person, minimum 2 people. Everything is pre-set except the mains and desserts where you can make a choice out of two options. Service is really lovely from the staff here and they are knowledgeable and friendly.
The cocktail menu is designed by Louis Arida, the Director of the Heritage Precinct. It spans 4-5 pages and we spend a lot of time trying to decide which cocktails to order before our lovely waitress helps us narrow down the choices. Many are named after the building's past as The Government Savings Bank of N.S.W. I adore my Marcandy cocktail for its elaborate and scene stealing arrival in a cloud of dry ice in a gold pineapple. It's also absolutely delicious, made with Elyx vodka, Lillet Blanc, St Germain, raspberries, lychees and muddled fresh berries. Laura's choice is Whispers of a Rose with Roku, house made green tea syrup, sake, Choya umeshu and fresh berries and edible flowers.
The first course comes out and everything moves at an excellent pace without much lag at all. The Royal Miyagi Boomer Bay oysters are delightful with a citrus dark tosazu (like a soy sauce vinaigrette) and sea blite. We love the flavour pairing of the tosazu with its bright citrus quality that enhances the fresh oysters.
The Hiramasa kingfish carpaccio is a signature dish with five slices of kingfish sashimi topped with jalapeno, ginger, umeboshi plum sauce and yukari salt (made from dried red shiso leaves and salt) and ringed with crispy kale chips. Every time they bring us a plate they walk past the demon standing near our table and he lets out some form of protest.
You have to love a menu with so much seafood on it and we are both delighted that there's another course of sashimi, this time with 6 slices per person of the sashimi of the day. Today it is salmon, tuna and kingfish sashimi. I greedily eat these up and Laura is on her second slice when she looks over and says, "Have you eaten all your sashimi already?" and I nod unashamedly. I basically turn into a seal around sashimi.
The servings here are generous and for all but two of the courses we each get a separate serving. Next up is a sizeable bowl of lotus root chips seasoned with yukari salt and yuzu guacamole. The guacamole with yuzu is a great idea as an alternative to lime and the lotus root chips are so moreish with the yukari salt that I polish off the whole bowl. I have plans to dry the shiso at home to make yukari salt.
We also order an extra course because Laura loves the Nobu tacos. The spicy tuna guacamole tacos are seasoned with gochujang with yuzu mayonnaise and cherry tomato served in a crisp, thin tart shell. It's nice although the gochujang is a little strong in this.
When they bring out the popcorn prawns they tell us that this is the most popular dish on the menu. I know that we have mains so I can't finish this (as much as I want to) but I can see why it's the most ordered dish here because the prawns are so luscious with both crunchiness and sauciness. Again they could have brought out a share portion of this but we each get our own bowl.
It's time for mains and my choice is the grain fed beef tenderloin brochettes cooked over charcoals on the Hibachi grill. There are three skewers of tender, grain-fed beef tenderloin sitting on a baby cos lettuce wedge salad with sesame dressing. The beef is nice and tender but I would have loved a touch more seasoning on the beef itself.
Out of the two mains I preferred the toothfish a bit more because of the luscious texture of the fish and the dabs of cured sweet miso. The toothfish is aged for one day and served on a leaf of fresh kelp with fioretto cauliflower. I actually dip some of the beef in the miso for extra seasoning.
The sweetcorn is grilled and charred and served split in two. While it is tasty it is really hard to get the beetroot chimichurri in each bite as it falls off the cob as soon as you pick it up.
The crispy eggplant is two pieces of skewered deep fried eggplant batons with Shiraz seasoned onions with sweet miso, sesame seeds and chives and finely grated and fried sweet potato.
It's time for dessert and we are both really full by this stage but not too full to sample what's on the menu. The basil and lime tart comes out first with a crisp butter base filled with a basil and lime custard. It perhaps had a smidge too much cream and tastes like a mouthful of whipped cream and I would have loved more lime and basil.
Out of the two I end up eating more of the yuzu sorbet which is perfect for finishing a tasting menu on as it's light, tangy and citrusy.
As we leave our skeleton dining partner bleats out a protest. And no doubt if we ever need a Nobu style fix without the price tag we will be back!
So tell me Dear Reader, do you pay attention to where chefs have worked in the past?
NQN and Laura were guests of Oribu but all opinions remain her own.
Oribu
215 Church St, Parramatta NSW 2150
Hours: 5pm-12am Wednesday to Sunday
Monday & Tuesday closed
Phone: 0434 381 688