It's time for a weekend adventure to Parramatta! Kumiho is a popular Japanese Korean restaurant that serves a la carte Japanese food as well as a 7 course tasting menu at a very reasonable price. Is the degustation worth the drive?
While driving home one night after dinner Sophia said to me, "There's this omakase that I really want to try. It's supposed to be really good but it's quite far away in Parramatta" (because what else is there to talk about after eating food than upcoming food to eat). She showed me the menu and it sounded great plus the restaurant had great reviews so I told her I was in.
The restaurant in question is Kumiho on the ground level of a hotel in Parramatta and we made plans to go once February hit because January was such a food filled month. Our curiosity was piqued by a couple of courses as well as the very reasonable price of $99 per person. It is more of a degustation or tasting menu experience rather than an omakase. It is made up of 7 courses and needs to be ordered ahead of time with a minimum of two people.
We are the first customers to arrive at Kumiho and the restaurant is empty but over the next hour the restaurant will become full and people without reservations will be turned away. Service is sweet and friendly but perhaps not their strongpoint. They log us into the tablet where we can order extra drinks (and food if you want) but then disappear and not a word is exchanged.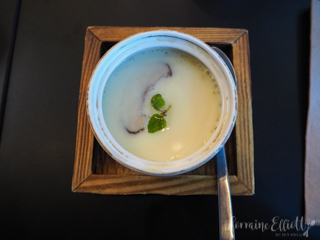 Steamed Egg Cup
The next time we see the staff they come bearing food. Confession time: sometimes I find chawanmushi a bit too eggy and usually only have a spoonful of it before passing it onto Mr NQN who loves it. But I really like this steamed egg custard cup because it isn't overly eggy. There's flavour from the shiitake mushroom and I like the edamame found at the bottom.
Truffle Kingfish Sashimi
Some courses come out individually and some come out as shared. This is a shared kingfish sashimi dish with avocado, tiny potato straws, gochujang mayo and Korean seaweed squares. It's very tasty and best when you spoon a bit of everything onto a seaweed square like a tostada and that's where the balance comes in. The only criticism is that it should come with at least eight seaweed squares instead of two.
Assorted Sashimi
This is another share course with two pieces of each sashimi (kingfish, salmon, tuna, scampi). These are all fresh and deliciously silky textured, melting in the mouth. There is also a pot of sea urchin and two oysters with green onions and tobiko.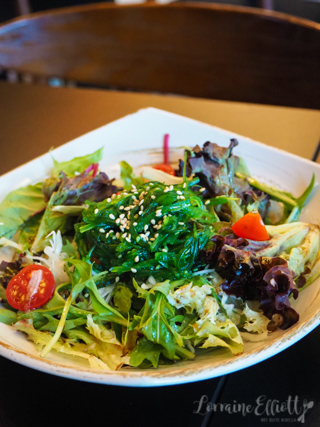 Seaweed Salad
The seaweed salad is also shared and is a good sized salad. It was mentioned on the menu as being part of the sashimi course so we expected a little amount of just seaweed salad on the plate but it's a separate bowl which is a nice surprise.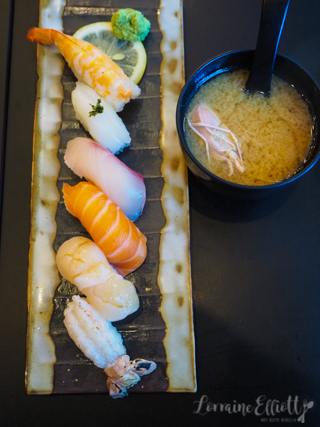 Assorted Nigiri and Scampi miso soup
The nigiri comes as a separate plate for each person and there are 6 pieces of expertly made nigiri. I love it when the rice is slightly warm so that you know it was made fresh. They're all fantastic especially the salmon and scampi nigiri. On the side is a bowl of scampi miso soup.
Wagyu Katsu
The wagyu katsu course is one that Sophia really wanted to try as it is cooked at the table on a hot stone. Cooking on stones hasn't really become a thing here in Australia and the last time I did it was in New Zealand many years ago. Here they bring out the wagyu katsu partially cooked and crumbed and you finish it off on the hot stone. The stone itself isn't very hot at all so it doesn't have a sizzle when you place the wagyu down. Sophia cooks her own pieces as she likes her beef well done and I cook mine as I like it medium rare. It melts in the mouth and is wonderful dipped in the yuzu ponzu sauce.
King Prawn
The king prawn is a surprise course and it isn't mentioned on the menu. They're two enormous king prawns, coated in panko crumbs and deep fried. They're crisp, golden and piping hot, just how deep fried food should be.
Truffle Chicken Broth Ochazuke
By now we're very full and can't even finish our nigiri or the wagyu katsu. The last savoury courses come out and you can choose either an individual bowl of rice or noodles. Ochazuke is rice cooked in this chicken broth. It's comforting and has a robust chicken flavour to it. It is very lightly flavoured with truffle (like the truffle kingfish above, we barely tasted or smelled it).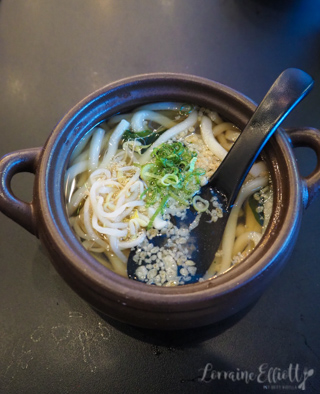 Tanuki Udon
My pick was the tanuki udon with a beautifully clean flavoured broth, bean sprouts, spring onions and chewy udon noodles.
Crème Brulee
It's time for dessert and this is an individual choice. There are three desserts on offer and Sophia chose the crème brulee which has a silky custard and a thin, crisp toffee shell on top.
Tirami
su Rice Cake
My choice is the tiramisu mochi with a squirt of whipped cream with black sesame seeds. I love both mochi and tiramisu and this is the perfect combination of these desserts. The mochi skin is thin and the fluffy, light mascarpone filling is moreish. It's dusted in cocoa and I wish we could have ordered another (I tried, they had sold out)!
So tell me Dear Reader, do you like tasting menus or do you prefer going a la carte? Do you think this menu is good value?
This meal was independently paid for.
Kumiho
140 Marsden St, Parramatta NSW 2150 (ground level Skye Suites)
Phone: (02) 8872 5070
Open 7 days 12–3 pm, 4–8:30 pm
kumiho.com.au