This pumpkin soup is the perfect pumpkin soup! This low fat and wholesome soup has an amazingly creamy texture and body to it. It is also easy to make! If you want a pumpkin soup recipe with a twist you must try this recipe!
I asked people on Instagram what sort of recipes they'd like and quite a few people asked for healthy, wholesome soups. That is a soup that is hearty enough for dinner and comforting yet still healthy and good for you. This soup was even better than I had hoped. It ticked the main things that everyone was asking for:
No added cream or butter
Vegetarian or rich in vegetables
Hearty
Creamy without cream
Low fat
Easy
I used a whole butternut pumpkin in this which we bought because they last for so much longer than a cut one. I used half of it but of course feel free to double it and make enough to freeze as this freezes beautifully. The only thing is having a big enough pot to fit everything in!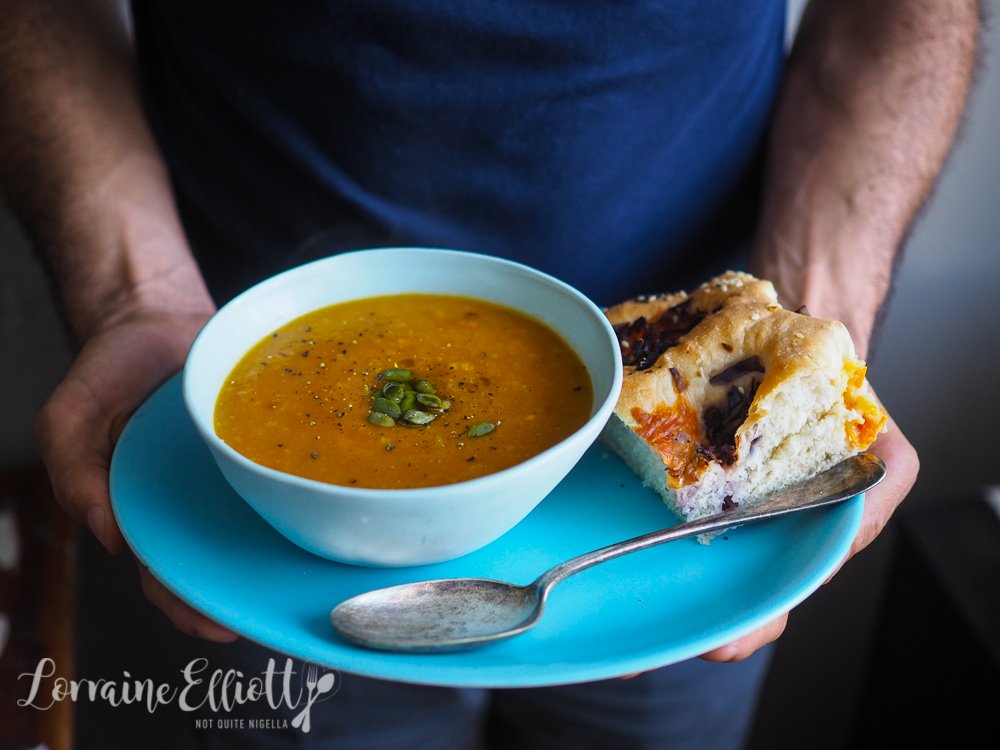 I've also started adding some quick tips and substitution notes because I know that we can't shop like the used to during the COVID-19 crisis and that you may not have all the ingredients to hand. Also some of you are newer to cooking having had to suddenly whip up meals where you would normally go out for so I hope these tips come in handy :)
Don't have pumpkin or rice? Carrots and sweet potato are really good substitutions for pumpkin. Also you can use any type of rice - white, jasmine, basmati or brown. Just cook brown or black rice for longer and with glutinous rice, add that in at the end. If you don't have rice you can use barley, millet, quinoa or farro. You can also make this vegan/vegetarian by using vegetable stock.
The Best Way to Quickly Cook a Whole or Half Pumpkin: I've used this method to cook a whole pumpkin for over 10 years because I hate cutting pumpkin and it always feels like I am seconds away from hurting myself or losing a finger. I learnt this life-changing method to cook pumpkin from my mother in law Tuulikki. Place the whole or half pumpkin in a 200C/400F oven for 45 minutes (maybe jab the pumpkin once with a knife because I've heard that it can explode but that has never happened to me) or until you can slide a knife in easily. The skin peels off easily and the seeds and membrane falls away!
Want other pumpkin soup recipes? Try this Thai Style Low Fat Pumpkin Soup, Pumpkin & Corn soup, 3 Ingredient Pumpkin Soup or a Crab and Butternut Squash or Pumpkin Soup!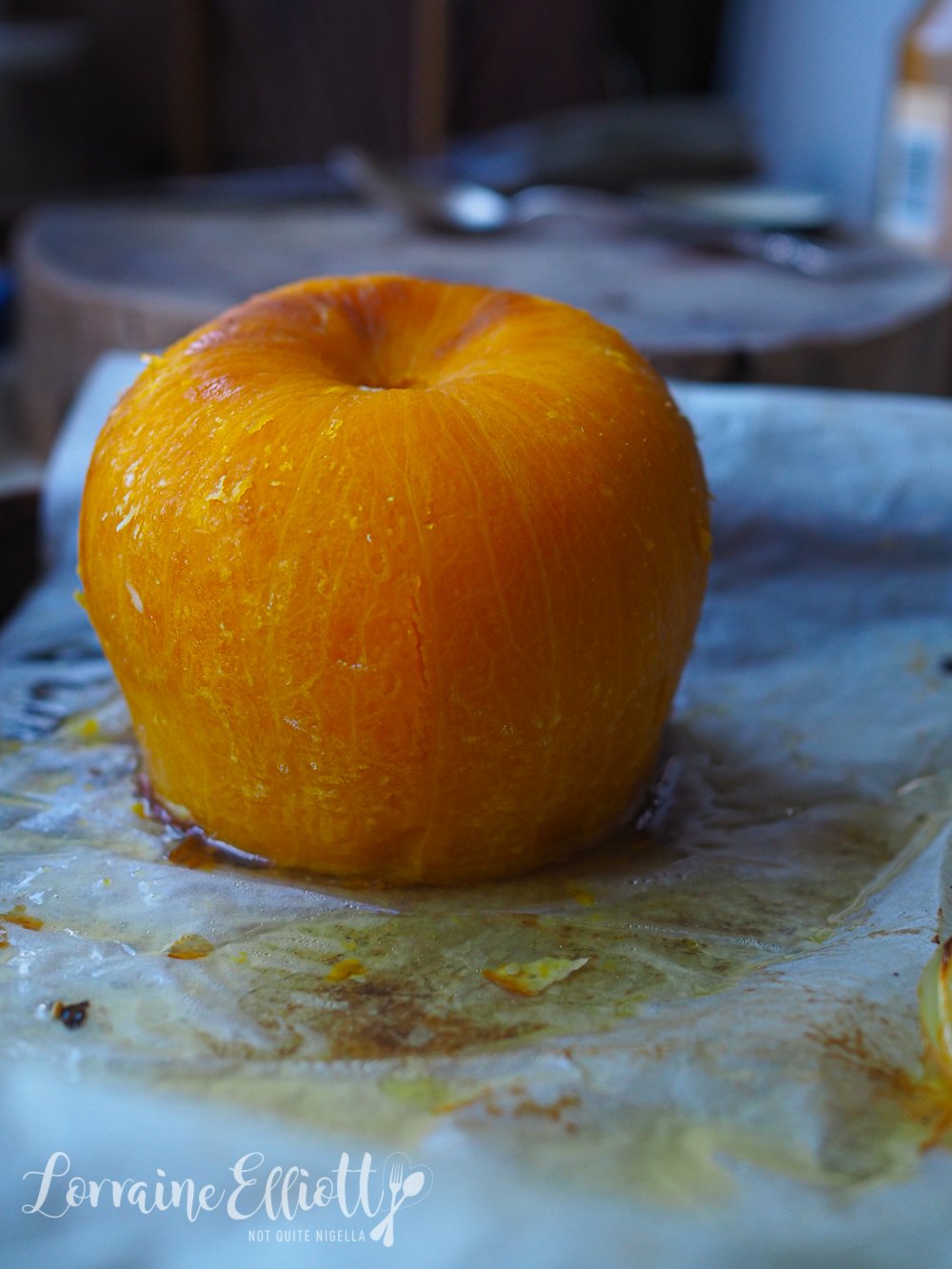 Every day for the past few weeks has been filled with food and work with the occasional moment put aside for just staring at my phone like a zombie. I'm an extrovert that likes going out so iso life isn't easy. Introverts like Mr NQN and Ivy are coping really well because they love being inside. In fact Mr NQN said that he loved the idea that people had to be a certain distance from him and that he wished that that would continue!
As for me I became obsessed with this yellow ladybird beetle in our bathroom that I dubbed "Lady". I'm not sure why but I became very invested in Lady's welfare. I checked in with her every time I had a shower. I know very little about lady beetles' needs and quite honestly they're the only bug I want to be in the company of.
Then one day I ran the shower absentmindedly and Lady got wet. "Oh my god Laaaaaady!!!" I screamed. Her legs curled up under her and I gently tried to lift her back up on the bathroom shelf to get some sun and be out of the shower stream.
One leg flicked back out. "Come on Lady, you can do it!!" I'd say after each three tiny legs kicked out. Then she stopped moving. Lady had passed away and I felt terrible.
They never tell you that everything is heightened when you're in quarantine or isolation because well, your world is so small. My feels for little Lady were strong. So strong that I burst into the room where Mr NQN was wearing my towel sobbing, "Lady died!".
My timing was impeccable. He was on a conference video call and tried to cover the screen as much as he could. "Noooooo!" he said and shooed me out quickly. I'm just thankful I was wearing a towel!s
So tell me Dear Reader, do you feel as though your emotions are heightened? Are you an introvert or extrovert and how are you coping?
DID YOU MAKE THIS RECIPE? Share your creations by tagging @notquitenigella on Instagram with the hashtag #notquitenigella
Dutch Curry & Rice Pumpkin Soup
Rated 5.0 out of 5 by 1 readers
An Original Recipe by Lorraine Elliott
Preparation time: 10 minutes
Cooking time: 55 minutes
Serves 4
650g/23ozs. pumpkin (or butternut squash)
1 large onion, quartered
3 tablespoons oil
2 tablespoons curry powder*
1 litre chicken or vegetable stock
1 bay leaf
1/2 cup rice
1 teaspoon sugar
Salt and pepper to taste
I use Baba's meat curry powder found at Asian grocery stores
Step 1 - Preheat oven to 200C/400F. Place pumpkin or squash without peeling on a baking tray and add onion on the side. Drizzle oil on the onion (no need to oil the pumpkin) and roast for 30-40 minutes until the pumpkin is soft and you can easily slide a knife inside it. Remove from oven and allow to cool enough so you can remove the skin and seeds.
Step 2 - Heat a large pot on the stove on medium heat and add the curry powder and bay leaf and heat until fragrant. Add the pumpkin and onion and the oil (I just take the whole sheet of parchment and tip it into the pot) and then add the stock and bring to a boil.
Step 3 - With the rice, I rinse it just once so that you still get a bit of starch to thicken the soup. Add the uncooked rice to the soup. Cook for 20 minutes with the lid on. Then remove bay leaf and blend with a stick blender.
Optional: Add cooked rice after pureeing the pumpkin and stock mixture. I like the texture from the blended up rice that gives this soup the amazing body and creamy mouthfeel that it has without adding any cream. But if you like having the rice grains whole they're also good with a blended up pumpkin soup! :)