If you're looking for make a deliciously moist banana bread but want to cut down on refined sugar try this version where the sugar is replaced by dates! Dates add fibre and vitamins as well as sweetness!
DID YOU MAKE THIS RECIPE? Share your creations by tagging @notquitenigella on Instagram with the hashtag #notquitenigella
Sugar Free Banana Bread
Rated 5.0 out of 5 by 1 readers
An Original Recipe by Lorraine Elliott
Preparation time: 15 minutes
Cooking time: 1 hour 10 minutes
3/4 cup mashed bananas (330g/11.7ozs. of bananas in skin or two large bananas)
180g/6ozs. medjool dates, pitted and soaked in hot water for 20 minutes
2 tablespoons lemon juice
1.5 cups/195g/6.7ozs. cake flour*
1 teaspoon bicarb
1/2 teaspoon salt
85g/3ozs. soft butter
3/4 cup/180ml/6flozs. buttermilk**
2 eggs, room temperature
1 teaspoon vanilla extract
For every cup of cake flour, replace 2 tablespoons of plain all purpose flour with 2 tablespoons cornflour or fine cornstarch
I never have buttermilk on hand. Instead add 2 tablespoons lemon juice to milk to make up 3/4 cup of buttermilk
Date, banana and lemon juice puree
Step 1 - First clear some freezer space that will fit your loaf tin. I know this sounds crazy but it makes for an incredible texture in the end so there is a method to my madness. Line the base and sides of a loaf tin (mine is 19.5cm x 10cm x 11cm or or 7.6 x 3.9 x 4.3 inches) and preheat oven to 135C/275F (yes very low!).
Step 2 - Remove the dates from the hot water and squeeze dry (the weight of the dates will have increased to around 220g/7.7ozs.). Blend the dates and the bananas with the lemon juice and set aside. In a jug measure the flour, bicarb and salt and whisk until combined. In another jug whisk the buttermilk with eggs and vanilla and set aside.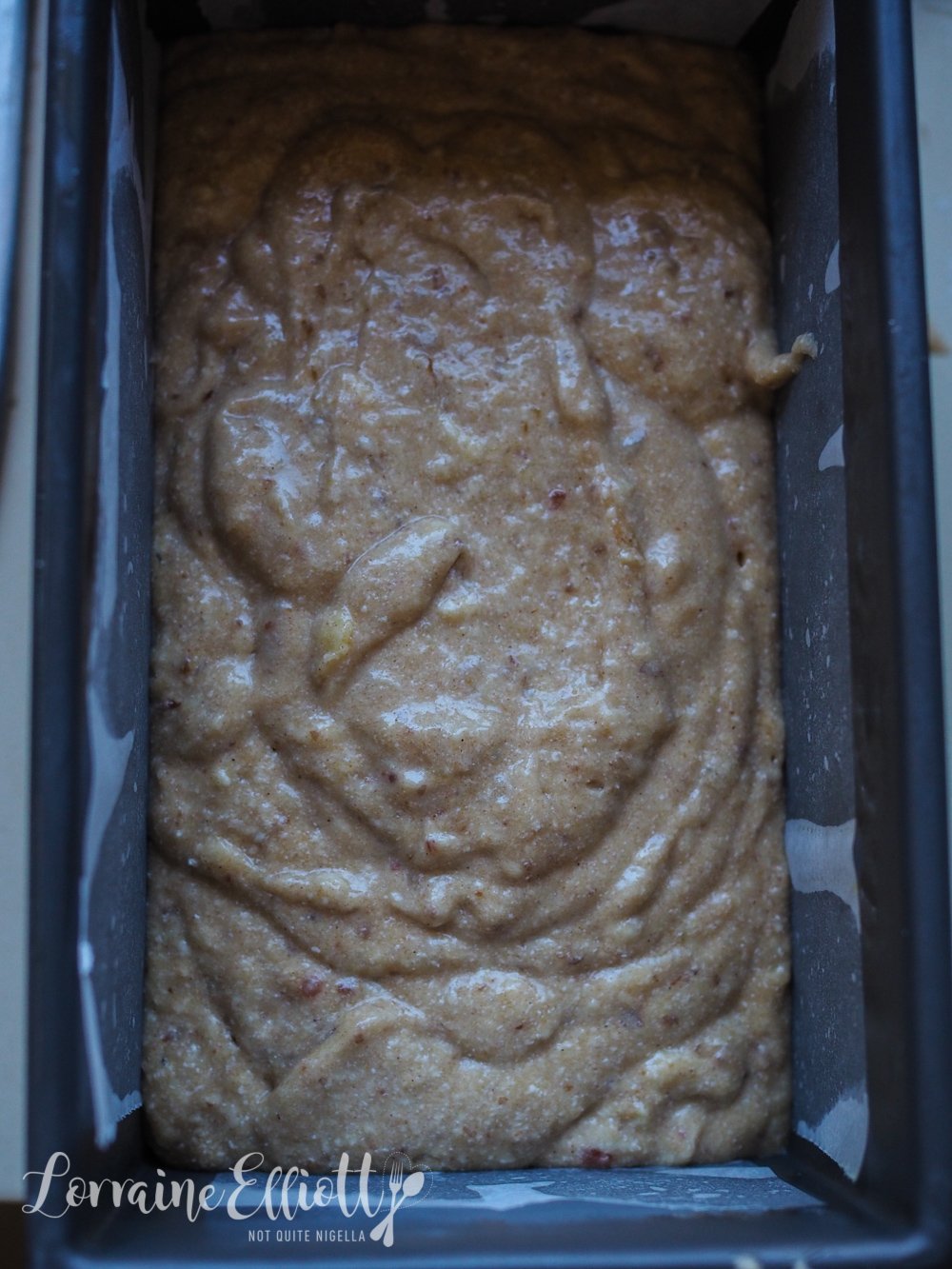 Step 3 - Beat the butter until soft (around 3 minutes). Add the banana mixture and beat until smooth. Then add the milky egg mixture in two lots and then beat until combined. On the lowest speed or by hand add the flour mixture mixing until just combined. Scoop into the tin and bake for 1 hour 10 minutes or until the centre of the cake springs back when touched.
Step 4 - Take the bread out of the oven and wrap it in two teatowels (to protect the other food in your freezer). Place the wrapped tin directly in your freezer for 45 minutes. Remove and cool completely or you can slice it up and eat it warm.