Today we head to Sydney's Rooty Hill to try some incredible Filipino food. There's the Legendary Kamayan restaurant that has been in business for 29 years, to sweet Puto Flan and Pandesal to soft Yema cake to the crispiest, crunchiest Crispy Pata pork knuckle. You can easily eat and shop your way around Rooty Hill!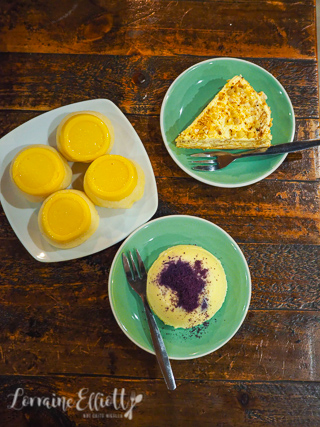 Over the last couple of years Filipino food is gaining prominence in Australia with more restaurants opening and proud Filipino's showcasing their cuisine. A friend @ktruscott78 described it as, "Filipino food to me is like a perfect mix of different cultures. It's adapting food from all parts of the world and putting the Filipino spin on it. Filipino food is salty, sweet and super sour. They also do a lot of grilled and some dishes are very much similar to Spanish food like lengua, menudo etc. There are a lot of Filipino foods that are similar to other cultures eg. lumpia is like spring rolls, arroz Caldo is like congee."
Katherine also gave me some advice on her favourite eating spots in Rooty Hill. Monica and I pull up on Rooty Hill Road and look around. Everything is low, there are no high rises and there's a chilled out vibe on this overcast Thursday. Our stomachs rumbling, we eagerly head towards our first stop.
Kamayan
The first stop is actually our favourite stop of our little tour. Kamayan is a legendary eatery in Rooty Hill. If you're in the area on a Saturday, the queue snakes around the block. The outfitting is simple and unpretentious. It's the sort of place that you may not find getting a glossy write up but locals and Filipino foodies know, this is the place to go.
This is the real deal where a bain marie displays delicious Filipino dishes like Adobo, Dinuguan, Menudo, Hamonado and Sisig. It is run by the Bernal Family with dad Nestor busy cooking, son Leonard behind the counter and his brother Paul at the front. Reggae music plays in the background and Paul sits at the front chatting to us and shooting the breeze. He tells us they are in the midst of redecorating. It started off as a grocery store with one dish and now the grocery store is gone and now it's a takeaway and eat-in restaurant.
The word Kamayan has a couple of meanings: the most obvious might be that it describes the traditional way of eating Filipino style with your hands. It also references the way that people used to move houses with a community group of people lifting a house with their hands.
We ask for a sample of what they do best including their Dinuguan aka "Bloody Mary" that Katherine loves. Paul explains that Dinuguan is sometimes made with offal meat, other times "outside meat" and that is the case with this Dinuguan made with soft pork belly. It is both our favourites, the flavour of the blood giving the sauce a richness without being metallic and there is vinegar to offset this intensity nicely too.
We also try the Fish sinigang tamarind soup which is like a hot and sour soup with milk fish fillets in it. The milk fish tastes like chicken so it has that comforting chicken soup taste with a sourness to it from tamarind. The Beef Caldereta is rich with tomato and very moreish with plenty of soft, melting beef. In fact what we like is that everything tastes quite different from each other.
My favourite because I happen to love pork is the sweet and sticky BBQ Pork soft bones. If you eat the white bone they are delicious but if you don't, you may not find there's enough meat on these.
Vegetables include the Pakbet or snake beans with large chunks of pumpkin in coconut milk. There is also bitter melon with pork, prawn and eggs which is slightly bitter but perfect with the sweet pork rib white bones.
As we leave Paul tells us to come back on a Saturday. "We have chicken and ginger soup then! That's what Manny Pacquiao eats when he is training!" he says.
Kamayan: 55 Rooty Hill Rd N, Rooty Hill NSW 2766. Tuesday to Friday 10am–5pm, Saturday & Sunday 9am–5pm, Monday Closed. Phone: (02) 9832 0284
Mama Lor
A few doors down from Kamayan is Mama Lor a slicker, more merchandised eatery. The vibe is quite different, they're polite and friendly but visiting Kamayan was like visiting family friends who are eager to talk to you about their food whereas this is more a business transaction.
Katherine had directed me towards the sweets here. I love ube, the purple yam that is very popular in Filipino cuisine. Here they have ube cake and ube panna cotta, a vanilla panna cotta sprinkled with ube powder.
We also try the Sans Rival, a layer cake made with meringue, buttercream and cashew nuts. It's creamy and nice and more a European style of cake.
We also order some Puto Flan on Katherine's recommendation which is a custard top steamed cake that has a surprising yet delicious flavour and texture. It's nothing that you'd expect yet it really works and I adore this.
But what I love best are the Hopias. These are small flakey pastries filled with either ube or spring onions and pork fat. The latter is the pick of the two although the ube is also delicious. The pork version has a wonderful sweet salty flavour to it and it's very addictive.
I also buy some Pandesal bread rolls, soft and sweet milk rolls as well as Spanish bread rolls with a sweet butter filling.
Mama Lor: Shop 5/39-45 Rooty Hill Rd N, Rooty Hill NSW 2766. Open 7 days 10am–7pm. mamalor.com. Phone: (02) 8809 7778
Melchrishel Bakery
A few shops away from Mama Lor is Melchrishel Bakery. The look of the window is a sight to behold. It's full of lacy, frilly cakes and Dolly Vardens a-plenty. It reminds me of a shrine to Jon Benet. Monica spots a cake with her name on it and poses next to it. Here meringues come in technicolour shades.
We are here for a Yema Cake, a Filipino chiffon cake with yema custard inside (like a dulce de leche filling made of milk and egg yolks cooked down until caramelly). On top is grated cheese sort of like a cross between an unaged cheddar and Kraft singles. The Yema cake is super light and sweet with a savoury finish from the cheese and it, like the bakery is pure whimsy and fantasy.
Fresh Food Market Rooty Hill
Right opposite Kamayan is a supermarket and both of us love visiting supermarkets to see what is on offer. There's a large fruit and vegetable section and a butchery offering up all sorts of cuts of pork.
Whenever I go to a Filipino store I always stock up on Graham crackers for cheesecakes and American recipes. There's also a range of ice creams like cheese flavour, pandan and avocado and lots of fun snacks.
Fresh Food Market Rooty Hill: 6 Rooty Hill Rd N, Rooty Hill NSW 2766. Monday to Friday 8:30am–7pm, Saturday 8:30am–6pm, Sunday 9am–6pm. Phone: (02) 9625 6068
Cucina de Manila
Cucina de Manila is the only place that isn't on Rooty Hill Road and is 400 metres away. We decide to drive there instead of walking because time is slipping away.
We hop in my car and follow as the GPS takes us the long, convoluted route. "Turn right in 800 metres, then turn left and drive 650 metres" the robotic voice tells us. "But it should just be 400 metres away!" says Monica. By the time we get there around 10 minutes later we are both laughing so hard at the circuitous route.
"Are they open?" I ask Monica when we arrive. "Let me jump out and take a look," she says and peers into the window before giving me a thumbs up. Although it's 3:30pm on a Thursday they're open and we are the only customers although more come in over the next hour or so for an after school meal.
Nothing is hurried here and the food takes a while to be made which we have no issue with as it means that it is freshly cooked. The kare kare arrives and it is a peanut based stew with plenty of eggplant, bok choy and beans, soft, melting beef and ox tripe and is noticeably sweet and creamy. On the side is a pungent and sweet shrimp paste to season it.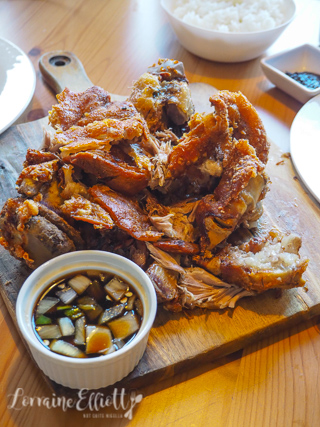 But the main event is the Crispy Pata, a large pork knuckle deep fried and pulled apart. It comes with a side of soy vinegar with chopped white onion. Even though we have eaten a lot I can't help but go back for more of this. As I grab the bone I say mournfully, "Crispy Pata is the only thing standing between me and abs."
Cucina de Manila: 28-30 Rooty Hill Rd S, Rooty Hill NSW 2766. Monday & Tuesday 12–7pm, Wednesday 11am–7pm, Thursday 11am–8pm, Friday & Saturday 11am–9pm, Sunday 11am–8pm. Phone: (02) 9675 3846
So tell me Dear Reader, have you tried much Filipino cuisine? Which place or dish appealed to you?
These meal were independently paid for.