True story: once my family and I walked into a Chinese restaurant, saw that it was completely full but there wasn't a single Chinese person sitting in there. We made our excuses and left. Do you think that that is strange? Perhaps? But I do feel comforted if I go to a particular restaurant and see plenty of people from that culture eating there.
It was on a trip to Auburn for one story that I thought that we may as well make a day of it as it was quite a drive out there. Auburn is an interesting suburb with two cultures living side by side-there's plenty of Turkish and Lebanese restaurants and stores but there are also Chinese restaurants and stores. Indeed the three largest groups within South Auburn are Chinese, Lebanese and Turkish in that order.
I was trying to choose between lunch at a Persian restaurant and Himalayan one, both cuisines not particularly common so we wanted to try both. Mr NQN made the decision when I asked him-his answer to any question is effectively "dumplings" so we headed towards Ramsay Street to Himalayan Fusion. We slide the door open and we are greeted with a restaurant full of Nepalese clientele. The walls are bright orange and yellow with those familiar wooden doors as decoration that you see on the walls at many Himalayan restaurants.
The menu is extensive with an entire page devoted to momos-those steamed, pan fried or deep fried dumplings. They're out of buffalo completely but they steer us towards the chicken. Service is gentle and sweet and I think they're worried that we won't like the traditional Nepalese food but we decide to try a bit of everything. "Would you like your momos spicy?" she asks us and I look down at the menu-there's four options: mild, medium, spicy and atomic. "Spicy would be great, but perhaps not atomic" I add, just in case atomic really does mean atomic.
Himalayan special tea $3.99 and mango lassi $3.99
While we were waiting on our food, we tried some of the Himalayan special tea which is beautifully milky and fragrant with spices. It's so milky that when it cools, a skin forms on top and the predominant spice is cardamom. The mango lassi isn't bad with a slightly greenish mango flavour and I much prefer the warming tea.
Chicken chilli momos $9.49
I have to admit that whatever they are cooking smells really good so I'm quite famished by the time our food arrives. The momos arrive with ten dumplings to a serve and they're sitting in a spicy tomato chilli sauce with green capsicum and onion. They're spicy but not overwhelmingly so and each has a good amount of filling of ground chicken mince. It's like not having to dip your dumplings in soy, vinegar or chilli sauce!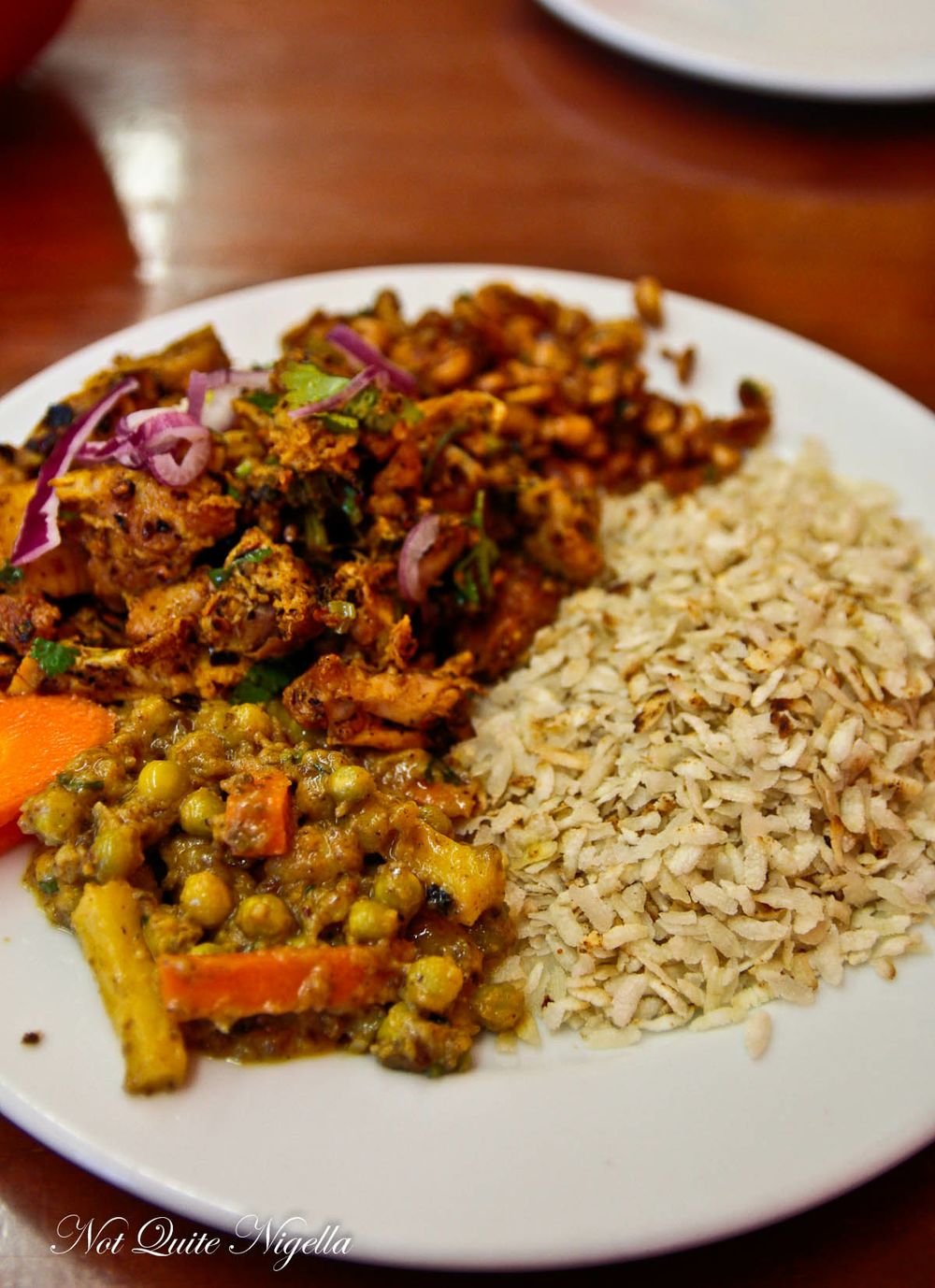 Chicken Chowela $11.99
The chicken in the chowela is mixed with Himalayan spices and prepared in a clay oven. It's served on a plate with crispy beaten rice called chiura which is really interesting as it's so different from puffed or crispy rice. There's also a crunchy soy bean salad called bhatmas sandheko and a carrot, pea and potato salad flavoured with spices. All but the last salad have a strong flavour of mustard oil which is similar to wasabi in taste so it packs quite a hit. The chiura rice is dry and very crunchy and reminds me of panko breadcrumbs. I actually like this rice mixed with some rice from the dish below so that it has a crunchy, crispy finish to it.
Goat Thali $15.99
The thali comes out last and it is presented just like the Indian thali with a plate of rice with several types of dishes accompanying it. There are slightly bitter sauteed greens, a bamboo shoot and soy bean dish which is really strong in that distinctive bamboo shoot smell, a small pot of terrifically flavoursome aachar, a dal lentil soup which is nourishing and thick. There's also a bowl of wonderfully soft mutton goat curry and rice to go with this and I enjoy all of the flavours except for perhaps the bamboo shoot and soy bean dish because of the smell.
Gajar ko Haluwa $5.99
There were two desserts: Gulab Jamen and Gajar ko Haluwa which is a carrot based halwa but the latter is made in house so we tried that. I've tried Indian carrot halwa desserts where the milk is cooked away and absorbed into the carrot but this is served almost like a soup. The carrot, sultanas and nuts are cooked in cardamom scented milk. The result is a fantastically comforting dessert which like the tea, is so milky in essence.
At the counter when you go to pay, there is a bowl of candied fennel seeds which you scoop into your hand with the spoon provided. These tasty sweet seeds freshens the breath quite nicely indeed. There's also a selection of items to buy including tamarind paste and a curious fruit called a Lapsi which is said to be a "typical Nepalese fruit." They tell me that it resembles a lychee inside but tastes like a lemon and here it is sold dried and flavour with salt, sugar and chilli. I pick myself up a pack of these on my way. A trip to Auburn isn't complete without some supermarket shopping and just a couple of doors up is the Arzum market grocery store where I spend time finding gifts for friends overseas.
So tell me Dear Reader, have you ever tried Nepalese food? And do you often buy things that you have never tried before or don't know how to use or cook?
Himalayan Fusion Cafe
73 Rawson St, Auburn NSW 2144
Tel: +61 (02) 9643 5660