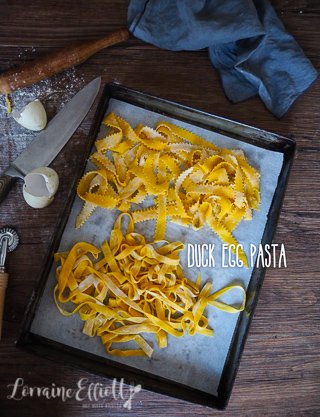 Want to make fresh pasta but don't have a pasta machine? You don't need one to make delicious fresh pasta! All you need is a little patience and a rolling pin. In this recipe I used duck eggs to make that pasta just that little bit richer but you can also use chicken eggs!
To bypass using a pasta machine all you need is time for the dough to rest. Then divide your dough into smaller balls and roll it out with a rolling pin and then cut it. That's really all you need to do. I was surprised at how well it worked. My pasta machine broke a few years ago and I never replaced it.
Fresh duck eggs are such a treat. I was given a dozen duck eggs by my lovely friend Valentina and I know that they're precious. I love using them in cooking rather than eating them straight because they do have a stronger flavour to them. The bonus is that these have very large yolks, noticeably so, and duck eggs are higher in protein and give baked goods a higher rise and a richer flavour. For pasta it gives it a richer flavour with an excellent texture.
Speaking of giving something a rise, we were recently eating out at a restaurant. Usually I order the food and drinks and talk to the staff and it suits us because I make the food decisions and Mr NQN is very, very shy and hates talking to people.
We had one waitress however who clearly had quite a crush on him. "So how was the food?" she said brightly turning her back to me and beaming a big smile on him. "Errr fine," he mumbled looking at me confused and trying to direct her attention to me. "I looooove that dish," she said flicking her hair and playing with her hair she went on to describe the sensual quality of the dish and why she ADORED it. It was actually hilarious and a bit weird.
"She wanted to jump in your lap," I said dryly. After each course (and there were six courses) she'd do the same flirty behaviour. Mr NQN got increasingly uncomfortable and didn't really answer her much but that didn't stop her onslaught of affection.
At the end of the meal she finally addressed me. She leaned in and said, "I just wanted to say, that's a beautiful ring, well done," and with an insincere smile she left. I had to laugh. I guess she had tried her best but really, what did she think was going to happen? Or maybe she had had better luck with other customers in the past and the over flirting had worked?
Anyway I promise that making your own pasta will (unlike the waitress's efforts) be worth it. This duck egg pasta is beautifully textured and well worth making and please don't let the lack of pasta machine put you off making your own.
So tell me Dear Reader, do you end up talking to the wait staff more or does you friend or partner do most of the talking? Have you tried using duck eggs in cooking?
Duck Egg Pasta