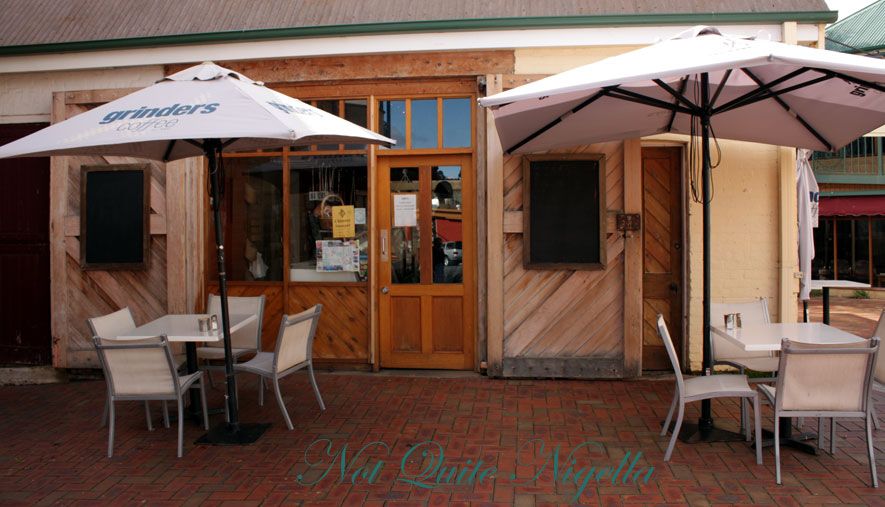 On our drive back to Sydney, exhausted but blissfully happy at having a great time at the Snow, we sought out a great place to have breakfast. The little country style shop near the house was closed this Monday morning so we drove towards Sydney through Tumut to find a bigger town. I was looking for something cute and blog worthy whilst everyone else was looking for a meal to fill their growling stomachs. Luckily we happened upon the Coach House.
Housed in a sandstone building, there is a front counter with hot pastries, pies and sausage rolls and walking through, an eating area with handy monogrammed green blankets to help ward off the cold. We grab a blanket each and settle in to examine the menu. Ordering and paying at the front I ask about certain items and choose the home made raisin bread and pancakes (told you I was hungry!). The breads, pies, sausage rolls and quiches are all made there daily.
Poached eggs and toast $9
It takes a while for our food and drinks to arrive and when they do, they arrive one by one. Anneli's poached eggs arrives first. The wholemeal bread is delicious, with a lovely crunch to it- Anneli loves it so much that she enquires as to whether they sell it by the loaf. They do, but require a day's notice. After a few more queries they offer her a frozen wholemeal loaf which she happily purchases ($4).
The Hot Chocolate with marshmallow, one of those items that the cold weather enhances so superbly is not very impressive, tasting like the base is made up of water and chocolate instead of milk and chocolate - weak and watery.
Cappucino $3.00
The cappucino suffers a similar fate, very weak and not particularly full flavoured.
Raisin toast $3.70
My fruit toast arrives, with that lovely crunch and full with plump raisins. I slather it with the butter and crunch away happily.
Pancakes with syrup (or honey) $6.80
My pancake order, with real maple syrup (I had to check prior to ordering as I adore real Maple syrup) arrives with two pats of butter. The pancakes are thick and spongey and absolutely delicious when spread with butter and drizzled with the maple syrup. I share some with others and they get an enthusiastic response all round.
Pumpkin soup with bread $6.50
The soups arrive, one at a time. I try some of The Assman's pumpkin soup. It's quite nice but not particularly creamy or rich. The bowl does look a little empty as it is filled only halfway but it's warming nevertheless.
Chicken and sweetcorn soup $6.50
My husband's soup looks even more sad and empty but the soup inside is full of nice BBQ chicken chunks and noodles and a little bit of sweetcorn. His toast is a little burnt but it gives him the desired warming effect.
Quiche $4.20
We take away from goodies for the drive to have for lunch. Anneli's vegetarian quiche is small and crustless but she declares it the nicest quiche she's ever had filled with artichoke hearts, avocado and other tasty morsels.
Meat pie $4.20
The meat pie however is a bit of a disappointment, the filling bland and very wet. The whole pie is made with puff pastry and the bottom threatens to split open.
Sausage roll $4.20
The sausage roll is better, the sausage mince not particularly different or unusual but it's fresh and the pastry deliciously crumbly.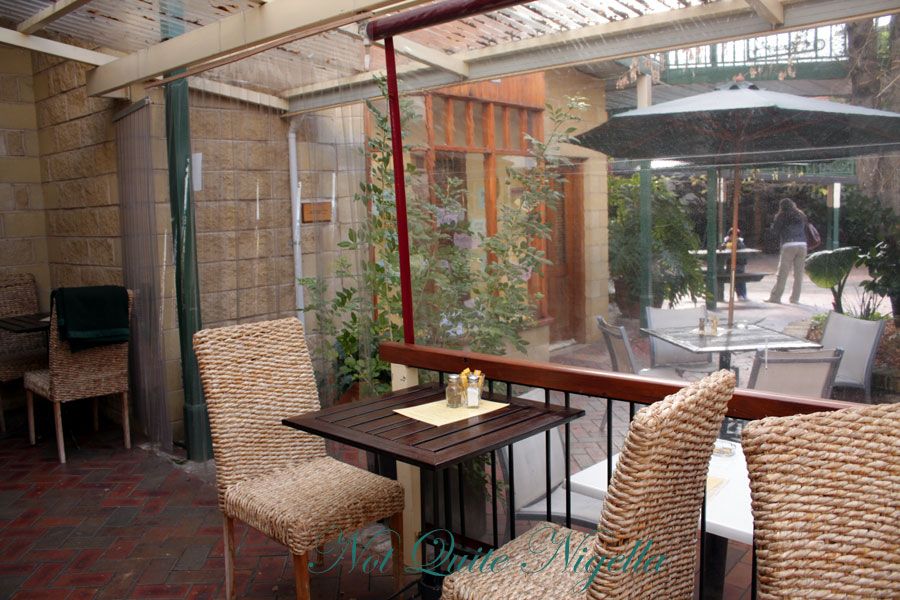 The Coach House
The Tumut Connection
Russell Street Tumut
Tel: +61 (02) 6947 9143
Open 8am-5pm Monday to Friday
8am-3pm Weekends