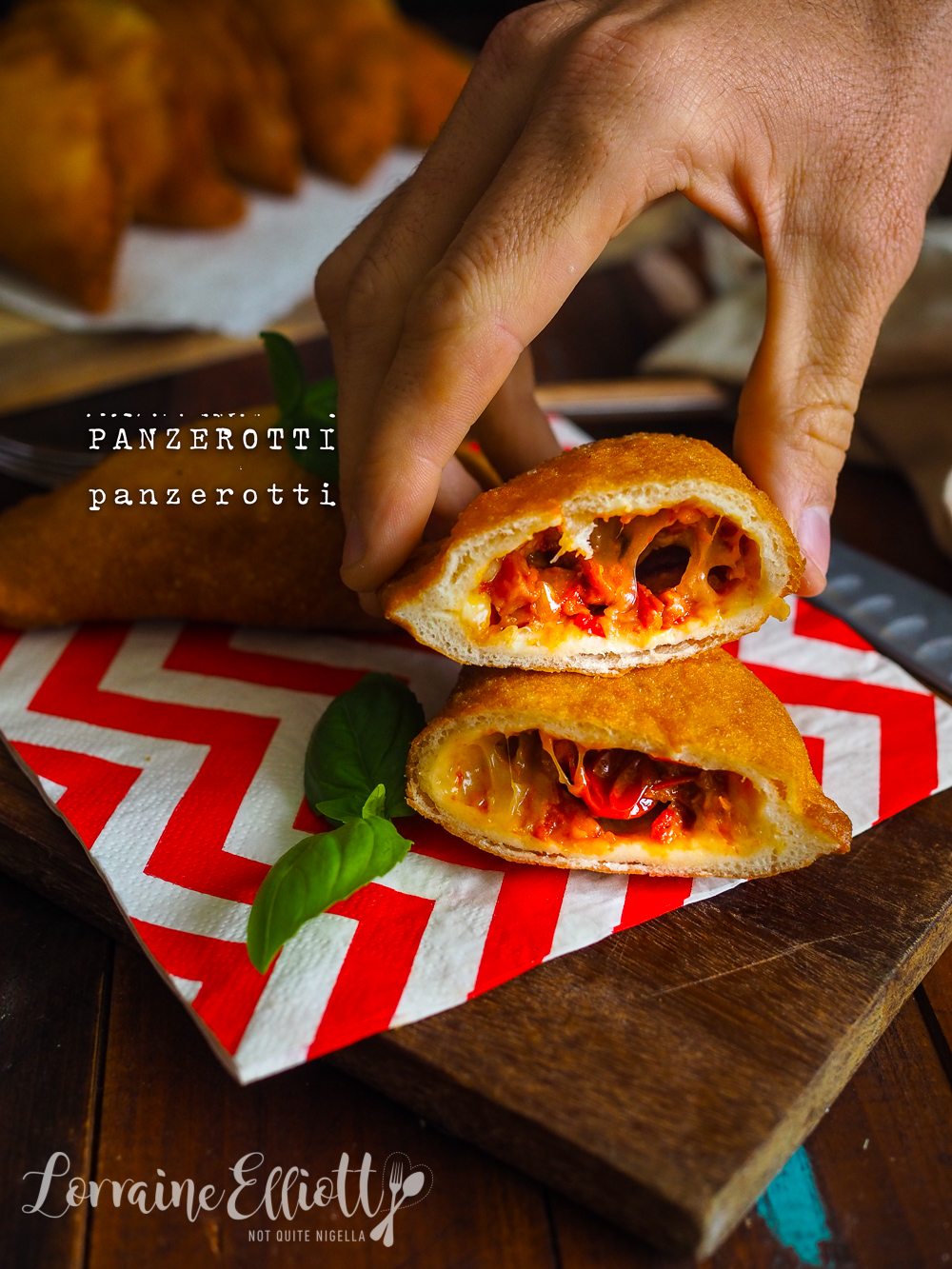 Panzerotti are wonderful Pugliese fried savoury turnovers. This crescent shape stuffed pocket is also called Pizze Fritte (fried pizza) and these pockets hold a delicious filling of melty cheese and tomatoes or mortadella and gooey cheese! These are SO delicious (I mean what's not to love about a deep fried pizza pocket) and this is a pushy recipe Dear Reader!
The word Panzerotti is based on the word "panza", a variation of Italian the word "pancia" that means belly or tummy. It refers to the puffy swelling of the filling in the pastry that resembles a full tummy.
The delicious street food is designed to be eaten on the go. Panzerotti vary in size and these ones are around 14cms/5.5inches in diameter so it's a good sized walking snack. These pizza pockets swell up more when deep fried as a pocket of air develops.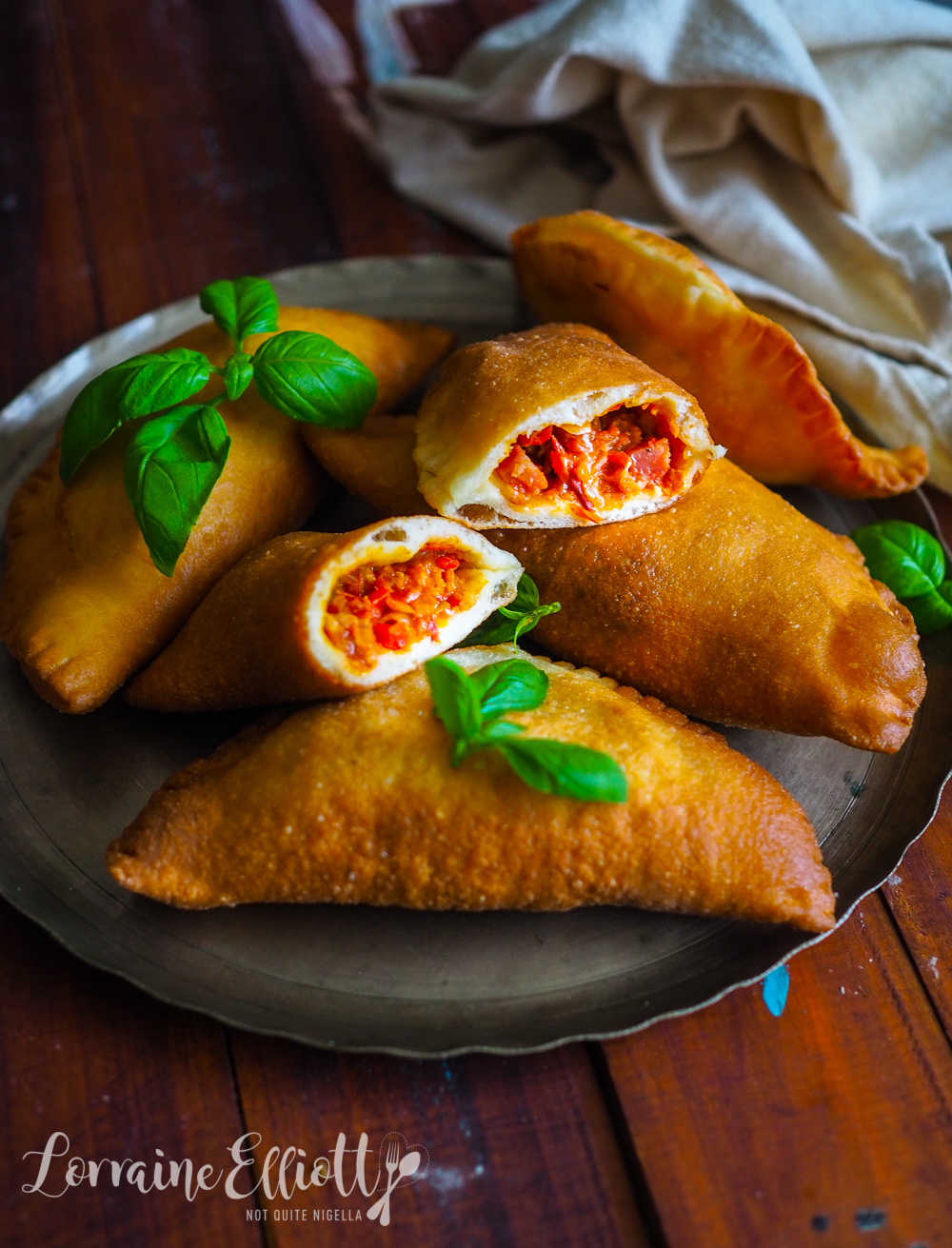 Fillings for the Panzerotti: Dried tomatoes and mozzarella are the classic and most common filling and Mortadella and provolone is also a common filling. You can also get sweet fillings like Nutella in a panzerotti.
What's the difference between a panzerotti and a calzone? Panzerotti are fried and a calzone is usually baked in the oven. Calzones tend to be larger in size while panzerotti are smaller and around the size of a sandwich.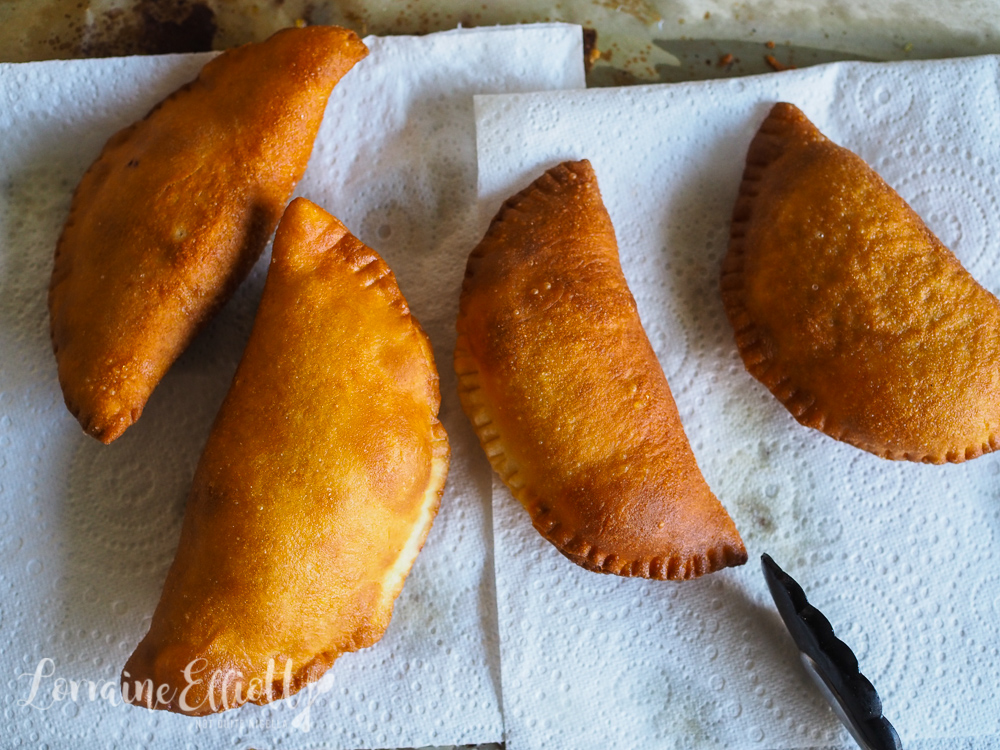 Can I bake Panzerotti instead of deep frying it? Yes! You can also bake these panzerotti in a 180C/350F oven. Brush with a beaten egg and bake for 20 minutes.
Will panzerotti work if you don't have 00 flour? Yes it will also work with all purpose flour. If you wanted to use a wholemeal flour substitute one quarter of the total flour with wholemeal flour.
Careful of the first bite! If you're eating it just after it has been fried it will be hot and the hot air inside will escape.
I was talking pizza and panzerotti with a friend of mine Giulia and she was telling me that she had just had a tough day at work. She has a physically intense job and by the end of the day she is often physically and mentally exhausted.
She is proudly Italian and as if to show me how spent she was emotionally she said, "Do you know what sort of pizza I ordered? I got it from Dominoes for starters and I ordered a ham and pineapple pizza for chrissakes."
I knew it was Defcon level 1 if she was ordering ham and pineapple pizza. I mean she hates it when people mess with cacio e pepe. She's not a food snob, she is one of the most down to earth people I know. But it's probably like when people mess with Fairy Bread or other Australian foods that we get our back up. Sometimes we defend it when people mess with our food and sometimes we have Defcon level 1 food that goes against everything we stand for.
I asked her how it tasted. "It was bad but I knew it was going to be bad," she answered before adding, "It was just what I needed."
So tell me Dear Reader, what is your Defcon level 1 food like the food that you eat when you are in crisis mode? Mine is a bag of XXTRA Flamin' Hot Cheetos that burns my tongue and makes me feel alive again. Have you ever tried panzerotti?
DID YOU MAKE THIS RECIPE? Share your creations by tagging @notquitenigella on Instagram with the hashtag #notquitenigella
Panzerotti
Rated 5.0 out of 5 by 6 readers
An Original Recipe by Lorraine Elliott
Preparation time: 40 minutes plus 2 hours rising time
Cooking time: 30 minutes
187ml/6.6flozs. water
1 teaspoon salt
360g/12.7ozs. 00 flour
2 teaspoons instant dried yeast
1 teaspoon sugar
2 tablespoons extra virgin olive oil
Tomato and cheese filling
1 tablespoon oil
1 onion, peeled and diced
3 cloves garlic, peeled and diced
200g/7ozs. cherry tomatoes, halved
1 red chilli, sliced
Salt, pepper and sugar for seasoning
300g/10.6ozs. grated mozzarella
Mortadella, mozzarella and green onion filling
1 tablespoon oil
200g/7ozs. mortadella, finely diced
3 sticks green onion, chopped
300g/10.6flozs. grated mozzarella or provolone
Step 1 - Dissolve the salt in the water. Place the flour, salt water, yeast, sugar and oil in a mixer and knead until elastic - it will take around 5 minutes or so. Form a ball of dough with no cracks on top.
Thermomix note: add water, yeast and sugar to the bowl and set for 2 minutes, 37C and speed 1. Then add the flour, salt and oil and set to 6 seconds speed 6 then knead for 3 minutes.
Step 2 - Use oil to grease a large bowl and place the ball of dough and cover. Leave in a warm, draught free area (as it is cold at the moment, I put it in a 40C/104F oven that I preheated and then turned off). Allow to rise for 1.5 hours until 2.5 times the size.
Step 3 - While it is rising, make the fillings as you want them to cool before using them. Note: if you are only making one filling, double the recipe as each recipe makes enough to fill 5 panzerottis or 10 total.
Step 4 - To make the tomato and cheese filling heat oil in a frypan on medium heat and sauté the onion for 2-3 minutes. Add the garlic, cherry tomatoes and chilli and sauté. Season with salt, pepper and a little sugar to taste. When cool mix with the mozzarella.
Step 5 - To make the mortadella filling heat oil in a frypan on medium heat and add the mortadella and onion and sauté for 3-4 minutes until cooked. Scoop into a medium sized bowl and when cool mix with the cheese.
After second rise
Step 6 - Lightly flour a surface and roll the dough into a log and cut into 10 pieces. Roll each piece into a ball and allow to rise for 30 minutes. Then roll out to 14cms/5.5inches in diameter - do 5 at a time and then fill with 2 tablespoons of the filling. Press down on the edges well (you shouldn't need any water, they should seal well) and then use fork tines to create a pattern that will seal it even further. Repeat with remaining dough.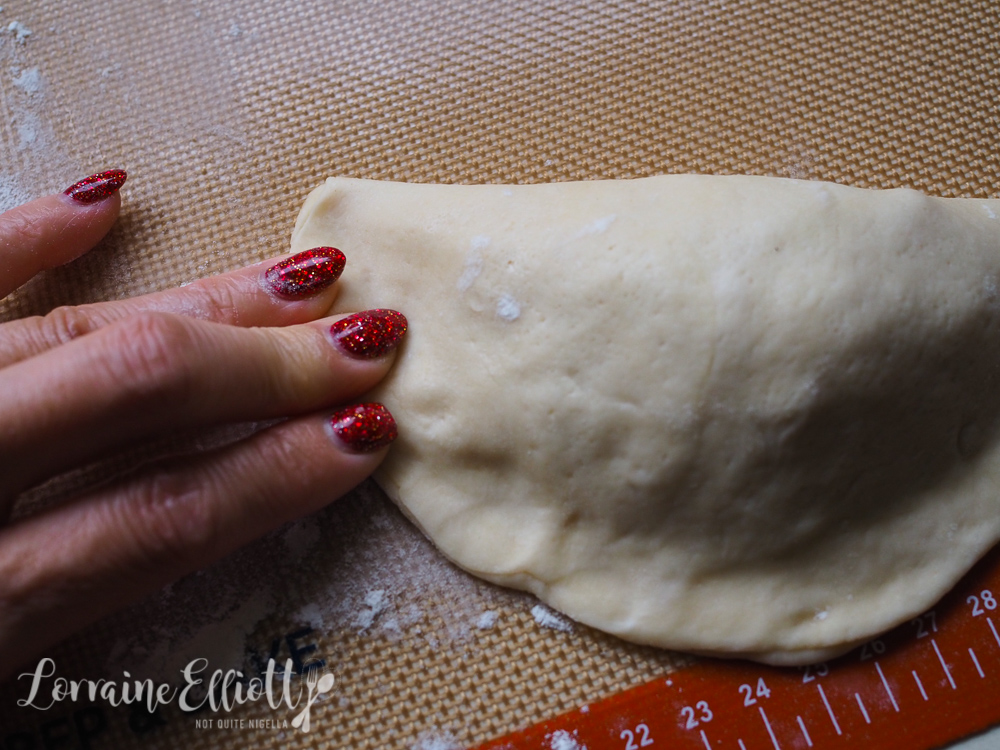 Step 7 - Heat oil in a deep frypan at least 5cm/2 inches deep. When it reaches 180C/350F add a couple of panzerottis at a time. Turn over once golden, they'll take around 2 minutes each total. Serve immediately and eat while hot.