Maritozzi are gorgeous Italian cream buns. A soft and light brioche style bun is filled with sweetened whipped cream for a treat that dreams are made of! If you miss travelling to Italy and Rome or if you want to recreate a wonderful delight, this a pushy recipe!
Maritozzi are originally found in the Lazio region particularly in Rome and date back to the Middle Ages where they were the only sweet permitted to be eaten during Lent. Maritozzo can be found in a long oval shape like a finger bun or round. The brioche bun can be flavoured with different types of fruit. The bread for this isn't overly sweet but the cream is a sweet vanilla cream.
The name is said to come from the word Marito which means husband and were given by boyfriends or husbands to their girlfriends or wives every Friday during Lent. Nowadays they are eaten at breakfast and in the last few years there is a day in December every year called "Maritozzo day" to celebrate this heavenly sweet to raise funds for people living with breast cancer. To me, they're like hot cross buns but with a cream filling so I based this recipe on my softest bakery hot cross bun recipe using tangzhong.
Some tips for making the best Maritozzi:
Use this recipe for a tangzhong dough. It creates a super soft, fluffy bun that stays fresh for longer.
Make the whipped cream from scratch. I tested it out using the squirty whipped cream from a canister and it just wasn't very good. That cream is all air and lacks the silkiness of a whipped double cream from scratch.
These buns are best filled before serving because they will need to be kept in the fridge which can harden and dry the bread out.
Cream: you can use thickened cream or double cream for whipping (do not use single cream). Double cream will add more richness to the filling.
Dough variations: replace lemon zest and cinnamon with candied orange peel, pine nuts, chocolate chips.
Fill these as thick as you can with the whipped cream. These split buns will bend over almost backwards to accommodate a thick wedge of cream.
I made these to take to my friend Monica's house for dinner. I must be some sort of masochist because halfway through making these I stopped and wondered what sort of masochist or halfwit brings home made maritozzi to an Italian chef's house? But I trust her food taste implicitly and her knowledge on Italian food is deep and nuanced. Plus we are food twins.
A few weeks earlier I was sitting having lunch with Monica and we had just finished eating and we were talking about receiving exciting package deliveries. She sighed and looked me in the eye.
"I LOVE MAYO," she said dreamily.
"I love mayo too," I said rolling with the sudden change in conversation. I also wondered if I had mayo on my face because she and I had just shared a fish finger sandwich with lots of mayo on it. And then I started talking about mayonnaise.
"Hang on what?? I said "I love MAIL," Monica said laughing. "Mail" and "Mayo" actually sound very similar in an American accent and I had misheard her. But because our conversations skip across several topics in a single minute I thought that she had suddenly wanted to profess her love of the condiment!
But back to the maritozzi. I waited with eager anticipation to hear what she and Marco thought of the buns watching them take their first bite. To my relief they said that it was spot on and just like Roman maritozzo! I left them with 3 remaining martitozzo and Marco said that they would be finished before the morning.
So tell me Dear Reader, do you ever give food to friends to get their expert opinion? Have you ever tried maritozzi?
DID YOU MAKE THIS RECIPE? Share your creations by tagging @notquitenigella on Instagram with the hashtag #notquitenigella
Maritozzi Italian Cream Buns
Rated 5.0 out of 5 by 4 readers
An Original Recipe by Lorraine Elliott
Preparation time: 40 minutes plus 2 hours rising time
Baking time: 30 minutes
Makes 12-13 maritozzis
80g/3ozs. sultanas or raisins soaked in hot water overnight or at least for 20 minutes (optional), drained well see note below*
540g/20ozs. plain all purpose or bread flour plus extra for rolling
60g/2ozs butter, cubes
250ml/8.8flozs. milk
120g/4ozs. honey
2 eggs, room temperature
1 teaspoon salt
1 tablespoon instant dried yeast
1 teaspoon ground cinnamon
Finely grated zest of 1 lemon
Egg whisked with 1 tablespoon milk for egg wash
500ml/17flozs. double cream
140g/5ozs. icing sugar
2 teaspoons vanilla bean paste
First timers I would suggest making these without the sultanas as they add a lot of moisture which can be challenging for those working with this dough the first time.
Step 1 - Make the tangzhong or water roux. Take 1/6 cup of the flour from the whole measurement and whisk with 1/2 cup of water in a saucepan until smooth. Heat on medium heat and stir until it thickens to become a roux. You want it to reach 65ºC/149ºF and it will take about 5 minutes. Remove from the heat and whisk in the butter, milk, honey, eggs and salt and whisk until the butter melts.
Step 2 - Place the rest of the flour, yeast, cinnamon and lemon zest in the bowl of an electric mixer fitted with a dough hook and mix to combine.
Step 3 - Add the tangzhong roux to the flour mix and knead until elastic. Add a bit more flour if the mixture is too wet. It needs to be elastic and stretchy but not break. You should be able to pull it apart between your fingers and see through it without it breaking which is called the window pane effect. Roll it into a ball making sure that there are no cracks on top of the ball and allow it to rise in a warm place to triple in size which will take between 45 minutes to 1.5 hours.
Step 4 - Preheat the oven to 180C/350F. Punch down the dough and knead in the well drained sultanas. First timers I would suggest making these without the sultanas as they add a lot of moisture which can be challenging for those working with this dough the first time.
Step 5 - Line a baking tray with parchment. Lightly flour your hands and a surface and shape 12-13 buns. I divide the dough in half and roll it into a log and then cut into six pieces and weigh out each bun on a digital scale so that they're the same size (mine were around 90g/3ozs each). Make sure that there are no cracks on the tops or bottoms. Just keep rolling the balls on the countertop and the cracks will disappear.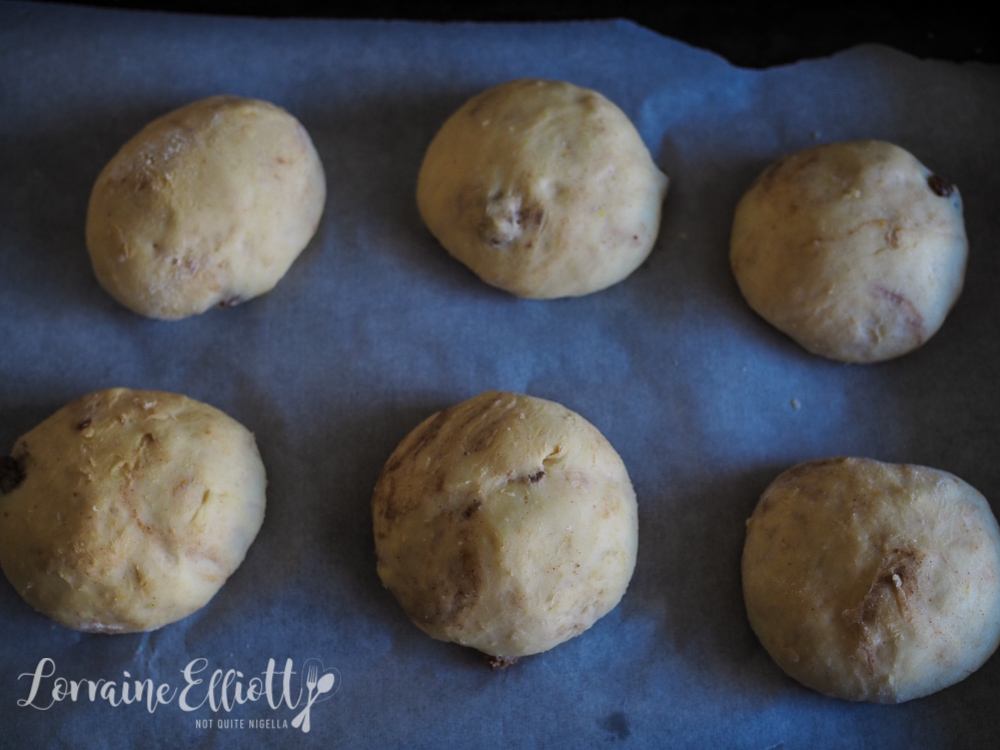 Troubleshooting: your dough will be sticky but try not to add too much flour. A little is fine because flour varies from supplier to batch but adding too much will affect the texture of the buns and make them dry and less fluffy. Instead, add a little flour and then lightly oil your hands just before shaping them if it feels too wet.
Step 6 - Leave the buns in a warm place to rise again for 45 minutes. Brush with egg wash and bake for 20-23 minutes. Cool completely on a rack.
I made plain buns...
...And fruited buns
Step 7 - Once completely cooled cut the buns with a serrated knife but do not cut all the way through. Whip the cream with the icing sugar and vanilla until thick and fluffy. Place into a piping bag and snip the end. Pipe into the split of the bun making the gap wide. With a dough scraper scrape down the centre so that it is smooth and use this to scrape off any cream from the sides. Dust with icing sugar. These buns are best filled just before serving.
You can make the cream strip wider. This was the first bun I filled but I got progressively thicker with the cream.