You (or your mum) will love this wool roll bread! It's a soft loaf of milk bread where the clever wool stripe effect is so easy to achieve (all you need is a knife or pizza cutter!). This one is filled with cream cheese and blueberry jam and it is perfect for Mother's Day coming up!
I saw this on Instagram and was immediately besotted. The technique for this is similar to the caterpillar buns. The base for this is a soft tangzhong milk bread. It is sometimes filled, sometimes not, it's totally up to you. I decided to do a blueberry version just because I pictured the wool to be blue in colour and I had some blueberry jam that needed using.
I made this a tangzhong milk bread. I know I go on a lot about tangzhong and if there's one thing I hope you'll remember me for it's a) tangzhong bread and b) having browned butter on hand. Tangzhong is a fancy sounding word for a flour and water roux that you add to a regular bread dough. This one little step makes the world of difference making your breads soft and pillowy in texture and long lasting. It also takes all of around 5 minutes to do.
Other filling ideas for this wool bread: Nutella, ground nuts and sugar, cinnamon sugar, red bean paste, thick custard, pureed sweetened sweet potato, pumpkin jam or fruit jams. You could also make savoury with pesto or make a "pizza" version like the pizza babka.
This is one of those recipes that will surprise you at how simple it is and how effective it looks. But of course it also tastes great with a blueberry cheesecake style filling too!
How to create the "wool" effect: this is super simple and requires just a pizza cutter or a fondant cutter. If you don't have this you can use a knife or a dough scraper. All you do it roll it out into a long oval and cut the dough and then roll it up. Simple!
I promise that if someone as uncoordinated as me can do it, you can. I am definitely the most uncoordinated person I know. Allow me to give you an example. Mr NQN and I were recently in a restaurant. He was showing me a picture on his phone and I couldn't see it in the window's glare so I moved the phone to face me.
He wasn't holding onto the phone so it fell onto the table with a loud clunk. On the way down it made a small chip in a bowl. He shook his head at me. I know that look, it's like the one where I'm on notice.
A few minutes later another dish arrived and it had pickles, pate and bread in little bowls. I tried to spear a pickle with my fork except the bowl wasn't quite balanced, the pickle slice was very thick and well me and my coordination and the bowl went flying. I watched in horror as the bowl broke in half.
I apologised profusely and told the lovely staff that I would of course pay for the bowl. They brought out replacement pickles and I very slowly and gingerly picked them up. I didn't drop or break anything for the rest of the meal or for the next few days. Which I consider a bit of a win!
So tell me Dear Reader, are you a clumsy or coordinated person? Have you ever had to pay for breakages? What are you making for Mother's Day?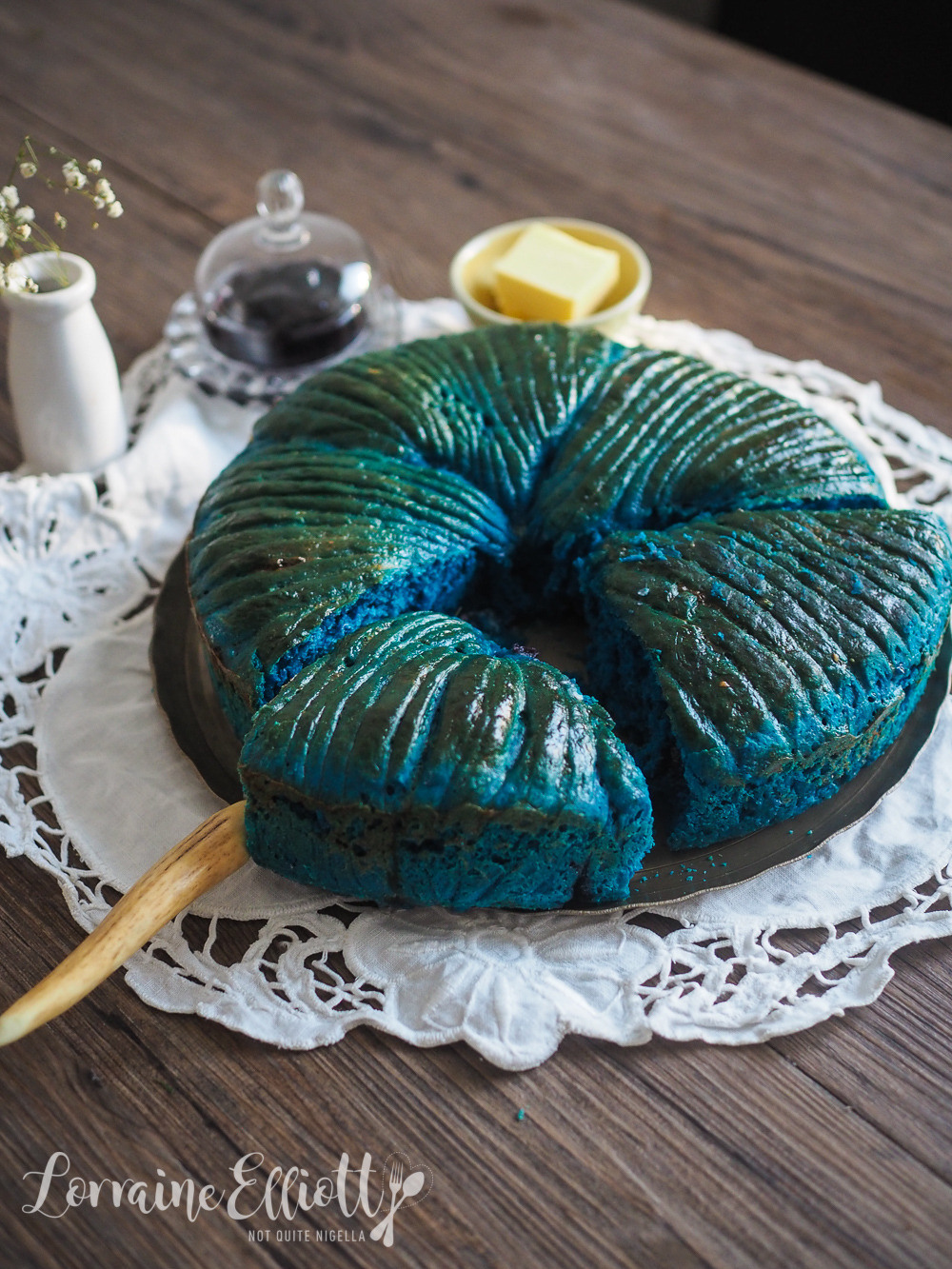 DID YOU MAKE THIS RECIPE? Share your creations by tagging @notquitenigella on Instagram with the hashtag #notquitenigella
Wool Roll Bread With Blueberry & Cream Cheese
Rated 5.0 out of 5 by 3 readers
An Original Recipe by Lorraine Elliott
Preparation time: 45 minutes plus 2 hours rising time
Cooking time: 45 minutes
Serves: 8
20g/0.7ozs. or 1/6 cup flour
1/2 cup/125ml/4flozs. water
1 teaspoon salt
1 egg
30g/1oz butter, soft
45g/1.6ozs. sugar
1/2 cup/125ml/4flozs. water
1/2 teaspoon royal blue food gel colouring
380g/13.4ozs. bread or plain flour
2.5 teaspoons instant dried yeast
90g/3ozs. cream cheese, softened
2 teaspoons sugar
180g/6ozs. blueberry jam
Beaten egg to glaze
Step 1 - Grease and line the base of a 22cm/8.6 inch round springform tin.
Making the tangzhong roux for the bread
Step 2 - Make the tangzhong roux first. Whisk the first measurement of flour with the water and heat gently in a small saucepan until it becomes a thick, smooth roux. Remove from heat when it becomes 65C/149F. Whisk in the salt, egg, butter, sugar, water and blue colouring until combined.
Step 3 - Place this mixture into the bowl of an electric mixer fitted with a dough hook. Add the flour and yeast and mix with a spatula to combine-it will look shaggy but that will be fine. Knead with the dough hook until you get the window pane effect where it can be gently pulled apart with floured hands without it breaking. This may take from 10-15 minutes.
Thermomix directions: place the first measurement of flour and water in the bowl on speed #5 10 seconds until smooth. Then heat to 65C on speed 2 for 3 minutes. Then add the salt, egg, butter, sugar, water and blue colouring and set to speed 5, 30 seconds. Add flour and yeast and set to knead function for 10 minutes. The dough is ready when you get the window pane effect where it can be gently pulled apart with floured hands without it breaking. You can also put it in for another few minutes if it hasn't reached this stage.
Step 4 - Place the dough in a greased bowl and roll into a ball so that there are no cracks on top. Cover and allow to rise for an hour or until doubled in size. Mix the cream cheese and sugar together and have this and the jam ready.
Step 5 - Punch down the dough and cut into 5 equal pieces. Roll out one piece into a long oval shape (not too wide, around 10cm or 4 inches is good) and then using a pizza cutter, cut strips starting two thirds along the oval.
Step 6 - On the uncut side spread the cream cheese and then the jam and then roll it up starting on this side. You will get a log with the stripes on top. Place into the prepared tin and repeat with the others. Sometimes you may need to trim the ends off if they aren't neat (cook's treat!). Snuggle them in together.
Step 7 - Cover and allow to rise for an hour in a warm place. Preheat oven to 170C/340F. Brush bread with egg wash and bake for 30-40 minutes covering it with foil at the 25 minute mark if it starts browning too much (browning is fine in bread but you may want it less brown to keep the blue colour). Cool in tin for 5 minutes and then remove the collar and cool on a baking rack. Serve with extra jam and butter if preferred.
Before the second rising