This recipe is brought to you by Woolworths Gold
Entertaining or having people over is not something that naturally comes to me. I didn't come from a family of entertainers. I could count the number of times that my parents had people over on one hand. But like a ham that craves attention and loves people, I have figured out that having people over and tempting or bribing them with food makes you popular ;)
It goes without saying that I've stumbled in my hostess duties along the way. There are instances where I've almost killed people with kindness. Several years ago we had Mr NQN's and my family over for his birthday cake. I doled out big slices of a richer than rich chocolate chestnut cake and added not one but two scoops of double chocolate ice cream on the side. I could tell everyone was trying to be polite by eating as much as possible and by the time I had finished serving everyone and sat down to eat my own dessert I realised that even I could barely finish half a slice.
I always try and tone down how much I serve people but I think the situation is hopeless. I'm a feeder and a stressful one at that but I'm working on both things. For the stress, one thing that I have learned along the way to hosting people is to use shortcuts where possible. I invited Belinda and her girls Mia and Ruby over for spaghetti and pizza one day and whilst I made the spaghetti from scratch, I availed myself of the pizza using a pre made base and a pre topped pizza from the new Woolworths Gold selection and bought dessert in.
The fresh, traditional handrolled sourdough pizzas & bases are available in the refrigerated section at Woolworths. The bases come with a tomato topping or you can choose from a variety of topped pizzas including Calabrese Salami and Mozzarella; Margherita with basil infused oil; Free Range Chicken and Pancetta, and the one that I tried was the Mattonella Prosciutto and French Goat's Cheese that also came with a pocket of fresh rocket and a sachet of balsamic glaze. The two bases are $6.99 and the ready topped pizzas are $9.99 and they are all made using a hand rolled dough from an Italian recipe. The flour used is Caputo flour milled by three generations of the Caputo family since 1924 as is known as the flour of Naples or the world's best pizza flour.
I topped the plain pizza bases with torn pieces of burrata, basil leaves and marinated olives but of course you could customise it to your favourite pizza toppings. I'm thinking some mozzarella and some of the Woolworths Gold Truffle Salami next time! Just dealing with the main pasta dish meant that I was much more relaxed than I have been in the past. Of course my habit of over feeding was there (one problem at a time! :P) but not having to make every single thing yourself helped to save what little sanity I have left. After all guess which favourite holiday is coming up? ;)
So tell me Dear Reader, when you have people over, do you make everything from scratch or do you buy in some courses? If so, which ones do you buy and which ones do you make? Do you make pizza from scratch or do you buy the bases and top them yourself?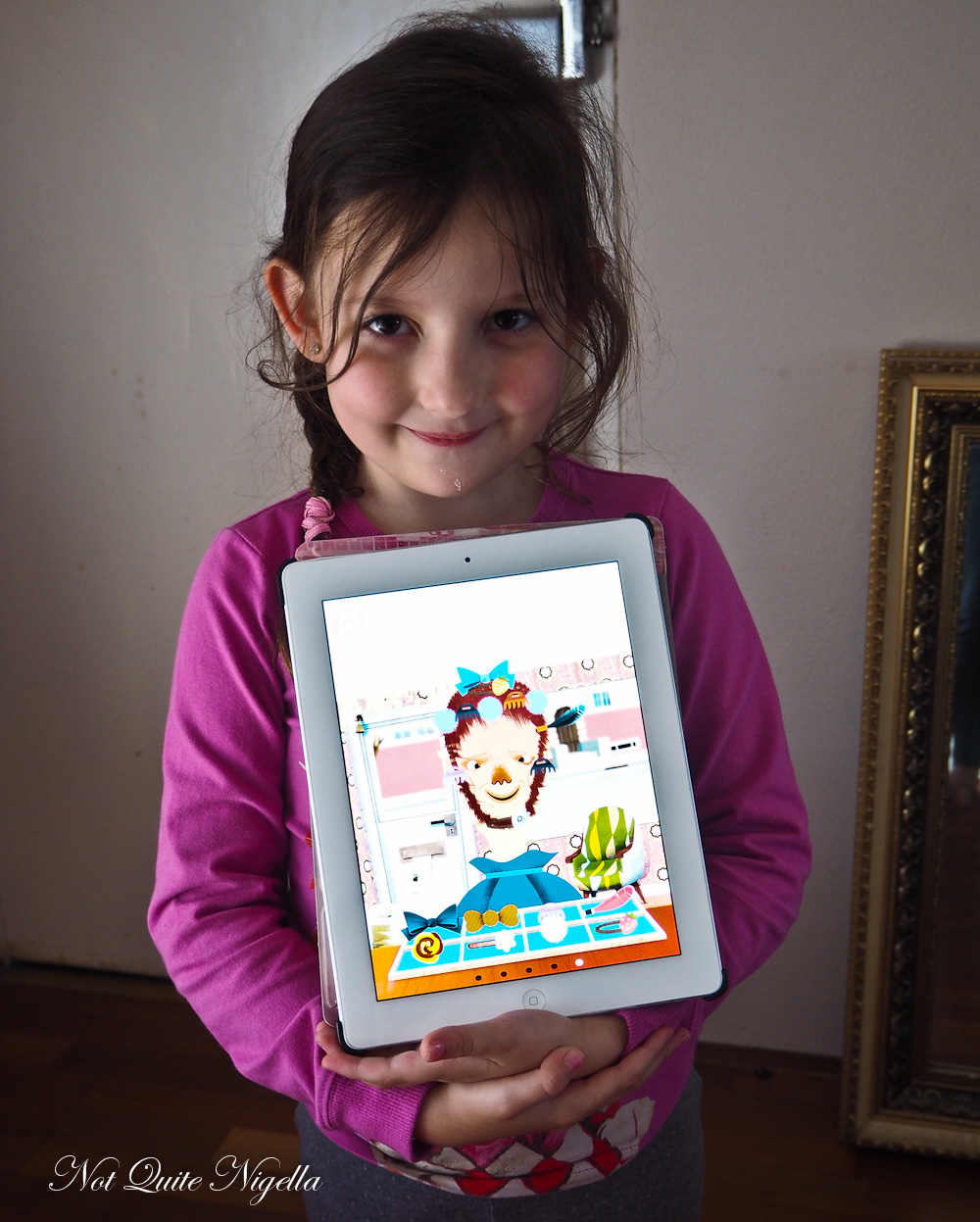 Ruby's drawing of Mr NQN. He loves it.
DID YOU MAKE THIS RECIPE? Share your creations by tagging @notquitenigella on Instagram with the hashtag #notquitenigella
Traditional Spaghetti & Meatballs
An Original Recipe by Not Quite Nigella
Preparation time: 15 minutes
Cooking time: 30 minutes
Serves 4-5 people
1 tablespoon oil
3 cloves garlic, peeled and chopped
1 small onion, peeled and chopped
600g/21.2ozs crushed tinned tomatoes
3 tablespoons tomato paste
Salt, pepper and sugar to taste
250g/8.83ozs minced veal
250g/8.83ozs minced pork
200g/8.83ozs minced bacon
1 cup fresh white breadcrumbs
1/2 cup grated cheese
1 egg
1 tablespoon dried oregano
500g/1 lb Woolworths Gold spaghetti
Grated reggiano cheese to serve
Step 1 - Start on making the tomato sauce for the meatballs as that takes a while. Fry the garlic and onion on medium heat in a large cast iron pot until fragrant. Add the tinned tomatoes and tomato paste and simmer for one and a half to two hours until it becomes reduced. Add salt, pepper and sugar to taste until you get a nice balance of flavours.
Step 2 - Meanwhile make the meatballs. Process the veal, pork and bacon in a food processor along with the breadcrumbs, cheese and egg. Add some salt and pepper and oregano. Heat a little in a frypan and taste it for flavour and seasoning adding more if necessary.
Step 3 - Once the sauce is ready, dunk the meatballs in the sauce and simmer gently for 30 minutes turning over once or twice to coat all of the sides of the meatballs.
Step 4 - While the meatballs are cooking, boil the spaghetti in plenty of salted boiling water but cooking it for 1 minute less than it needs to be cooked. Once it is ready and the meatballs are cooked, remove the meatballs. Add the spaghetti to the big pot and coat the strands of pasta with the sauce. Ladle onto a serving plate and add the meatballs on top. Serve with grated reggiano cheese.