This zucchini roll or roulade is deceptively easy and is like a cousin of the zucchini slice. It is very easy to put together despite it looking a bit complicated. It is also an ideal dish to make beforehand, even the day before so all you have to do is slice it up on the day!
I always approach roulades with a degree of trepidation and fear. I always think that they'll be more complicated than they are but there are several rules to making a roulade:
1 - Try to avoid cracks by being gentle when you roll up the roulade but if there is a crack, don't worry! You can cover it up with fresh herbs.
2 - Roulades always need time to firm up in the fridge. If you refrigerate them for 3-4 hours that is ideal. If you have time to refrigerate your roulade overnight then that's even better.
3 - Always slice roulades with a sharp knife - a serrated knife works really well. This allows them to keep their rounded shape.
The outside of this roulade is a simple omelette - just whisk eggs with grated zucchini, parmesan, onion and garlic. Pour into a baking tray and bake. While you're baking the omelette I also bake the bacon so that it is cooked and crispy edged. Then once everything is cool then you do the assembly.
Don't like bacon? Try this with smoked salmon! It will be delicious. Add a few tablespoons of fresh dill too!
Serve this with: I served this with a simple baby spinach salad.
Although it was late winter when I was making this, I was getting lots of zucchini in my vege box! So many that I'm feel zucchini anxiety with coming up with uses for zucchini. If you have zucchini anxiety try these other zucchini recipes.
Roasted Zucchini Italian Style, Creamy Potato and Zucchini gratin, Classic Zucchini Slice, Zucchini Gratin, Zucchini, Fig and Goat's Cheese Salad, Gilli's Amazing Zucchini Pickles, Zucchini Coconut Bread, Zucchini Pasta In Three Minutes and BBQ'd Zucchini, Pearl Barley & Whipped Feta Salad!
I looked at this roulade and wondered to myself, "Does this look nice?". I was so busy I couldn't tell. I was in the middle of trying to plan Mr NQN's birthday away and I just wasn't able to see anything with any clarity.
"It looks ok, but not sexy," Mr NQN said.
I think he saw my face drop. "I mean it's nice looking but it's not an Instagram picture..." and then continued, "It's not a melted cheese pic."
So allow me to offer you my nice looking but not sexy zucchini roulade!
So tell me Dear Reader, what do you think looks sexy in a pic? Do you ever get zucchini anxiety from too much zucchini?
DID YOU MAKE THIS RECIPE? Share your creations by tagging @notquitenigella on Instagram with the hashtag #notquitenigella
Zucchini & Bacon Roulade Roll
Rated 5.0 out of 5 by 4 readers
An Original Recipe by Lorraine Elliott
Preparation time: 30 minutes
Cooking time:
5 eggs, lightly beaten
2 zucchini, grated
1/2 cup grated parmesan cheese
1 red onion, peeled and finely diced
2 cloves garlic, peeled and finely diced
200g/7ozs bacon (or smoked salmon), diced
250g/8.8ozs cream cheese, softened
1 tablespoon tomato paste
3 tablespoons fresh chives, finely chopped
1 chilli, finely diced
Step 1 - Preheat oven to 180C/350F. Line a 30x20cm/11.8x8inch slice tray with parchment on the base and sides and line another tray with parchment.
Step 2 - Mix the eggs, zucchini, cheese, onion and garlic together in a bowl and spread out in the prepared tray smoothing out the top with an angled spatula.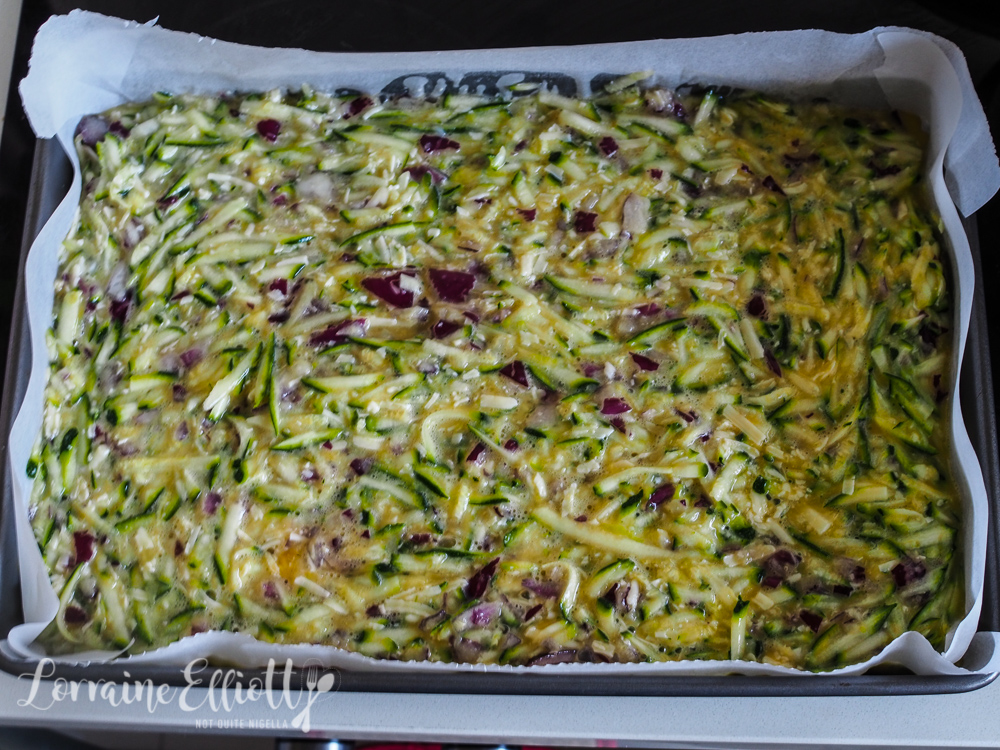 Step 3 - Place the diced bacon on the second tray (if you are using smoked salmon, you won't bake it). Bake both trays for 15 minutes. Cool completely. Note: do not roll up the omelette as you would a regular cake Swiss roll.
Step 4 - Mix the cream cheese with the cooled bacon (or smoked salmon), tomato paste, chives and chilli. Spread over the zucchini omelette and roll up. Don't worry if you get a few cracks. Wrap up in cling film and refrigerate for 3 hours or overnight to firm up. If you're in a perfectionist sort of mood, slice off the ends and then cut into slices. Serve with a salad or as is.