September is the start of spring with a few remaining chilly nights (or if you're in the Northern hemisphere, there's a little bit of chill starting!). This chorizo, lentil and fennel stew is for this in between weather and it's as easy and user friendly as you can get. Place everything in a pot and let it simmer away and you've got yourself a delicious bowlful of goodness!
I saw this recipe on Hearth and Soul's Instagram page. It popped up the day after my vege box arrived. I love getting my fortnightly delivery but there are sometimes vegetables that I get a bit tired of. Fennel is one of because it has appeared so much and I've run out of recipe ideas for it, plus it takes up a lot of room in my crisper with its odd shape (I know I should just be happy that I have a fennel!). I also liked this because it is versatile and you can use up tinned or dried lentils and beans, especially if you have some extra from COVID buying. A Dear Reader asked me for recipes for beans and lentils and so here it is!
Do you need to soak dried lentils? Technically no you can just cook them straight from the packet but soaking and discarding the soaking water helps to eliminate the gas producing quality of lentils. So if you want to avoid bloating etc, soak them overnight or do a quick soak (see below). If you're skipping soaking it is important to rinse lentils for any dust and pick them over and discard any debris.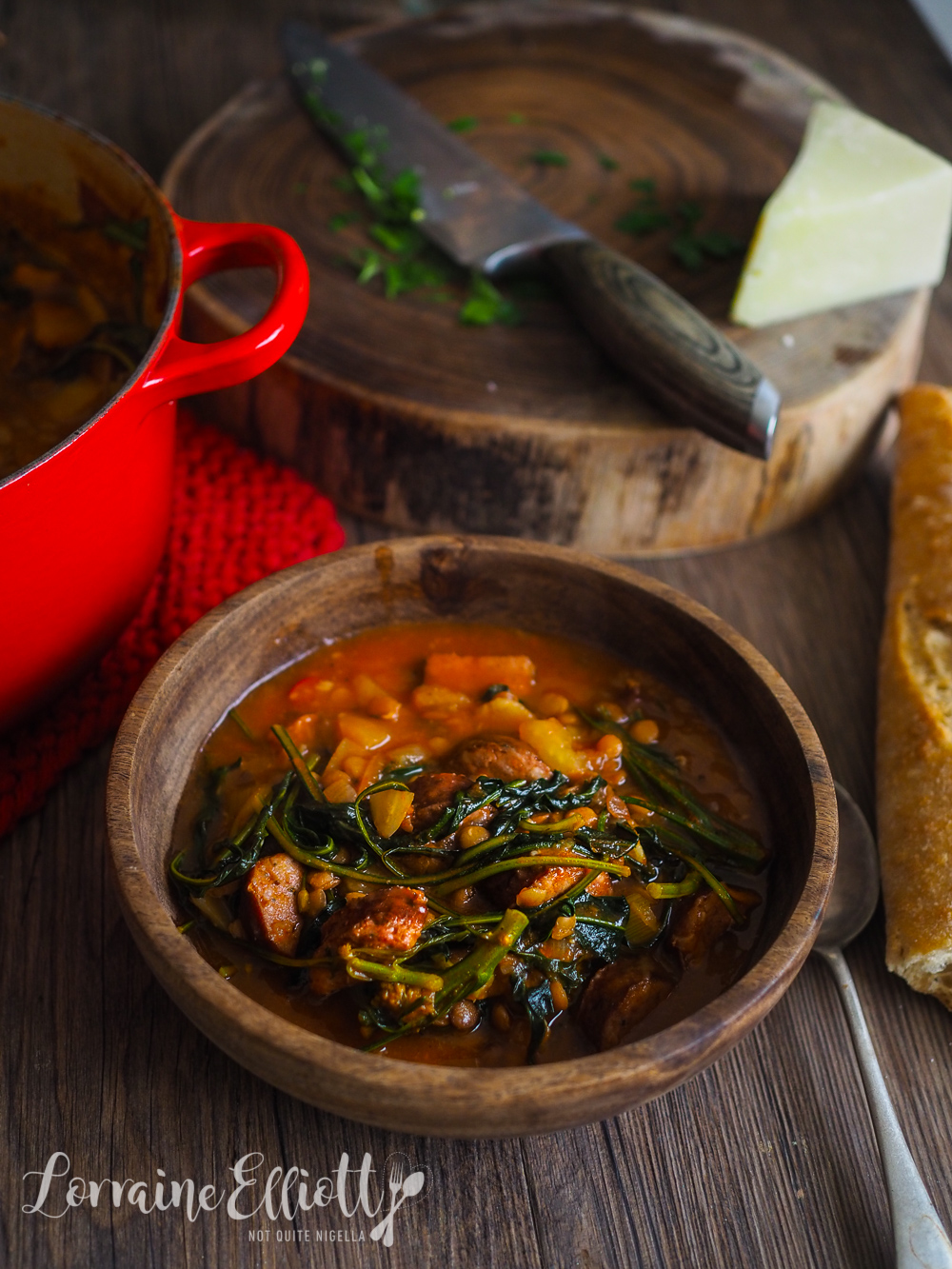 Forgot to soak lentils? That's ok, you can either use red lentils that don't require soaking or you can "quick soak" the green lentils by pouring boiling water over them and then letting them soak for an hour. Discard the water and rinse them clean.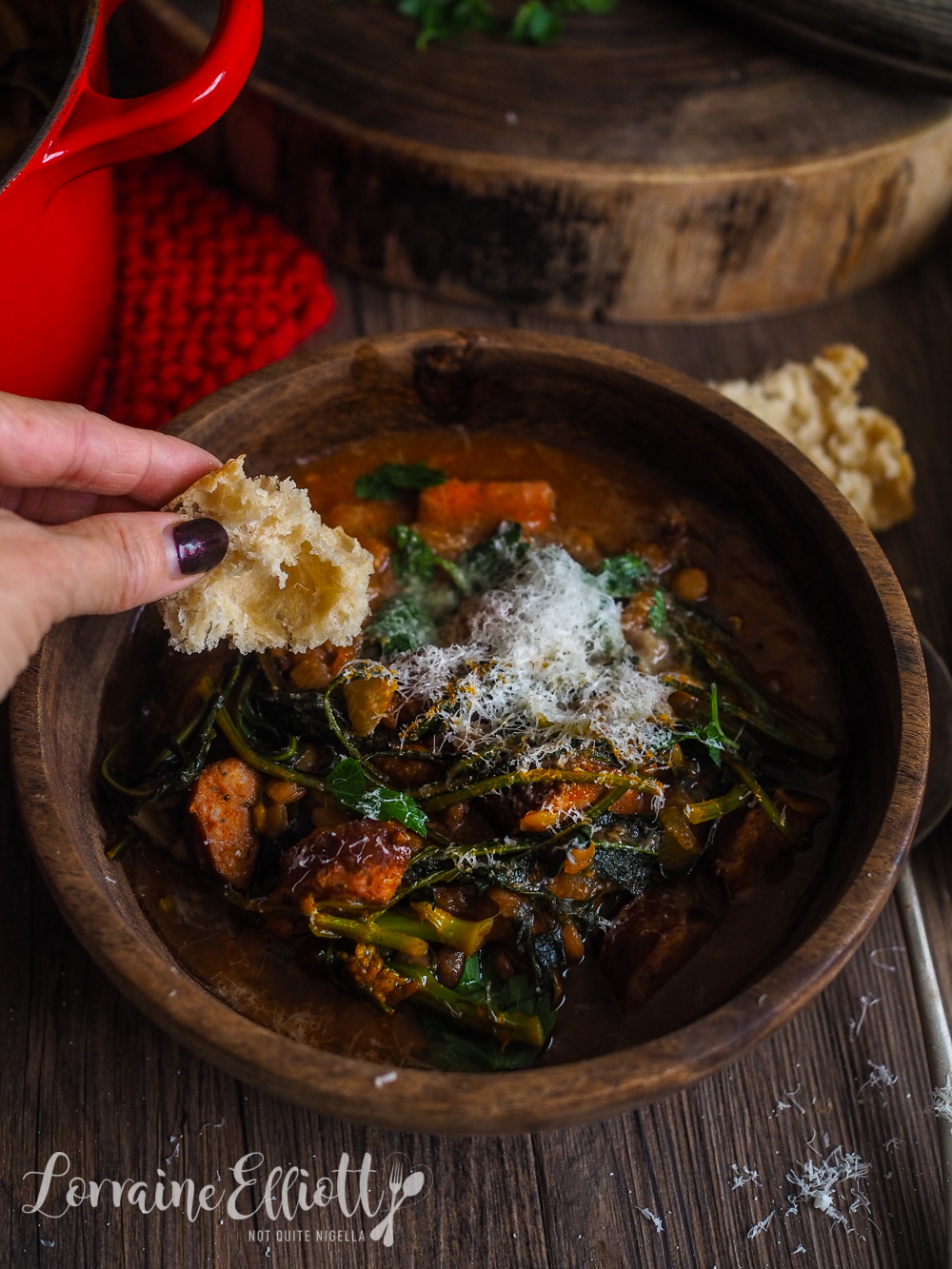 Season lentils after cooking: adding salt before lentils are cooked makes them tough.
Eat this with: crusty bread with homemade cultured butter (or that's just what we had with it!).
Spigarello
I also liked this recipe because it was so simple and featured chorizo which I love eating. It would also use up the fennel and some of the spigarello (spee-guh–reh-low) or Cavolo Broccolo, a versatile Italian broccoli green.
And I also learned something new. The fennel stalks are delicious in a stew! I had always thrown them out but they cook up beautifully and are tender and tasty. No more fennel waste and now I look forward to receiving fennel so I can make this.
So tell me Dear Reader, do you get a vege box? Is there a vegetable or fruit that you're a bit sick of? Do you need any COVID buying recipes and if so, what do you have an excess of?
DID YOU MAKE THIS RECIPE? Share your creations by tagging @notquitenigella on Instagram with the hashtag #notquitenigella
Chorizo, Fennel & Lentil Stew
Rated 5.0 out of 5 by 2 readers
Adapted from Hearth & Soul
Preparation time: 15 minutes
Cooking time: 1 hour
Tip: make this a day or two ahead of time. The flavour is wonderful in a couple of days time!
500g/1.1lbs. chorizo sausages
1 onion, diced
600g/21oz. fennel, sliced (including tops but remove core)
3 cloves garlic, diced
375ml/13flozs. white wine or chicken/beef stock
160g/5.6ozs. dried lentils, picked over and soaked overnight
3 cups chicken or beef stock
140g/5ozs. tomato paste
1 teaspoon smoked paprika
100g/3.5ozs. spigarello or kale
Salt and pepper to season
Parsley and parmesan to serve
Step 1 - Cut the chorizos in half lengthways and then cut into 1cm or 1/2 inch half moons. Add a little oil to a large cast iron pot and fry the chorizo pieces for around 3-4 minutes.
Step 2 - Add the onion and fennel and a bit more oil and fry for 10 minutes. Add garlic and cook for 1 minute. Then add wine and bring to a boil and reduce until 3/4 of the original quantity.
Step 3 - Add lentils, stock, tomato paste and smoked paprika and bring to a boil and cover and simmer for 35 minutes. Add the spigarello or kale and then bring to a boil and allow to reduce a little and then season with salt and pepper and serve with parsley and parmesan.