A hearty Tuscan soup closer to a stew, Ribollita, meaning "reboiled" makes use of leftover vegetable soup and transforms it into a delicious, comforting bowl of warmth. It's an economical dish with peasant origins that is easy to make.
Whenever we have a gathering with the in-laws, I always learn something new about Mr NQN's family. These gatherings are usually a picnic or dinner at Tuulikki's apartment. Everyone brings a plate; I normally bring dessert and the rest is usually vegetarian fare. Tuulikki is the first to proclaim that she loathes cooking so her contribution is something like a lentil stew with lashings of turmeric. It's hearty food for winter.
Sometimes Mr NQN's father Roger will come by. He and Tuulikki are no longer married and he often spends much of his time overseas or besotted with a new hobby. This year it is with an acting class - not because he wants to be an actor but just as a hobby.
That night he turned to Tuulikki. "I've got the marijuana for you," he said to her and she mumbled something and looked embarrassed. "Um what?" I asked - that was the first I'd ever heard about it. It turned out what he was calling marijuana for shock value was hemp protein powder. My father in law is an unusual man, prone to bouts of shock and attention getting behaviour (most of which I can't even write about!!). He lives in an alternate world too - he loves technology but when we gave him a lift home he was taken aback.
"What is that drawing?" he said fascinated.
"Do you mean the GPS Roger?" we answered. Aww bless!
The next time we get together with the Elliotts for the next birthday will be a slightly chillier weather and I will make this soup, a delicious Tuscan stew or soup. Ribollita means reboiled when leftover vegetable soup is given a new lease on life being cooked again with chunks of bread added. This version is an all in one job that produces a divine, rustic and comforting soup in one pot. It's distinct peasant roots mean that it is inexpensive to make but yet delivers on flavour and comfort.
Tuscan bread is usually unsalted and dense and usually served with charcuterie to give it taste. It won't be easy to find it here so use any bread that you want to thicken it up. I have even used a rye bread that Mr NQN didn't like and he didn't even notice that it was in it. I cannot tell you how wholesome and delicious this is and I found myself craving some after a lot of dinners out with lots of rich food. If you want a taste of why Tuscan food is so well loved and comforting then this is it.
Onto something slightly different now! This is just our second Cook With Me Challenge and last month we made Apple Flower Tarts. I was so chuffed to see how popular they were and we had 30 entries! Oh my stars, I was so excited and the fabulous thing was that a lot of kids got involved. Everyone's tarts looked amazing which is something that always makes me so happy. I know that when I follow recipes, I want the look to be achievable and you all totally blew it out of the water. HIGH FIVE!
Anyway, without further ado here is the round up!
Arja from Holland made these roses for Mother's Day this year. Her tarts look just like roses!
Belinda is a loyal NQN reader that served hers warm with home made cinnamon ice cream. How great does that combo sound? :D
@ben__tate on twitter also made them for Mother's Day!
Carol S. said, "Lorraine, I ended up making these for our dessert the other night instead of waiting until Tuesday night. They were more like rosebuds than fully opened roses and they tasted deeelish!"
@dai.meme's 9 year old son even got in on the action. This flower tarts were brilliant! Well done :)
Deepkickgirl on Instagram made her apple tarts look a little like the petals from the Opera House. A pretty effect!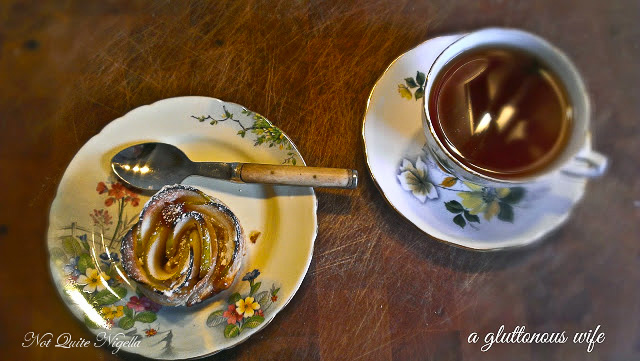 Jan from A Gluttonous Wife who also made the pea and corn fritters from the previous challenge made some great tarts using home grown apples. She said, "they are so pretty and perfect for impressing any wonderful Mum this mothers day - they are a present to myself!! :)".
Jessielauren1985 on instagram also made these for a Mother's Day picnic. They're a great transportable dessert idea!
And Joanne from What's On The List also made these tarts. Last month she also made the pea and corn fritters too! She made these in her air fryer and her Thermomix.
Johanna from Green Gourmet Giraffe made some tarts too in amongst a very challenging and busy weekend. She said, "These tarts were surprisingly easy, considering how impressive they look. We had one each after dinner...They were delicious. I suspect they particularly appealed to E because there was not a lot of fruit in all the pastry yumminess. "
Kara_Mia on Instagram made a batch of the tarts for her baby sister's birthday. What a sweet gesture! She used Nutella in them which was genius!
Lea.Lea13 on Instagram's daughter Miss 13 made the tarts! What delicate work :)
Lesley W-D from Ohio made these (she also made the fritters last month). She said, "Wow! These were great and easy. Thanks for the challenge. I will be making these a lot -and eating them a lot."
LJBright on Instagram's apple tarts were toddler approved! Her girl saw mum looking at the recipe and insisted that she make them! I like a gal who knows her mind :)
Luke and his 8 year old daughter made the tarts together! He said, "What a beautiful recipe, and so very tasty."
Maryanne M. from Noosa made these tarts and proclaimed them a hit with her kids! :)
Meghajensen on Instagram made the rose tarts for a friend's hen's party to remind her of her favourite Mudgee roses. They were a hit! :)
Veronica from Minty's Kitchen who has made a few NQN recipes made these apple tarts. She described them perfectly as "edible flower arrangements!" :)
Moniquefenn on Instagram served these up for morning tea with a cup of rose flavoured tea. Her hashtag #embracetheroses was spot on :)
Mummymadeit on Instagram made a version with some maple syrup sweetened gluten free pastry! Great to know that it works with GF pastry Lisa.
Muppy on Instagram who has to hold some record for making NQN recipes made these tarts. She said, "So simple, so delicious. If you have an apple and some puff pastry you MUST join in!!"
Myfoodsafari on Instagram made these for afternoon tea with her hard working mum for Mother's Day!
Pete and his 9 year old son made these tarts. He said, "My 9 year son and I watched your You Tube video and then decided we would have a challenge and see who's would turn out the best."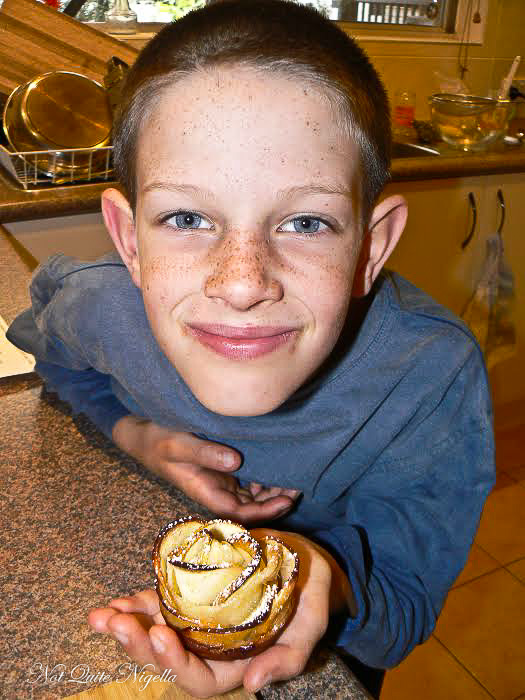 "Needless to say I placed my apples incorrectly on the pastry and they came out "opera house" style. As you can see even a 9 year old can get make these and he is very proud of his effort!!"
Redgrrl on Instagram made some gorgeous looking roses...I mean apple tarts! Perfection.
Sharon R. made these and said, "I made these last week and super fun and easy to do. I added applesauce to the apricot preserves instead of water. Not bad for a first attempt and will def being making again!" I think she's being modest, they look great!
Karen's daughter Sophie made the tarts. She said, "Thank you for the brilliant recipe .My daughter Sophie made these all by herself on friday evening and they turned out beautifully. The recipe was easy to follow and she really enjoyed making them." Great job Sophie!
Stacey S. was also too being modest. She said, "Please find attached my photo submission of my try at the apple flower tarts for the Cook with me challenge (though they look more like cinnamon buns or something else." Hey we all love cinnamon buns so that's not a bad thing ;)
Long time NQN reader Stefanie L. also made the fritters last time! She said, "Was great fun making these and even better eating them :)". Eating them was my favourite part too :)
Stephaniehenricks on Instagram made the apple tarts! I loved how perfect they all were.
And last but not least Tessuncle on Instagram got into the cooking spirit with a little friend who helped with the icing sugar!
Again I am so delighted at how many of you took part in this challenge. Every time I would see a new entry pop up in my email, facebook, twitter or instagram my heart would skip a beat and I'm so proud of all of your beautiful creations. And if for any reason I have missed your entry please email me and I will add you in. It is very hard to pick a prize winner because if I could I would send all of you a prize but I got Mr NQN to choose (hehe you can blame him!). He chose Luke's daughter, Sophie and Pete's son!
So tell me Dear Reader, when you have family gatherings, do you have them at home or out at a restaurant? And for the next Cook With Me challenge, would you prefer a sweet or savoury dish? Or do you not mind?
DID YOU MAKE THIS RECIPE? Share your creations by tagging @notquitenigella on Instagram with the hashtag #notquitenigella
Ribollita Tuscan Stew
An Original Recipe by Lorraine Elliott/Not Quite Nigella
Preparation time: 15 minutes
Cooking time: 30 minutes
Serves 6-8 (it's a thick, hearty soup)
Olive oil for frying
1 large onion, peeled and chopped
2 cloves garlic peeled and chopped
2 carrots, chopped
2 sticks of celery, chopped
450g tin diced tomatoes
2 x 450g tins of cannellini beans, drained and rinsed well
4 cups chicken, beef or vegetable stock
2 cups cavalo nero leaves (or curly kale, leaves only)
1 large red chilli, chopped (my addition, this is optional)
1/3 loaf of dense bread, crusts included, broken into large chunks
Salt and pepper to taste
1/2 teaspoon sugar
Step 1 - Place a large pot on medium to high heat and add oil and saute the onion, garlic, carrots and celery for about 5 minutes until fragrant.
Step 2 - Add the rest of the ingredients i.e. the tomatoes, beans, stock and chilli if using. Bring to a boil and simmer uncovered for 25 minutes. If you are using curly kale, add this now, but if you are using Tuscan kale, add after about 10 minutes.
Step 3 - Turn off the heat and remove 2 cups of the vegetables from the soup and set aside. Add the bread to the pot and allow to rest for 5-10 minutes (depending on how stale your bread is, mine was fairly fresh so it took 5 minutes to soften). Take an immersion blender or place this in a blender and pulse. It should be thick and it was described to me by a friend as like "breakfast oatmeal". Taste for seasoning adding salt, pepper and sugar. Add back the 2 cups of vegetables to give this a bit of texture. Serve with a drizzle of olive oil.
Note: the flavours develop well over time but this will thicken so thin this out with water or more stock when reheating.