Cold fried chicken is one of the best picnic foods around. It's easy to eat with one hand and somehow it tastes different but still delicious cold the next day sort of like pizza! These Halloween chicken wings aka bat wings get their colour from edible activated charcoal and are brined in buttermilk and given a spicy coating!
Did you make this recipe?
Share your creations by tagging @notquitenigella on Instagram with the hashtag #notquitenigella
Spicy Picnic Fried Bat Wings
An Original Recipe by Lorraine Elliott
Preparation time: 25 minutes plus overnight brining
Cooking time: 30 minutes
For marinade:
2kgs/4.4lbs chicken wings
500ml/16.9flozs buttermilk
2 tablespoons Old Bay seasoning
2 teaspoons salt
2 teaspoons black pepper
1 teaspoon edible black colouring gel
For coating:
2 cups plain all purpose flour
1 cup cornflour/fine cornstarch
1 cup activated charcoal
3 tablespoons Old Bay seasoning
3 tablespoons onion powder
3 tablespoons garlic powder
2 tablespoons sugar
2 teaspoons baking powder
2 teaspoons salt
2 teaspoons black pepper
1-2 teaspoons cayenne pepper (depending on how spicy you want it)
Step 1 - In a bowl mix the marinade ingredients (buttermilk, Old Bay, salt, black pepper and black gel). Place the chicken in it and marinate overnight.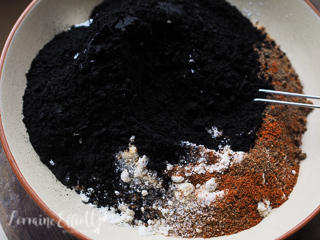 Step 2 - Mix all coating ingredients together (flour, cornflour, charcoal powder, Old Bay, onion powder, garlic powder, sugar, baking powder, salt, black pepper and cayenne pepper). Have a tray ready to place the wings. Take each wing from the buttermilk mixture and dip into the coating flour pressing down to make sure that the breading sticks.
Step 3 - Heat 2 litres of oil in a large frypan to 180C/350F. Cook a few wings at a time. Do not add to many at a time as you want the temperature to stay at 180C/350F or as close as possible. Drain on paper towel. Serve with extra hot sauce.