Once upon a time a friend gave me a vampire teeth ice cube mould and I wondered if they would make a gruesome cupcake topper. These bloody teeth and bleeding gums cupcakes are a bit sadistic dentist, a bit serial killer and feature gold fillings and realistic, rotting teeth! Cupcakes are perfect single serving items so they're not only picnic friendly but also COVID-19 friendly.
DID YOU MAKE THIS RECIPE? Share your creations by tagging @notquitenigella on Instagram with the hashtag #notquitenigella
Bloody Teeth and Bleeding Gums Cupcakes
An Original Recipe by Lorraine Elliott
Preparation time: 60 minutes plus overnight to dry teeth
Cooking time: 45 minutes
165g/6ozs. butter (doesn't matter if it's at room temp or not in this recipe)
120g/4ozs. white chocolate broken up into pieces
1 1/3 cups/170g/6ozs. caster or superfine sugar
1 cup/250ml/8.8flozs. water
Red Velvet colouring (or red colouring)
1 cup/130g/4.6ozs. plain flour
1/4 cup/40g/1.4ozs. cornflour or cornstarch
1/2 teaspoon baking powder
1 tablespoon cocoa powder
1 egg
Buttercream
250grams/8.8ozs butter softened
5 cups/660g/23ozs.s icing sugar
1/2 cup/60g/2ozs. cocoa powder
2 tablespoons milk
For teeth
200g/7ozs. white gum paste
Red, yellow and brown food colourings
2 tablespoons vodka
1/2 cup cherry jam
Step 1 - First make the teeth as they will need time to dry and set. Massage gum paste until soft. Sprinkle cornflour in the cavities of a silicon teeth mould and press fondant into the mould and remove and allow to set completely. Repeat until you get 12 sets of teeth. Match teeth to similar sizes and sit them up so that they look like an open mouth and allow to dry completely.
Step 2 - Preheat oven to 150c/300F. Line a cupcake tray with liners. Place butter, chocolate, sugar and the water in a small saucepan over low heat until melted and combined. Cool for 15 minutes. Whisk in red food colouring.
Step 3 - Using a whisk, add flour, cornflour, cocoa and then egg. Pour the batter into a measuring jug and pour it into cupcake liners. Bake for 30-35 minutes or until a skewer inserted comes out clean. Cool in tin.
Step 4 - Beat butter until light and fluffy then beat in sifted icing sugar and cocoa powder and milk in two batches until fluffy. Spread on top of the completely cooled cupcakes.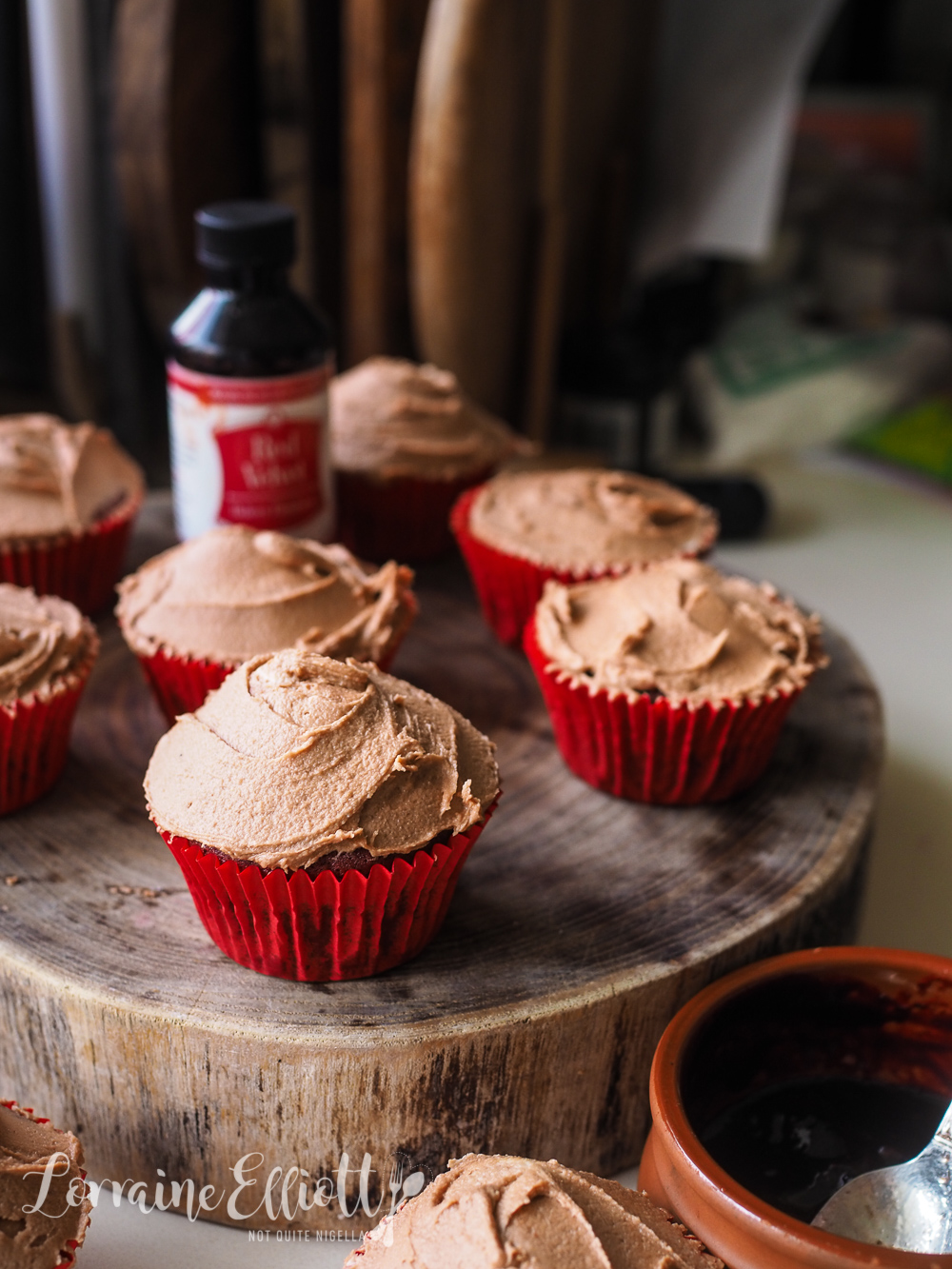 Step 5 - Place a set of teeth on top pressing them into the buttercream. Spoon the cherry jam between the teeth. Mix the yellow colouring with 1/2 tablespoon of vodka and paint the teeth. Then mix some red colouring with a tablespoon of vodka and paint the gums red. Then mix the brown with the remaining vodka and paint plaque on the teeth. I also had some gold paint so I painted in fillings.
Drawing plaque