Welcome to my Halloween graveyard!
Happy Hallowe'en my pretties! It's the Wicked Witch of the East(ern Suburbs) here! Hop onto the end of my broomstick for a personal tour of my very own Hallowe'en party! I promise to lure you into my cottage with all sorts of gruesome, ghastly and frighteningly freaky goods.
I still don't know what on earth possessed me to make 13 items for this Halloween party. Did I mention that I grossly overcater for these types of events? It seemed like a good idea at the time and I just kept adding things as I discovered them or thought of them. This over eagerness to feed does have its downsides and I found myself on the evening before the night of the party exhausted. Mr NQN had gone out for work drinks and didn't come home until 10pm where he found me an incoherent mess. All I could wail was "I want my television" (i.e. the laptop) while lying prone on the bed kicking my feet in the air like an upended hedgehog.
Tombstone cookies-one for each guest!
_Brain Shots!
_
Ghost open sandwiches and pumpkin open sandwiches
The next morning I awoke refreshed and glanced at my schedule. You can never keep a good ghoul down and inside me is also a strange mutation of Bree Van Der Kamp and Martha Stewart crossed with Morticia Addams. That day I had to pick up some cupcakes from Sparkle Cupcakery who were giving me some Halloween themed cupcakes for my party in a pumpkin spice flavour. My father had made the little menu cards (so please excuse some of the typos). I was visiting the Party People who were generously loaning me a whole bunch of gorgeously gruesome props and we also had to pick up some last minute items and Mr NQN's costume. He of course wanted to go as Dexter Morgan.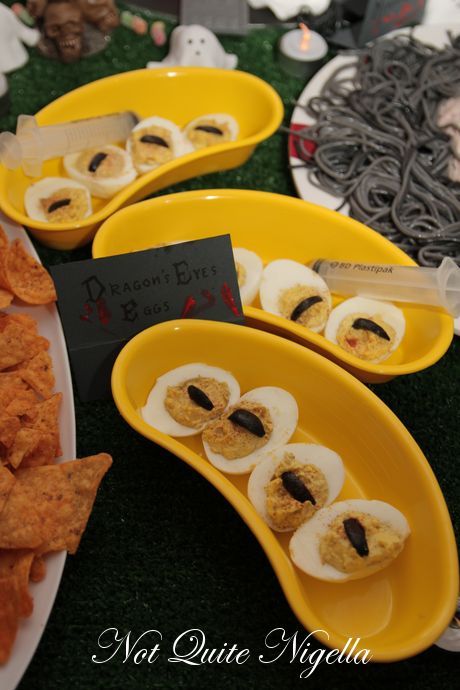 Dragon's Eye Devilled Eggs
"Can I go as Dexter?" he asked.
"In the white outfit with the blood spatter?" I asked him.
"No...not really"
"What do you mean then?
"I'll wear a polo shirt and shorts"
"Nice try".
Wobbly brain pate anyone?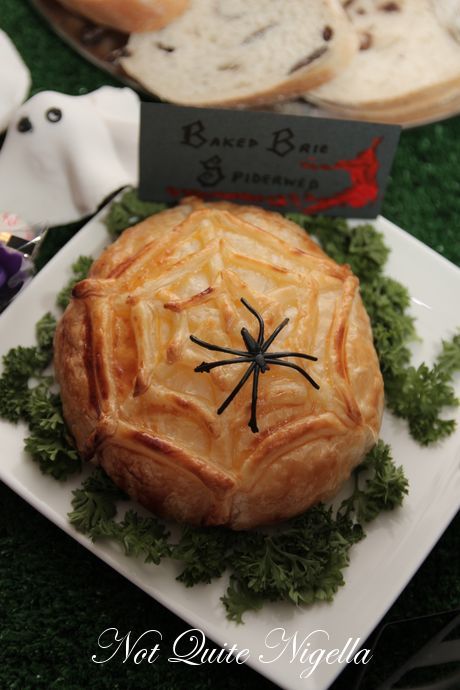 Baked Brie spiderweb
As for me? I went as Little Red Riding Hood. I'm not quite sure why except that I've always wanted a red cape. I was going to wear fangs as I was supposed to be the mutant offspring of Little Red Riding Hood and the Wolf but the fangs that I bought made me look like I had a severe overbite. Mr NQN was going to come as the wolf except that all of the wolf masks that he tried on were itchy.
I handed out Vampire Cookie Pops to all of my guests-recipe to come!
Medusa's head. Sing along with me "Isn't she lovely..."
I know, I know, Hallowe'en in on the 31st of October but this year, my friend The Second Wife and her fiancee Gravy Beard are getting married that weekend so we decided to have Hallowe'en a bit earlier this year. This meant that you could also use the recipes if you were so ghoulishly inclined. And many of the thirteen recipes here are very easy to do. Of course I don't include the sanity straining gingerbread house above in that list ;)
Floating Teeth Juice
_"Worms in dirt anyone?" I ask as I hand out some delicious proteiny goodness
_
Or how about some bat wings?
There was food a plenty and all of my nearest and dearest were invited along. Everyone came dressed in costume-I am a costume nazi and if you don't come in costume, you are banished to the gallows to live in eternity. We spent the evening eating, drinking, talking and playing games including the very fun horror movie version of charades. That's right, if you come to my Halloween party, you will be subjected to games!
Broken glass shards and blood
All of the food worked a treat except for one item. These were supposed to be Dexter Blood Slides but they didn't work so they became broken glass shards with blood which Queen Viv loved as they reminded her of toffees at school fetes (except for the blood I presume ;) ).
Sparkle Cupcakery Pumpkin and Spice cupcakes $4.50 each
The Sparkle Cupcakes were an undeniable hit. Lou passed them around and they got an unanimous thumbs up from everyone that tried them. There was actual pumpkin in the cake itself which made it very soft and moist and we may have had a riot on our hands with this half dozen eagerly contested cupcakes!
...or eyeballs?
Anyway, without further ado, here are the recipes, should you wish to indulge your inner vampire! Settle in with a cup of tea or coffee though as this story is the most picture filled NQN story ever! And if you want to see my ghoulishly fabulous guests, scroll down!
So tell me Dear Reader, what would you get dressed up as for Halloween?
DID YOU MAKE THIS RECIPE? Share your creations by tagging @notquitenigella on Instagram with the hashtag #notquitenigella
Bloody Brain Shots
This is such a seriously brilliant and brain like idea. I got this idea from fellow Halloween afficianado Not Martha who originally saw this recipe on Folkinz. I was amazed at how ingenious it was and used the curdling effect of lime on Baileys. I'm sure this is not what the Baileys people had intended for use of their creme liqueur but I have to say that it works beautifully. I also used the vodka and cranberry and vodka and blood orange that Smirnoff sent me in a cask no less. I used  a little syringe to add to the effect but according to the people at Folkinz the same effect can be had with a straw.
2 parts Smirnoff Vodka and Cranberry or Vodka and Blood Orange
1 small bottle of Baileys
Step 1 - Mix vodka and cranberry or vodka and blood orange with the lime juice and pour into shot glasses. Using a pipette, small syringe or straw, slowly drop small amount of Baileys into the shot glass to form a brain. It may gather and collect at the bottom of the glass but for the best effect place the droplets of the Baileys towards the edge of a glass. Using a spoon you can gently dislodge it from the bottom and the "brain" will float to the top! Watch your friends grimace and gag at how accurately brainy it looks.
Worms In Dirt
I got these from the Queen of American DIY Martha Stewart as she always has such great, ghoulish ideas. It is one of the simplest items to make. I couldn't find any black beans as she had specified so I bought red kidney beans and bought two sachets of squid ink from the deli. I made use of a Braun Cordless stick blender that I was given and I must say the timing could not have been better. So many dishes required pureeing and I hate having to wash the food processor between uses. The Braun cordless stick blender was easy to use, cleaned very easily and I liked the fact that it was cordless. The only negative was that it didn't last very long and I probably could use it for about 5 minutes of pureeing in total before it needed to be charged for 2 hours.
I followed Martha's instructions and found that I didn't need anywhere near the eight hot dogs that she specified, only about three of them. And I also found that leaving the skin on them was better for that worm curling effect. I added some tiny sprigs of curly parsley to resemble grass tufts and placed these in a wooden box and handed them around like some sort of twisted version of an ice cream seller in a theatre.
Think of this as so easy it is about the antithesis of the Halloween Gingerbread House which just about gave me a case of nervous exhaustion.
2 tins black beans (I could only get red kidney beans)
2 small sachets of squid ink (optional but perhaps necessary if you can only get red kidney beans like me)
Buyer's tip: Buy squid ink at good delis
Step 1 - Place a large pot of water on to boil. Leaving the skin on (I unskinned them but they curl better with the skin on), slice the hot dog in half lengthways and then slice each half into four horizontally and then slice little "worm like" pieces.  Boil for a few minutes until the pieces start curling. Drain.
From beans and squid ink to...
"Dirt"
Step 2 - Drain and rinse the beans and blend them up with some black olives and some squid ink (if using) to colour. Gently tuck the worms into the dirt. Dot the edges with bits of curly parsley to look like grass.
Dragon's Eye Devilled Eggs
This is another very easy recipe and one of the most popular dishes of the night with people asking for "more of those dragon's eyes please". I know Devilled eggs are fantastically retro and that may have prevented you from serving them at a chi chi dinner party but they definitely have a place at Halloween. I mean I am serving up sliced up hot dogs so you know, while I'm here in kitschville....
I made two dozen "eyes" but you could certainly make just six but I tend to dreadfully overcater. Plus I had a lot of vegetarians to feed. I've never seen a dragon myself but the literature tells me that they have pupils like cats so be it.
1 dozen eggs, hard boiled (use older eggs as the shells will come off more easily)
6-7 tablespoons mayonnaise
1/2 teaspoon smoked paprika
Sliced pitted black olives
Step 1 - Peel and slice boiled eggs in half horizontally. Gently remove the yolks and mash these up with the mayonnaise and curry powder and stuff them back into the egg whites.
Step 2 - Shake over a little smoked paprika using a small sieve and then place a sliver of the black olive in the centre.
Grey Brain Pate
I don't know what it is about me and brains. I've always loved a smart man so why not love his brain too as a singular erogenous object? OK so the sight of a grey, wobbly brain doesn't exactly get my heart fluttering but I hope you'll agree that this is a rather good way of serving up "pate". If you dare, you could use actual brains. But you may end up with no-one at your next Hallowe'en party although this is a pretty good way of sorting out the zombies from the non zombie folk.
Adapted from Britta
Makes a brain mold with a 6 cup capacity
1 (10 3/4-ounce) can cream of mushroom soup
7 sheets titanium strength gelatin sheets softened in water (or the equivalent powder to set 6 cups)
1 cup natural non fat yogurt
600 grams prawn meat or crab meat
Tabasco or creole seasoning to taste
a brain mold (this is pretty much essential)
a loaf of bread or crackers (I used olive bread as the black olives looked a bit like mold)
Step 1 - Firstly check the capacity of your brain mold-mine is 6 cups large-if yours is smaller or larger adjust the recipe accordingly. Heat soup, undiluted, take off the heat and stir in softened gelatine. Fold in remaining ingredients and blend everything (again I used the Braun Cordless stick blender and it worked a treat) and then pour into a lightly oiled mold. Chill until firm for several hours of overnight and serve with bread or crackers.
Brie Spiderweb
This is another frightfully simple thing to make for a Halloween party. It's baked brie in puff pastry. And yes I know where your mind is going and you're right, the pastry is golden and puffy and the brie is appealing runny inside and somehow it all stays together. I think there might be magic involved... One word of warning Dear Ghouls. You really need to  make more than one of these. This item was hungrily eaten by guests at the party and I only wished that I had made more of these. And there's nothing worse than when zombies get hungry!
Adapted from Britta
1 wheel brie (not too large, it's easier if one sheet of puff pastry can wrap around it)
1 egg yolk mixed with 2 tablespoons milk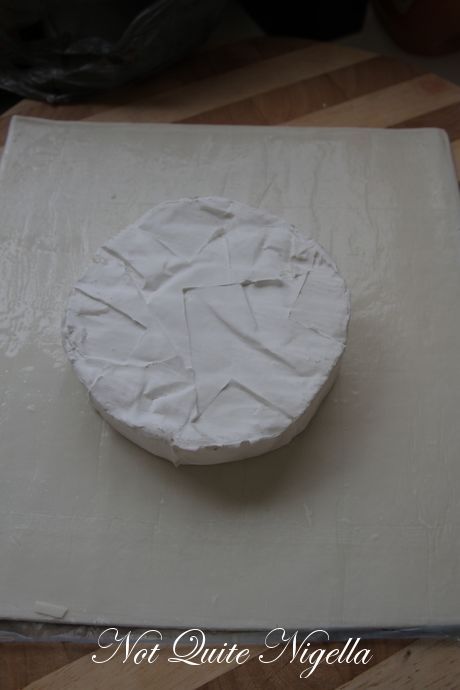 Place brie on puff pastry sheet
Step 1 - Preheat oven to 220C/440F.  Place brie in the centre of the puff pastry. Trim the edges and wrap the pastry around tucking and sealing it well. Use trimmed scraps to make a spider web pattern or you could do others like Munch's "The scream".
Tucked in and sealed on the bottom
Floating Ghosts
Makes 12 Floating Ghosts
1 packet white chocolate Tim Tams
50grams/1.7 ozs light or regular cream cheese (I used light)
1-2 tablespoons almond meal
Step 1 - In a food processor, process the biscuits, cream cheese and red colouring until it becomes a smooth paste. You may need to stop and scrape 2-3 times to do this. Add almond meal if it becomes too sticky. Scrape the mixture into a bowl and refrigerate for 30 minutes until it becomes firmer. Shape into a cork shape with a rounded top and then drape the fondant over curling the edges. Draw eyes and a mouth on them.
Tombstone Cookies
When you're a guest in my haunted house, you are treated as an esteemed visitor. So much so that I will make you your very own tombstone to take home with you. That's how much I love you really. And let's not forget the fact that I am buried beside you ;)
Ok these are fiddly but I must say that I loved the feathering effect of the white icing on the black icing which I came up with purely by accident when I was a bit haphazard with the writing. I preferred the effect from using the Wilton white gel pens that I got from Little Betsy Baker as they were more white and ghostly but you do end up using 2-3 of these pens so it's up to you whether you want to use white royal icing or the pen.
But Dear Guest, you have no choice as you *will *be buried next to me. Muahahahaahaaaa!
Makes 15 tombstone cookies
85 g/3ozs butter, softened
140g/5ozs white caster superfine sugar
180g/6ozs  all-purpose flour
1 teaspoon ground cinnamon
Royal icing mixture (see below)
For Royal Icing
1 egg white (30grams/1 oz)
1-2 teaspoons lemon juice
150grams sifted icing sugar
2-3 Wilton Gel pens in white
Step 1 - In a large bowl, cream together butter and sugar until smooth. Beat in egg and vanilla. Stir in the flour and cinnamon. Cover, and chill dough for at least one hour (or overnight).
Step 2 - Preheat oven to 400 degrees F (200 degrees C). Roll out dough on floured surface 1/4 to 1/2 inch thick. Cut into shapes with a cookie cutter-I traced out a rough tombstone shape onto cardboard and covered it with cling wrap so it wouldn't stick to the dough). Place cookies 1 inch apart on parchment lined baking trays.  I also made some cookies to stick against the back of the tombstone so they would stand up. Bake for 5 to 8 minutes in preheated oven. Cool completely.
Step 3 - Make Royal Icing by beating egg white with lemon juice until combined on low speed increasing to medium speed. You want two textures for the Royal Icing, a stiff one to pipe the outline and a runnier one to fill in the outline.
Step 4 - Add sifted sugar while beating until desired consistency is reached. You want it a little stiff in order to pipe the outline however, if it is too stiff, add a little warm water. Always cover your Royal Icing with cling wrap as it dries out easily. Make one batch in black (use most of the icing for this) and leave one batch white (to write the words on top) unless you are using the Wilton white pens. Divide the black royal icing into 2 parts: one quarter in a piping bag and leave the remaining three quarters in the bowl covered tightly (it will dry out easily). Draw an outline with the piping bag black  royal icing in black. Once set, add a little water to the bowl of the remaining royal icing and "flood" the outline and use the back of a small spoon to spread the icing to the edges. Allow to set for several hours or overnight.
The tombstones as well as the backs to hold them up
Step 5 - Make up creepy things to say on the tombstones. I made a tombstone for each of my guests. Then take a toothpick and a clean, wet cloth and drag the edges of letters with a toothpick cleaning it against the cloth as you go along. Allow to set.
Step 6 - With the royal icing, sandwich some of the backs to the gravestones to help prop them up. You may need to hold onto each one for a minute or so while they firm up.
Pumpkin Open Sandwiches
I looked at my menu and realised that I had a disproportionate amount of sweet items versus savoury items so I decided to do this to balance the savoury quotient. These can very easily be done with bought dips. Yumi's makes a really good spicy pumpkin dip and you can buy any pale yogurt based spread for the ghosts. Plus I like the idea of getting an additional use out of cookie cutters that only get used once every 1 or 2 years.
600grams pumpkin, roasted (I roast it whole in a 180c/350F oven for an hour and then peel the skin off and scoop out the seeds)
a few drops of Tabasco sauce
2 tablespoons basil pesto
Step 1 - Blend all ingredients (except for bread and cookie cutter ;) ) until very, very smooth.
Step 2 - Cut out pumpkin shapes with bread (reserve the rest of the bread for breadcrumbs) and spread with pumpkin dip. Spread a tiny bit of basil pesto for the stem of the pumpkin.
Ghostly Pale Sandwiches
I made my own labne (yogurt cheese) as it is incredibly easy to do (mix a teaspoon of salt into a tub of natural yogurt and strain through muslin for two days). The only thing you do need is foresight as it does require a couple of days to drain all of the whey out. I used a Black Swan low fat yogurt which was sent to me. At first I wondered if you could actually use a non fat or low fat yogurt to make a labne and whilst it doesn't drain quite as much whey as full fat yogurt, it still works. The yogurt itself, pre straining, is really lovely and rich and doesn't taste low fat at all.
1 kg natural yogurt made into Labne (I used a low fat Black Swan yogurt)
1 loaf white sandwich bread
Step 1 - Using a ghost cookie cutter, cut out bread ghost shapes. spread with yogurt cheese with an angled spatula and then chop up olives finely and place two black olive eyes on each ghostie.
Medusa's Head
I bought some squid ink spaghetti with one intention only. Medusa's head. Squid ink black pasta turns slightly grey once cooked although there were the odd strands of black. I used a hard skull mask from last year's Halloween flayed skin face which was actually supposed to be a pirate. I thought that I would blend up some smoked ham with some cream cheese so that we could pick at bits of her face. Does that sound absolutely charming darlings? The Braun cordless stick blender did struggle with this mix. I don't think there was enough "liquid" in it so I had to wait two hours in between blending while it charged which was a little frustrating. I think this would best be done in a food processor. I also bought some bocconcini and olives to make as her eyeballs and I also cut up the bocconcini as teeth. I made a little bowl of extra eyeballs and voila, may I present to you the beauty queen of the evening, Medusa!
1/2 a 500g/1 pound packet of black squid ink spaghetti
a few tablespoons of garlic or chilli oil
500grams/1 pound smoked ham
1 green stuffed olive sliced in half
a skull mold or hard mask
Le skull template
Step 1 - Blend the ham and cream cheese in a food processor. Oil the inside of the skull mold and line with a large sheet of cling wrap (the oil is just to help the cling wrap adhere to the inside of the mask). Stuff the skull with the ham mixture and press down firmly. Ideally you want to do this step this a day or two ahead of time so that it firms up in the fridge and sets. Place in the fridge and weigh it down with a heavy plate. Leave to firm up overnight.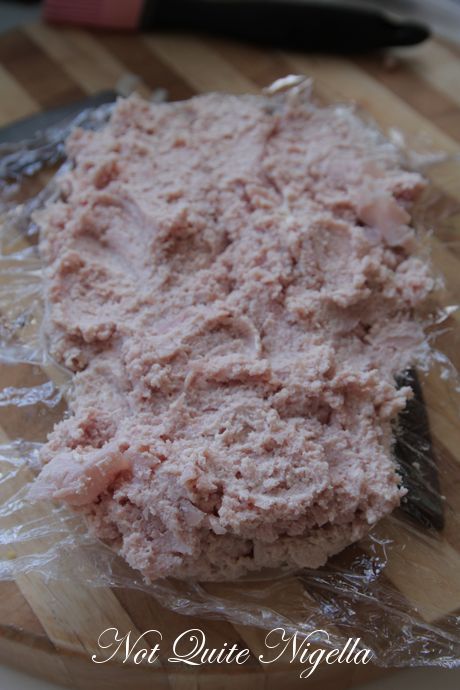 Stuffing the skull with blended smoked ham and cream cheese filling
Step 2 - On the day you want to serve it, boil spaghetti according to directions in plenty of salted boiling water. Drain and toss in garlic or chilli oil.
Squid Ink spaghetti hair
Bocconcini eyeballs and teeth. My what big teeth you have Medusa!
Step 3 - Unmold the ham face and invert onto a serving platter face up. Take two of your bocconcini balls and with a paring knife, cut out small holes to place the olive halves in. Dig out the ham eye sockets to fit the bocconcini balls in and place. Cut up teeth from remaining bocconcini ball. Drape spaghetti hair around her face.
Bat Wings
I took the opportunity to finally use the Bone Suckin' Sauce I was given a while back. To give it a darker colour I added a little dark soy sauce and honey to balance it as it dawned on me that they were supposed to be black and I had run out of my precious supply of squid ink (did I really just say that?). Nevertheless, these were a real hit at the party and I only wish that I had made more. You can also do this without the Bone Suckin' sauce if you find it hard to get a hold of (but I thought that the name was just about perfect). If you do, just add a tablespoon of finely chopped ginger and garlic instead of the sauce.
3 kgs/6 pounds chicken wings
1 jar of Bone Suckin' Sauce (if not using this, add 1 tablespoon garlic and 1 tablespoon ginger)
Step 1 - Divide the marinade ingredients into two and mix them together in 2 large ziplock bags. Place 1.5 kilos/3pounds of chicken wings in each ziplock bag and massage the bag so that the marinade coats all of the pieces. Leave to marinate overnight (I left it for 3 nights).
Step 2 - Line two baking trays with parchment and preheat oven to 180C/350F. Bake the chicken wings in the sauce for 30 minutes, turning halfway through and glazing the other side. Bake until sticky and cooked through.
My how nicely browned you are Mr Bat!
Vampire Teeth Juice
For the vampire teeth you really need a vampire teeth mold which I was kindly furnished with by my buddy Christie from Fig & Cherry. She would have been at the party but she is literally about to give birth at any minute so she had to beg off and be home with her sore back. Poor thing!
I thought that I would make a non alcoholic drink for the vampires that had to drive home and inside the red martini glasses filled with cranberry juice I added a set of Vampire's teeth. You simply make these by filling in the teeth area with milk or cream, freezing this until set and then adding cranberry juice and then freezing these. Some of them will break when you remove them but it is worth it for the effect.
Coffin Chips & Entrails
Idea from Britta
Another fabulously easy thing to make and simply requires a modest amount of purchasing power. I bought a coffin (as you do) but you could certainly make one up with a modified shoe box if you are handy with a box cutter (I am not). Inside I placed a skeleton and some spicy bean and tomato salsa (bought) and some glowingly orange corn chips. And voila, instead of corn chips and salsa, we had coffin chips and entrails. And yes my dad can't spell entrails. But that's ok ;)
Broken Glass and Blood
Now these were destined to become some blood slides a la Dexter Morgan, my favourite serial killer. I even ordered the blood slide box for them to live in. However when it came to the cutting stage, the toffee refused to be cut into rectangles and instead shattered to smithereens. So it instead became broken glass with blood in it!
Makes 2 sheets of broken glass
1/3 cup glucose syrup or corn syrup
a few drops of red food colouring
Step 1 - Melt the sugar with the syrup and the water until all of the crystals have disappeared. Line 2 baking sheets with baking parchment paper and have an angled small metal spatula ready. Use a candy thermometer and heat the sugar without stirring until it reaches the hard crack stage.
Step 2 - Quickly and carefully pour the toffee over the baking trays spreading quickly with the spatula. When set after about 30 minutes and it is cool enough to handle break into pieces and drop a little red food colouring onto it.
Haunted portraits
And so onto the guests of the Haunted House! As Little Red Riding Hood I greeted all guests with my basket of Vampire Pops.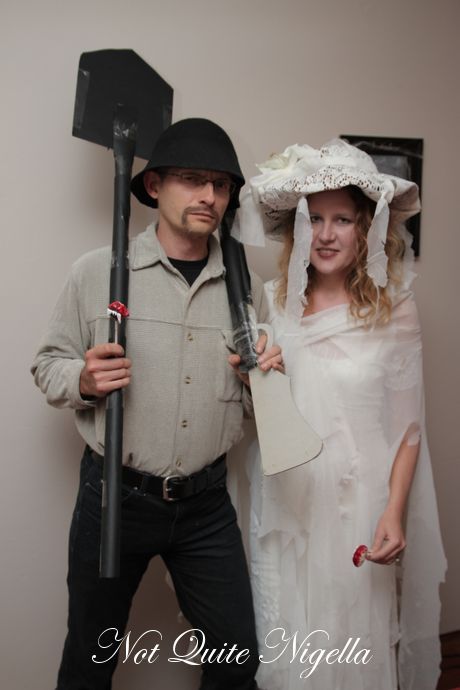 Our very first victims were Aiyana and Figaro. Aiyana came as a Colonial Ghost bride and can you guess who Figaro is dressed up as? Now think hard.... note the weapons!
Figaro came as Ivan Milat the notorious serial killer. So un PC but brilliant costume :P.
A few minutes later there is a loud, heavy knock at the door and we open the door a crack. Ivan points his pistol out the door only to be greeted by...two squirts of water!
"It's the Ghostbusters!" yell Hot Dog and Gina
Next "they tried to make me go to rehab" The Second Wife plays Amy Winehouse and Gravy Beard plays Eric from True Blood!
And then a party isn't complete without Miss America as Tommy Lee...
While Queen Viv is our second Amy Winehouse! One can never have too many Amys :)
Of course there must be a catfight among Amy's while Tommy Lee screams for some "Amy on Amy action"! Careful of the razor blade curtain Amy!
Lulu comes as a fortune teller who tells fortunes using a Scrabble board-"I see a triple word score in your future..."
Teena comes as Mother Mary with Annabel as a baby pumpkin. "I want that one" says Annabel...
Tuulikki arrives as bat woman slash Lili from the Munsters!
Mr NQN talks back to the talking portrait
Oh dear.... a beaheaded bride. Where is her groom?
A relatively better fate, the colonial ghost bride attached to a body
While Eric and Amy help themselves to some worms in dirt-the verdict is "Surprisingly good!"
Don't eat that Tommy...
Amy loves it when Tommy eats human arms...
Oh dear...what will the props department think of next?
And a little surprise in our bedroom for my fellow guests if they sneak into there for a nap...what are those two blue dots?
Arrrgggh! They found our rotting corpse!_
_
Or for anyone that dares to open the fridge...
The Second Wife says "I wish every day was Halloween...". I hear you Amy, I hear you...
Props on loan from The Party People. Ghoulishly wonderful time provided by the guests ;)