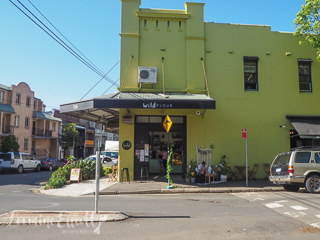 Frida Kahlo looks down upon diners at Wild Flour cafe on Abercrombie and Vine streets in Redfern. On the menu is a colourful range of brunch and lunch items as well as a range of drinks and coffee. However one thing that this little cafe does is bake a large range of cakes, breads and pretzels all in-house.
The week before Ivy and I had eaten at the neighbouring Calico and had walked past Wild Flour. It looked interesting and inviting and we decided to come back the following week. There are mostly outdoor tables and a few indoor ones. I want to make sure that we get an outdoor table so I messaged them to see if I could and this isn't a problem.
We take a seat outside and take a look at the menu. It's hard to choose so we decide to go up to the front counter where you order and pay to ask for some food advice. We walk past a display of cakes and Ivy eyes off a honey cake.
Wild Flour is run by wife and husband couple Lauren and Yami Yehezkel and service is very friendly and they're patient with our questions.
We start with drinks. My choice is a ginger latte made with almond milk made using a mixture from Indonesia that uses coconut sugar and ginger. It's fantastic and surprisingly creamy despite using almond milk (you can choose any milk), perfectly sweet and spicy with ginger. Ivy's drink is an iced rooibos tea made with oat milk and sweetened with honey. It's an off the menu item that they made for her as she wanted an iced tea which is really nice service.
We start with the best selling item: the avoloumi roll. It's served on a soft, toasted house-made milk bun with thick slices of halloumi, wild rocket, tomato relish and aioli. It's juicy and drippy, especially with the egg but it's worth getting messy for as it is luscious. I also like that they make their own milk buns.
Our next item is the Purple Rain. This is two slices of sourdough toast spread with beetroot pesto, half an avocado, two poached eggs, crumbled goats cheese and roasted, flaked almonds. I really like the beetroot pesto on this which gives it a slightly sweet flavour. There could be a bit more crumbled goats cheese on it but the poached eggs add protein and texture and you can also add bacon to this too.
Ivy is smitten with the sweet potato waffle topped with smoked salmon, broccolini, poached eggs with a little jug of wasabi maple syrup. It's delicious although I find that it doesn't really need the wasabi maple syrup as it is delicious on its own.
There are a few varieties of pretzels, mostly savoury ones and we go for a ham cheese and chorizo pretzel. These are all freshly baked daily on the premises and they're tasty. I would perhaps have liked a dipping sauce or mustard to go with it.
Everything was brought out at once so we didn't have to wait for our dessert. The honey cake is layers of biscuit with burnt honey cream layered between them. The cream softens the biscuit so that it becomes cake-like while the biscuit allows you to get those lovely thin layers.
I had to get their muse on a cookie. The Frida cookie is a crisp, buttery shortbread. "She looks like she's poking her tongue out," says Ivy laughing.
So tell me Dear Reader, how often do you order cake when you go out for lunch? Do you have a favourite artist?
This meal was independently paid for.
Wild Flour
156 Abercrombie St, Redfern NSW 2016
Open 7 days 7am–4pm
Phone: (02) 9318 2038