Knafeh is one of the most delicious Middle Eastern desserts! Crunchy buttery pastry is layered with a creamy, rich semolina custard, melted cheese and on top is a delicious spiced syrup! If you love Middle Eastern desserts or ones that wow a crowd, this is a pushy recipe!
So what is knafeh? Also called Kanafeh, kunefe or kunāfa. It's a sweet cheese dessert that is popular all over the Middle East. There are two types of knafeh pastry. The first is knafeh filled with a semolina custard and the second a cheese filling without custard. If you're a fan of Sydney's very popular Knafeh Bakery this is the first style of custard based knafeh. If you're a fan of cheese strings then the second knafeh is your sort of thing (and I will make a recipe for that coming up).
The basic layers of knafeh with custard starts with a bottom layer of pastry made up of ground kataifi pastry or cornflakes, a middle layer of cheesy semolina custard, then a layer of cheese and then a top layer of ground kataifi pastry. Once baked you pour syrup over it and sprinkle pistachios.
The traditional cheese used in knafeh is Akkawi cheese, a cow's milk cheese from Aker or Akko that is salted and needs to be soaked in water before using. If you can't access this mozzarella or even a mix of mozzarella and tasty cheese are good substitutes. Even using some halloumi is good.
What is Kataifi pastry? Kataifi is a thin vermicelli style of pastry. In knafeh you grind it up finely in a food processor or Thermomix until it resembles fine crumbs. You can also use cornflakes as a substitute (Knafeh Bakery uses cornflakes in their knafeh) and this is quicker than using kataifi pastry as you won't have to toast it. I actually prefer the cornflakes because they are crunchier and they don't need toasting. Once you have the components made it's easy to put together and kanafeh is definitely best baked just before serving.
I tested kataifi only, half cornflakes and kataifi and cornflakes only and cornflakes gives the best crunch
Semolina flour: Semolina thickens up the custard along with the cornflour. If you don't have semolina flour you can also use tapioca flour or quinoa flour. Polenta is similar but has a slightly grainy texture to it so I would avoid it as you want the custard to be as lusciously smooth and creamy as possible.
I worked on this recipe for a long time trying to get an appealing cheese stretch and balancing the syrup before realising something. Traditional knafeh syrup has orange blossom water and rose water (1 teaspoon of each). I am not a huge orange blossom fan to eat (I love it in skincare products) so I changed up the flavours and I have to say the combination of orange, cinnamon, clove and vanilla while not traditional is so utterly moreish.
I made this so many times that I think Mr NQN was wondering if every dessert was going to be knafeh. He loves sweets but it was getting to be knafeh for 2 weeks. My last one was made this past weekend, the weekend of Diwali.
My friend Mimi messaged me "Happy Diwali" and explained that the multi day celebration is the celebration of triumph of good over evil and knowledge over ignorance. In India they were new clothes, light up homes with candles, make sweet and savoury snacks and share them with family and friends.
And given what has happened overseas lately, the meaning of this was not lost on people this past weekend. I can't think of a more perfectly timed celebration!
So tell me Dear Reader, do you celebrate Diwali or did you celebrate anything recently? Have you ever tried knafeh and if so do you like the custard one or the cheese knafeh?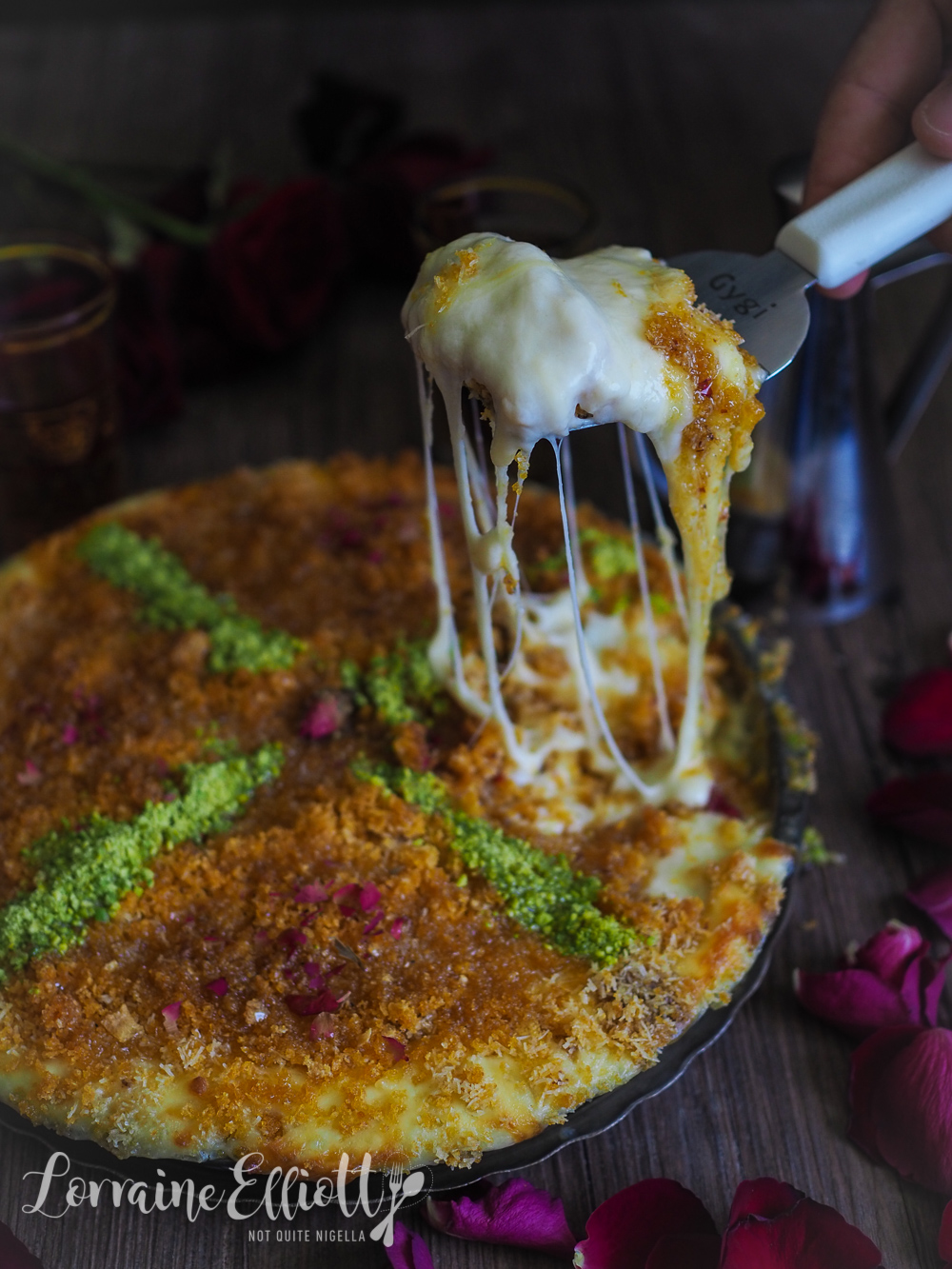 DID YOU MAKE THIS RECIPE? Share your creations by tagging @notquitenigella on Instagram with the hashtag #notquitenigella
Knafeh Custard Pastry
Rated 5.0 out of 5 by 2 readers
An Original Recipe by Lorraine Elliott
Preparation time: 45 minutes
Cooking time: 60 minutes
For pastry
300g/10.6ozs. kataifi pastry or cornflakes
125g/4ozs. melted browned butter plus 2 tablespoons for brushing tin
Pinch salt
For custard filling
500ml/17flozs. full cream milk
150ml/5flozs. cream
100g/3.5ozs. caster or superfine sugar
30g/1oz. semolina flour
30g/1oz. cornflour/fine cornstarch
100g/3.5ozs. mozzarella cheese
200g/7ozs. mozzarella cheese to top
For syrup
1 cup/250ml/8.8flozs sugar
1/2 cup/125ml/4flozs. water
1/2 orange, sliced
1 cinnamon stick
4 whole cloves
1 teaspoon vanilla extract
To serve
3 tablespoons finely chopped pistachios and rose petals to decorate
Kataifi is usually found in the fridge aisle of Middle Eastern and Greek delis
Step 1 - First prepare the pastry. Preheat oven to 150C/300F. Grind up the kataifi pastry or cornflakes in a food processor in 2 or 3 lots until it resembles fine crumbs. Thermomix directions: process kataifi at speed 9 for 30 seconds in 2-3 lots.
Step 2 - Melt the browned butter and mix with the kataifi crumbs and spread out onto a large baking sheet. Bake for 20 minutes or until crunchy. Note: if you are using cornflakes you do not need to bake them, just combine with melted butter.
Step 3 - Make the custard. Whisk the milk, cream, sugar, and two flours and then increase heat to medium and stir until thick. Thermomix directions: process the milk, cream, sugar and two flours on speed 5 for 15 seconds. Then set to 7 minutes, 90C and speed 3. Then add the first 100g/3.5oz. lot of mozzarella cheese to the custard and stir through until the cheese melts.
Step 4 - Preheat oven to 210C/410F. Brush a 24cm/9.4inch x 1 inch deep round dish with butter. Layer half of the kataifi or cornflake crumbs on the bottom of the dish. Then spoon over the custard. Then add a layer the second 200g/7oz lot of mozzarella on top. Then sprinkle the rest of the buttered crumbs on top gently smoothing it over (the custard should be thick enough so that the pastry doesn't sink too much). Bake for 20 minutes.
Step 5 - While the knafeh is baking make the syrup. Place the sugar and water in a saucepan and melt the sugar on medium heat. Add the orange slices, cinnamon stick, cloves and vanilla. Turn the heat to medium high and simmer with the lid off until slightly reduced but not too thick-around 7-8 minutes will do (10 minutes will make it too thick and syrupy).
Step 6 - Pour the syrup on top of the knafeh when out of the oven and top with pistachios and rose petals and serve while warm out of the oven. Knafeh is always best served straight away.