It's stone fruit season and if you love peaches then you have to give this peach tarte tatin a try! Tarte tatins sounds intimidating but you can prep this all in 10 minutes flat!
I make my tarte tatin in a springform tin rather than a frying pan. I once accidentally grabbed a hot pan from the oven with my hand and burnt it so ever since then I've been careful to avoid it. Plus upturning a tin is much easier than a frypan. I promise once you try it like this, you'll never look back!
How To Work With Puff Pastry:
1 - Puff pastry puffs up high when the cold pastry hits a hot oven so I usually place my tarte tatin in the fridge to chill so that pastry is firm before popping it in the oven to bake.
2 - Supermarket puff pastry comes in sheets and it is best thawed in individual sheets in the fridge and kept there until it is needed. When puff pastry gets sloppy or floppy, place it back in the fridge to allow the butter to firm up again.
3 - I know I always go on about butter puff pastry but with a tarte tatin where there are only a few ingredients it's best made with the butter puff pastry because that is one of the main flavours (most regular puff pastry does not contain butter!).
Got a glut of peaches? Here are some other peach recipes: The Easiest Three Ingredient Pineapple, Peach & Mango Bread, Yellow Peach, Fig & Goat's Cheese Salad, Peach Sorbet Iced Tea, White Peach Bellini Granita, Peach Melba, Spiced Peach Melba, Sour Cream and Peach Donuts, Peach & mango ham glaze and Pretty Patterned Peach Pie!
I made this tarte tatin because I had too many peaches. This was because one afternoon I stopped by a fruit store after a friend recommended it to me. I wanted to buy some fruit for Mr NQN who had hurt his ribs windfoiling and was feeling a bit out of sorts so I thought that the fruit might cheer him up.
There was an abundant range of stone fruit because it's in season at the moment. I liked that this shop had hand written notes next to certain fruit saying "Very sweet" or "sweet". When I used to go to Paddy's markets I always paid attention to these signs and was never disappointed.
I grabbed a couple of paper bags full of peaches and nectarines and bought some sugar melons, all labelled "Very sweet" and took them home. I walked in and Mr NQN saw me laden down with bags. "Surprise!" I said excitedly.
He unpacked the paper bags and said, "Hmmm I don't know about these..." At the bottom of each paper bag were mouldy and bruised peaches and nectarines. Also on top were white nectarines but on the bottom there were yellow nectarines. I was very annoyed by this because they had clearly tried to get rid of their manky fruit. We ended up throwing half of the fruit away as it was rotting and I vowed never to buy from that shop again. Also the "very sweet" fruit wasn't very sweet at all.
There was one bright side though and that was that the peaches were freestone peaches. I've wanted to make peach tarte tatin for ages but I always seem to get clingstone peaches so that it's harder to cut them up unless they aren't ripe. These peaches, the still good ones, were ripe and released their pit easily.
So tell me Dear Reader, what do you do with excess fruit? And would you trust a shop labels that says "Very sweet" or not?
DID YOU MAKE THIS RECIPE? Share your creations by tagging @notquitenigella on Instagram with the hashtag #notquitenigella
Peach Tarte Tatin
Rated 5.0 out of 5 by 1 readers
An Original Recipe by Lorraine Elliott
Preparation time: 10 minutes
Cooking time: 30 minutes
Serves: 6 with ice cream
1/4 cup/3 tablespoons golden syrup
550g-600g peaches/19.4-21ozs. (4-5 large peaches, preferably freestone), skin on or off (I remove the skin)
1 tablespoon rosemary needles
1 teaspoon vanilla bean paste
40g/1.4ozs. butter, cubed
1 sheet/185g/6oz sheet butter puff pastry, thawed but kept in the fridge until needed
Vanilla ice cream to serve
How to Skin a Peach: If you want to remove the skins from the peaches, cut a slit down the "crack" side and then pop into a pot of boiling water for 30 seconds or so. Remove and place in a bowl of ice water and the skins will come off easily.
Step 1 - I made this in a 20cm/8inch round springform tin. Line the base of the tin and then place on another tray (in case the fruit juice leaks through the springform).
Step 2 - Warm the bottle or jar of golden syrup under hot water so that it becomes a bit looser in texture. Drizzle the vanilla paste on the base of the lined tin and sprinkle the rosemary on top of the syrup.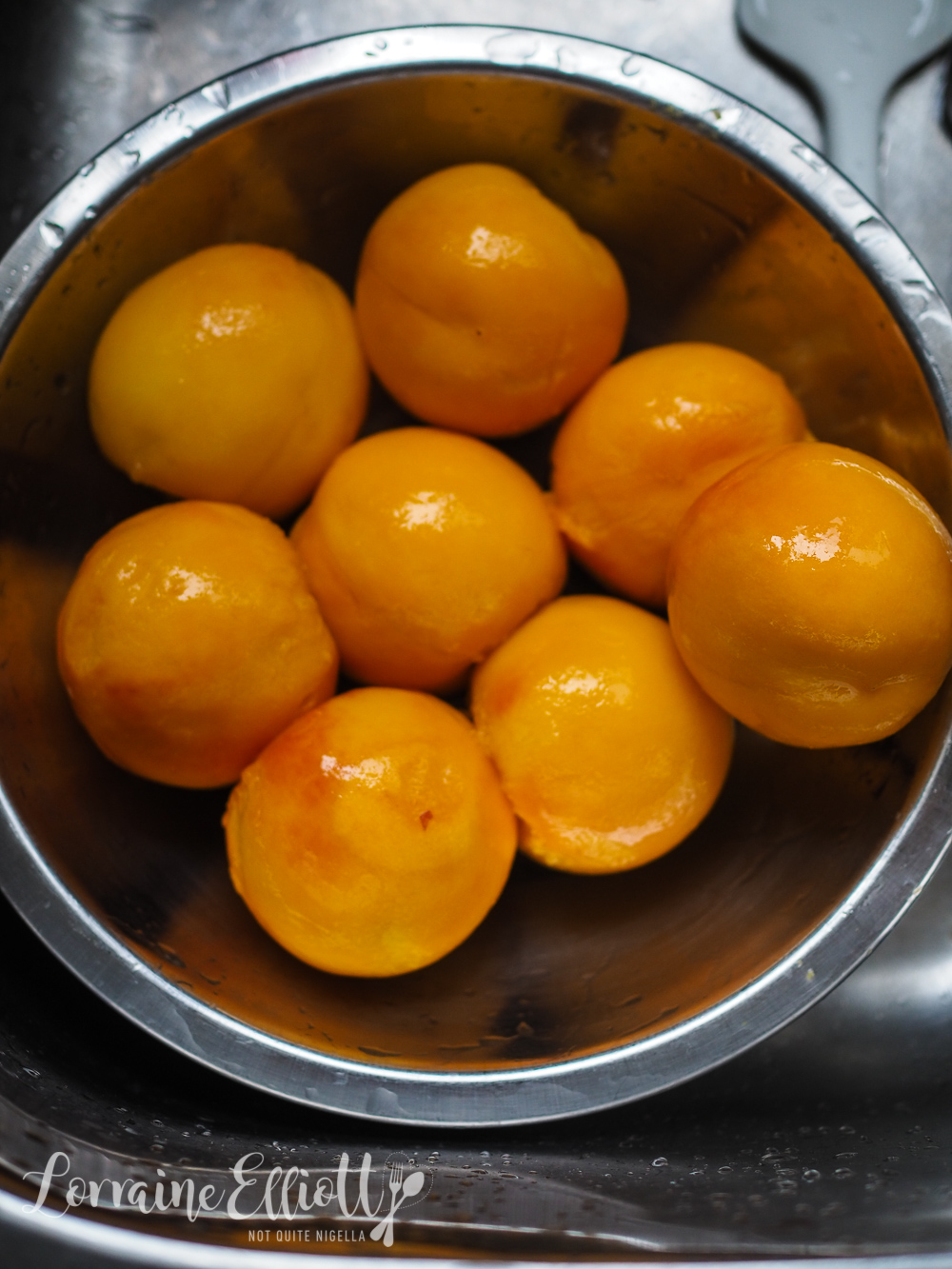 Step 3 - Cut the peaches into six pieces and place on top of the rosemary in a pattern (you can also cut the peaches as halves). Dot with the butter and then place the pastry on top. Cover and place in the fridge while the oven heats up to 200C/400F.
Step 4 - Bake for 40 minutes until pastry is golden and crisp. Cool in the tin for 5 minutes and then upturn onto a serving tray. Serve immediately with ice cream.