Are you a fiend for the Costco Chicken Bake? Every time that I visit there I order one of these wraps, served warm from the oven. It's filled with chicken and a delicious creamy sauce. Did you know that it's super easy to make at home and that includes the dough (or you can buy any pizza dough and use it)? It also only has a few ingredients too! This is a pushy recipe Dear Reader!
The reason why I love this Costco chicken bake so much is because of the ratio of bread to filling. It's not bready at all and if you take a look at the picture, it's a very thin layer of dough encasing all that creamy, gooey, delicious filling. You don't even need a Costco card to buy these as the cafeteria is located outside the store itself. I just don't have Costco near me so I wanted to figure out how to make these delicious treats.
It took me a while to come up with the recipe and it was helped by finding a thread on Reddit where a former employee of Costco gave hints on making them. It was enormously helpful. And you'll be surprised to learn what the ingredients are!
Costco Chicken Bake
The main ingredients for a Costco chicken bake:
1 - Pizza dough
2 - Caesar dressing
3 - Bacon bits
4 - Cooked chicken breast
5- Mozzarella and Parmesan Cheese
Inside a Costco chicken bake
I must admit I added cream cheese to mine because I wanted it to be creamier and saucier. But the Costco ones don't add this so feel free to omit this. I do think it makes them taste a bit better but if you want the true Costco chicken bake flavour, just leave it out.
Dare I say that this is one of those things that kids will absolutely love too. You can add peas or mushrooms to this too (peas are easier) to increase the veg content. If you use a pre-bought pizza dough (I've seen these at the supermarket) and the chicken from a rotisserie chicken then these chicken bakes are so quick to make. And while I'm totally down for an all day project, sometimes it's nice to make something absolutely delicious quickly and without a lot of fuss.
My time management often baffles my friends. My closest friends all know that I am not a morning person at all. Sometimes I wake up at 7am but it's not very often and whenever I message someone around 7am they inevitably ask me, "Why are you doing awake so early?"
I messaged Monica recently at 7am and she asked me what I was doing up so early. "I set an alarm for 7am. I have to leave to pick you up at 11:30," I answered her.
I start with a cup of tea in bed, then two glasses of water and then I do my HIIT that takes around an hour. By that time it's almost 2 hours. Then I do some work and answer emails and then I shower and start to get dressed. The shower and makeup and getting dressed only takes 30 minutes.
Monica laughed after I explained my complex process of my mornings to her. I told her, "I'll see you in 4 3/4 hours!".
So tell me Dear Reader, what is your morning routine? Have you ever tried a Costco chicken bake?
DID YOU MAKE THIS RECIPE? Share your creations by tagging @notquitenigella on Instagram with the hashtag #notquitenigella
Copycat Costco Chicken Bake Recipe
Rated 4.8 out of 5 by 5 readers
An Original Recipe by Lorraine Elliott
Preparation time: 25 minutes
Cooking time: 25 minutes
Makes 6 chicken bakes
600g/21ozs. pizza dough
1/2 cup flour for rolling
500g/1.1lbs cooked chicken breast, chopped (I used a bbq rotisserie chicken)
200g/7oz. cooked bacon, chopped
2 sticks green spring onion, chopped
250g/8.8ozs cream cheese, room temperature
2 cups grated mozzarella
1/2 cup parmesan cheese
1-2 teaspoons red chilli flakes (optional)
Salt and pepper
200ml/flozs. Caesar dressing
1/2 cup parmesan cheese to sprinkle
Step 1 - Divide the dough into 6 portions. If your dough was in the fridge, allow it to come to temperature for 1 hour.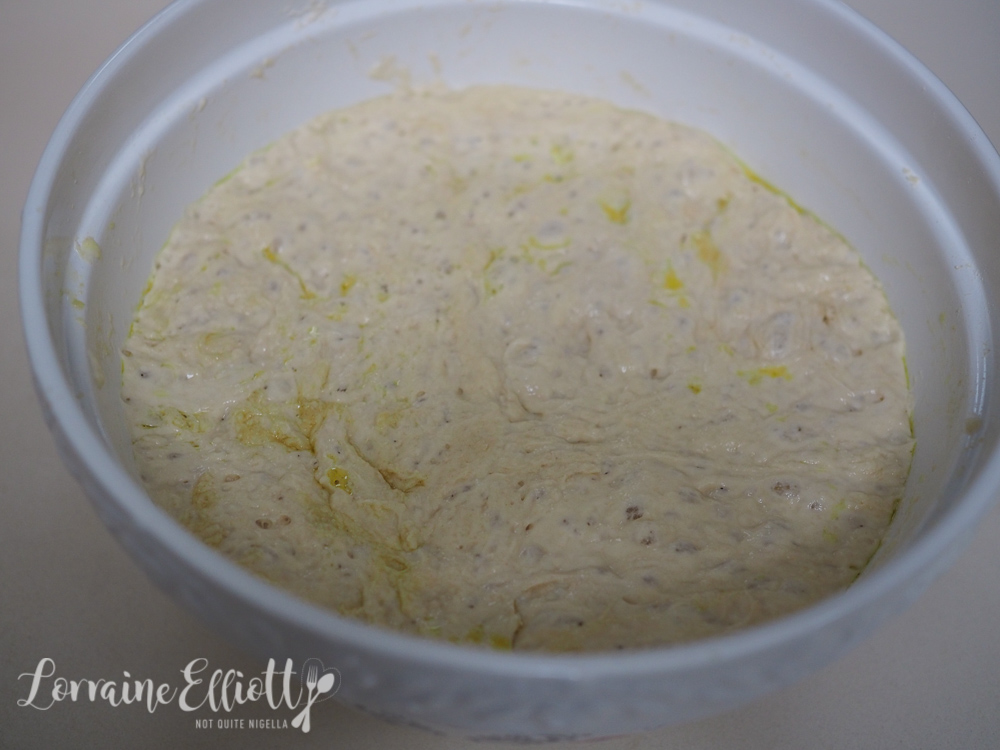 Step 2 - Mix the chicken, bacon, green onion, cream cheese, mozzarella, first lot of parmesan cheese and red chilli flakes together and season with salt and pepper.
Step 3 - Line 2 baking trays and preheat oven to 255C/491F (Costco chicken bakes are typically baked at 600F/315C). Flour a surface and roll out one ball of dough to a large rectangle. You want the dough to be quite thin. If the dough keeps springing back just let it rest for 5-10 minutes and then roll out a bit more.
Step 4 - Brush the dough with the Caesar dressing and add 1/4 of the chicken mixture as a log to the bottom section. Roll up the dough tucking in the sides (like a burrito) and place on the baking tray and keep in the fridge until you've done the same with the rest of the dough and filling.
Step 5 - Brush the top of the logs with Caesar dressing and sprinkle with parmesan cheese. Bake for 20-25 minutes or until dark golden.