Happy Almost Halloween! Just 10 days to go and may I offer you these creepy cute Caterpillar Pesto buns? A soft and fluffy milk bun dough encases basil pesto. This caterpillar bun recipe uses a clever cutting and rolling technique to create the stripes!
These were a slight challenge for me because I am a bit repulsed by segmented creatures. Watching them move gives me the dry heaves but they were in theme with this year's Halloween party so I had to give these caterpillar buns a try.
I used pesto inside the buns and got the idea from El Mundo Eats who used red bean paste. I wanted to make them savoury but as my pesto was a natural pesto without colourings it wasn't as bright vivid green. Next time I'd perhaps recommend tinting it green to bring out the colour.
While I love gruesome Halloween things, I also like cute and these are kid friendly, plus I always look for savoury Halloween treats because there's so much sweet stuff especially for kids.
Even though I don't have kids, I can be a great aunt but I was almost caught out being a bad aunt this past weekend. Mr NQN's 3 year old nephew was having a birthday on Sunday and Mr NQN was going to go alone as I had plans with a friend. My plans changed and so I was free to come along to the birthday. But one hour before we were about to leave, notoriously disorganised Mr NQN said to me "Are we supposed to get Finn a gift?". I was simultaneously unimpressed but not surprised that he had neglected this part.
I quickly googled best gifts for a 3 year old boy in 2020 and a list came up that quite honestly terrified me. It was full of strange names, mostly non words and I was filled with dread of going into a toy store. Luckily Finn is a true Elliott because all he apparently wanted was fruit. Crisis averted.
When we arrived the whole family was there in the common park area outside Tuulikki's apartment. She was very excited to tell me her news.
"I fell on my BOTTOM!" she said giggling.
"It was her tailbone but she likes saying her bottom," said Araluen, dryly from the side.
It turns out Tuulikki had taken a fall while playing beach volleyball. She had landed on the sand but thankfully hadn't hurt herself.
"You play beach volleyball?" I said incredulously. I mean I have no urge to play it at my age and I can't imagine her doing it but she's a woman of surprises.
"Yes I do," she answered before adding, "The only thing is that it made my Zumba dancing a bit more difficult!". Yup, even at her age which she keeps a closely guarded secret, Tuulikki is living her best life!
So tell me Dear Reader, do you play beach volleyball or do Zumba? What is your fitness activity of choice? And are you more or a cute or creepy Halloween person?
DID YOU MAKE THIS RECIPE? Share your creations by tagging @notquitenigella on Instagram with the hashtag #notquitenigella
Caterpillar Pesto Buns
Rated 5.0 out of 5 by 1 readers
An Original Recipe by Lorraine Elliott
Preparation time: 30 minutes plus 1 hour rising time
Cooking time: 23 minutes
Makes 9 buns
40g/1.4ozs. flour
125ml/4flozs. water
90ml/3flozs. milk
2 tablespoons sugar
1 egg, at room temperature
30g/1ozs. butter, melted
1/2 teaspoon salt
280g/10ozs bread flour plus extra for rolling
1.5 teaspoons instant dried yeast
2 teaspoons oil
200g/7ozs. pesto
Egg wash
For Thermomix directions see here
Step 1 - Make the tangzhong first. Take the first lot of flour (40g/1.4ozs) and place in a saucepan with the water. Whisk until smooth and then heat it up until it reaches 65ºC/149ºF. Remove from heat, whisk in the milk, sugar, egg and butter and salt and cool to 45ºC/113ºF.
Step 2 - In a stand mixer fitted with a dough hook stir the rest of the flour and yeast. Add in the tangzhong and the milk mixture. Knead with the dough hook until you can gently pull the dough apart without it breaking-this is called the window pane effect and can take up to 10 minutes. Roll into a ball and place in a lightly oiled bowl. Allow to double in size in a warm area - around 1 hour.
Step 3 - Preheat oven to 170C/340F and line a baking sheet with parchment. Punch the dough down and flour a surface. Roll the dough into a log and cut into 9 equal pieces. Form a piece into a ball then roll out into a circle around 10cms/4 inches in size. Spoon a tablespoon of pesto in the centre and bundle up the sides to close. Gently press down to make a flat disc and roll out to a 18x10cms (7x4 inches) long oval or rectangle.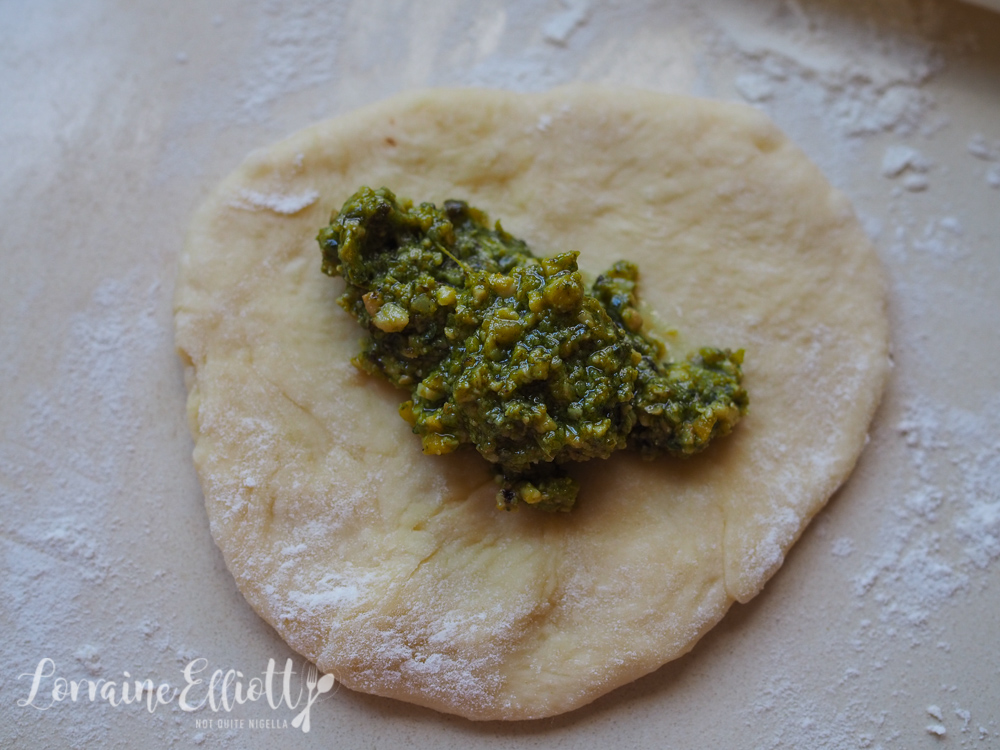 Roll into a disc and then add a tablespoon of basil pesto in the centre
Bring up the sides and seal
Gently flatten
Good side up, cut 5 vertical slices
Turn over and roll up so that the cuts appear on top
Step 4 - Take a sharp knife (I use a serrated knife) and slice the dough vertically 5 or 6 times on the best looking side. Then turn the dough over and start rolling it up on the shorter side so that the cuts show on top. Repeat with the remaining dough and pesto.
Curl the buns, brush with egg wash and sprinkle with black sesame seeds
Step 5 -Brush with egg wash and sprinkle with black sesame seeds. Bake for 16-17 minutes or until lightly golden.
Drawing on eyes
Optional: You can stick eyes on them. I used royal icing and black edible gel.