Fleet is an award winning restaurant in Brunswick Heads in Northern NSW. It is a small, unassuming restaurant that resembles a bar and seats just 10 people. Procuring a seat here can be a challenge, even with advance planning but sometimes wishes do come true and it's worth putting your name down on the waiting list to try Fleet's tasting menu. We were lucky enough to dine at Fleet just before they close for a short sabbatical in June, 2021.
Fleet is a small operation from not just the space size but also staff wise with four people at the helm: Astrid McCormack and Josh Lewis, the wife and husband team, front of house, sommelier and wine writer Olivia Evans and bartender Rob Mudge. And from June this year the team will be taking a break and handing over the restaurant to chef Daiki Shigeta and bartender Rob who will transform it into Roco, a ramen bar.
Six months ago when I first booked my week in Brunswick Heads I tried to get a table at Fleet for my birthday. I had been warned that they were down to 8 seats because of COVID so my chances were slim. I tried again at the nominated date and time to no avail (the booking system is a bit confusing as to when they open up bookings). Giving up, I added my name to the wait list saying that that apart from one booking we were free and in Brunswick Heads for the week.
On the day of my birthday my phone buzzed. It was Fleet letting me know that a table was free the following day, Mother's Day, at noon and would I be available?
That's how we find ourselves sitting at the bar table watching chef Josh Lewis on one side cooking in the kitchen. There's a menu of sorts on the table but it's not a traditional menu as such; it is more a list of ingredients broken down into general courses and serves more to ascertain guests' allergies. The tasting menu is $135 per person plus drinks.
The team of three manage the guests by seating two groups at once and every 15 or 20 minutes new guests arrive so you never feel like there's a lag with the courses.
NON Wine $14
Spiced Pear Cocktail $22
We order drinks, a spiced pear cocktail with rum, pear, lime, spices and soda for Mr NQN which we watch bartender Rob carefully craft using a knife and a block of ice cut to fit the glass. I'm having a NON wine, a non alcoholic wine from Victoria made with roasted beets and sansho.
We start with a snack course with five different snacks. There's warm rye caraway sourdough bread from Bread Social in Byron Bay served with cultured butter that has been caramelised and whipped until light and fluffy.
Then there are crispy fried prawn heads spiked with a spicy habanero hot sauce which is all about crunch and spice.
My favourite bite is the warm, savoury profiterole filled with tuna and house made nduja sausage made with pork and mackerel tuna.
There's also some superbly tasty crisps made with onion and flaxseed topped with fermented peas and cashew cheese.
And lastly there are some raw radishes with a toasted hemp seed paste mixed with honey. Life tip: save some of that hemp seed and honey paste for the bread too.
Sea mullet
Our next course has been served at Fleet from the very beginning. It's their version of "chips and dip" and is a local smoked sea mullet mixed with creme fraiche spiked with crispy sebago potato chips and mullet skin. It's crispy delicious and moreish and you sort of don't want the plate to end. The mullet dip is also delicious on the bread with some of the whipped butter.
Ballina mud crab
The next course, and all plates are designed to share amongst two, is the Ballina mud crab wrapped in discs of collard greens in a leek broth with leek oil. The leek is the perfect flavour to go with the crab and it adds so much flavour to the crab and collard greens.
Yellowfin tuna
The next course is Mr NQN's favourite. It is seared yellowfin tuna slices that are shaped like a rose and in the centre is a liquid butter flavoured with dried squid wing and black pepper with slices of fresh baby choko. This is a gutsy flavoured butter, almost reminding me of anchovy guts and offal.
Swordfish
My favourite course is the swordfish. It's a thin fillet of swordfish served with pine mushrooms, beef bone marrow broth and pieces of melting bone marrow. This dish is all sorts of lusciousness from the bone marrow to the chicken fat to the brown butter the mushrooms are cooked in.
Prawn Kiev garlic butter lettuce crustacean oil mayo
We both love the prawn kiev or as they call it "The Sanga". This is made with a patty of prawn meat filled with liquid garlic butter with a crunchy golden crumb. It's served with a mustardy crustacean oil mayo and butter lettuce on discs of soft white bread. It's entirely worth the risk of garlic butter stains on your clothing.
Roasted Dorper lamb breast
This is the last savoury course and it's a roasted dorper lamb breast that has been roasted for 8 hours until it is soft and sticky and yields to the lightest touch. Itt's served with chicory and warrigal greens in a sauce made of browned chicken and caramelised anchovy.
Cheese course $10 extra
There is one additional optional course and while we are very full we can't resist ordering one serve. It's a Deb Allard St Allard washed rind cheese that is washed in a salt brine. Usually washed rind cheeses are very pungent but this is mild especially when paired with the poached quinches and quince jelly made with apple and kelp oil. It's perfectly balanced and generous in size with enough for both of us to try this and go back for seconds.
Gulbarn melaleuca tea
Mr NQN tries one of the herbal melalecua teas made by the Indigenous Australian owned company Gulburn. The wild growing tea is hand picked by Alawa people on Alawa Country in the Northern Territory's remote Big Rivers region. The tea has a lovely, lemony tea tree perfume to it.
Bitter choc lamington
The dessert comes as two courses: a bitter chocolate lamington made with Jerusalemn artichokes inside the cake itself, in the ganache as well as crispy grated artichoke pressed around the cake that resembles coconut. The artichoke adds moistness to the cake and the crisps onthe outside remind me of that unexpectedly delicious combination of potato chips and chocolate.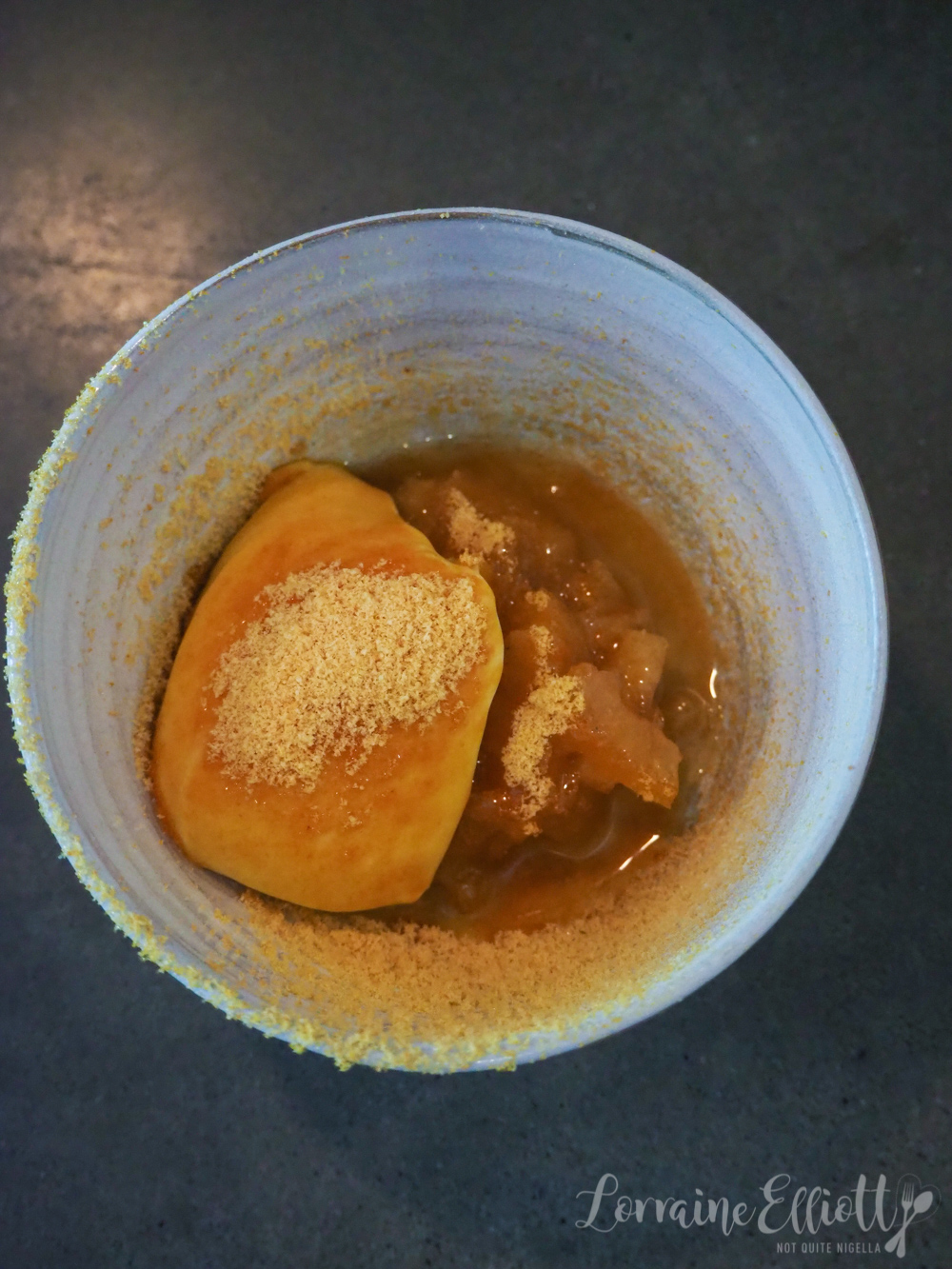 Marmalade finger lime
The very last course and my favourite dessert course is the marmalade paired with finger limes and orange as well as Talisker single malt whisky with a panna cotta style cream and honey with shaved honeycomb on top. The cream's texture and honey lingers on the palate, much like the memory of this meal will.
So tell me Dear Reader, do you book restaurants months in advance if you are travelling to a destination? Have you been to Fleet and if so what did you think of it?
This meal was independently paid for.
Fleet
2/16 The Terrace, Brunswick Heads NSW 2483
Thursday to Sunday 3–11pm
Monday to Wednesday closed