The area from Byron Bay to Newrybar and indeed the whole North Coast is full of places to stop and eat or shop. We have one last night in Byron Bay at St Elmo before venturing South to Newrybar, a town with a stop well worth making. Harvest Cafe is a modestly named restaurant where long lunches are made to be eaten. Even or especially when the rain pours down.
There are times when I feel guilty. Guilty of taking Mr NQN out of his natural zone. It's not strictly my fault or my decision of course-he has to work in the city but when I see his face when he is driving around his childhood home of Northern NSW he is positively garrulous. The roles have switched and whilst 90% of conversation usually comes from my mouth, this time he can't stop talking.
"This is where I sold fake horse poo in a road side stall,"
"This is where we used to have our banana plantation"
"This is where I broke my toe by climbing over a fence and it got stuck. Geez that hurt."
It's the afternoon of our second day in Byron Bay. While yesterday was perfect, today is hotter and by mid to late afternoon the temperature is really warming up and we need something cool and soothing so we head to Naked Treaties which always seems to have a constant queue of people. Here they specialise in mantras and inspiration via their menu board.
In the Flow $7 and I am Passionate $9.50
How you feel can help determine what you choose and Mr NQN and I decide on a "I'm In the Flow" (more chosen for the ingredients than any sort of feeling) and an "I am Passionate". The In the flow made with mango is young coconut meat and water blended with fresh fruit and this is fantastically tasty with just the right amount of sweetness. The I Am Passionate or Passionfruit Zing is made with coconut, passionfruit, mango, raspberries and greens. I wasn't sure if I would like the greens but they're surprisingly mild, passionfruit being the dominant flavour.
After that it is much needed short nap before we head back out for dinner at St Elmo, a Spanish tapas style bar in the heart of Byron Bay town. It's also Saturday night during Schoolies week (the Australian equivalent of Spring Break) so the streets are teeming with high schoolers but as it's relatively early (7:30pm) it's not as rowdy as it will no doubt get later. The police presence is significant and we watch the comings and goings from our corner booth seat. Service is fantastic from our waiter and he steers us towards five dishes for two people.
Choricito Con Panceta de Cerdo $21.50
The first item to arrive is the baby chorizo with slow cooked pork belly cubes. The chorizo is thinner, more in line with a breakfast sausage in size and it is sliced and served with a fantastic sherry vinegar caramel. There are also slices of picked watermelon and slivered almonds which gives the dish lightness and crunch and we both love this dish.
Vieira Con Pure de Maiz $22
The scallops come out four to a serve and are seared and served atop a sweet corn puree with salted caramel popcorn. The scallops and corn are great but I don't know if it really needs the salted popcorn as it is taken quite far with the caramel so the caramel is very dominant and overtaking the scallop's flavour and texture. Perhaps it would be better crushed up.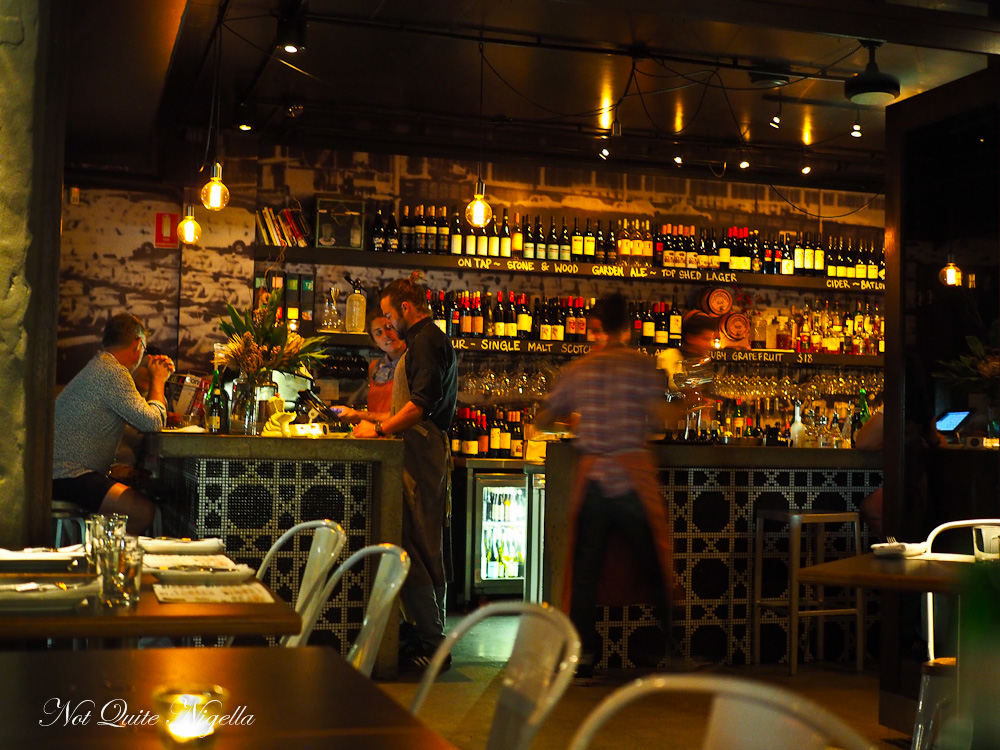 Bikini $14.50
Well you may know my fetish for a good sandwich, especially a toast and the bikini is a beauty. It's a Catalan style fried sandwich with jamon, Byron Bay mozzarella with truffle aioli and tomato. And lordy be, even though it may not look very pretty in the photo this is another favourite of ours with just the right amount of crunch and luscious oozy cheese, tomato and jamon.
Squid Ink Rice
This is a special of the day and having had this in Barcelona we just had to try it again. The seafood and rice are perfectly cooked. It comes with a squeeze of lemon to lighten this very rich dish.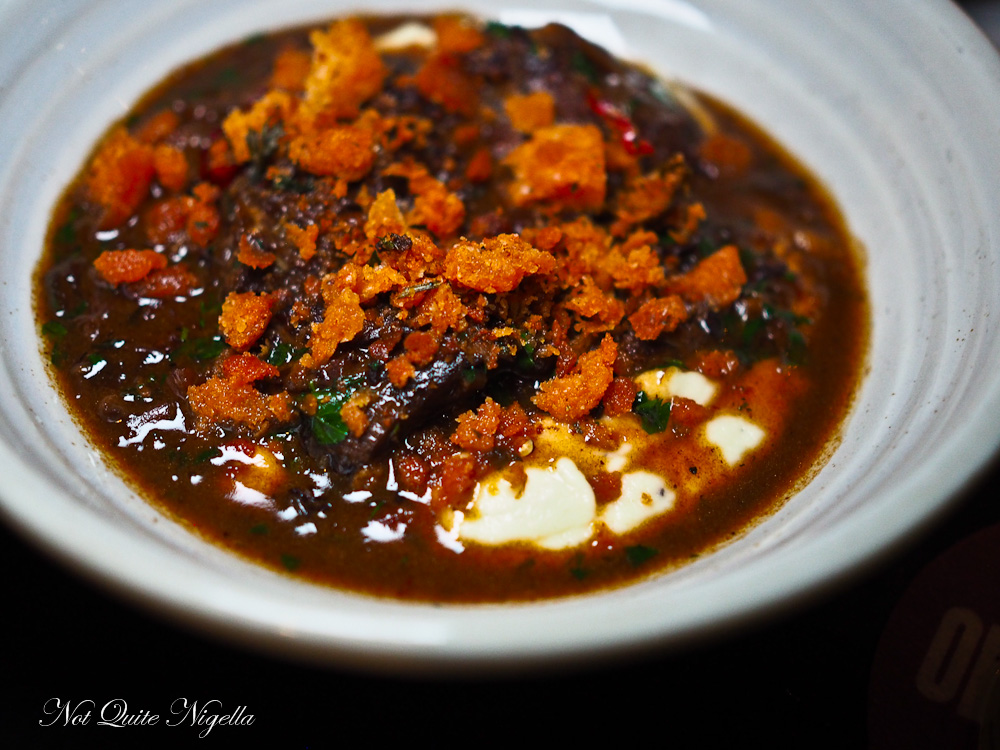 Carrillera de Vaca $24
The slow cooked beef cheek is served in a caramelised red wine sauce on a bed of the smoothest cauliflower puree and large fried breadcrumb pieces with thyme. Mea culpa dear Reader, we couldn't finish it because we did over order and our choices were on the rich side. But I also think that this is a dish best in Winter when you need an extra warm hug.
Alcachofas Con Calabacin Y Guisantes $18
All of the salads and vegetables looks equally as appealing but since our waiter hadn't steered us wrong we went with his recommendation of the roasted Jerusalem artichokes with yellow squash, pea, cos lettuce and manchego soil which has a sweet element to it. I particularly loved the sweetness of the peas and the simplicity of this dish, particularly as a diversion from the rich meat mains.
Pudin De Limon $15
I'm a big fan of lemon desserts while Mr NQN is not so much. I can say that this one however convinced him otherwise. It's served in a terracotta bowl and is a soft, dense lemony flavoured pudding topped with a delicious goats curd semifreddo, candied almonds and candied strips of lemon. It's tangy enough to round off a rich meal.
Pastel de Chocolate $15
The chocolate cake is really more a custardy mousse or a pudding (and the pudding above was more a cake!) but nevertheless it's a good solid crowd pleaser and we see many of these going out to many tables. It has a light hit of peanut butter without it being claggy or cloying an is served with a peanut butter mousse layer. There is supposed to be a peanut butter and honey gelato on this but we didn't really notice until afterwards that it is absent.
We left Byron Bay the next morning. It was a leisurely start to the day commencing with breakfast al fresco at The Byron at Byron. We tried to elicit a smile out of the solemn person behind the breakfast entrance (no luck), helped ourselves to bircher muesli, stewed fruit, fresh fruit salad and a divine ginger and macadamia toast with fig and ginger preserves. We sipped on juice and turned our faces upwards to the sky looking for signs of rain. The start was peppered with showers and we danced around these to get to our next stop.
Our first stop is Bangalow Markets. I'm not sure what to expect but there is a decidedly hippy vibe to it. The food is plentiful especially if you are vegetarian and there are a lot of home made items and handicrafts with a preponderance of pottery and clothes, mostly in the alternative style. Parking is $2 on the grounds and it is a very large market. Alas a couple of the food items we tried weren't very tasty and simply not worth writing about - perhaps we had the worst luck ever with our choices.
Having said that I did buy a gorgeous robot soft toy for a gift, some pure olive oil soaps (a steal at 7 for $10) and Mr NQN bought some dried fruit leather in the shape of a half sun. We spend just over an hour there walking around ducking the light showers by hiding under the branches of enormous trees while buskers play. The township of Bangalow itself is less alternative with plenty of gorgeous boutiques and cafes. Alas we don't have much time to explore it having spent so much time at the market but I manage to pop into a couple of shops before being pulled away. You see our destination today for lunch is rather special.
It seemed that everyone had recommended that we visit Harvest Cafe in Newrybar. Cafe is a modest name for it and certainly there is an area outside where people seem to be enjoying coffees but the menu inside is more of the restaurant kind than cafe.
We take a seat and it starts to bucket down with rain necessitating the rolling down of plastic sheeting. We're just thankful that we made it in in time as the precipitation comes down thick and fast. Service is very friendly and there is an open kitchen in the main part of the restaurant. Much of the produce is grown on their organic farm with the herbs grown in the garden in the back. Bread is baked daily in the 150 year old oven on the premises.
Fresh woodfired sourdough / butter / smoked salt $2.50 pp
And speaking of the bread, it is served as thick slices with a good crust (not too thick) and a tight crumb. It comes with a generous serve of New Zealand butter sprinkled with salt on top.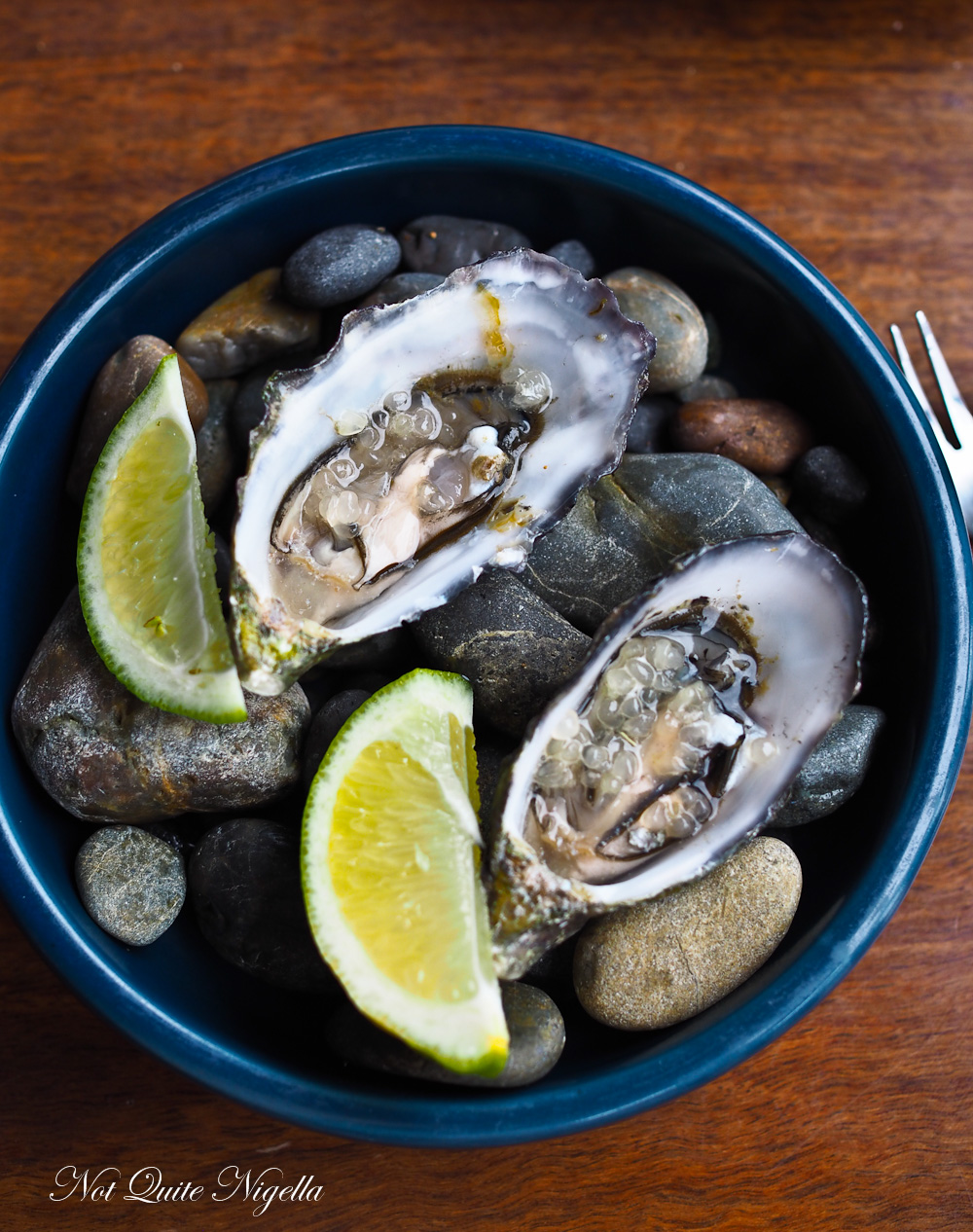 Raw oysters / citrus $4.50 each
We decide to go with a few entrees and one main because the entrees appeal to us a bit more. The raw oysters come with finger lime and are freshly shucked. I love the presentation of these on the cold rocks in place of ice.
Charred leek / prawns / buttermilk / rye crumb $20
Our hot entrees arrive all at once and they're a colourful, visual feast. We start with the prawns, three succulent grilled specimens with charred leek or spring onion, a buttermilk emulsion and rye crumbs. It is perfect and perfectly satisfying.
Ox tongue / peppery green sauce / radish $18
Then we move onto the ox tongue, beautifully pull apart soft with what they describe as a peppery green sauce with a flavour not unlike sweet pickles that lifts the rich ox tongue beautifully. And although Mr NQN doesn't usually love ox tongue he really enjoys this.
Roast Bone Marrow / harissa / sourdough $16
When I order bone marrow, it's usually for selfish reasons. Mr NQN doesn't like it so I usually have it to myself. But you put harissa on it and suddenly he's a huge fan. Bone marrow is grilled with hot and spicy harissa paste and then served with toasted house made bread. I can't tell you how satisfying this is, you really just have to eat it for yourself.
Local fish / corn / gnocchi / miso / spring onion $38
There's a bit of a wait between entree and mains but the restaurant is very full and we are enjoying the display of nature outside and are in no hurry to leave and get drenched. Our main is a mahi mahi - usually a fish we see on menus in Hawaii. Here it is served with fresh sweetcorn, gnocchi in a miso broth with spring onion. The fish is perfectly cooked with a still tender and moist centre and is given depth and flavour from the miso broth.
Violet Crumble $16
There's perhaps only enough stomach room to share one dessert so it had to count and it certainly did. The violet crumble is a rich and airy chocolate mousse with a violet ice cream and crumbs on top. It's a generous size and almost too pretty to take a spoon to but of course….
We pop into the deli adjacent to the restaurant which has a nice range of supplies for self catering as well as a cheese room and sandwiches and snacks. Crossing the road we stop into the Newrybar Merchants, a collection of a handful of stallholders and artisans that rent the space and display their wares. It's an mix of florist, home furnishings, bed linen and stationary and it is gorgeous stuff although prices do tend to be quite high.
With a gap in the rain we quickly run to the car and take the drive to our next stop to Cabarita Beach. On our drive we take a detour to Federal and Eureka where I can see the place that Mr NQN grew up in. "That's where I had my first day at school and when my mum left me, I ran after her," says Mr NQN staring out the window through the rain.
So tell me Dear Reader, do you ever revisit where you were born or where you grew up? And do you stop in certain towns or go out of your way to eat at destination restaurants or do you more stop where you're going and find somewhere to eat there?
NQN and Mr NQN travelled to the North Coast as a guest of Destination NSW.
The Byron at Byron
77-97 Broken Head Rd, Byron Bay NSW 2481
Phone:(02) 6639 2000
https://www.thebyronatbyron.com.au/
St Elmo
22 Fletcher St, Byron Bay NSW 2481
Phone:(02) 6680 7426
http://stelmodining.com/
Harvest
18-20 Old Pacific Hwy, Newrybar NSW 2479
Phone:(02) 6687 2644
https://harvestcafe.com.au/