Raes on Wategos is a luxury boutique hotel, bar and restaurant in one on Wategos Beach in Byron Bay. Located mere footsteps from Wategos Beach and housed in a bright white rendered villa it seems as much a glam movie set as a Mediterranean restaurant. Diners sup on meals of kangaroo tonnato, hand rolled fregola with spanner crab and their take on a lamington dessert.
Birthday dinners are always something to look forward to. At what stage do you dread them? Do you start counting backwards? Do you decide that you're going to make a week of celebrations? Perhaps that comes when jowls slip and lines etch the face too deeply. As soon as I decided that I was spending my birthday at Brunswick Heads, I booked a table at Rae's on Wategos.
Wategos Beach is a very popular surf beach and dining during the day provides you with a beautiful view and is perhaps when the restaurant is at its prettiest while at night it's all about inky blackness with the promise of a beach nearby from sound of the surf and damp saltiness in the air. The 1960's building spent time as a kiosk although it opened as Raes in 1994 undergoing a transformation by owners the Catalano family when they purchased it in 2014.
We arrived early expecting to struggle with parking but we are lucky so we have a drink at the downstairs bar grabbing the last free table. The restaurant opens at 6pm and on the dot we make our way up the stairs. Raes is a relatively small restaurant, given its reputation. As we booked several months ahead we get a great table by the open window. Service is efficient if not warm or friendly from our waitress. The chef is Jason Saxby formerly of Pilu in Freshwater and I have already studied the menu online so I already know what I want to order.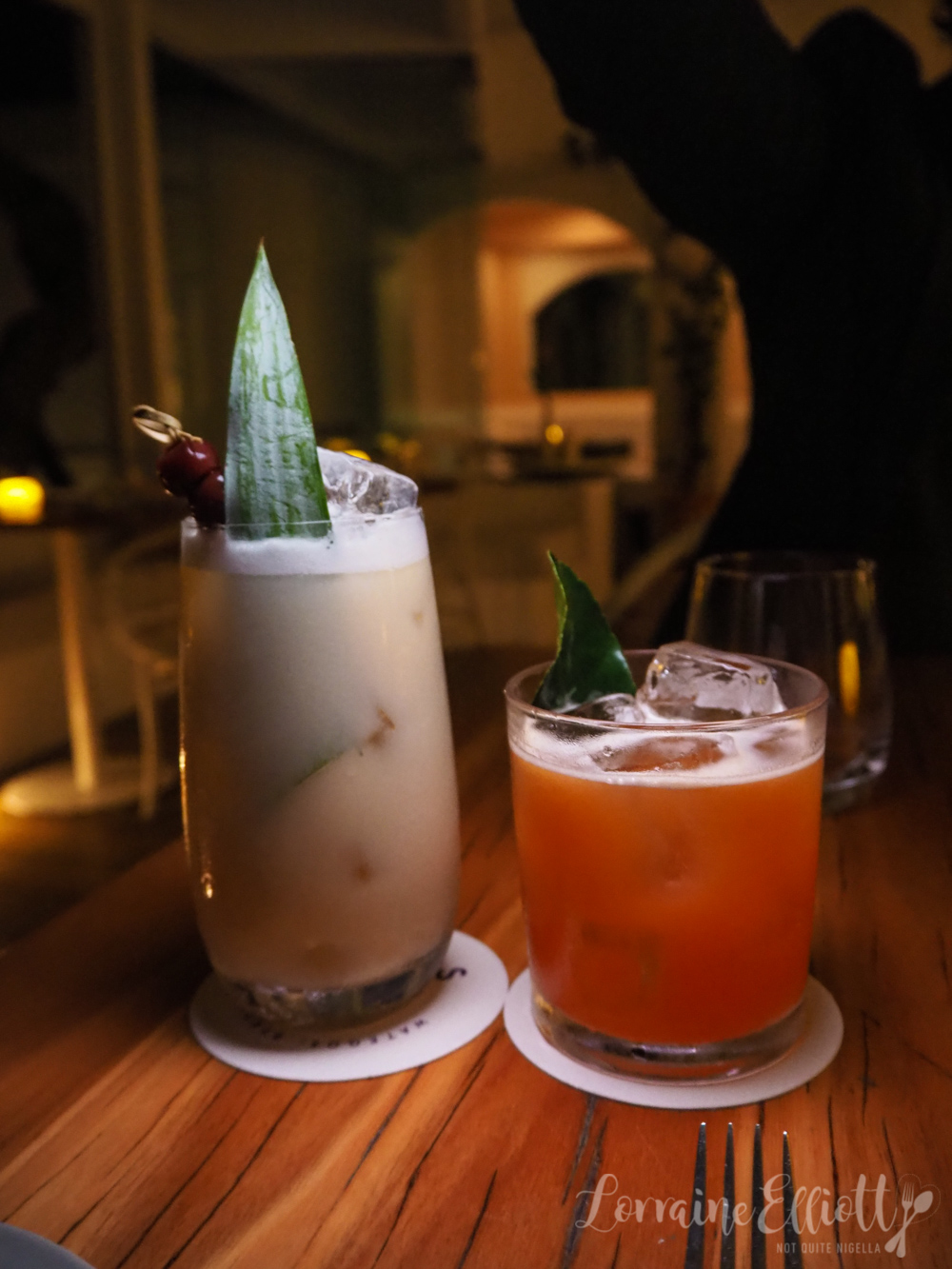 Parfaiterole $6.50 each
We start with a bite with our cocktails. Parfaiteroles are delicious filled choux buns with liver parfait inside and a dollop of inky, rich Pedro Ximinez jam on top. They make for a delicious mouthful or two, the sweet PX pairing well with the liver parfait. A dozen of these please.
Tuna Burrata $31
I actually loved the sound of all the Primi courses but settled on the tuna burrata. It's stracciatella cheese curds on top of a rich, sweet and spicy Nduja jam with a thin slice of raw tuna on top. Olives, capers and basil round out the strong flavours. I love the mild, creamy stracciatella cheese and tuna against the bolder sauce and flavourings. Mr NQN doesn't want to surrender his half.
Kangaroo Tonnato $30
The kangaroo tonnato is actually just as delicious if less bold. It's finely chopped raw kangaroo with a tonnato or creamy tuna sauce to season it and a blanket of thinly sliced Boon Luck radishes on top.
Hand rolled fregola, spanner crab $35
I feel like more of a pasta as my main than a big meat main. I choose the hand rolled fregola, small balls of pasta with spanner crab, sweet corn, shellfish XO, macadamia, smoked roe and bottarga. XO sauce seems to be having its time, particularly in this area of Northern NSW and it's a powerhouse of flavour. The other stand out is the texture of the fregola and the tiny pops from the corn. There is also smoked roe, crab and bottarga while you get the very occasional bit of crunch from the 3 or so macadamia halves.
Rangers Valley 5+ wagyu $49
The steak is two slices of Rangers Valley 5+ wagyu with a medley of Byron mushrooms, a porcini XO, puffed grains, black garlic and salt bush and is another strongly umami dish with a hit of sweetness from the black garlic. The steak is sous-vided so that it is tender and judiciously paired with umami rich accompaniments.
Layered potatoes baked with rosemary & wakame $16
When faced with a choice of salad or layered potatoes the only choice really is the potato. It's a perfect rectangle of crispy edged potato flavoured with rosemary and wakame with dabs of miso aioli and squares of nori on top. It is also the perfect bedfellow for the steak.
Caramelised Fig $22
It's dessert time! Sadly the note about the birthday and Mr NQN's call to them that afternoon means that the desserts are bereft of the candle which is not necessary but would have been gesture. While we liked the elements of this dessert separately we didn't feel like they went together as well. There is caramelised fig, cubes of chestnut cake, kefir gelato and very large chunks of honeycomb. The chestnut cake is beautiful and soft and chestnutty but the kefir gelato is a bit too tangy for this and the honeycomb chunks are too large and the figs aren't particularly luscious. They've tried to make them more luscious with the caramelisation but it doesn't quite get there.
Lamington $22
The lamington is a tonka bean semifreddo with layers of cherry and Davison plum jam with single origin dark chocolate and coconut on the outside. It's the pick out of the two desserts. Or just get another primi course!
So tell me Dear Reader, do you always order dessert? Do you always let a restaurant know if there is a special occasion and does this usually work in your favour?
Raes on Watego
6 - 8 Marine Parade, Byron Bay NSW 2481 Australia
https://raes.com.au/gallery/restaurant/