If you're looking for a getaway and a little slice of paradise, head to Northern NSW to Brunswick Heads. This town, located 15 minutes from its busier, bigger sister Byron Bay moves at a completely different place. This is where the Byron locals go to chill out. And with a number of great places to eat around the Brunswick Heads, you'll have plenty to choose from.
The Fantastic Mrs Fox
Mr NQN grew up in this area of Northern NSW and he is always happy to come back to where his nomadic hippie family put down roots. His childhood was made up of push pins on a map all across the Northern NSW area from Byron Bay, Mullumbimby, Bellingen, Federal and Coffs Harbour. The plan was to spend my birthday week here with Teddy and we found a perfect, spacious house to stay in which was boho glam and dog friendly.
We split the drive in two parts to accommodate Teddy stopping after 5.5 hours at Crescent Head, then continuing on to Brunswick Heads for another 4 hours arriving in the mid afternoon. The temperature in Brunswick Heads is a few degrees warmer than Sydney and the sub tropical climate, palm trees and easy lifestyle is far from any capital city madding crowd. And with that we decided that it was definitely ice cream weather...
Natural Ice Cream Company, Brunswick Heads
Wal Foster-Eyles shows me the bowl in which he serves the Natural Ice Cream Companies creations in. It came from Clarke's Beach and was crafted by a potter friend after some erosion took place on the beach. Wal has friends in high places. While in some areas that means politicians and business people, his friends supply him with fresh local, wild, feral and organic produce to put in his ice cream. The ice cream here is all proboiotic ice cream made with 5 strains of probiotics, organic eggs with low levels of cane sugar. Often it is made with 50% fruit so that you get a wonderful natural sweetness with still a creamy texture.
The menu isn't a scoop and serve, it's about ice cream creations like a guava and gac pie with strawberry and feral guava ice cream. Gac fruit is a fruit that tastes very mild but delivers in nutrients. On top is a guava leaf meringue that Wal torches and serves in a waffle cup. Or there's a warm rice pudding make with cultured aniseed myrtle, jackfruit caramel and freshly grated Meyer lemon zest on top. His limited use of sugar means that your brain doesn't want to stop at one so be warned: it's addictive stuff.
Wal grew up in the area then moved to Sydney where he worked as a chef at Aria and overseas in Sweden where he had his own restaurant. But as he explains it took all of that travel to realise that this was where he wanted to set up his ice cream van where he could surf and pull out crabs from the ocean for lunch.
Natural Ice Cream Company: 21 Mullumbimbi St, Brunswick Heads NSW 2483 Hours: Friday to Sunday 12–4pm
Honour Espresso & Salumi Bar, Brunswick Heads
Honour Espresso & Salumi Bar is a bit of everything: brunch, lunch and dinner (if you happen to be there on a Friday or Saturday night). Dinner is a wine bar concept with conservas (tinned seafood), cheeses, salumis and a list of wines by the glass to go with the small plates.
There is a set menu available but our eyes are drawn more towards the St George sardine and sobrassada on toast, a long spear of bread topped with the spicy Spanish spreadable salami and a sardine to get the tastes buds going.
The beetroot with stracciatella curds and candied walnuts are delicious while you can do a tasting plate of salumi with 4-5 types of salumi from a gorgeous squid ink salumi, fennel, truffle, mortadella and LP's spicy saucisson.
Honour Espresso & Salumi Bar: 4/16 The Terrace, Brunswick Heads NSW 2483 Hours: Friday & Saturday 5–9pm
Fleet Restaurant
The restaurant table that every foodie covets during their trip to Brunswick Heads is at Fleet. Sure it's almost impossible to get a seat and the booking system will do your head in but you're best off to leave your name on their waitlist with the dates of your visit and you may just get lucky. Read more about Fleet Restaurant here.
Saint Maries Pizzeria, Brunswick Heads
If you're after a casual pizza dinner or takeaway, Saint Maries Pizzeria is on the main street Tweed Street of Brunswick Heads next to the Sails Motel. It serves up good pizzas with classic-ish toppings. Pull up a velvet seat outside or eat inside in the retro look dining room. We took our pizzas to go and I was a fan of the Hot Sally with mozzarella, fennel salami, olives, chilli and herbs with a thin crust and puffy sides.
Saint Maries Pizzeria: The Sails Mote, 26 Tweed St, Brunswick Heads NSW 2483. Hours: Tuesday to Friday 4–9pm, Saturday & Sunday 1–9pm. Phone: (02) 6694 3314
Oma, Byron Bay
Back towards Byron Bay is Oma, a restaurant from the Three Blue Ducks crew. The restaurant sits on the first level of a former nightclub and has an open undercover balcony area as well as an indoor section both with murals from local artist Mlak (Karlee Mackie). Like Three Blue Ducks, the menu is modern Australian with locally sourced ingredients.
We start with cocktails: a noperal spritz, a pretty good approximation of an Aperol spritz without the alcohol as well as a Rhubarb Fizz, a cross between a mojito and sparkling wine with house made rhubarb syrup.
We can't decide on whether to have the steak or the chicken and most of the things that I want are on the $80 Feed Me menu so we go with this as you can add $11 and try both the steak and chicken. We start with the house made spelt bread and cultured butter with spicy salami and sweet soy cooked ramen eggs.
Then the next set of courses comes out that includes some raw kingfish with onions and hazelnut and a range of pickles. My favourite dish is the stracciatella with pickled peaches and chilli which I could eat all day long. The venison salami that comes from a local supplier is paired with beetroot umeboshi which is their take on plum umeboshi but doesn't have the saltiness or tang to it that umeboshi usually has.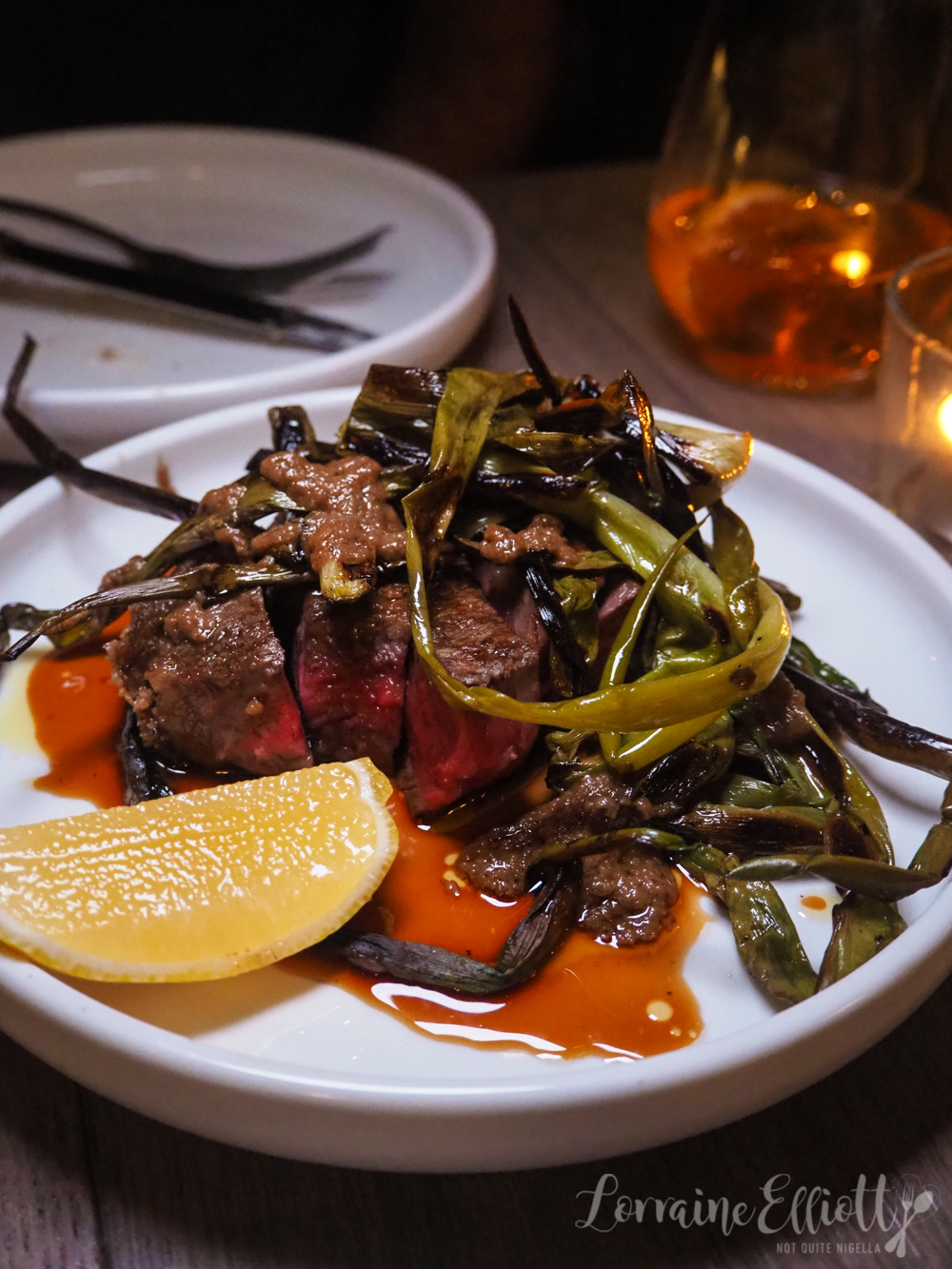 The mains come out and they're sizeable - this menu is best suited to someone with a big appetite. It's hard to choose a favourite whether it be the steak with elephant garlic and anchovies which is umami forward or the chicken with fermented chilli, green olives and corn. This is succulent and nicely burnished from the grill with a good pep from the fermented chilli. Save space for the crispy potatoes with cultured cream and bottarga shaved on top.
Dessert is a shared affair with a large serve of buttermilk panna cotta and a Oomite caramel with apples & pears, ginger and tarragon powder sprinkled on top.
Oma: 6 Lawson St, Byron Bay NSW 2481 Hours: Thursday to Monday 5pm–12am, closed Tuesday to Wednesday
Eltham Hotel, Eltham
I never grew up eating at pubs. My parents equated drinking establishments to dens of debauchery, eyeing them with horror and suspicion. Drinking alcohol was the first step to a slide into ignominy. But I'm starting to really like pubs with good food. For starters they're always open, always welcoming and you never need make a booking. The food comes out quickly, some of them are dog friendly and when you're finished you just get up and leave. There's none of this dance trying to signal to the staff that yes you'd like to leave and pay "Please may I pay?".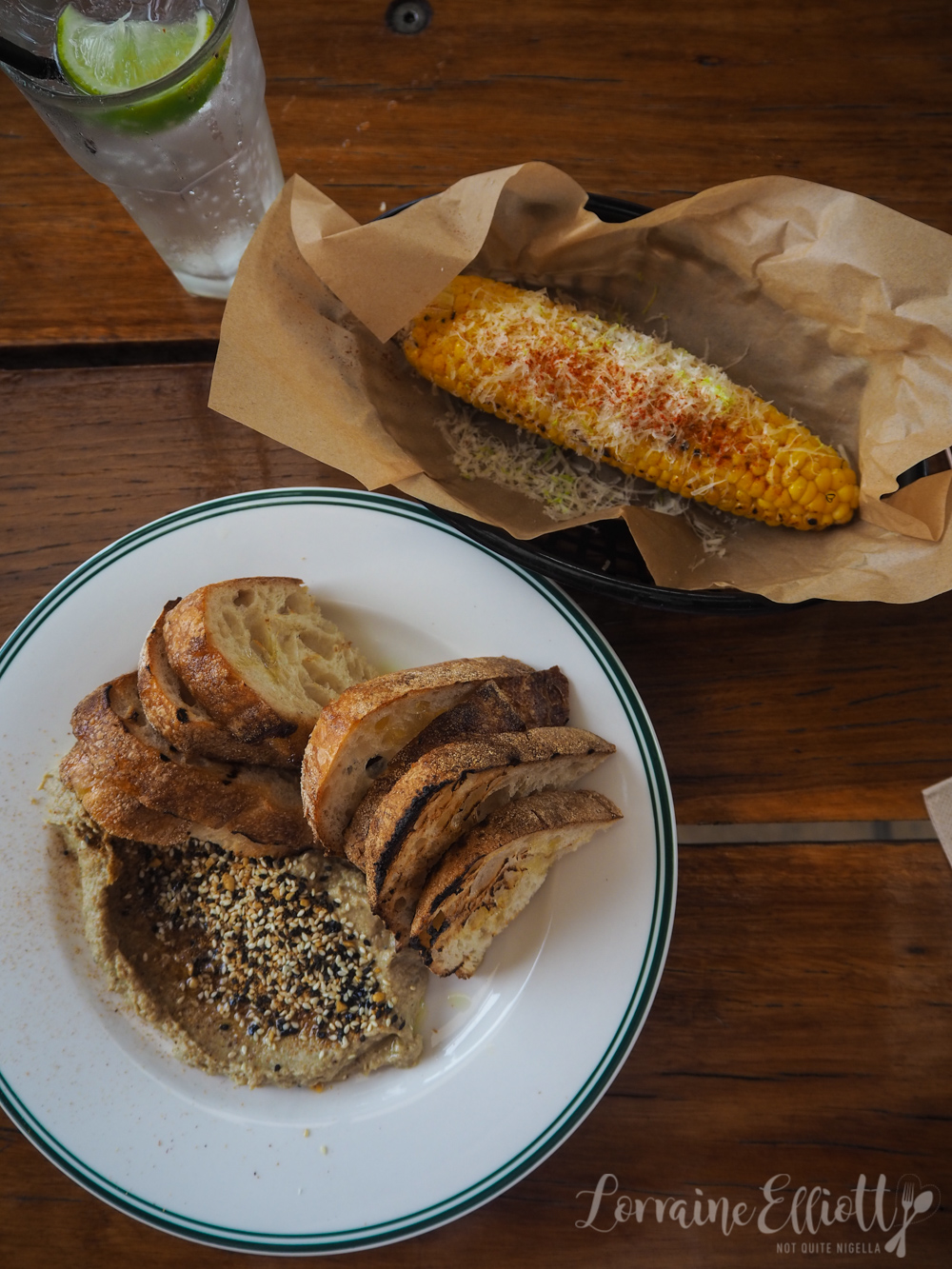 Monica put me onto the Eltham Hotel's menu and sent me a picture of some fish fingers. I agreed immediately based on that and some other recommendations of hers and we made the 30 minute drive from Brunswick Heads to Eltham, a small town where the Eltham Hotel is the hub for gathering. There are plenty of outdoor tables as well as a flower laden bistro, perhaps a remnant of Mother's Day celebrations two days prior.
Spiced Cauliflower Burger $22
The menu changes, rapidly we hear and Monica's choices are no longer there save the fish fingers and the current menu is a mix of pub classics like parma, schnittys, salt and pepper squid and steaks. But there are other treasures like a smoked eggplant dip with dukkah and sourdough which is beautifully smokey and creamy with lots of black and white sesame seeds.
Pray that the smoked whipped fish fingers are on the menu. They're white anchovy and bottarga served on toast fingers with pickled guindillas and are sublimely piquant and mouth watering.
Fennel Salad $19
Other items to round out the menu are cobs of juicy BBQ corn with marjoram, lime and grated manchego or a spiced cauliflower burger with pink pickles, cheddar cheese, gem cos lettuce, house burger sauce and chips. Or if you're after something lighter the Fennel Salad is thinly shaved fennel paired with chopped sherry soaked dried apricots, crispy olives, snow pea greens and a chardonnay vinaigrette. Oh and there's always 3-4 desserts on offer. But that brings me back to the point that pub food servings are always massive and there's rarely room for dessert!
Eltham Hotel: 441 Eltham Road, Eltham, NSW 2480. Hours: Tuesday - Sunday Open 12pm - late, closed Mondays. (02) 66291217
So tell me Dear Reader, is there a destination that has the perfect weather for you? What is one place in the world where you would like to spend a week?
All meals in this post were independently paid for.