halcyon
ˈhalsɪən,-ʃ(ə)n/
adjective
1. denoting a period of time in the past that was idyllically happy and peaceful.
A name says it all. Two words that immediately evoke the feel of one of the newest hotel developments in Northern NSW. The much talked about Halcyon House opened its doors in May 2015 and it has quickly collected credentials and awards like Elizabeth Taylor collected diamonds. Formerly a surf motel the bagged brick finish outside looks stark with a retro hint to the white and navy blue facade. But follow the sounds of laughter and conversation into the reception area and the restaurant Paper Daisy and you can quickly see why people have fallen so in love with this space.
Your eyes don't know where to look-the walls are upholstered and then covered in paintings and photographs and the navy blue and white mosaic patterns are echoed in the wallpaper and tiles. Virginia Kerridge was the architect charged with bringing a Mediterranean and Australian aesthetic while designer Anna Spiro designed the rooms taking trips to the United States to procure antiques with the owners Brisbane sisters Siobhan and Elisha Bickle. In 2011 they purchased the property situated just 30 minutes away from Byron Bay.
We are offered a welcome drink in the bar where we relax and stretch our legs and flick through the thick design tomes that weigh down the enormous coffee table. Once we down the refreshing lemonades we are shown to our rooms.
Ours is an Oceanview Superior room. It's a little on the snug side at 40 square metres, no doubt inherited from the former days as a surf motel but the interior furnishings are gorgeous and each room is individually decorated. They are a beatific ode to pattern and colour. This is a little bit surf retro combined with luxury and elegance, an intoxicating mix. The wall fabrics are from England as were the upholsters that installed the fabric.
There is a high king sized bed with Frette sheets and pillows. There is also a small sitting area with one chair and a photogenic wall with a mix of amateur prints and tapestries that makes it all feel a little bit like home. For entertainment there is a flat screen television with Apple TV and Foxtel. The only negatives are that there just one blackout curtain (no sheer) and a lounge or day bed would have been good so someone could curl up for an afternoon nap. There is no work desk-perhaps not a problem for leisure seekers though.
The bathroom has English tapware, marble vanities and the most stunning handmade floor tiles. Toiletry products are by Evo and are comprehensive. There is also a complimentary mini bar (excluding the champagne) that is well stocked with savoury and sweet snacks and a range of drinks from local beer to soft drinks. This is replenished daily. You may end up like me wanting to buy all the furnishings, fittings, robes and slippers. The slippers and the tote bag are for guests to keep. I am literally wearing the slippers now while I write this.
The balcony looks down into the pool below and the ocean. Halcyon House's location is right next to one of Australia's best surf breaks and Mr NQN a while sitting on the balcony listening to the waves crash and the thunder growl. From a distance the lightning flashes as nature plays out its dance.
With the rain falling in large drops we make our way downstairs to Paper Daisy. The restaurant is named after the wildflower of the same nice found on Norrie's Headland. There is always a table held for each hotel guest so bookings aren't strictly necessary but it does get busy here especially during peak times so a booking is recommended. There are people sitting in the inside and outside bar area reading books and doing work or with friends. We slide into the banquette seating against the wall and watch the open kitchen with chef Ben Devlin do its work.
Wholemeal sourdough with kefir and nut butter $10
We have found a lot of places charge for bread on the North Coast but it's not ordinary bread. It's delicious with interesting butters. Here the wholemeal sourdough comes as four slices with a kefir butter as well as a nut butter. The kefir butter has a slight tang to it, much like yogurt does which of course kefir is. It's the macadamia nut butter that I have the most trouble resisting though and it is thoroughly addictive with an umami quality.
Smoked albacore with agnolotti and egg yolk vinegar $30
The smoked albacore is sliced like sashimi slices and served with cheese filled agnolotti parcels. Bringing this all together is a divine egg yolk vinegar, at the same time creamy and tangy and fresh basil leaves. I could happily have a main of this all to myself.
Hot smoked oysters with horseradish and ketchup $25 for 6
We were persuaded to try the hot smoked oysters as they are a house specialty. They arrive warm on paperbark and are flavoured with horseradish and ketchup. They've shrunk with the heat the seafood flavour has intensified but if I am to be totally honest, I still prefer fresh oysters.
Paper bark grilled fish with onions, seaweed and braised kernels $34
The paper bark fish is one of their signature dishes and it is a flame tail snapper fillet topped with onions, seaweed and braised buckwheat kernels on top. The thick fillet of white fish is so succulent and moist inside the paperbark wrapping. We see a lot of people ordering it and I can see why.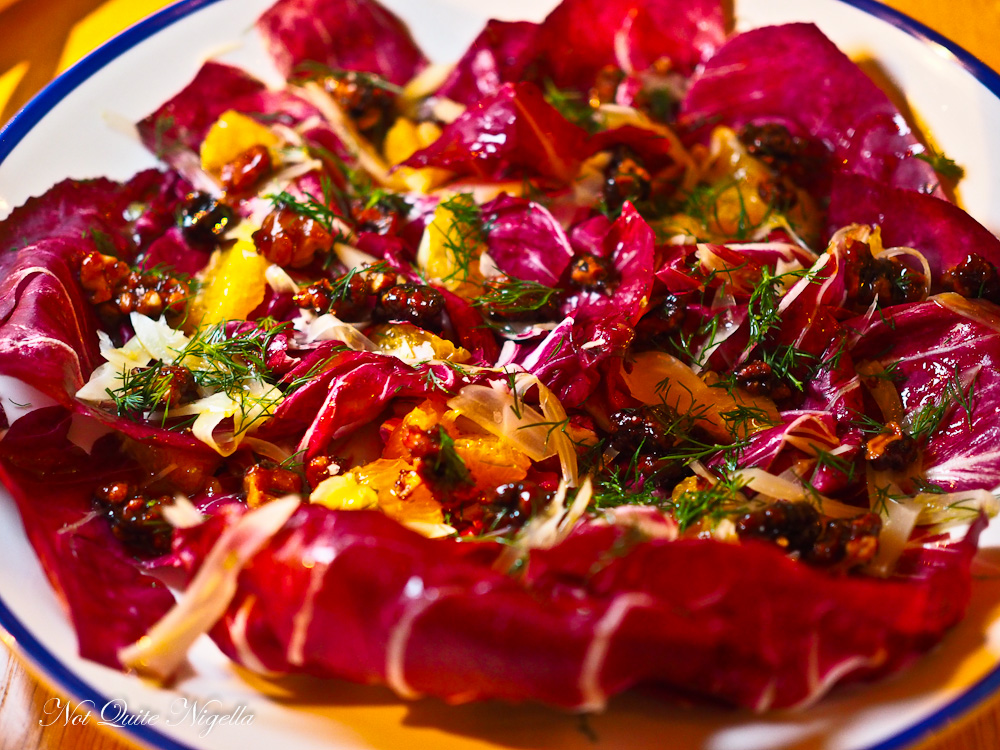 Radicchio with orange, fennel and walnuts $18
This is the other signature dish and if it is strange to fall in love with a salad, so be it. But this hits all the points, crunchy radicchio leaves are individually topped with orange slices and thinly sliced fennel as well as caramelised walnuts. It's sweet, slightly bitter, soft and crunchy at the same time. The orange and dill dressing is also superb. And you can bet I am making this on Christmas Day!
Poached chicken with almond and cauliflower $34
The chicken then arrives and it is coated in a leek ash giving it an unique look. The chicken meat itself is very tender and succulent and the leek ash gives it a pronounced savoury flavour. It is served with almonds and tiny cauliflower florets with super crispy chicken skin and a small jug of jus.
Spring honey served in bees wax with strawberries and milk $16
We can't go past the prettiness that is the beeswax bowl (not edible) filled with sweet honey ice cream and a refreshing milk foam. It is topped with freeze dried strawberries and strawberry dust and this is utterly delightful.
Caramelised white chocolate with Jerusalem artichoke and wattle seed $16
This is intriguing and while the honey ice cream was a sweet offering this is for people who like things a bit on the sweet and savoury side. Think salted caramel. It's a Jerusalem artichoke ice cream with caramelised white chocolate thins, wattle seed crunch thins and thinly sliced, caramelised slices of jerusalem artichoke and small chunks of it interspersed throughout. It's a gorgeous dessert and the jerusalem artichoke, rather close to potato doesn't feel out of place.
Yawning, stomachs full and happy we make our way back to our room where they are performing turndown. Towels are replaced, the bathroom is given another clean and they set down a little pillow detailing the pillow menu available, all stitched in embroidery. They place slippers by the bed and bottles of still water and exit discreetly. We have no other role but to fall asleep which we do soundly knowing that tomorrow morning promises idyllic happiness.
So tell me Dear Reader, where is your happy place? And do you like salted sweet desserts? What is your favourite colour scheme for a room?
NQN and Mr NQN travelled to the North Coast as a guest of Destination NSW but all opinions remain her own.
Halcyon House
21 Cypress Crescent, Cabarita Beach NSW 2488
Phone:(02) 6676 1444
http://halcyonhouse.com.au/