Brabant Potatoes are a delicious potato dish served in Louisiana also called Louisiana Fries. Diced potatoes are fluffy on the inside and crispy on the outside and tossed in a delicious garlic butter before serving! If you love potatoes (and who doesn't?) these are a pushy recipe Dear Reader!
Brabant potatoes go back as far as the 1920 when they first appeared in cookbooks. They appear all over New Orleans in restaurants where they are one of the tastiest side dishes you will eat. They're super versatile too and go with pretty much everything!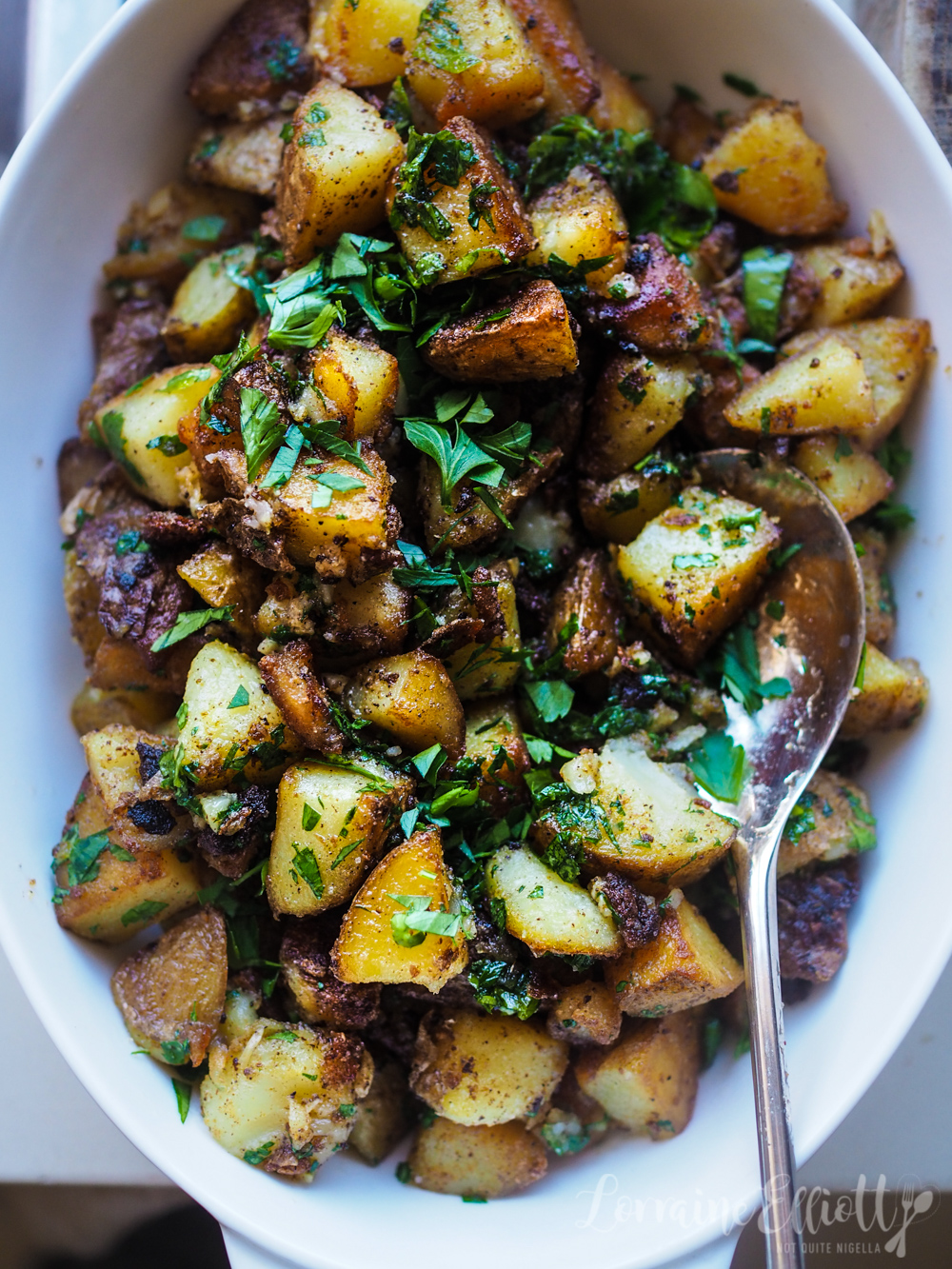 It is super easy to make Brabant Potatoes!. First you cut the potatoes into cubes (cutting up the potatoes makes them much faster to cook) and then parboil them. Then you shallow fry them in oil or fat and then toss them in garlic butter. I used duck fat but you can use oil or another type of fat or dripping.
The key to the BEST Brabant potatoes is making sure that you don't burn the garlic which makes it bitter. In fact I put the butter in a pan with the garlic on low heat for 15 minutes while the potatoes are boiling. This gently cooks the garlic in the butter.
Brabant potatoes are flavoured with Creole or Cajun Seasoning. I happened to have some Creole seasoning but if you don't, salt and cayenne pepper will do in its place. Creole seasoning is made up of salt, chilli, black pepper and garlic powder.
Which potatoes to use for Brabant Potatoes? In Australia I love using Dutch creams because they're super versatile. In North America you would use Yukon Gold.
I made a batch of these Brabant potatoes for my friend Sammie. She was in quarantine after going overseas for her mother's funeral. At the time that she left, she had no idea that when she would be coming back she'd be flying back to a situation like this as it escalated so quickly. At first she was given airline meals which she quickly cancelled and started ordering ingredients to cook from the supermarket. Unfortunately she only has a microwave which limited the scope of her meals.
I promised that I would make her something. She was eschewing sweets and so I racked my brains as to what I could make her that would be different from what she could make in her microwave. Enter these Brabant Potatoes! I dropped them off to her hotel along with some baked gnocchi and other bits and pieces.
By the time I got home she had messaged me. She loved them so much that she ate half of the box that afternoon after I dropped them off. I can't blame her, I helped myself to quite a few of these while they were cooling!
So tell me Dear Reader, have you ever heard of Brabant potatoes? How do you usually cook potatoes? Mashed, fried or roasted?
DID YOU MAKE THIS RECIPE? Share your creations by tagging @notquitenigella on Instagram with the hashtag #notquitenigella
Brabant Potatoes
Rated 5.0 out of 5 by 2 readers
An Original Recipe by Lorraine Elliott
Preparation time: 10 minutes
Cooking time: 25 minutes
Serves: 6 as a side dish
4 garlic cloves, finely grated
4 tablespoons duck fat or oil
1 teaspoon Creole seasoning
You do you, but this is how I cut the potatoes
Step 1 - Scrub the potatoes well but you don't have to peel them. Cut them in small bite sized pieces (around 3/4 of an inch) and boil with the tablespoon of salt for 15 minutes. Drain.
*Step 2 - *While the potatoes are boiling, place the butter in a saucepan with the garlic and sauté very gently for 10-15 minutes or so (I put it on a 3 out of 10 heat). You want the garlic cooked but it should not be browned at all.
Frying potatoes
*Step 3 - *When the potatoes are cooked, add half the duck fat or oil to a large skillet and fry the potatoes in two lots and do not overcrowd the pan as you want them to be crispy golden on the outside. Transfer to a large bowl and repeat with the remaining half of duck fat/oil and potatoes. Add the Creole seasoning and toss to season. Then add the melted garlic butter and parsley and toss and serve.
Tossed in Creole seasoning
Then garlic butter and parsley