This DIVINE Hawaiian guava chiffon cake is something special. It's one of those cakes that you will remember for the rest of your life. It starts with tropical guava flavours combined with light textured double layered chiffon cake, a guava cream filling and guava jelly glaze. If you love light, creamy chiffon cakes this is a pushy recipe. I called this beautiful cake Leilani.
Hawaii is known for its guava cakes. Guava chiffon cakes were invented by Herbert Matsuba at the Dee Lite Bakery in Honolulu in the 1960s. It is one of the most enduring recipes in Hawaii and people buy loaf cakes of these tropical flavoured cakes. There are so many versions as everyone has their own version of a chiffon cake with guava flavoured cream and a jelly layer on top (sometimes they're even made with strawberry box cake mixture).
This guava chiffon cake recipe is adapted from Guava Rose who made a step by step guide to making this guava cake. I loved her version of it that is actually perfect for serving a crowd (or one husband on his birthday). She uses a guava concentrate as I think most recipes do but this isn't easy to get in Australia whereas guava nectar is and will do well. In fact upon closer inspection, the guava nectar that I bought was actually an apple and guava blend which I missed as I was trying to whizz in and out of the supermarket.
This cake is baked in a rectangular tin that is non stick. The non stick part is important as chiffon cakes require the walls to have texture for them to grip onto and rise. If you don't have a rectangular cake tin that is 5cms or 2 inches high (lamington or slice tins usually aren't that tall) you can divide the mixture in half and bake two cakesto make two halves. You can also bake it in a round tin (a 25cm/9.8inch tin is good for this).
I made this cake for Mr NQN's birthday. He's probably the only person that was happy when he heard that his birthday was going to be in lockdown. He actually did a fist pump (sigh...introverts!). Usually I make him an apple cake as apples are what are available in August but a few months ago he expressed such a profound love of guava that I decided to surprise him with a guava cake.
I baked him this cake and ordered his favourite food sushi for dinner and we saw some friends at a distance on the balcony as they picked up some cake and we chatted to his family on Zoom. However as far as presents were concerned I was empty handed. We usually leave it up to ourselves to buy our own gifts and this usually works for us. I usually get him something small though because I like to give something. But this year I had clean forgot.
"I didn't get you anything, unless you count a pack of snakes alive that I found in the pantry and a litre of guava nectar," I said. His face brightened up because he really is the oddest human with birthdays. "Awesome!!" he said with the same enthusiasm as when he learned his birthday was in lockdown! What a funny creature...
So tell me Dear Reader, have you had a lockdown birthday? How did you react and what did you do? Do you like guava?
DID YOU MAKE THIS RECIPE? Share your creations by tagging @notquitenigella on Instagram with the hashtag #notquitenigella
Guava Chiffon Cake
Rated 5.0 out of 5 by 3 readers
Adapted from a recipe by Guava Rose
Preparation time: 120 minutes plus cooling time
Cooking time: 1 hour
Serves: 10
This cake is best made 2 days in advance and can be made in parts over 1-2 days
For chiffon cake:
175g/6.2ozs. egg whites
1/4 teaspoon cream of tartar
100g/3.5ozs. caster or superfine sugar (first lot sugar)
180g/5.6ozs. cake flour
1.5 teaspoons baking powder
150g/5ozs. caster or superfine sugar (second lot sugar)
1/2 teaspoon fine salt
50ml/1.7flozs oil
2 eggs, room temperature
175ml/6.2flozs guava nectar
1 teaspoon vanilla paste
A few drops pink food colouring
For Syrup
2 cups/500ml guava juice
1/2 cup/100g/3.5ozs. white sugar
Pink food colouring
For Guava Cream
700ml/23.7flozs. cream
1/2 cup/125ml/4flozs of syrup above
Pink food colouring
For Guava Jelly Glaze
2 cups/500ml guava nectar
3 tablespoons cornflour/fine cornstarch
Pink food colouring
2 sheets titanium gelatine
Step 1 - First make the chiffon cake. Line the base of a 24x29x5cms or 9.4x11.4x2 inch rectangular baking tin (not a non stick tin) but do not grease the sides of the tin (this is to allow the cake batter to cling to the sides to rise). Preheat oven to 180C/350F.
Step 2 - Whisk the egg whites with the cream of tartar until very foamy. Add the first lot of sugar and whip until you get stiff peaks. Set aside. In another bowl sift the flour and baking powder twice and then add the sugar and salt. Add the oil, eggs, guava nectar, vanilla and pink colouring and mix on low speed for a minute until all lumps have disappeared.
Step 3 - Fold in the stiff egg whites in 3-4 lots making sure to not deflate the mixture. Scoop the mixture up and down and make sure that there are no streaks left and that the mixture is a uniform colour (sometimes there's some mixture hiding right at the bottom of the bowl). Scoop into the prepared tin and bake for 35 minutes.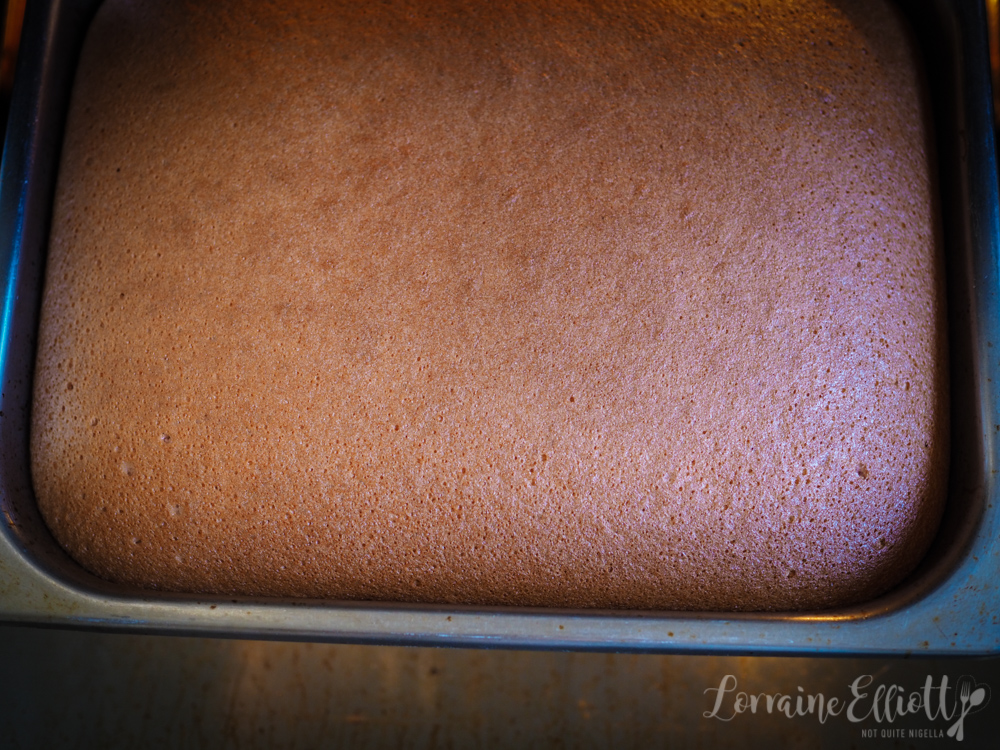 Step 4 - Have a cake rack on top of a towel or tea towel ready as you will invert the cake onto this as soon as it comes out of the oven. When the cake has cooked place the rack on top of the cake tin and then upturn it and place it on the towel to absorb the condensation. Leave it to cool completely.
Upturned cake on cake rack with tea towel
Step 5 - Make the syrup. Heat the guava nectar with the sugar and colouring and reduce it to 1 cup/250ml/8.8flozs. Cool completely.
Making guava syrup
Step 6 - Make the guava jelly glaze. Heat the guava nectar in a saucepan on low to medium heat and then add the cornstarch and stir until it comes together to become a thick, uniform mixture without any lumps. Take the mixture off the heat. Soften the gelatine leaves in a bowl of cold water for 5 minutes. Then squeeze the water out of the gelatine leaves and place the softened leaves in the glaze mixture and stir to combine. Cool on the counter for 20 minutes. Then place in the fridge for 20 minutes so that the heat is taken off the mixture but it isn't set (if it is hot, it will melt the guava cream).
Guava syrup with whipped cream
Pale pink guava cream
Step 7 - Make the guava cream. Divide the cold guava syrup in 2 x 1/2 cup quantities, one for brushing on the cut cake and one for the guava cream. Whip the cream until soft peaks and then add the 1/2 cup guava syrup and pink colouring until you get firm peaks.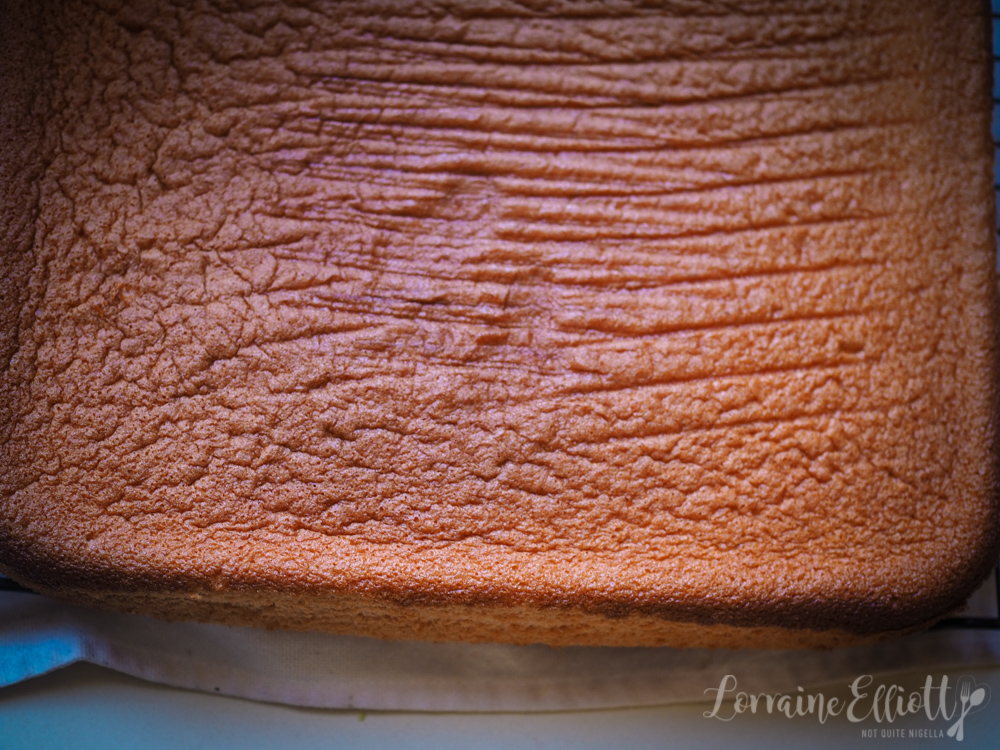 Cake brushed with syrup
Step 8 - It's time to assemble the cake. Cut the cake in half horizontally with a serrated knife and slide a thin flexible mat between the two halves to separate the halves. Take the top half and place cut side up on a serving plate. Brush the cake with some syrup going all the way to the edge. Then brush the cut side of the other cake half (which should still have the parchment attached to it which will help to lift it on top of the cake).
Step 9 - Spread the bottom cake with a third of the guava cream. Then carefully lift the other cake slice parchment side up and place on top of the bottom layer and then gently peel the parchment off. Spread the remaining cream around the top and sides of the cake.
Guava jelly glaze
Step 9 - Spread the cooled but not set guava jelly glaze on top of the cake spreading out almost to the edge. Allow the cake to sit covered in the fridge for 2 days if possible-it's also delicious straight away too. This cake will be delicious for up to 6 days in the fridge stored in an airtight container.