As the name suggests, this Danish Dream cake is an absolute dream. With the softest vanilla butter cake base and a topping of caramelised coconut this is a simple but oh so utterly rewarding cake! This is a pushy recipe Dear Reader! I called her Hella.
Danish Dream cake or Drømmekage was first introduced to the Danes in the 1960s when Jytte Andersen in Hjallerup, Jutland entered her grandmother's recipe in a baking competition in the 1960s. The cake won and the recipe was printed up in the Danish town's cookbook. It has since become popular although I have to admit that I totally missed it when I went to Copenhagen - my excuse is that there are so many delicious sweet treats that I may have been distracted!
The key to this cake is the moist, fluffy vanilla cake base and the texture of the delicious chewy coconut caramel on top. It's important not to overcook the cake part but it also needs to be cooked enough to support the weight of the coconut caramel. Some recipes call for less coconut caramel but that is my favourite part of the cake so I make sure to be very generous with this (you won't regret it I promise!).
Tips for making the best Danish Dream Cake drømmekage
1 - Make sure that the vanilla cake is soft and light by following this recipe exactly. You need to sift the flour a total of three times: first twice and then sift it into the mixture. It makes a huge difference to the end result of the cake and makes it really light.
2 - You need to whisk the eggs and sugar on high for 8 minutes to become very thick and fluffy. This is best done in a mixer rather than by hand as 8 minutes is a very long time to be whisking.
3 - Make sure to use buttermilk. If you don't have buttermilk then add some lemon juice or vinegar to some milk to acidulate it (2-3 tablespoons per cup is ideal, you want it to visibly curdle)
4 - I bake this cake at a slightly lower temperature of 160C/320F to prevent it from drying out too much.
5 - This cake needs salt in the cake and the coconut topping to balance the sweetness.
6 - This cake stays delicious and fresh for up to 4 days at room temperature, perhaps even longer if it lasts that long! However I liked this cake warm from the oven, around 45 minutes from when it comes out of the oven because the texture is incredible. It's a great cake to make on the weekend because it feels a bit special and yet is easy.
Although every day feels the same in lockdown I try and make the weekends different. Saturdays are delivery central as most of the food that we order arrives then. Usually the delivery person knocks and I shout out to leave it by the door and say thank you. Then when I hear the main door has closed I put on my mask to bring the food in. Everyone seems happy with this contactless arrangement.
There was one business that was starting out doing delivery and they were quite particular about their process. They said that they would deliver around 9am and could I make sure I was home so that I could come down to receive it. I didn't love this plan much because I'd rather have this contactless and asked them to leave it at my front door as there is no security buzzer and then message me. I figured it would be safer leaving it outside my apartment door than outside the main door in the sun. No problems they replied.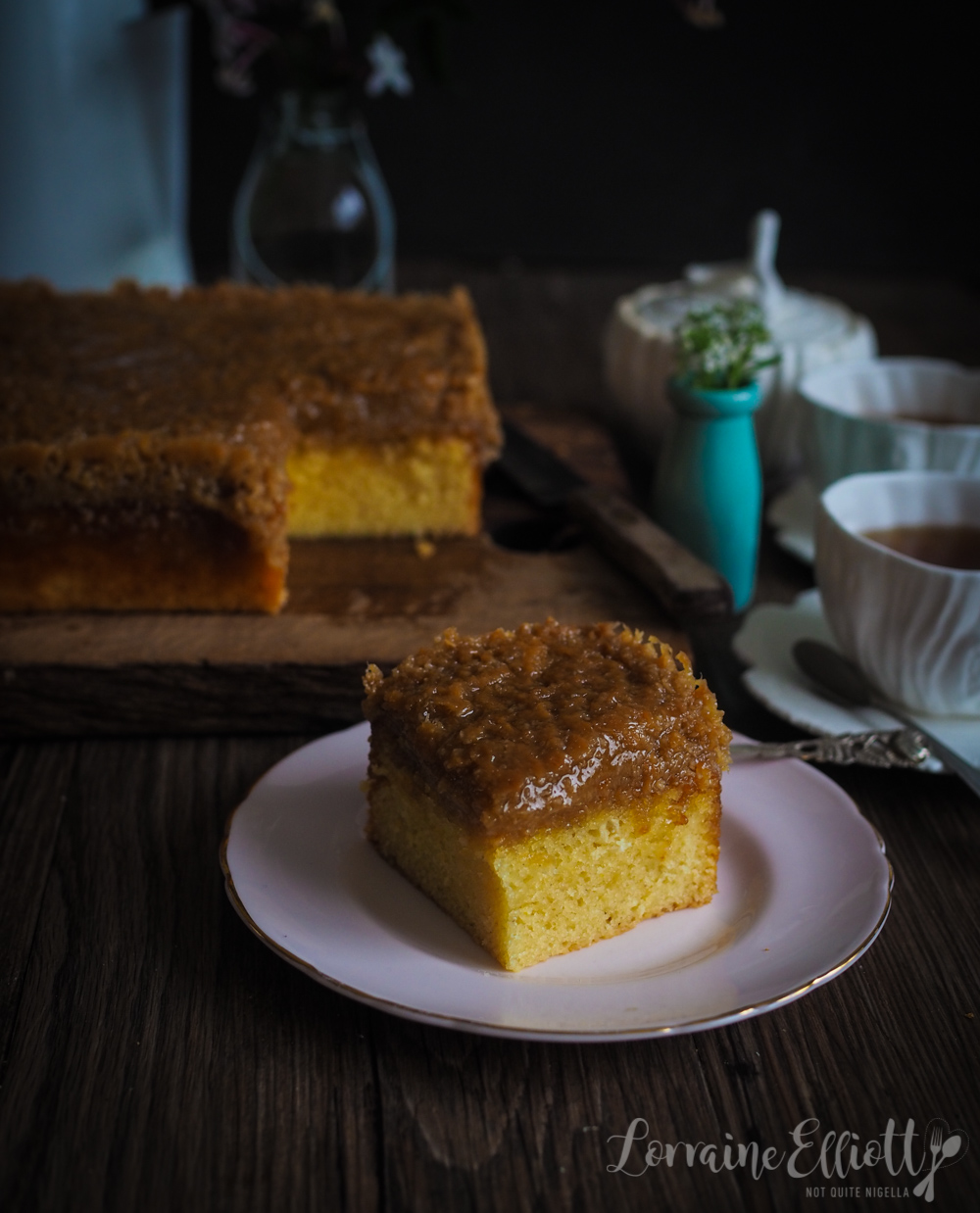 That morning as I was waking up I got a message that my delivery was outside the main door. "Ughhhh" I said disgruntledly. I was still in my pyjamas and contemplated leaving my food outside until after I finished my cup of tea and woke up properly but I knew that it would be sitting in the sun and someone might be curious enough to take it. Mr NQN (who I would normally send out to get it) was walking Teddy so I decided to retrieve my food and slid my feet into slippers, donned a face mask and went out and was halfway down the stairs when I realised that hotel slippers are not great on carpeted stairs. Still I shuffled along and accidentally caught sight of my reflection in the lobby mirror, wearing my oversize airline pyjamas, hair unbrushed and just generally dishevelled appearance (The Ring girl vibes). I figured my chances of seeing someone are close to zero so I pushed open the door and grabbed the bag. Then I saw the delivery guy standing there about to take a photo of the package at my door as proof of delivery.
Startled like a yeti being sighted for the first time I grabbed the bag and dragged it into the doorway. The paper bag tore but mercifully nothing fell out. I took the bag upstairs and closed the door now firmly awake.
I messaged Monica about it - she had been up since 6:30am so she sunnily replied that normally in a romantic comedy this sort of situation would be a meet-cute of two people meeting and falling in love.
I laughed and explained how this was as far from what happened. "He was not cute, I was not cute, I grunted something at him and barely looked at him and then dragged my food in the door like a Neanderthal woman," I said to her, "I don't think I even said hello to him and I may have just grunted at him!". Definitely not my finest hour...
So tell me Dear Reader, do you get a lot of deliveries? How do you prefer they deliver to you? Do you have a chat to them or do you prefer contactless? And have you ever tried Danish dream cake?
DID YOU MAKE THIS RECIPE? Share your creations by tagging @notquitenigella on Instagram with the hashtag #notquitenigella
Danish Dream Cake Drømmekage
Rated 5.0 out of 5 by 6 readers
An Original Recipe by Lorraine Elliott
Preparation time: 30 minutes
Cooking time: 1 hour 5 minutes
Serves: 12-14 people
250g/8.8ozs caster or superfine sugar
3 eggs, room temperature
2 teaspoons vanilla bean paste
95g/3.5ozs butter, melted and cooled
250g/8.8ozs. cake flour*
2 teaspoons baking powder
Pinch of salt
180ml/6flozs. buttermilk
For topping
275g/9.7ozs. brown sugar
150g/5ozs butter
80ml/2.7flozs. cream or milk
1/3 teaspoon salt
150g/5ozs desiccated coconut
To make cake flour, for every cup of flour, replace 2 tablespoons regular all purpose flour with cornflour/fine cornstarch
Step 1 - Preheat oven to 160C/320F and line a round or square 20cm/8inch cake tin on the base and sides.
Step 2 -Whisk the sugar, eggs and vanilla together for 8 minutes on medium high speed until very thick and fluffy. Add the melted butter and beat for 30 seconds to combine.
Step 3 -Sift the flour and baking powder together twice (I do this while the sugar and eggs are whisking). Then sift this into the egg mixture in 4-5 lots folding in along with the salt. Be gentle and do not overmix, you want to get rid of any lumps so do this slowly. Alternate the flour with the buttermilk. Spoon into the tin and bake for 45 minutes or until the centre has just set.
Fluffy cake batter
Baked until golden and just set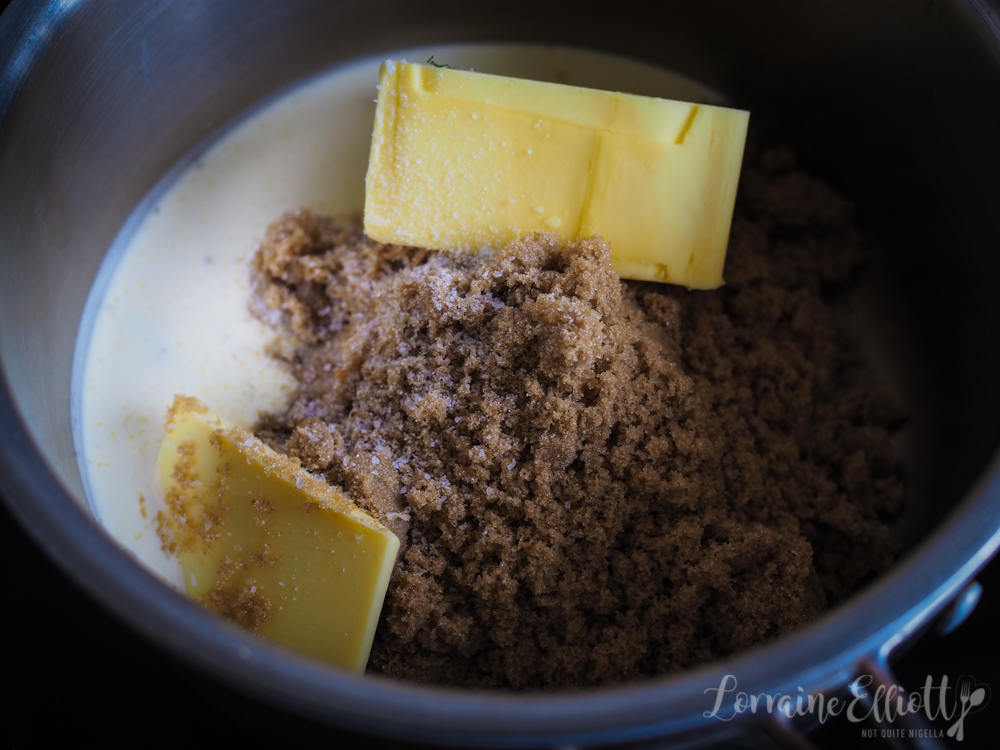 Ingredients for coconut topping
Step 4 -While the cake is baking make the coconut topping. Melt the sugar, butter, cream and salt together and bring to a boil so that the butter is well incorporated. Add in the coconut and take off the heat and stir in.
The coconut topping cooling
Step 5 -Increase oven temperature to 200C/400F . Spoon the coconut topping over the cake and then bake for 10-15 minutes or until set. Cool for 30-45 minutes.