Dear Reader, I became obsessed with German chocolate cake after my very first bite. It is a gorgeous chocolate cake, light and almost chiffon in texture sandwiched with the most glorious coconut pecan filling. I called her Hilda.
Now if you're American, chances are you know and love chocolate German cake. However, for those of us outside America, you may never have tried this cake before. I had heard of it on some American food blogs for years but I only first tried it last month when I was on the Celebrity Edge cruise ship. It's an American cruise line and they had a cafe that was open all day that served up tea, coffee, cakes and cookies.
I saw it in the cake display and excitedly ordered a slice. It was divine and really unique to anything that we have. The filling was so moreish, this nutty, coconutty concoction while the cake was light and moist. I finished every single crumb of this cake and then made plans to return the next day and the next for more. Unfortunately the cake selection changed daily and I never saw that delicious cake again. So I asked them for the recipe and they kindly shared it with me!
I adapted it from what I was given because if there was one slight shortcoming, it was in the chocolate cake itself. It simply was not chocolatey enough and only used cocoa. I can tell when only cocoa is used as it lacks a rich intensity that you get from adding actual chocolate. So I added extra chocolate because to me, a chocolate cake needs more than just cocoa.
Dear Reader, you'll also note that I also changed it from what I made in the pictures. I actually would make this into a three tiered cake and there's enough frosting for three layers although they won't be as thick as shown but that's fine. The ratios work better that way I feel.
Oh and apparently this cake isn't German at all, it was created by a baker called Samuel German. He developed a dark baking chocolate used in the original recipe although recipes today don't tend to use chocolate, just cocoa like the one given to me. But I feel like this honoured him because it adds chocolate back into the cake. It is so popular that June 11 is German chocolate cake day. So happy German Chocolate Cake day lovelies!!
So tell me Dear Reader, have you ever tried German Chocolate Cake? And do you pay attention to international food days and do you try and eat that food on the day?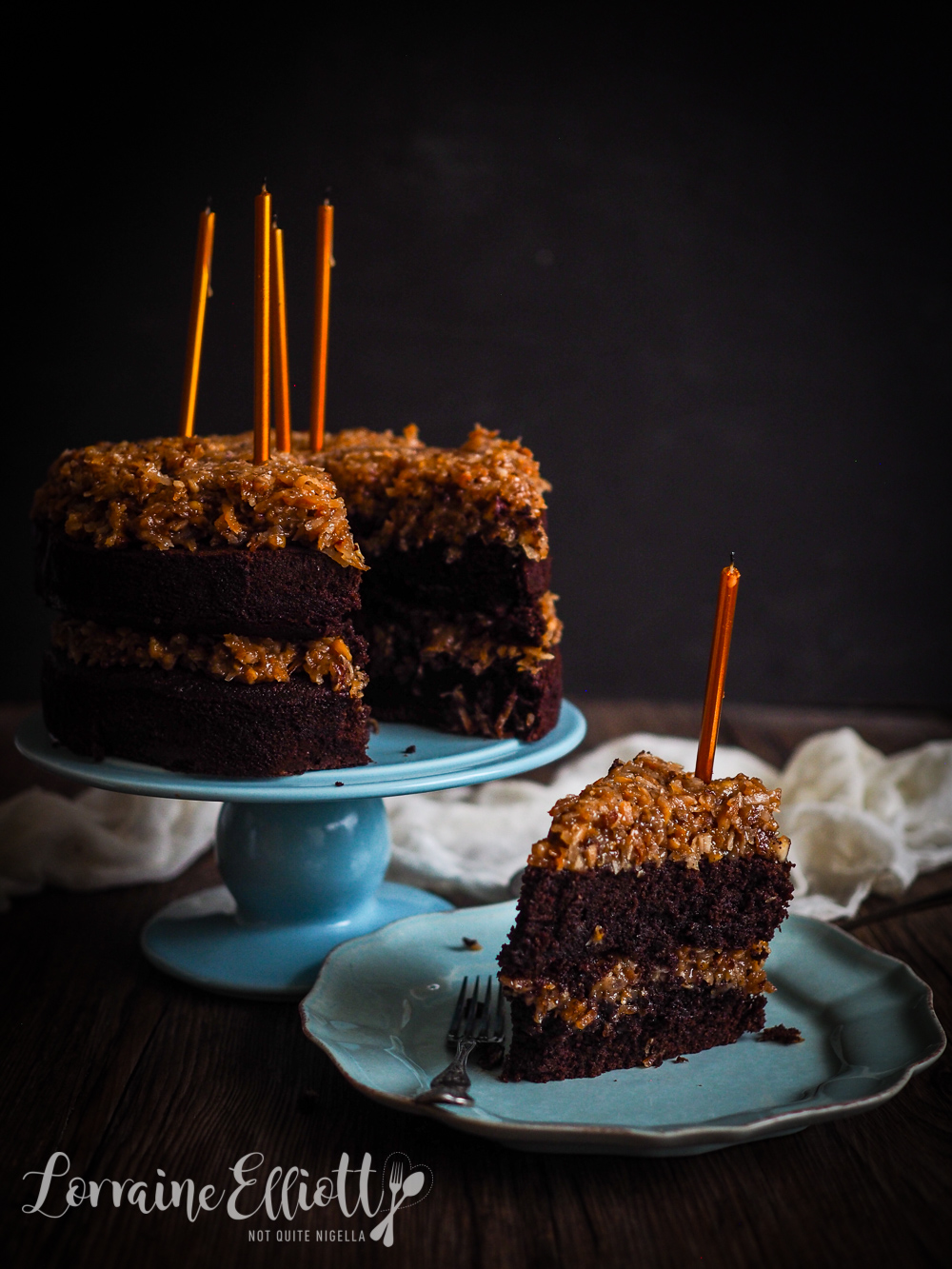 DID YOU MAKE THIS RECIPE? Share your creations by tagging @notquitenigella on Instagram with the hashtag #notquitenigella
Chocolate German Cake
An Original Recipe by Lorraine Elliott, adapted from the Celebrity Edge
Preparation time: 30 minutes
Cooking time: 45 minutes
Cake:
250ml/8.8flozs. boiling water
100g/3.5ozs. cocoa powder, sifted
225g/8ozs. cake flour*
500g/1.1lbs caster or superfine sugar
125g/4ozs. finely shaved or chopped dark chocolate
2 teaspoons baking powder
Pinch of salt
250ml/8.8flozs. buttermilk
230ml/8.1flozs. oil
4 eggs, room temperature
2 teaspoons vanilla
Coconut Pecan filling
185ml/6.5flozs. evaporated milk
185g/6.5ozs. white sugar
100g/3.5ozs. butter
4 egg yolks
255g/9ozs. moist coconut flakes, toasted
185g/6.5ozs. pecans, toasted and chopped
1 teaspoon vanilla
Cake flour is plain flour where for every 1 cup, 2 tablespoons of flour has been replaced by cornflour/fine cornstarch.
Step 1 - Grease and line 3x20cm/8inch round cake tins and preheat oven to 170C/340F. Whisk the water and cocoa powder and set aside to cool. In a bowl of an electric mixer fitted with a paddle attachment, paddle the flour, sugar, baking powder, chocolate and salt until mixed.
Step 2 - In a jug whisk the buttermilk, oil, eggs and vanilla until combined. Add the liquid to the dry and paddle on low speed for 2 minutes until incorporated. Divide evenly among the 3 tins and bake for 30-35 minutes or until the centre springs back when pressed. Cool.
Step 3 - To make the filling, whisk the milk, sugar, butter and egg yolks in a medium size saucepan and cook on medium heat stirring until it becomes slightly thickened. Add the coconut, pecans and vanilla and stir until it becomes a cohesive, spreadable mixture.
Step 4 - Place on cake layer and divide into the topping into thirds and spread on each layer.