Firepop is a food truck that has pivoted to delivering DIY bbq kits to cook at home. Boxes change weekly and can feature aperitivo offerings like bone marrow, Ortiz sardines and Iggy's sourdough or their signature lamb and wagyu beef skewers and non alcoholic drinks. Don't have a bbq? They've got that problem solved as orders come with a single use, eco friendly charcoal grill (that has to be tried to be believed)!
The first time I tried Firepop was at the Easter Show this year. Hands down it was the best hot food there with top quality meat grilled to perfection over charcoal. Even my vegan-ish friend loved the lamb and beef skewers. Now that festivals are on hold for the moment Firepop are delivering boxes of their marinated skewers of meat along with single use charcoal grills.
The duo behind Firepop are Alina Van and Ray Hou who have been working in the hospitality industry for the past 14 years with businesses like Red Charcoal and Lamb & Cumin. Firepop was launched as a pop-up in July 2019 with the idea to open up as a restaurant. However the turbulence of the past few years from bushfires, floods and the COVID-19 pandemic has put that on hold for now. "We are often called a food truck; however, we are simply a mobile commercial kitchen fitted with 4 metres of charcoal grill cooking over fire using some of the best ingredients in the country," says Alina.
"Last year we quickly pivoted to DIY BBQ kits which helped us get through it. This year we were better prepared with an established online retail platform, packaged liquor license and a stronger product offering. We made a conscious decision not to offer takeaway but cook-at-home kits, as our style of food doesn't travel well and we wanted people to have an experience comparable to dining with us - fresh off the grill - perfectly caramelised on the outside and juicy on the inside," says Alina. Collaborations keep the product offering fresh and ever-changing and each week there is a new meal kit with a different collaboration. They've collaborated with craft breweries as well as bars, bakeries and restaurant managers.
I tried two of the Firepop boxes: the FIREPOP x IGGY'S BREAD x DJ LEVINS x P&V MERCHANTS aperitivo hour box with bone marrow, Ortiz anchovies and wine and the Nance Liong collaboration with a range of beef and lamb skewers, sides and non alcoholic drinks ($155). Delivery is free for orders over $150 and they deliver as far as Windsor Downs, Palm Beach, Cronulla and cover the Sydney CBD, Eastern Suburbs, Sydney North, the Hills District, Inner West and Sydney South. They are also working on interstate delivery options. Everything comes in boxes and there's a card with a QR code with cooking instructions.
The aperitivo hour kit arrives on Thursday and comes in two boxes with an enormous round of Iggy's sourdough and two bagels. There are QR code instructions for how to cook everything. There's also a music playlist by DJ Levins. In this kit there are two bone marrow bones split in half so four pieces and setting up the Casus Grill single use charcoal grill is super easy and fun. Within 5 minutes the grill was hot and ready to cook which is quite amazing.
Alina explains the 94' to 20' bone marrow. "It is a dish we introduced in July 2020. It was inspired by the iconic bone marrow from chef Fergus Henderson at London's St. John restaurant which has been on their menu since their opening in 1994. We share St John's belief that if you are going to eat meat, you should eat all of it."
The bone marrow takes around 8 minutes to cook until jellied and gorgeous. It comes with two toppings: a Brazilian cassava farofa and a grey salt which is super fine and slightly damp in texture like fleur de sel. I also added a wedge of lemon to lighten it up and it's divine on a fat slice of Iggy's sourdough and Darling Mills Farm Mizuna herb salad with pickles.
The shishito peppers had to be replaced with curly Turkish Sivri Biber peppers. You baste them generously with the sesame oil provided and grill. These take a bit longer than the bone marrow at around 10 minutes to get it to a nice charred level but they're also tasty. We also spread some butter on the bread and add some of the Ortiz anchovies onto the bread while crunching on their choko and purple shiso pickles and sipping some of the wine, a Stoneyman Holyrise from Tamar in Tasmania which is a sulfur free wine made of red and white grapes. We don't even get around to the two bagels provided.
A few nights later once daylight savings hits I coax Mr NQN into setting up another charcoal bbq in the hopes of turning him into a chef (kidding). We are frying up the FIREPOP x NANCE LIONG collab box which has 4 Wagyu Cube skewers and 10 lamb skewers (half OG and half Skinny or lean). They source their meat from New England lamb in Port Macquarie, NSW, Bangalow Sweet Pork from various locations across NSW and Blackmore Fullblood Wagyu beef from CopperTree Farms. Each meat has its own seasoning that you add to the meat before grilling. There's also some green mango pickles with lemon scented gum and chilli and 3 of Nance's non alcoholic cocktails. She was formerly the assistant manager at Momofuku Seiobo and led their non alcoholic drinks program and the pair have known her since 2019.
Although Mr NQN doesn't usually like lamb he absolutely loves the cumin and chilli lamb. Of course I love the OG or the fatty, juicy lamb but the Skinny is very tasty and not dry at all. I love the juicy texture of the wagyu cubes that are seasoned in a garlic chip and sea salt blossoms. There's an extra pot of grey salt on the side too for the peppers.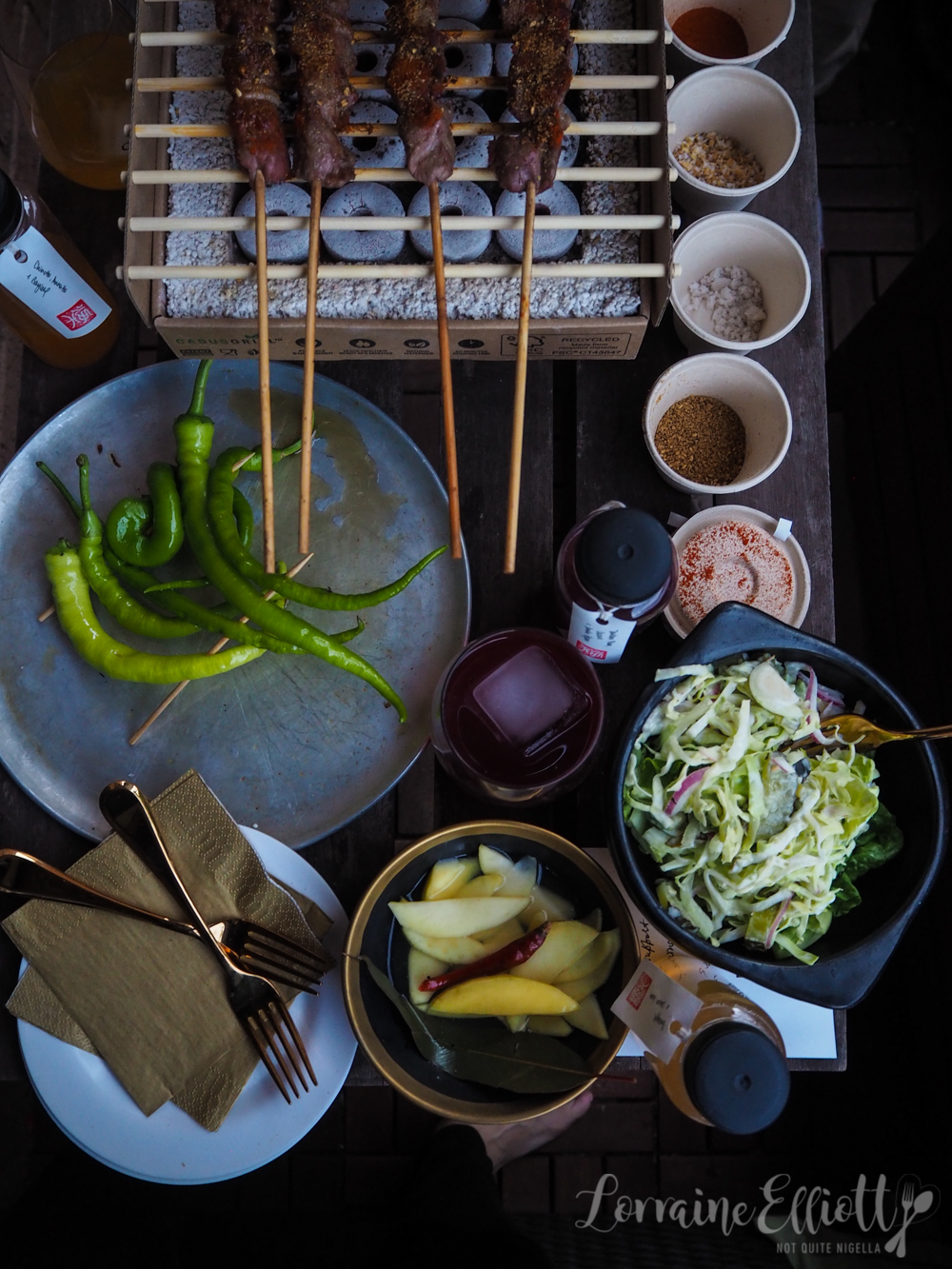 As for the drinks, they're simply served over ice. Each cocktail serves 2 people each (250ml total). The first is made with Annatto and bayleaf tisane, salted chinotto oleo and a Chinotto reduction. The second is Lemon gum tisane and pineapple sherbet. My favourite is the third one made with Cascara (the dried skins of coffee cherries) tisane, Davidson Plum syrup with a hint of Sansho pepper for spice.
And as for the grill it goes strong for around an hour although the first one started to lose heat at 45 minutes and the heat depends on how windy it is. "What else can we grill?" I say before sticking some green beans onto grill. I wish I had thought to buy more meat to grill because charcoal grilling is such a treat and the grill still has a bit of life to it. To cool the grill completely, douse it with a glass of water and it will soon turn cold (without the water it will remain warmish for hours). I may have just turned Mr NQN into a bbq chef!
So tell me Dear Reader, do you have a barbecue? What do you usually cook on it?
NQN paid for the Firepop x Nance Liong box but was gifted the Aperitivo hour box. All opinions remain her own.
Firepop
https://www.firepop.com.au/s/shop