Be Inspired Food, Wine & Travel collaborates with chefs to deliver meal kits accompanied by recipes and videos across Sydney. If you've wanted to cook meals from some of Sydney's best chefs and explore different cuisines from the comfort of your home (or holiday rental!) then this is a great meal kit to try.
Fried Chicken
Be Inspired have collaborated with chefs like Paul Carmichael from Momofuku Seiobo, Giovanni Pilu from Pilu and Michael Rantissi from Kepos Street Kitchen. I wanted to try Paul's Caribbean menu as it is a cuisine I haven't cooked a lot of but really enjoy eating. At Be Inspired you have the option of getting the full delivery including ingredients or you can also purchase access to the recipe and videos for $40.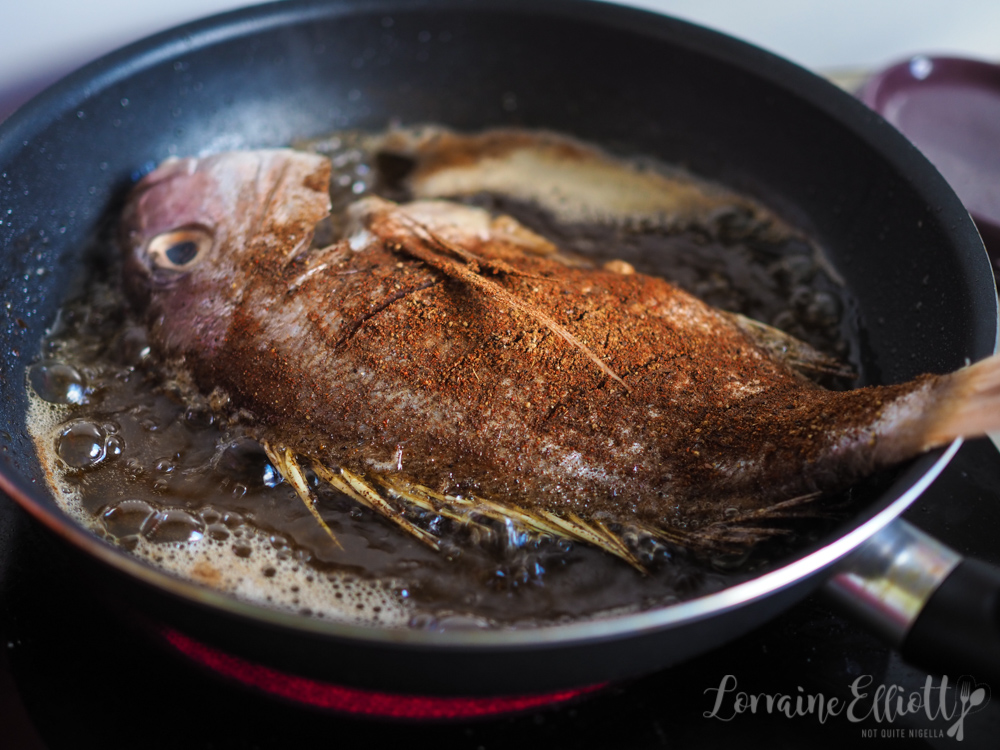 Snapper Escovitch
The founder of Be Inspired is Roberta Muir who was formerly the General Manager at the Sydney Seafood School. "When I left Sydney Seafood School and thought about what I want to spend the rest of my life doing, it came down to connecting passionate home cooks with great chefs and awesome producers to make it easy for them to confidently experiment with new cuisines, recipes and cooking styles in their own kitchens at their own pace. I think COVID's given people the time and opportunity to rediscover how much fun cooking is - whether it's on their own for a little relaxing 'me time' or as a shared activity with their partners or children...While COVID's limited our overseas travel, cooking's been a wonderful way to explore the world through our tastebuds – all of our chefs curate Spotify playlists for us to add a musical element to our kits and some of our cooks add on foreign films and travel documentaries to give themselves a vicarious holiday."
Mojo Pork With Corn and Rice
To do this she tapped her chef friends. " I've travelled and written cookbooks with some of them (Giovanni, Alessandro, Janni), cooked at my place or theirs and hosted cooking classes with just about all of them!" says Roberta. She selects a cuisine and a chef or producer as an expert guide. She then creates 4 x 2-course menus using their recipes, researches the recipes and compiles the recipe booklet, using the chefs as a resource. After she tests the recipes she film one video recipe with the chef with the chef discussing the fundamentals of their cuisine. The remaining videos are of Roberta making the dish. The chefs assist in sourcing ingredients and some make items for the kits.
Fried chicken with green marinade
"Chefs are great cooks but not always great recipe writers - as they cook by instinct rather than from recipes they often assume knowledge, forget to mention steps (or even ingredients). I've learned over the years of working with chefs that it can be handy to have an 'interpreter' to translate chef-speak into home cook-speak – and that's my role," explains Roberta. Each kit is available for 3 months. The kit options for next month February 2022 are Chinese by Andy Evans from Spice Temple, Sardinian by Giovanni Pilu and it is the last month for Paul Carmichael's Caribbean menu.
The dinners are designed to feed 2 people although some dishes are generously portioned and can feed 3. The cost for the meals are $179 for two weeks of meals or $296 for four weeks including delivery so it is $75 per meal for two. If you have a family of four you can also buy an extras pack for $150 to ensure that the 4 weeks of meals feeds four people. The delivery arrives every fortnight in a large box with recyclable packaging. There is also a chef-curated Spotify playlist available. Pescatarians and non red meat alternatives are included in the recipes. There is also the option to purchase matched wine and cocktail packs and Roberta is on hand to answer any queries via phone or email. Diners are encouraged to share their creations on their facebook page.
It was serendipity to come across Be Inspired as we were headed for the Central Coast and every time I tried to order meat for click and collect it would tell me that it was out of stock. Everything is provided except for olive oil, salt and pepper. Pantry staples like sugar, flour and vegetable oil aren't automatically included but are free so you just need to pre-order those if you need them. Often there's more than what you need for example there's a whole bottle of coconut vinegar provided which is great if you want to explore the cuisine further and pad out your pantry. If an ingredient has to be substituted they increase the weight or value and let you know beforehand.
I scroll through the recipes and they're simple with helpful details. They give you tips for what can be prepared ahead of time and how to store everything. The first week's menu features recipes from the Dominican Republic, a country that takes up more than half of the island of Hispaniola. The population descends from colonial Spanish and French and African slaves and is one of the three mainly Spanish speaking Caribbean nations (along with Cuba and Puerto Rico).
Cativias
The starter is a "Queso e Sofrito Cativias" or Cheese & Sofrito Cassava with "Camarones con Coco" or Prawns in Spicy Tomato Coconut Broth with Rice with Crisp Garlic & Ginger. The cativias or cassava flour pastries are quite challenging as working with cassava flour can be hard as the flour contains no gluten but with the tips provided you do end up with a delicious result and I only lost 1 out of the 8 to disaster. The prawn curry is very easy and tasty with a depth of flavour from the prawn shell and head stock and the rice is delicious with the subtle flavours of ginger and garlic permeating through it.
"Camarones con Coco" or Prawns in Spicy Tomato Coconut Broth
Week 2 focuses on Barbados, the eastern-most island in the Caribbean archipelago. Sugarcane was introduced to Barbados by the Dutch and the resulting sugarcane plantations made Barbados one of the richest Caribbean islands. Working on these plantations were impoverished English, Irish and Scottish indentured servants and political prisoners who were then followed by African slaves. Bajan cuisine is heavily influenced by the British with English as the official language.
Marinating the chicken
The main dish in this week is Paul's Fried Chicken with Green Seasoning which is based on Paul's mum's recipe in Barbados using a secret weapon of chicken powder instead of salt. I'm so used to Southern Fried Chicken and Korean Fried Chicken so it's great to try a different style of fried chicken. The chicken wings are marinated overnight in a herby green marinade with parsley, thyme, marjoram, coconut vinegar and lime and then coated in a flour and cornmeal coating to give it a bit extra crunch. The portion of chicken is very generous and can easily feed four (extra was given) and it goes well with the spicy cucumber souse which is like a spicy cucumber pickle sauce that is a staple on the Bajan table.
Bakes with honey
The sweet option is Bakes, a breakfast fry bread served across the Caribbean although this version is Trinidadian. The dough is easy and uses baking powder as a rising agent and you can prepare the dough the night before and refrigerate it so that you can fry them fresh in the morning (or rest the dough for 30 minutes). These are delicious freshly fried and drenched with honey. I did serve these with a gingery stewed apples just because I had them. No matter how you serve them make sure to eat these fresh from the fryer.
Snapper escovitch, crispy potatoes
Week three focused on Jamaica and it was a welcome respite from packing up our apartment to move. Jamaica won independence in 1962 from the British but is part of the British Commonwealth. It has a multicultural population of Afro-Caribbean and Afro-European (mulatto) descendants with British, Indian, Chinese, Syrian, Portuguese and German. The meal features an Avocado & Papaya Salad for entree and a Snapper Escovitch or Escoveech with Crispy Potatoes as the main and side.
Escovitch came from when the Spanish introduced Escabeche to Jamaica and has its own spin with a spiced whole spanner dusted in a spice mix and then shallow fried. This version sits on a bed of browned butter capsicum sauce with sautéed capsicum and carrot on top. It's absolutely delicious and perfect for a summer's meal. Mr NQN who doesn't love cooked fish with bones, eagerly gets into this stripping the bones and enjoying that sweet, nutty browned butter and capsicum sauce.
Papaya and Avocado Salad
The papaya and avocado salad uses ripe papaya and is dressed simply in a lime and oil dressing. It is often served with tomato and local greens as well but here it is papaya and avocado which has a refreshing sweetness to it and while it is good freshly made I think the flavours meld together best after an hour or so. It's a wonderful salad in itself which I will make again especially since avocadoes are so inexpensive at the moment. My only suggestion in this meal would be to up the quantity of potatoes to 2 potatoes per person (only 1 potato per person is provided) as the crispy potatoes are moreish. I also did plan to try one of the suggested desserts, the coconut drops but was unable to get a whole coconut or deal with it as we were moving and it seemed too hard.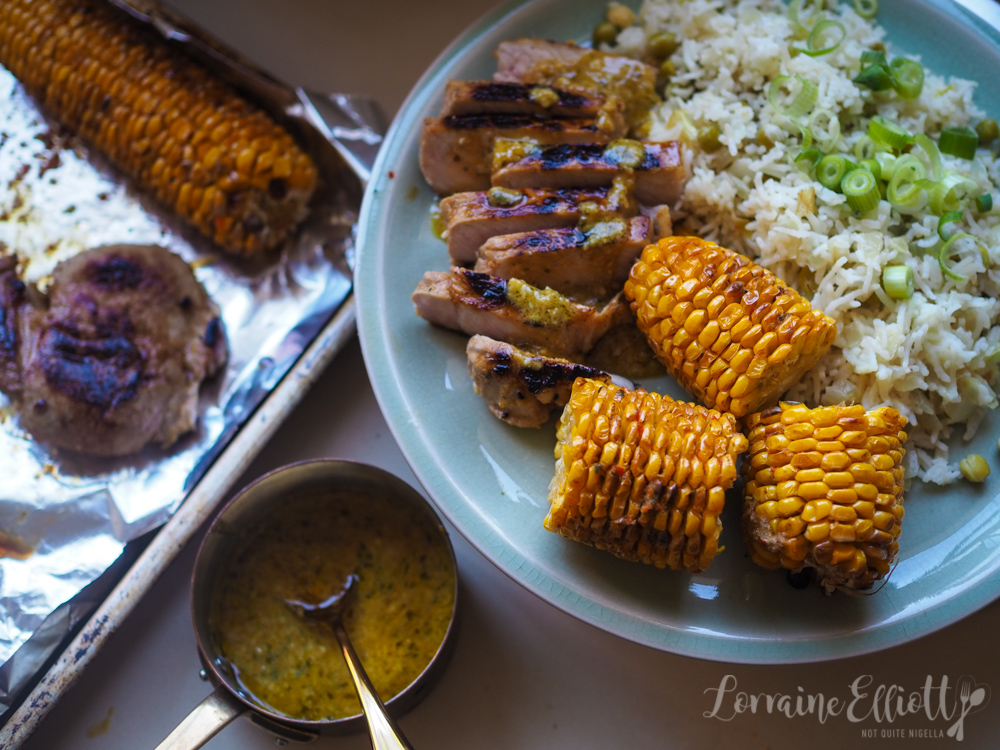 Mojo Pork and Corn with Ajilimójili Butter
The fourth and final week's dishes are based around a Caribbean Barbecue festive menu with a main course Mojo Pork with grilled corn with Ajilimójili Butter; Arroz con Gandule (Rice & Peas) and a Tres Leches Lime Icebox Cake. The Mojo Pork (pronounced mo-ho) is marinated in a classic Cuban marinade of garlic and bitter citrus (in this case orange and lime in place of bitter citrus) like the pork used in Cubano sandwiches. The instructions for this are a little confusing especially with the citrus. Also going between recipes on my phone can be a bit fiddly as I don't have a printer to print out the recipes. Nevertheless the pork is so juicy and the flavour of the citrus marinade permeates through to both tenderise and flavour the pork.
The pork loin steaks are served with Arroz con Gandule or Rice and Peas. The history of rice in Jamaica was that it was introduced by the Spanish but became popular with the arrival of Indian and Chinese indentured servants. Jamaican rice and peas doesn't use green peas but instead dried blue peas soaked overnight and then cooked with thyme, chilli and coconut milk. I am a big fan of coconut rice of any kind especially this with the peas and a hint of spice from the habanero chilli (I'd advise putting the whole habanero chilli in instead of just half).
There is also corn grilled and smothered with Ajilimójili butter. Ajilimójili is a Puerto Rican sauce which literally means garlic sauce but is so much more than that with habanero chillies, capsicum, herbs and citrus. Here it is served with grilled corn but this butter can be used on meat, seafood and vegetables too. The corn is delicious and I can see myself using this butter a lot as we have made extra.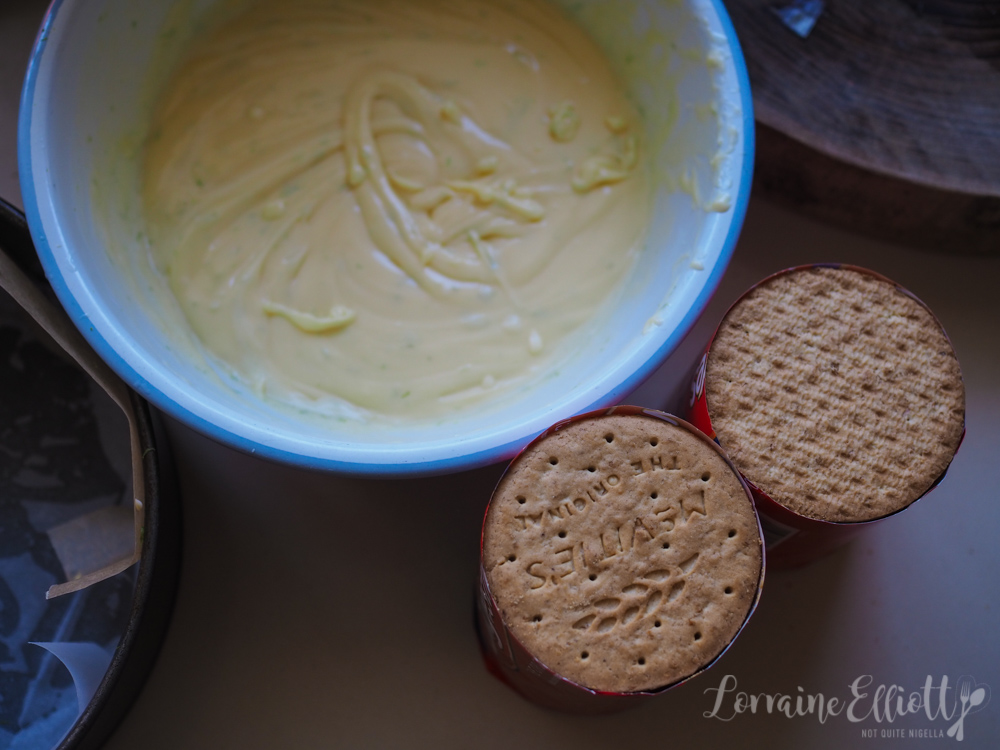 The last sweet is a tres leches icebox cake using biscuits and condensed milk, evaporated milk and cream. It's an easy cake to put together and all you need is a bowl and a whisk to mix it up as the lime juice thickens the three milks. There are three layers of biscuits sandwiched with the thick cream mixture and the cake goes into the fridge overnight to soften the biscuits and to set firmer.
We've loved our trip to the Caribbean with hopefully a real trip upcoming sometime in the next few years and I am keen to explore Caribbean food even further. There are some recipes that I will absolutely make again and incorporate into every day meals. And we are also interested enough to perhaps give another menu or two a go, particularly while COVID is still ongoing. "The recipe I've probably had the most comments on is Tofu Ria from our Month of Malaysian. It's a dish from the Chinta Ria menu that I've always loved – it was even served at my wedding (which was held at the original Chinta Ria in Cockle Bay). It's converted people who thought they didn't like tofu and it's such a simple dish that people find it easy to make again and again," says Roberta.
So tell me Dear Reader, have you tried any meal kits that you've really enjoyed? And which cuisine would you want to explore more? Have you cooked much Caribbean cuisine?
Be Inspired Food Wine and Travel
https://be-inspired-food-wine-travel.com/