This delightful strawberry galette is springtime picnic perfection. Two punnets or 1 pound of strawberries bake up with this simple but divine melt-in-the-mouth butter and sour cream pastry. Serve this with strawberry sauce and cream!
I love freeform galettes because they truly are one of the simplest tarts you will ever make. You don't have to worry about pastry shrinkage or fitting it into a tin. It's the most basic form of tart that you can make without any sort of special equipment. All you need is a bowl, baking tray and a knife to make a delicious fruit galette.
This is my favourite galette recipe because of two things: the sour cream pastry which is rich and buttery with a slight tang. Also I love the raw sugar around the outside of the galette which adds crunch and sweetness.
Make this galette with any fruit: apples, berries or peaches shine in a galette. In fact any sort of stone fruit is beautiful in a galette. I used strawberries because they're plentiful and inexpensive right now. You just want 500g/1 pound of fruit.
Galette vs tart? A galette is any sort of cake but nowadays people use galette to describe a free form tart like this. They became really popular in 2019 where everyone was doing them. I've even made a Christmas galette with cherries and almonds!
I baked this galette as I was going to bring this to a picnic with Queen Viv and Miss America. We haven't seen them for months and we managed to find a small sliver of Sydney within 5kms of all three of us. We arrived with Teddy after picking him up from an overnight stay with his aunty Laura.
Being a dog, Teddy loves a park but this was an on leash park so he was somewhat limited in what he could get up to. While we like taking him on picnics he can be somewhat distracting when it comes to picnics often coveting other picnics and their food. Keeping him on a leash would limit his activities and give us a bit of peace for a long lost catch up.
Looking angelic
"He's so well behaved!" they both cooed at Teddy who was looking angelic and sitting in Mr NQN's lap like a poster child for a lap dog. Little did they know that angelic Teddy had semi terrorised Alexandria Park the previous day. There was a bit more space there and so many little dogs that we let him off his lead. Teddy loves all dogs but greyhounds alarm him and without fail he will always bark at a greyhound. He proceeded to bark at and chase after a greyhound (who actually paid him no notice at all). Then he visited the neighbouring picnic who had a little puppy and played with it and then peed just near them. We apologised profusely but they good naturedly laughed it off saying that their little pup had just done the same thing at the same spot and that was totally normal doggy behaviour (you know how dogs always pee on the same spot). After that Teddy stole another dog's treat twice so it was back on the leash while we finished our food and then we bid a hasty retreat! So for now Teddy still enjoys a picnic, just a picnic with a very short leash.
So tell me Dear Reader, have you ever made a freeform galette? Which fruit do you like cooking with the best? Is it different from the fruit you enjoy eating fresh the most?
DID YOU MAKE THIS RECIPE? Share your creations by tagging @notquitenigella on Instagram with the hashtag #notquitenigella
Strawberry Galette
Rated 5.0 out of 5 by 1 readers
An Original Recipe by Lorraine Elliott
Preparation time: 30 minutes plus 1.5 hours resting/chilling time
Cooking time: 30 minutes
Serves: 6-8 people
For Pastry:
200g/7ozs. butter, chilled and cubed
Pinch salt
2 cups/300g/10.6ozs plain all purpose flour
75g/2.7ozs. sour cream
For Filling:
500g/1.1lbs strawberries, hulled
1/2 cup/110g/3.9ozs. caster or superfine sugar
1 teaspoon vanilla bean paste
Egg yolk for glaze
1/4 cup/55g/2ozs. raw sugar
Sandy texture before adding sour cream
Step 1 - Place the butter, salt and flour in a bowl of a food processor and pulse to create fine breadcrumbs. OR you can also do this without a food processor by rubbing the butter into the flour and salt using your fingers. Add the sour cream and either pulse or knead it into the mixture to form a smooth dough. Roll into a ball and then flatten out and wrap in cling film and refrigerate for 1 hour.
Step 2 - While it is chilling, slice the strawberries and mix with the sugar and allow to steep. The strawberries will release their juices over the next hour. Strain the strawberries over a sieve and collect and reserve the juices to serve with the galette.
Draining off the strawberry juices
Step 3 - Take the pastry out of the fridge. If you've left this in the fridge for an hour it should be ok to roll out as is but if you've left it overnight in the fridge, give it 15 minutes or so to come to temperature (roughly, depending on the ambient temperature of your kitchen).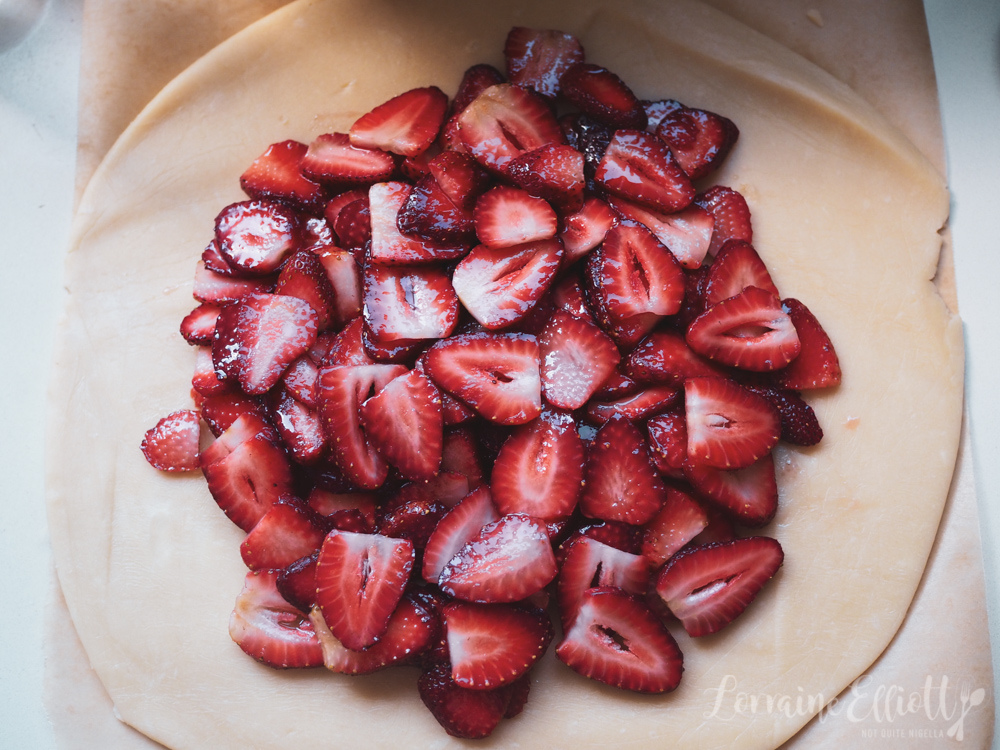 Step 4 - Have a sheet of parchment ready and place the pastry ball in the centre. Place the clingwrap that you used to cover it over it and roll out into a larger disc (you need the cling wrap to help it roll or it will stick the your rolling pin). You want to roll it out around 30cms/1 foot in diameter. Use a knife or pizza cutter to trim it into a neat, even-ish circle. Place the strained strawberries into the centre leaving a gap of around 5cms/2 inches around the edge. Gently gather the pastry and fold it over to create a folded over section on the outside rim of the galette. Brush with egg yolk and sprinkle the edges with the raw sugar. Then sprinkle the rest of the raw sugar over the strawberries. Place in the freezer for 30 minutes to firm up. Preheat oven to 180C/350F.
Step 5 - Bake the galette in the oven for 30 minutes. Allow to cool for 15 minutes and then serve with double or clotted cream and the reserved strawberry sauce.