Medan Ciak is a popular Indonesian restaurant on Sussex Street in Haymarket where there is a range of very well priced but delicious Indonesian dishes on offer. The only challenge might be getting in a table-how early do you have to arrive to get one? Read on Dear Reader!
Monica and I hadn't seen each other for a few weeks and that was highly unusual. She was away for a while and we've both been so busy with work and Christmas planning. The only thing we could fit in was a cheeky little lunch between 12-2pm on a Sunday. Monica picks me up at noon, we get there and find a park by 12:25pm and by the grace of timing we get a table straight away. Another 10 minutes and we would have had to join the long queue outside Medan Ciak that are peering into the restaurant wondering when a table will be free.
Medan is one of Indonesia's largest cities and is located in the northeastern part of Sumatra island in North Sumatra, Indonesia. "Ciak" means eat and Medan Ciak opened in 2016. Medan is said to be a culinary paradise and it is known more for its food than for sightseeing (aka my perfect place LOL). Medanese food is spicy, less sweet and influenced by Chinese cuisine and is slightly different from the Javanese style Indonesian food available in Australia.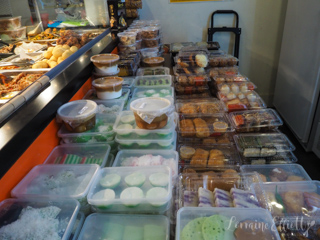 At the door of Medan Ciak there are two queues. The right sided one is for takeaway where people choose from an extensive array of colourful, boxed meals to go. The left hand queue is to eat in at the restaurant. There's a large mural of Medan on one wall and the decor is simple but tables are well spaced. You help yourself to cutlery, water and plates from a station but there is table service which is sweet and friendly. We take a look at the menu and it's hard to choose so when the waitress comes over we ask her for some recommendations and Monica and I order half a dozen dishes. The waitress grabs a nearby table and joins it to ours (so typical of us) and the food comes out fairly quickly.
Bihun Goreng $15.90
We start with Bihun Goreng aka well seasoned vermicelli noodles, lup cheong, char siu, prawns, bean sprouts and fish cakes. Vermicelli isn't usually my favourite noodle as it can sometimes be a bit dry but this is absolutely delicious and not dry at all. They use bihun noodles imported from Medan in this dish as well as a Medan soy sauce base. There are a few well cooked large prawns and a good amount of other meats to the amount of noodles. The aromatic dipping sauce has hints of lemongrass and ginger as well as chilli.
Ayam Cabe Ijo Green Chilli Chicken $18
One of my favourite dishes is the Ayam Cabe Ijo or green chilli chicken. Indonesian fried chicken can sometimes be on the drier side so adding this divine green chilli sauce, although quite oily, counters that and makes it even tastier. This dish is made for rice to soak up all of that delicious sauce.
Mie Pangsit Roast Pork $17.90
Another dish that I really enjoyed are the noodles that are served dry with a bowl of delicious broth on the side. In the bowl are boiled egg noodles, caramelised pork, roast pork with crackling as well as finely chopped sweet pork skin, wilted greens and a soy boiled egg. The soup has a dumpling and fish ball in it. The pork is surprisingly sweet but not out of place at all.
Cah Kangkung $16
Sometimes you just need veges. "Do we need veges?" we always tend to say to each other when ordering a big meal. The kangkong or stir fried water spinach is well done, maintaining enough of the crunch with the aromatic shrimp paste to flavour it.
Nasi Padang $15.90
The Nasi Padang is steamed, seasoned rice topped with fried anchovies and peanuts, a chilli sambal egg, sweet caramelised chilli potato chips, green beans and carrot curry, sautéed cassava leaves, a fried chicken wing drumstick and two pieces of beef rendang (that is a little on the drier side). I have a slight addiction to those surprisingly sweet but crispy potato chips and this is nice although I have to say I really enjoyed some of the other dishes a bit more.
Nasi Goreng Kampoeng $14.90
We spotted the Nasi Goreng Kampoeng at a nearby table. It's a two parter with one half wrapped up in wax paper and when opened reveals a delicious coconut rice with half a boiled egg, steamed taro and a rich, saucy vegetable curry. On the side is a quarter fried chicken with a chilli dipping sauce and fine strands of fried lemongrass. This is another must order, especially the coconut rice and by now my lips are quite happily tingling from the chilli.
We look at the clock and it's under an hour from we walked in and when we go to pay at the front counter we spy some of the jajanan (snacks) and desserts. The Bubur Sumsum catches our eye. It's a layered coconut and palm sugar dessert ($7) that we decide that we have to buy. The bottom layer is rice flour cooked with coconut cream with mochi balls and on top there is a layer of palm sugar syrup that is surprisingly not overly sweet and balanced with salt. We also buy some Serabi Pandan, five small pandan coconut milk pancakes with kuah or kinca syrup made with coconut milk and palm sugar syrup (also $7). We go back to my house and split the desserts. The pandan mini pancakes with palm sugar are tasty but I adore the Bubur SumSum dessert and I wish we had a serve of this each.
So tell me Dear Reader, do you ever do really quick lunches with friends on the weekends? Do you always try and order vegetables?
This meal was independently paid for.
Medan Ciak
10/339 Sussex St, Sydney NSW 2000
Hours: Open 7 days 11am–9pm
Phone: 0401 663 326