Pinangsia is an area in West Jakarta in Indonesia. It sounds more like the name of an exotic bird to me. I'd heard that Pinangsia Noodle House has some rather strange opening hours, just Wednesday and the weekends. I thought surely not, how on earth can they remain competitive with hours like that? So I rang them on a Wednesday night and sure enough, they're open Wednesday and the weekends but with Friday throw in as well. I ask the friendly voice on the other end whether it's cash only or credit card and she says that it's cash only. "Our meals are usually $7 to $8 so they wouldn't meet the credit card minimum anyway!". Being on Anzac Parade, Kingsford, it caters for Indonesian students from the nearby UNSW as well as the occasional food loving non Indonesian.
Walking in, we see that there is a large central share table as well as side tables seating 4. There's a self serve fridge of drinks and a section with help yourself condiments and water. There are small gold framed pictures of the dishes high up on the wall and of course, tissues boxes on every table to serve as napkins. It's about half full at 7pm this Wednesday night and we choose a table and sit down. Our menus are quickly brought to us, with 2 pages of pictures and the rest in Indonesian with English translations underneath. It's a little confusing but I am guided by the helpful "thumbs up" icon designating which dishes are recommended.
We order the Mie Ayam karet thick (or thin) chicken egg noodles with meatball soup (or fishball) $8, the Ayam Goreng Bumbu Bali (grilled chicken Bali style) $7.50 and 2 fried meatballs ($1.60 each). They ask us whether we want white or dark meat and while I usually like white meat, dark meat is much more moist so we choose dark as I find that chicken can sometimes be dry in Indonesian cuisine. We also order a Murtabak to share with the peanut, chocolate and cheese filling ($5.80).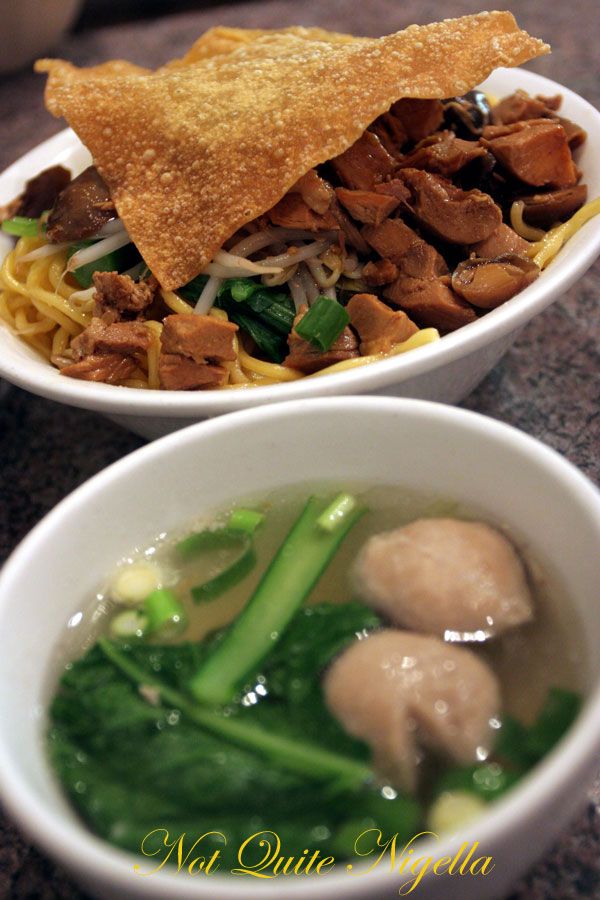 Mie Ayam Karet thick (or thin) chicken egg noodles with meatball soup (or fishball) $8
Before we even know it, that is, 2 minutes later, our Mie Ayam Karet arrives. We are stunned. It's so quick! We dig in hoping that we haven't gotten someone else's dish or last minute change. The noodles are thick and toothsome with a light soy brown sugar stock sauce.
There is a tumble of diced chicken thigh and mushrooms on top with some chinese greens and spring onions. It's good in a soft comforting way, the kind of food your mum might have cooked for you at home (well if she were a good cook of course).
Meatball soup (part of the Mie Ayam Karet)
The meatball soup has two grey meatballs floating on top of the pool of clear chicken broth. The chinese vegetables are still slightly crispy and the soup is warming and home cooking good although not particularly wowing.
Meatballs (Bakso Goreng) $1.60 each
Whilst we are eating this, the two enormous softball sized deep fried meatballs arrive. They're rather impressive looking specimens and we can't wait to tuck into these. They're not hot, just slightly warm and the outside texture is unusual and a little resistant to the fork, much like Yum Cha's Ham Sui Gok.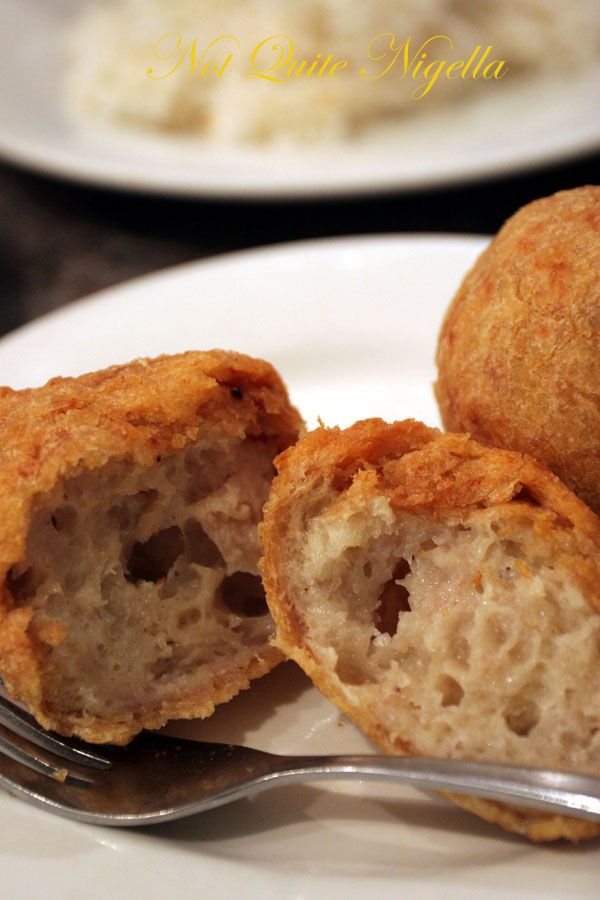 Meatballs cut open
Inside is an unusual texture, it's more like a meat paste that doesn't fully fill the orb which makes this seem lighter. It's a Yes! Yes! and Yes! for me, especially with some sweet chili sauce or chili sauce provided and an absolute steal at $1.60 each.
Our Ayam Goreng Bumbu Bali (grilled chicken Bali style) $7.50
Our Ayam Goreng Bumbu Bali (grilled chicken Bali style) $7.50 arrives with a smattering of fried onion on top with an accompanying plate of rice. it's not particularly photogenic but one bite into the soft, melt in the mouth chicken and all doubts about the appearance disappear. There is satay and chili sauce which make this beautifully fragrant chicken, even more delicious. It's fantastic and I thoroughly agree with the thumbs up on this one.
Mixed Murtabak with peanuts, chocolate and cheese $5.80
Our murtabak arrives, warm to the touch and it's enormous. There are 6 thick hunkering pieces of the dessert and I can only fit in one which leave five fat pieces for my husband. It's like a cross between a pancake and a crumpet, although more like a crumpet, filled with sweet chopped peanuts and chocolate and a slight tinge of saltiness via the melted cheese. It's actually pretty tasty despite the somewhat confused sounding filling combination. It is also extremely filling and I think I would opt for a single flavour next time. We look up and it's 7.35pm. It has only taken us 35 minutes to eat our meals and it is now filling up rapidly. Indeed as we leave we see several people outside waiting to get in and as soon as we leave our table, our space is quickly snatched up. I can't help but imagine that it would still be the same if they opened every day of the week.
Pinangsia Noodle House
319 Anzac Parade Kingsford
Tel: +61 (02) 9697 0788
Open Wednesday, Friday, Saturday and Sunday 11:00am-9.30pm