It's been years since my last visit to Pondok Buyung but I know what I want and what I want is BRAINS! No I haven't turned into a zombie although you'll certainly be forgiven for thinking I have such was my first reaction when my sister introduced me to their lamb's brain curry. I insisted that I wouldn't eat it but watching her delight at getting the whole portion suggested to me that I was missing out so I tried a bit that she had mashed up so that it looked less brain-like and I was hooked. She was less thrilled as that meant that she had lost half of her portion.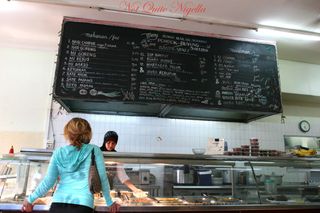 Also if you're missing Bali or Indonesia, and being Australian, you've probably been there at least once, you can reminisce here. It's more Padang cuisine from Sumatra rather than the touristy areas of Bali. On Anzac Parade, sort of opposite Peters of Kensington, Pondok Buyung is not the most attractive of eateries but it will provide you with authentic Indonesian food and the authentic Indonesian experience. So I warn my husband before we visit that whilst it's not gorgeous inside, the food will make up for it and cross my fingers and hope that nothing has changed.
The two women behind the counter are sweet and softly spoken. I ask if they have the brain curry and they seem a little surprised. "You would like brains as in lamb's brains?" she says tapping the side of her head. I nod eagerly and she says regretfully "Sorry we've run out" and shows me the bain marie with just the curry sauce. I must look devastated because she looks at the pot boiling behind her and says to me that a new lot will be ready in 10 minutes. I'm more than happy to wait and we order drinks while we are waiting. The ginger coffee has run out but they have ginger tea ($2) and Eis Chendol ($3). Their menu hasn't changed for years, I only know this as the phone number at the top is still missing the 9 in front of the 8 digit number. There are all sorts of Indonesian specialties and drinks (the drink's trademarked logos faithfully reproduced on the menu).
We try the tea and in a word, it's delicious. My husband, usually a man of few words, keeps telling me "Mmm it's good" and I try it and indeed it is. Already sweetened, the hot tingly ginger literally dances on the tongue like a fizzy mineral water and warms you on the inside. It's terribly good, so good that my husband drinks it all and immediately orders another.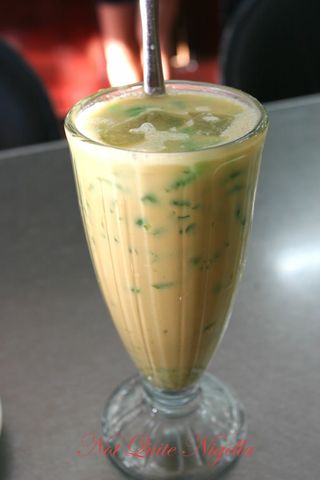 My eis chendol is an arresting looking sight of latte coloured drink with green "worms" of rice flour droplets and is refreshingly good and strong with palm sugar and coconut milk.
They let us know that the brain curry is ready and whilst we try and order other things on the menu apparently all that is available is the Nasi Campur-a selection of 3 bain marie dishes and rice ($7.50 for 2 meat and 1 veg dish or $8 for 3 meat dishes both including free sambal and hot tea). I'm not sure when the other soups are available, perhaps they are a lunch only item and dinner is just Nasi Campur.
As my husband is not very hungry having gorged himself on white peaches, I am doing most of the eating. I choose the lamb's brain curry, the beef rendang and the braised chili eggplant ($7.50) and I also order the potato cake and an omelet for him ($2.50 each).
Digging into the lamb's brain curry first it's as good as I remember it to be. Supremely soft and melt in the mouth the sauce is delightfully mild and aromatic. I mash up some for my husband knowing that otherwise he won't eat it, after all, it does still look like brain. He likes it too.
The beef rendang sauce is good too but the beef is not as meltingly soft as I've had it. It's good although not very strong in lemongrass which always enhances rendang. The chili eggplant is soft and tasty and not too oily which it can sometimes be. My husband particularly enjoys this.
Trying the other plate, the potato cake is good, similar to the filling of a samosa with a slightly crispy outer. The omelet is crispy and bouncy on the teeth and would be great with the rice and curry sauce but of course I've managed to polish all of it off. It wasn't really hard, rather very easy in fact to finish it all.
We observe their customers, a steady stream of them, half non indonesian and half indonesian. The indonesian customers eat in whereas the non take away their goodies. We want to cry out to them "You're missing out on the ambience!" although I'm sure they'd only look at us incredulously.
Pondok Buyung
124 Anzac Parade, Kensington NSW 2033
Tel: +61 (02) 96632296
Open 7 days
Monday-Sunday (except Thursday) 10:00-20:30
Thursday 10:00-19:00