This Olivier Russian Potato salad is wonderful potato salad. Russian potato salad is a moreish salad made with potatoes, peas, carrots, pickles and a creamy dill dressing. If you're looking for a salad for the upcoming holiday may I gently but pushily suggest this? It goes with everything too!
Olivier Salad is a popular salad in Russian cuisine. I grew up eating Russian Salad and this preparation is simple and based on my then friend's mother's Inna's recipe. Olivier Russian potato salad improves over time so it's one of those salads that benefits from being made ahead of time (unlike most leaf salads). Inna used tinned peas which are usually used in Olivier Salad but as we had frozen peas they did just fine.
Olivier Salad was named after chef Lucien Olivier who was the chef of the Hermitage, a prestigious restaurant in Moscow where it quickly became the restaurant's signature dish in the 1860's. The original version was sumptuous containing grouse, smoked duck, crayfish and caviar and a mustard mayonnaise dressing. It was however a closely guarded secret and only Lucien knew how to make it. One day when he was in the midst of preparing it and was called away, one of his sous chefs Ivan Ivanov took the opportunity to sneak in to observe the preparation being done and guessed the recipe. He then worked at Moskva, a lesser establishment, where he served it under the name of Stolichny or Metropolitan salad but it was never quite able to replicate the original salad. Since then many versions exist using truffles, lobster or sausage sometimes in aspic. Nowadays because these ingredients can be hard or expensive to obtain, it is known as Russian Salad and is the simpler form that you see below.
Tips for Making Olivier Salad
1 - This Russian Salad is a dream if you want to do it in parts. The carrots, potatoes and eggs can all be cooked 1-2 days ahead of time.
2 - Older eggs are easier to peel but as I go through so many eggs mine tend to be new. So I always add 1 tablespoon bicarb to the water to make the eggs easier to peel. Also add a matchstick to prevent any white going everywhere in the pot.
3 - Potatoes LOVE salt. I always add 1 tablespoon of salt to the water when cooking potatoes as it seasons them. You wash most of it away and then end up with perfectly salted potatoes! Pinky swear.
4 - Other ingredients can also be used in Olivier Salad are celeriac, apples and chopped or diced ham or chicken. Or by all means add caviar and lobster if you like!
5 - Some of you have told me that you like it when I put up pics of the ingredients that I use so I use these Fehlberg's Sweet and Hot pickles faithfully. I love their sweetness and spiciness and go through a jar every 2-3 weeks I like them so much (haha you can see the jar is empty now). They're available at most supermarkets (notspon!).
I found the story behind Russian Salad fascinating and the simplified version most prescient for our times. I would have put some meat in this but it has been harder to procure things with the food shortages. We usually do click and collect orders from the supermarket and greengrocer and while we usually shop for our meat at a butcher we wanted to limit our time in-stores as we didn't want anything to jeopardise our holiday or house move.
I did find that odd things were out of stock. For two weeks I was unable to get onions so I bought frozen ones. The garlic that I received was rotten. Chicken was totally gone for weeks and mangoes were like gold, even frozen ones. And forget fresh dill, I used the squeezy bottle kind and it worked just fine. I know of a woman whose entire supermarket order was cancelled. It makes our toilet paper shortage of 2020 look trivial in comparison. So if you have some meat to add to this you can, or you can do without and it will still be utterly delicious!
So tell me Dear Reader, have you experienced any food shortages? Have you ever tried Olivier or Russian Salad?
DID YOU MAKE THIS RECIPE? Share your creations by tagging @notquitenigella on Instagram with the hashtag #notquitenigella
Olivier Salad
Rated 5.0 out of 5 by 6 readers
An Original Recipe by Lorraine Elliott
Preparation time: 20 minutes
Cooking time: 20 minutes
Serves: 6-8 people as a side
600g/21ozs. potatoes, peeled and diced
2 carrots, peeled and diced (I make the dices a bit smaller for the carrot as carrots take a bit longer to cook)
1 cup peas (I used frozen)
5 eggs, boiled
2/3 cup pickles, drained and chopped
1/4 cup dill or 3 tablespoons dill in a tube, finely chopped
1/2-2/3 cup mayonnaise (depending on how much mayonnaise you like)
Step 1 - In a saucepan add the eggs and boil for 5 minutes. Drain and add cold water to the pot and change a couple of times. Peel the eggs when cool enough to handle. You can do this 1-2 days ahead of time.
Step 2 - Boil the potatoes and carrots together with 1 tablespoon of salt added to the water. Cook until tender but not mushy. Add in the peas in the last minute if using frozen ones. If you're using tinned peas just drain these and add to the cooling vegetables. Drain and allow to cool completely. You can do this step 1-2 days ahead of time.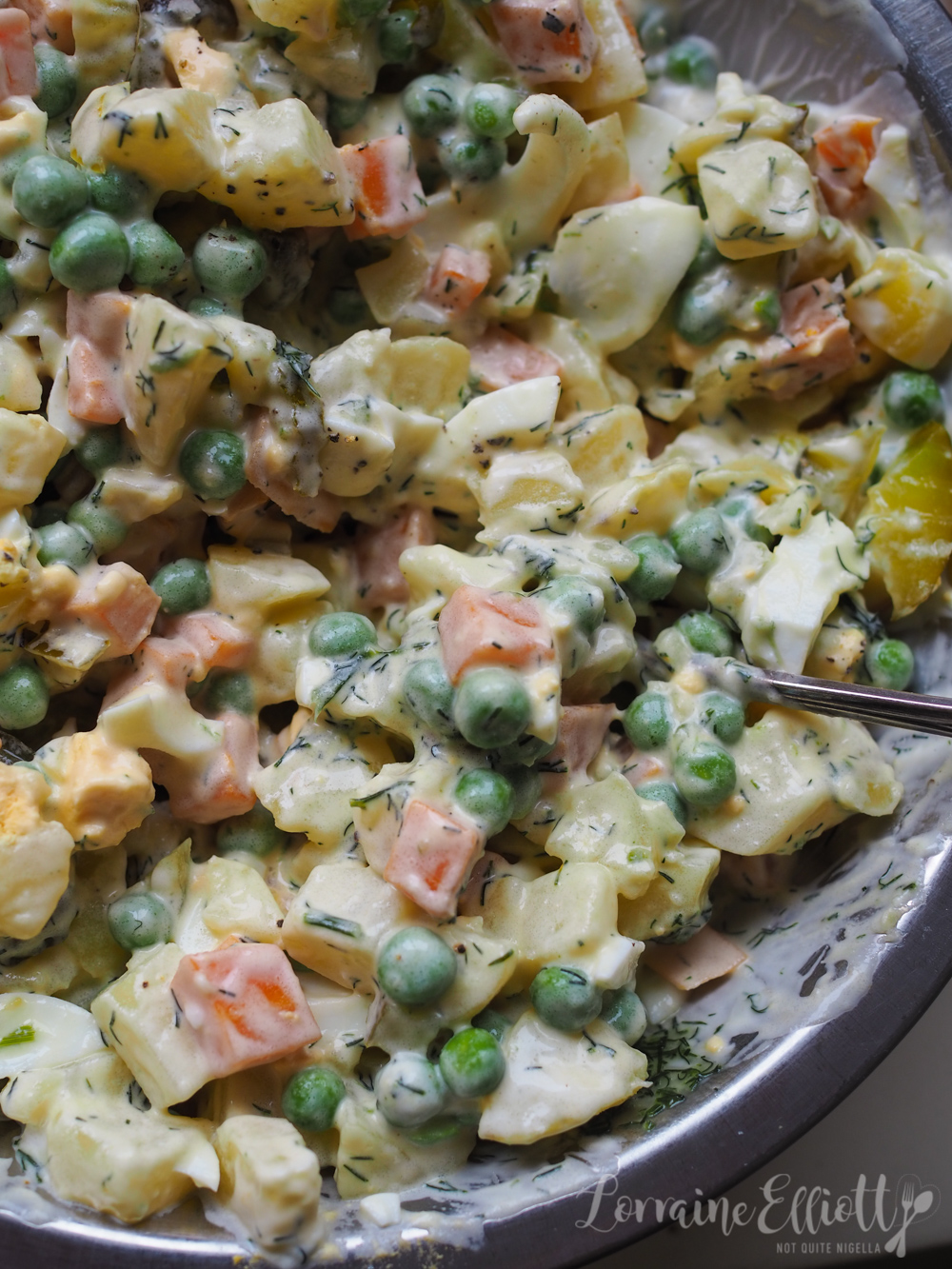 Step 3 - Chop the eggs up and place in a large bowl along with the potatoes, carrots, peas, pickles, dill and mayonnaise. Add some salt if needed (you shouldn't need much if you added salt to the cooking water, if you didn't you'll need to salt this well).