Japanese potato salad is like no other. It is simple enough, with the ingredients that you would probably use in your own potato salad or at least carry in your kitchen but the method to making Japanese potato salad is what makes it so special. Try stopping at just one serve!
This past Easter weekend was a very welcome one. Unlike Christmas that comes with a lot of stress and obligation and a heightened sense of pressure, Easter comes just at the right time and offers us a four day respite from madness. We had just arrived back from Japan the day before and I just wanted to slip into a jet lag induced coma.
Japan holiday snap out takes!
While I was away I developed a new television show obsession. I got right into House of Cards despite trying four times to get into it. I would watch it on the Shinkansen trains downloading episodes from iTunes for the long rides. I would write my blog post drafts and then as a reward I would watch a couple of episodes. For those of you that don't know it, it's a series about American politics. While I absolutely adore shows about lawyers I don't think I've ever watched a show about politics.
Kinkaku-ji (Golden Pavilion) temple in Kyoto
I am afraid that I have a disdain for politics. To me it seems a grey sort of world where nobody truly is your friend although they can pretend to be and can be bought (my idea of a social nightmare) but it snared me in with the mystery element and I think even those repulsed by the machinations of politicians might enjoy it too. Best of all was that I had two and a half seasons left and four wonderful, long days in which to enjoy it. Unwilling to let go of our memories of our Japan holiday I made some Japanese dishes including one of my favourite things ever: Japanese potato salad.
Me trying to do my own tea ceremony in Matsue
Okay this may sound strange to those that haven't tried it but Japanese potato salad is such a delicious take on a potato salad. For starters it doesn't have large chunks of potato, much of it is mashed so that you get a smoothish textured salad with the occasional bump of potato. Think one piece of potato per every mouthful. It's also simple and you probably have everything already in your fridge or pantry but produces an addictively delicious version of a potato salad. If you've tried it, you'll know what I mean. If you haven't I urge you to give this a try at least once although if you're like me, it won't be the first and only time!
Harajuku
So tell me Dear Reader, do you find the world of politics interesting? Are you a House of Cards fan? What shows are you currently watching? And have you ever tried a Japanese potato salad and do you like it?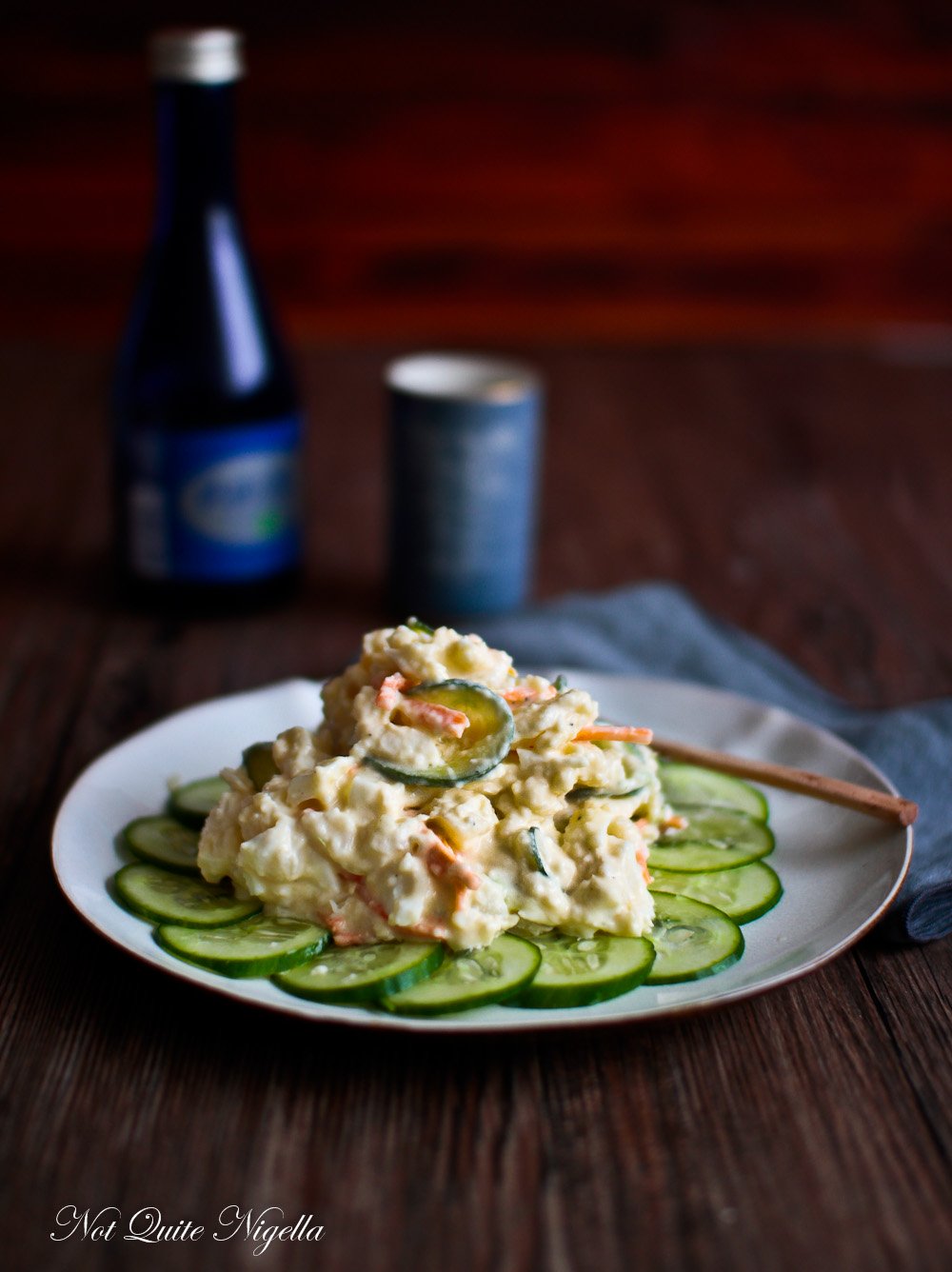 DID YOU MAKE THIS RECIPE? Share your creations by tagging @notquitenigella on Instagram with the hashtag #notquitenigella
Japanese Potato Salad
An Original Recipe by Lorraine Elliott
Makes a very large bowl (enough to bring to a party)
Preparation time: 30 minutes
Cooking time: 45 minutes plus cooling time for potatoes and eggs
3 potatoes (I used Golden Delight potatoes around 750g/26.5oz)
4 eggs
1/2 carrot, finely julienned
1/2 Lebanese cucumber, very thinly sliced
1 medium sized brown onion, peeled and finely diced
3/4-1 cup Kewpie mayonnaise
1 tablespoon rice vinegar
1/2 - 3/4 tablespoon white sugar
Salt and black pepper
Step 1 - Boil the potatoes, skin on in a saucepan filled with water until they are tender. You should be able to stick a knife or skewer into them easily. You don't want firm potatoes, you want to be able to mash them. Remove the potatoes from the pan and add the eggs into the same pan and boil for 5 minutes. Add the julienned carrots in for 1 minute. Cool the potatoes, eggs and carrot completely (you can do this the day before and refrigerate them).
Step 2 - Slip off the skins from the potatoes, they should come off easily. Slice the potatoes into cubes - don't worry if pieces are too soft, you will end up mashing most of the potato. Dice the eggs and have the rest of the ingredients ready.
Step 3 - Using a masher, mash most of the potato. I mash about 75%-85% of it (without getting weird and measuring percentages). Japanese potato salad has a very soft texture with only small bits of potato in it. Mix in the other carrot, egg, onion and cucumber along with the mayonnaise. Then season the potato salad-this is the important bit. Add the rice vinegar, then sprinkle some of the sugar and salt and pepper over and mix. I do it in three lots to make sure that the whole potato salad is properly seasoned all over. Don't be afraid of salt here too - potatoes really need it. It should be right when you can't stop eating it.