IKU Wholefoods was one of the pioneers in plant based eating and first started in 1985 from a small shopfront in Glebe. Eat IKU is their new delivery service delivering tasty vegan or plant based macrobiotic and gluten free meals across Sydney.
Since IKU first opened the business grew to 15 stores but during the COVID-19 pandemic the chain was hit hard. "We had to close 11 stores," says co-founder Ken Israel. Now they've pivoted to delivering their most popular dishes to your door using the Eat IKU delivery boxes. I was offered the chance to try the meals which serendipitously coincided with my vegetarian and vegan in laws coming over for my mother in law's birthday. The meals are well priced and reasonable at around $8.95-$11.95 per dish with free delivery for orders over $90. There are over 50 items available and you can search by allergen or meal type. Deliveries take place on Tuesday, Thursday and Saturday.
The IKU package arrived in a paper insulated cardboard box with a six hour stay-chilled window. Most of their packaging is reusable, recyclable or compostable with compostable laminates and there are instructions for what can be recycled and composted on each product. There is also a packet of Warrigal Greens seeds sourced from a small farm owned and operated by First Nations people who aim to provide employment for their community. The prices are reasonable for the portion size and they utilise ingredients that are perfectly good to eat yet refused by grocery stores for how they look.
Everything requires refrigeration including the cookies and all items have a 2 week or more fridge life and also have freezing instructions. The delivery also happened to arrive on a day when I was busy and didn't have time to make or buy dinner so I can see the appeal of having something plant based and healthy on hand. A lot of the dishes have a side pickle of some sort.
Creamy Coconut Laksa $10.95
All of the meals take 2 minutes to heat in the microwave and there are also cooking instructions for the oven and stovetop. On the first night Mr NQN and I tried the Creamy Coconut Laksa and Ayuervedic Curry and they were both very tasty. The creamy coconut laksa isn't a big, cavernous bowl with lots of soup, it's more a thicker laksa curry sauce with vermicelli noodles, pickled tofu and beansprouts.
Ayurvedic Curry $10.95
The Ayurvedic Curry is made up of dukkah roasted pumpkin, brown rice on the side and pickled cauliflower. It is a nourishing and tasty homestyle curry.
Roasted Spiced Chickpea and Crunchy Fennel Salad $9.50
Asian Noodle Cucumber Salad $9.50
Soba Noodle Cauliflower Salad $8.95
For the birthday party I served four salads, the caramelised onion tart and some rice bites with dip. The roasted spiced chickpeas are served with fennel, pumpkin, beetroot, garlic and preserved lemon and IKU parsley dressing which was quite good. My favourites were the two noodle salads as they had a good range of flavours and textures to mimic a non vegan meal. The Asian Noodle Cucumber Salad has fresh herbs, edamame, pickled carrot mix, flaked almonds, fried tofu with a punchy ginger dressing. The Soba Noodle Cauliflower Salad has soba noodles, cauliflower, pickled cabbage, quinoa, kale and IKU's super salad dressing.
Rainbow Couscous Super Salad $8.95
The only dish that I didn't really go for was the Rainbow Couscous Super Salad with couscous, cauliflower, quinoa, kale, pickled red cabbage slaw and citrus dressing as I found it a bit dry.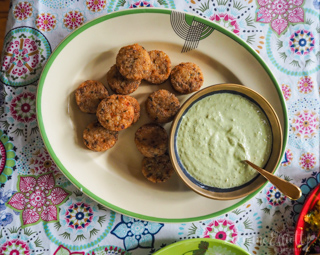 Golden Rice Nuggets $8.95 for 12
Snacks-wise, I loved the mini rice nuggets either cold or warmed up in the oven. I paired these with the parsley and tahini dressing ($10.95) dip that comes in a big 550g tub and is versatile as both a dip and dressing. The nuggets are made with brown rice, carrots, soy and vinegar but are flavoursome and if you bake them they get a little crispy on the edge.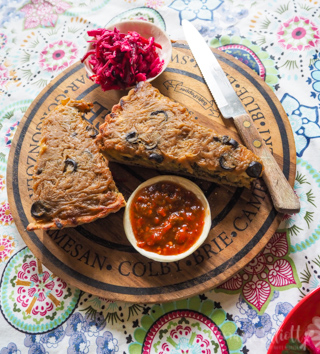 Caramelised onion tart $9.95 each
The caramelised onion tart has tofu, leek, chickpea, sweet caramelised onions and a crisp pastry shell. The ingredients list for this tart, unlike the other items is long and surprising (dried apricots, umeboshi plum vinegar) so they're quite complex recipes to satisfy the palate. Each generously sized wedge comes with a pot of pickled cabbage and chilli jam. Another day Mr NQN has the Classic Minestrone Soup ($8.00). IKU's version of minestrone doesn't have pasta but has lots of vegetables from kidney beans, carrots and zucchini and is a very hearty soup and good with some bread on the side.
Tomato, Pumpkin & Seasonal Vegetable Lasagne $11.50
I saved the lasagne for a rainy night because lasagna is always a treat. This is made using rice noodles rather than wheat noodles layered with a ragu of tomato and vegetables, miso and onion bechamel. It's one of my favourite dishes although I think I'd like a bigger slice.
Golden Brown Rice Macro Burger (2 Pack) $8.50
Another night we tried the Golden Rice burgers that come in a two pack. These are handmade burgers made of brown rice and seeds with umeboshi. I really liked these burgers as they fried up quite crunchy (much like the Golden Rice nuggets) and we ended up putting these in brioche buns with cheese, roasted eggplant, cucumber, chilli sauce, lettuce and mayonnaise.
There is also a few options for dessert. I tried the chocolate chip and coconut cookies that come in a packet of 10. They're chunky and full of coconut with a good amount of sweetness and tiny organic choc chips. There are also a couple of sago pot varieties with flavoured puddings an an agar layer on top. If you like mildly sweet desserts the berry one is good (we found the orange one a little odd). The only thing that I didn't really enjoy was the millet snack as it was very dry and crumbly and I didn't really go for the couscous salad for the same reason. However apart from that, the meals were on the whole very tasty and really good to have on days and nights when I was too busy to cook.
So tell me Dear Reader, do you have any regular food deliveries? How often do you use plant based meals in a week?
NQN was sent the box by IKU but all opinions remain her own.
Eat IKU
https://eatiku.com.au/